In this post let me review Micca MB42X bookshelf speakers that are known for an excellent performance.
MB42X specifications:
| | |
| --- | --- |
| Features | MB42X |
| Woofer | 4" Carbon Fiber Cone with Rubber Surround |
| Tweeter | 075" Silk Dome |
| Crossover | 12dB/Octave |
| Frequency Response | 60Hz-20kHz (Typical In-Room) |
| Impedance | 4-8 Ohms |
| Sensitivity | 85dB IW/IM |
| Amazon product page | Check price |
The popular belief is that you need to spend a lot of money if you want quality sound from your speakers.
Some people also believe that you can't really get big sound from small speakers, except you're ready to part with hundreds of dollars for it. Micca dispels all these as myths with the MB42X.
Looking at the name, it's quite easy to assume that the MB42X is just an upgrade of the earlier MB42.
That might be a costly assumption because these bookshelf speakers are more than a mere upgrade. Listening to them, they sound more like a whole new speaker range.
Micca MB42X detailed review
Build and design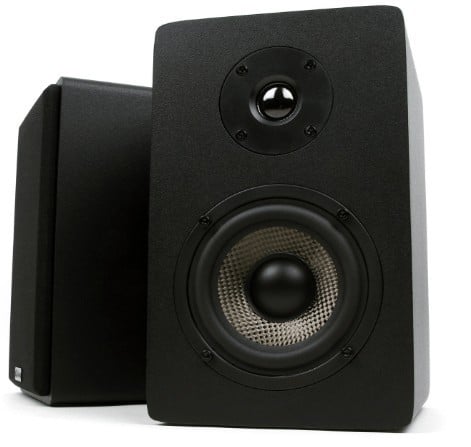 The MB42X only comes in black, with some parts of it in lighter shades. When you place these speakers in your room, they fit right in, regardless of how small the room is.
With this design, you can expect them not to really stand out in the room, except the room has an all-white interior. Even then, it could make for good contrast.
The speakers measure 5.75 x 9.5 x 6 inches. I think this is good enough for a pair of bookshelf speakers, but it may be on the larger side for some users. That shouldn't be a problem, because the MB42Xs definitely do not weigh as much as they look. They're quite light.
Each of the speakers houses a 4-inch carbon fiber woofer, with a .75 inch silk dome tweeter.
Also, they have magnetic grilles that just snap into place easily, which is rare for speakers in this price range.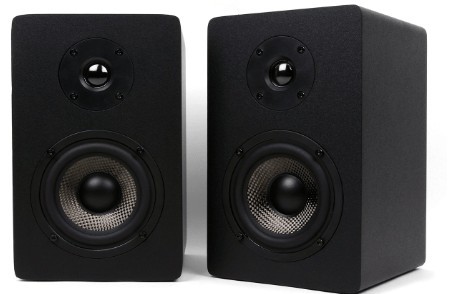 Although, I think it looks better without the grille. There are two versions of the MG42X. There's an older one and there's the newer, revised version.
The only differences are in the design, not in performance. For example, the older version does not have a magnetic grille.
Sound quality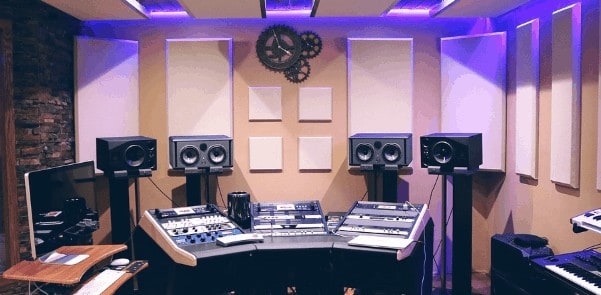 The MB42X bookshelf speakers have a frequency response of 60Hz to 20000Hz. Even though the response is not flat, you can confirm that the response range stated is accurate just by listening.
It really reaches those low-frequency depths. And produces them well. For frequencies lower than 60Hz, you may not hear them, but you will notice the intense vibration of the woofer.

The high frequencies are bright, but definitely not harsh. Micca achieved that delicate balance between crisp sound and harshness.
As for the low end, for consumer bookshelf speakers, I half expected to hear more bass than I did.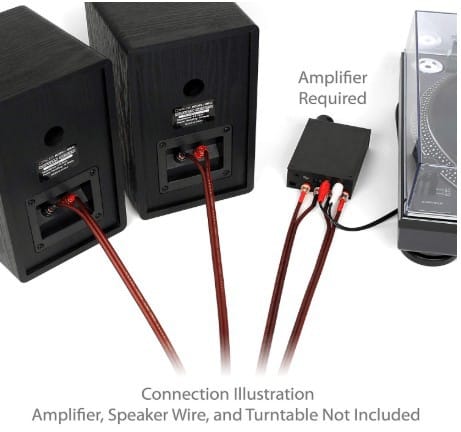 With the amount of loudness that these speakers have, there's not so much emphasis on bass. If you're a basshead, or you generally like bass-driven genres like hip hop and EDM, don't expect so much from the MB42X in terms of bass.
Actually, for the size of these bookshelf speakers, I think the bass does pretty well; it's just not as thick as what you'll find in floor standing speakers for example, and that's understandable.
There's a slight dip in the midrange as we often have from speakers like this one. However, Micca sculpted these speakers' mids such that the elements that are in these frequencies are still heard clearly. This midrange will surely hold its own against any party speakers.
The stereo field is one of the strongest points of these bookshelf speakers. By just placing them on either side of your table, you get to enjoy a big sound.
If you close your eyes listening to them, you'll assume the MB42Xs are larger than they really are. This is better than what you get with most Bluetooth speakers; especially portable ones.
Features
What makes the MB42X one of the best cheap bookshelf speakers is that it sounds so good, despite its size and price. This sound quality is mainly due to the crossover used in building it. The MB42X no doubt has a very good crossover.
A crossover is a component of a speaker that divides the incoming signal into different frequency ranges, such that the lower frequencies go to the woofer while the higher frequencies go to the tweeter.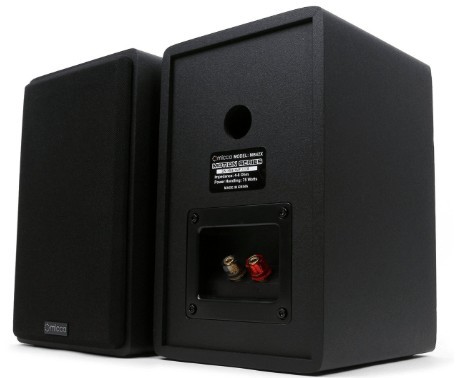 The performance of the crossover determines how full the speaker's sound will be. Most speakers have crossovers. In fact, if a speaker is full range i.e it produces both low and high frequency sounds it must have a crossover.
The only full-range speakers that do not have crossovers are the ones that do frequency separation through software, rather than a physical crossover.
Even at that, we see that the crossover duty must always be done. The only other category of speakers that do not have crossovers are home theatre sound systems that have the woofer as a separate part, and other speakers separately too.
There's no need for crossovers here since the speakers ordinarily produce different frequencies than the woofer.
Pros and cons
Pros
Lightweight
Wide stereo space
Magnetic grille; easy to remove and replace.
Cons
Micca MB42 vs MB42X vs MB42X-C
| | | | |
| --- | --- | --- | --- |
| Features | | | |
| Woofer | 4" Carbon Fiber Cone with Rubber Surround | 4" Carbon Fiber Cone with Rubber Surround | Dual 4" Carbon Fiber Cone with Rubber Surround |
| Tweeter | 075" Silk Dome | 075" Silk Dome | 075" Silk Dome |
| Crossover | NA | 12dB/Octave | 12dB/Octave |
| Enclosure | Ported Cabinet | Ported Cabinet | Ported Cabinet |
| Frequency Response | (Typical In-Room) | 60Hz-20kHz (Typical In-Room) | 60Hz-20kHz (Typical In-Room) |
| Impedance | 4-8 Ohms | 4-8 Ohms | 4-8 Ohms |
| Sensitivity | 85dB IW/IM | 85dB IW/IM | 86dB IW/IM |
| Power Handling | 75 Watts (Each) | 75 Watts (Each) | 100 Watts (Each) |
| Dimensions | 9.5" (H) x 5.8" (W) x (D) | 9.5" (H) x 5.8" (W) x (D) | 5.3" (H) x 15" (W) x 7.1" (D) |
| Amazon product page | | | |
Through the article, I've mentioned the MB42 a couple of times. In terms of design and build, the MB42 and MB42X look quite similar.
The only difference that you would notice right off the bat is the magnetic grille on the MB42X that you will not find on the MB42. Actually, the magnetic grille is not present on all MB42Xs. Just the more recent revised ones will have this magnetic grille.
The MB42X-C is a different story entirely in terms of design and build. It is about two times taller, a half-inch narrower and an inch deeper than the other two.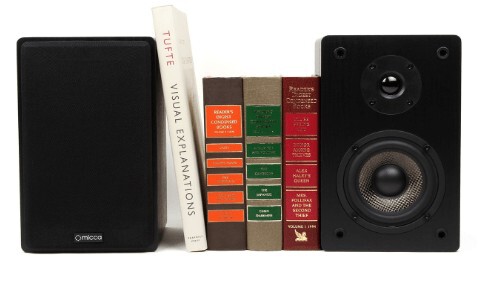 Any MB42 vs MB42X discussion will revolve around the sound than any other thing. These two speakers sound different. The MB42X definitely has a better crossover installed.
The size of the MB42X-C alone shows that it has a bigger sound and much better bass compared to the other two.
Looking at the difference in the size of the MB42X-C when compared with the other two, you would think that comparison is unfair.
Read Also: How to Fix Bluetooth Lag in Car? – 8 Super Quick Solutions
Conclusion
I hope you loved this Micca MB42X review. The MB42X is yet another proof that you don't have to break the bank to get quality sound, neither do you have to settle for used products.
You can always get brand new stuff even on a tight budget. Everyone loves good music, and what better way to enjoy good music than a pair of sweet-sounding bookshelf speakers.