Shure SE215 and SE315 are two clear examples of Shure's longstanding status as a reliable audio gear giant.
Last update on 2023-09-21 / Affiliate links / Images from Amazon Product Advertising API
Shure really put a lot of thought while manufacturing the products to make them user-friendly. Ordinarily, I'm not usually a fan of in-ear monitors, even if you made them tangle-free.
I find them inconvenient for a number of reasons. But all my issues were resolved with these Shure earphones. I think I've found the best one.
On paper, it's easy to assume that SE315 is an upgrade of SE215, but is that really the case?
Is there any reason to pick one above the other?
Are any of these two earphones better for a set of users?
Do they really sound different from each other?
Let me answer all these questions.
| | | |
| --- | --- | --- |
| Features | Shure SE215 | Shure SE315 |
| Frequency response | 22 Hz – 17 kHz | 22 Hz to 18.5 kHz |
| Sound Isolation (up to) | 37 dB | 37 dB |
| Sensitivity | 107 dB SPL/mW | 116 dB/mW |
| Impedance | 17 Ohm | 27 Ohm |
| Cable length | 162 cm | 127 cm |
| Micro Driver | Single Dynamic | Single Dynamic |
| Sound signature | Detailed sound and enhanced bass | Bright mids and enhanced bass |
| Amazon product page | Check price | Check price |
Shure SE215 vs SE315: Let's find the winner
Build and design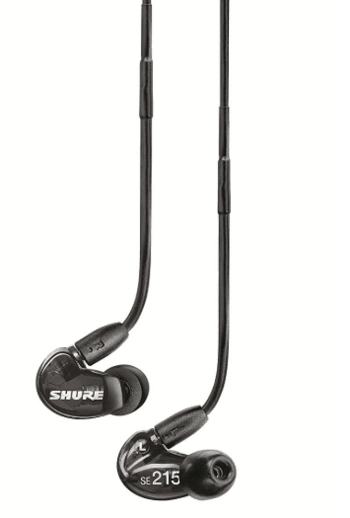 The SE215 earbuds are tilted such that they have better balance in your ears. To aid stability, they also have an ear hook design.
This little hook gives it extra grip and allows you to wear them while engaging in some demanding activities like exercising and jogging. They are quite similar to the SE315 in this regard.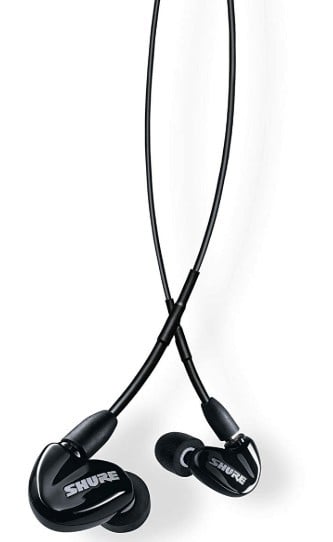 Even their cords look very much alike; they are rubber detachable cords. When your earbuds have detachable cords, it means their life span has effectively doubled or even tripled. Earbuds are more durable when the cords are detachable.
This is because for most earphones, the cord is the first part to get damaged, and if you can't replace the cord, the earbud is rendered useless.
That's exactly why both the SE215 and SE315 are making a buzz in the market today. You can easily replace damaged cords.
Both pairs of earbuds are available in black and white colors.
Also, the Shure SE215 comes with different tip sizes. For me, this is a very welcome development, because I always avoided earbuds simply because my ear always seems too small to use them.
As a result, the earbuds keep falling off, which makes me stick to over-ear and on-ear headphones.
Now, with the option of using multiple tip sizes, I have the exact size that works for me and I can even choose to make the earbuds fit tightly or hang a little loose, leaving some space.
The SE315 gives you more options in this regard; they come with more tip sizes that you can choose from; you're more likely to find a perfect fit with these.
Sound quality
Bass:
When it comes to sound quality, Shure SE315 is very good in terms of bass. The bass is a good balance of punch and clarity.
The different instruments in the low frequencies are distinct from each other, and they hit hard enough. The kicks or 808 in the song won't be masked by the bass.
While some earphones would simply pack a bass boost that leaves the mid frequencies muddy, but SE315's bass is well defined and does not affect higher frequencies.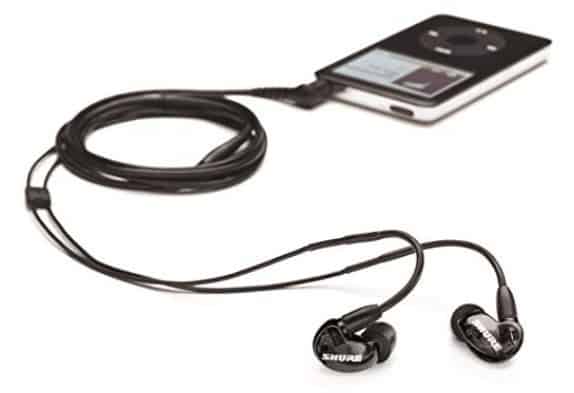 The major advantage of bass clarity is felt in music that has more than one bass instrument. You hear each of them separately, without one masking the other.
SE215 also has this balance of clarity and punch in the bass. Although not as clear as the SE315, there seems to be more focus on having a hard-hitting low end. SE215 has its low-end production similar to its competitor SE535.
I usually judge the overall sound quality of headphones or even speakers by how well they produce mid frequencies.
This is because it's where most elements of the music lie. Vocals, percussions and most other melody instruments have their essence in this range.
SE315 does a pretty good job here, although it seems like they have added a little bit of compression, there's some warmth and you can hear what needs to be heard there.
Mids and highs:
Shure SE215 is less detailed on the mids, but still does a good job of producing it without any distortion.
The high frequencies show a little more audible difference with both of these earphones.
While SE315 is a bit bright, starting from the high mids, SE215 is quite tempered. Even though it doesn't have that sparkle in its sound, it gives you the high frequency with a lot of smoothness.
Due to the difference in high frequencies production, you will have ear fatigue faster while using the SE315 than with the SE215.
Features
SE215 comes with 2 pairs of flex sleeves and 3 pairs of black foam sleeves, the sound isolating earphones and a carrying case. SE315 packaging comes with similar accessories but adds a ⅛" to 1⁄4" converter to the mix.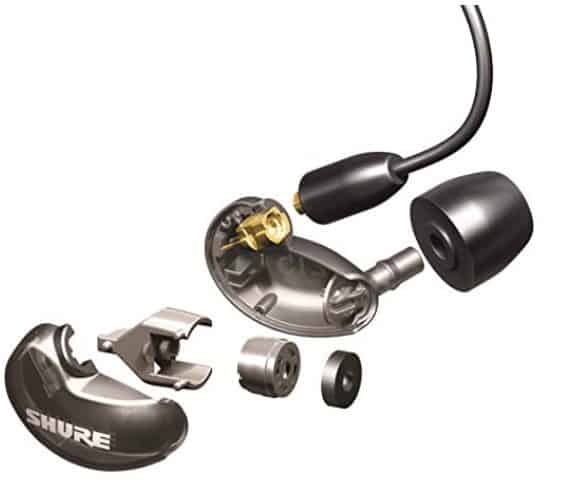 I think the coolest feature of these two earphones is their noise isolation. While they don't have active noise cancellation, some details in the design make them very good at keeping external noise out.
The angled design of the earphones makes it possible for you to use the best placement. Since everyone's head and ear structure is not the same, the little swivel allowance gives room for you to adjust the positioning to your convenience.
Another feature that helps the sound isolation is the multiple tip sizes. Since you have a size that will fit perfectly, it leaves little or no space for any external noise to come in. The best part is that both of these earphones are excellent at noise isolation.
Additionally, they are low impedance earphones, which means that just connecting them to your phone will give you a high volume listening experience. You really don't need an amp to drive these earphones.
Conclusion
These Shure SE215 and SE315 noise isolating earbuds are really close in terms of features. After careful examination, the major difference looks to be in the area of sound quality.
You may think this difference does not matter since you're not an audio buff or because you just need the music for exercise or something similar.
You'll be surprised that you'll notice these differences. When you have dual-driver earbuds that isolate noise as well as these two, you tend to hear more detail, and even non-audiophiles can begin to notice some things they otherwise wouldn't.
Also, none of these two are wireless earbuds, so cable inconvenience is present in both.
Having said that, if you'll be using the earphones for long stretches, the SE215 will give you ear fatigue at a slower pace than the SE315.
This is because of its tempered high frequency. On the other hand, if you just want to enjoy your music in short bursts, the SE315 will give you more detail and clarity over the SE215.