If you are like me who wears the earbuds while working out and commuting, you may be looking for some of the most durable earbuds.
Our Best Pick
Shure SE215-CL Sound Isolating Earphones - Clear
Best Value for Money
Klipsch Image S4i Rugged - Red All Weather In-Ear Headphones For iPhone iPad iPod
Most Durable Earbuds
Sennheiser IE 80 S Adjustable Bass earbud Headphone, Black
Last update on 2023-12-08 / Affiliate links / Images from Amazon Product Advertising API
I know the pain you feel.
When you buy a good pair of earbuds and they go broke after some months of abuse.
In fact, in my closet, there are dozens of broken cheap earbuds that I bought for everyday use from 7 years or so.
I now know all of the things to look while buying rugged/durable earbuds. After testing some earbuds that are reported as durable by many people, I've put together some of the best durable earbuds like Shure SE215, RHA T20i, and JLAB J4 and many more in this post.
Often, people neglect some of the aspects and features of the earbuds that make them more durable.
The trap is that they either will go brand-crazy or fall in love with the design of the earbuds.
Meanwhile, they forget about the durability of the earbuds. Some simple features like strain relievers at the junction of the cable and connector can save you lots of money in the long run.
So, yes.
There are some simple features that people often tend to miss while getting good durable earbuds.
Then let's go.
Here are the 7 best durable earbuds
Keeping mind all the things I've said earlier, I've chosen some of the good rugged earbuds that are worth it.
Along with that, I also took only the earbuds that are durable and also excel in terms of sound quality.
Let's dive in.
True Wireless Earbuds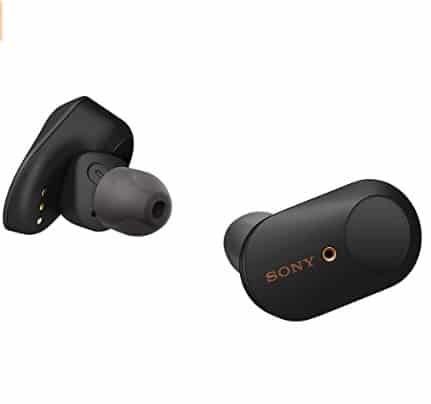 Build and design
The Sony WF-1000XM3 true wireless earbuds have a unique design that beats most other earbuds – wired or wireless.
The frame of the earbuds do not protrude all the way out. After putting them in your ears, the other parte stays super compact. Not even the airpods can boast of this minimalist form factor.
That's not all. These earbuds are not just small, they are lightweight. At 8.5g, most users will wear them for hours without having any weight issues. For all the cool stuff we can say about these true wireless earbuds' design, they are not sweating or water-resistant.
That's a real bummer because you can't take them to the gym, for running or for cycling since sweat can be an issue. Also, taking them to the pool is risky. What if they fall in?
Getting back to the good stuff, these Sony Bluetooth earbuds come in a charging case that can store up power for future charging. I'll talk more about the batteries and charging later.
Sound quality
The sound profile of these earbuds have the bass-first approach. There's definitely a bass enhancement here, but it's not something that should put you off if you're not a fan.
The bass does not overshadow the midrange. So, while you're enjoying the boom and energy in your music, the vocals, guitars and pianos are still clear. The soundstage is pretty accurate too.
It's not super wide, but you'll know where all the elements are in the stereo space. It's also good for movies, especially while watching on your phone.
The earbuds use active noise cancellation to keep out ambient noise, and I must say, it does an excellent job. So, if you're using these earbuds outdoors, it would be best if you wore only one ear, especially where you have heavy traffic.
Features
If your phone has the NFC feature, you can use it to connect to the earbuds. It's way faster and easier – just tap away and you're ready to go. Aside from the NFC, the Sony earbuds work well with Google assistant.
So, you can give voice commands to your phone using the earbuds. This essentially makes the earbuds 100% hands free, since you can answer your calls without touching your phone.
That's not all, the WF-1000XM3s batteries last the whole day, and they only spend 90 minutes charging. This makes them the ideal companion for a full day's use.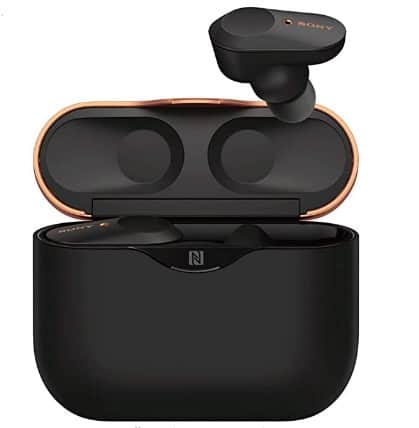 Moving on to the controls, you can pause/play your music by tapping the touch pad. Also, taking out one of the earbuds pauses your music.
What we like
The battery can last you for a full day's use
Both bass and midrange are detailed, giving life and energy to Rock music.
The compact design makes it suitable to be worn outdoors.
What we don't like
These earbuds lack the AptX feature. AptX is the latest Bluetooth technology for better audio quality.
The earbuds are not waterproof or sweatproof.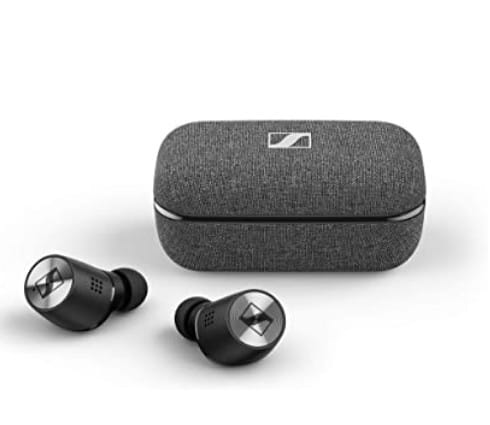 Build and design
The Sennheiser Momentum True Wireless 2 are noise canceling earbuds. The outside frame is metallic, built to last and withstand a few accidents. In the box, there are four different pairs of silicone eartips.
This ensures that you will have a good fit no matter your ear size. These earbuds are water resistant with a rating of IPX4. This means that you can wear them for your indoor and outdoor workouts even when you sweat all over.
However, you shouldn't take them swimming. Plunging them in water will cause damage. Let's talk about the controls. These are easily accessible by touching the outer panel. The different commands are distinguished by the number of taps and length of taps.
I know, it may be tricky to master them the first time, but with time, it becomes super easy. The controls include playback navigation, noise cancellation, volume, and a host of others.
Sound quality
With active noise cancellation, it becomes super easy to hear everything. In truth, most headphones sound good without external background noise.
For the Sennheiser Momentum true wireless earbuds, the bass comes out clean, punchy and energetic, with a lot of detail. Also, it doesn't overshadow the mids or highs, which makes it good for any type of music you listen to.
The mid and treble are also impressive, but there's more detail in the treble than the midrange.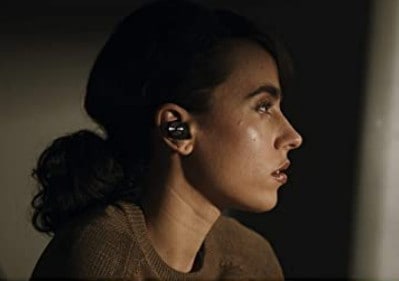 Features
The earbuds themselves can last up to 7 hours when they're fully charged. When you exhaust those, the charging case will give you an added 28 hours of playback. This is more than enough for a full day's use.
For the best experience, install the Sennheiser Smart Control App. It's compatible with both Android and iPhones. The app enables you to customize controls, and adjust your EQ settings just in case you want more or less bass.
What we like?
Because the earbuds have multiple ear tips, most users will find the perfect fit
The earbuds are sweat-resistant, so you can take them on long jogs or to the gym.
With the Smart Control App, you have a wider range of features.
What we don't like?
The active noise cancellation makes it unsuitable for cycling or running in heavy traffic.
The earbuds have no fins or wingtips for additional fit.
Durable Wired Earbuds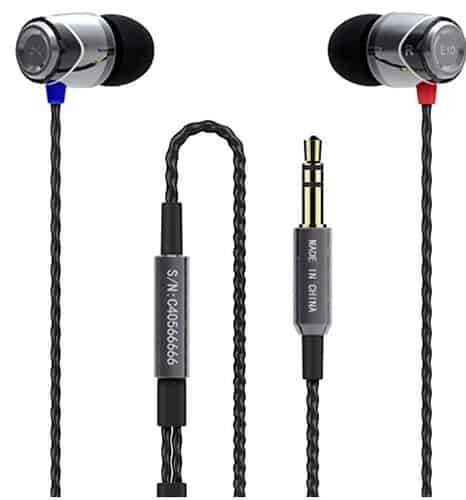 Build and design
These earbuds are made of metal – that's unique because most in-ear headphones are plastic. Sure, it makes the headset stronger than plastic ones, but it shouldn't make much difference if you're not stepping on them.
Moving on, let's talk about the ear tips. The Soundmagic E10 comes with silicone rubber tips. The great part is that you can choose to use either the single-flanged or double-flanged pairs.
The double-flanged eartips go deeper into your ear, thereby giving more isolation and a tighter fit.
On the other hand, the single flanged tips don't go as deep, but may offer more comfort when you're using them for long hours. Personally, I feel uncomfortable with anything deep in my ears, so I prefer the single-flanged option.
That's not all; the single and double-flanged ear tips come in different sizes, so you will surely find a good fit.
Sound quality
The E10s have some bass enhancement; just enough to give energy and punch. The whole sound is not boomy, so you still hear the details of other frequencies clearly.
Some bassheads want their music to be all sub-woofer and no tweeter. Well, what's the fun in that? There's a lot of elements you can enjoy in the vocals, synths and other elements.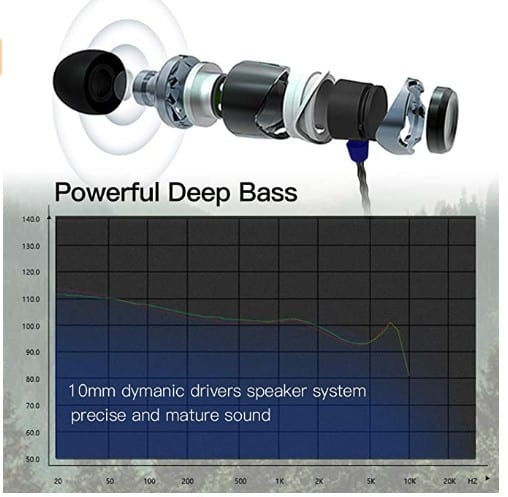 The mids also have the warmth you need to enjoy voices and instruments, but there's some slight recession in the high mids. This means if vocal clarity is not abundant in the original music, these earbuds won't help you.
Another impressive feature of these earbuds is the sparkle and sizzle. No harshness, just enough brightness to make the music lively.
Lastly, the soundstage is just as wide as I expected from earbuds. Don't expect any cinema feel from these though.
Features
The frequency range covers what you need for normal hearing, with little boost on the lows and highs. The impedance in these earbuds is higher than most, but it still works well with phones. However, for higher gain, you may need an amp.
What we like?
The earbuds have multiple eartip options for fit and comfort
Hip-hop and EDM sound energetic with the enhanced bass and treble.
It can withstand more abuse than the average earbuds, this is due to its metal frame.
What we don't like?
It's hard to get maximum loudness on small devices because of the earbuds' impedance rating.
The slight recession of the midrange puts some vocal and guitar elements in the backstage.
#2. Sennheiser Momentum In-Ear – Stylish with a lot of bass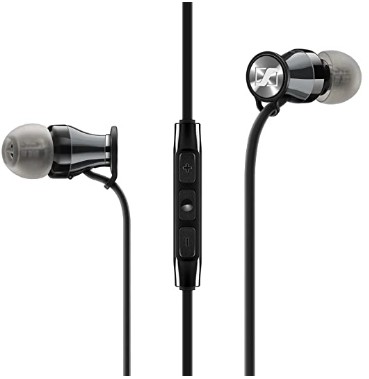 Build and design
The earbuds are easily recognizable by the Sennheiser logo on the back of each bud. It's made of a combination of plastic and a metallic frame. It's a combination of red, glossy blackand metallic finish. The in-line remote on the cable also carries the bred and black theme.
The overall look is quite classy, making the earbuds able companions when going outdoors. The cable is made such that the wire attached to one earbud is black while the other is red. If you're looking for earbuds that will not stand out, you may consider the Sennheiser IE80s.
Sound Quality
Even though there are two variations of these earbuds, both sound exactly the same. The overall sound texture has some enhancement in the bass and treble, with a slightly recessed mid. The bass comes hard, fast, and punchy. It is thoroughly enjoyable if you listen to songs with high bass energy like hip hop and EDM.
The treble tops up that energy by giving your music some sizzle and shine. The soundstage also lets you hear a lot of detail in the music. This makes up for the slightly recessed mid to an extent. It's what we expect from earbuds at this price point.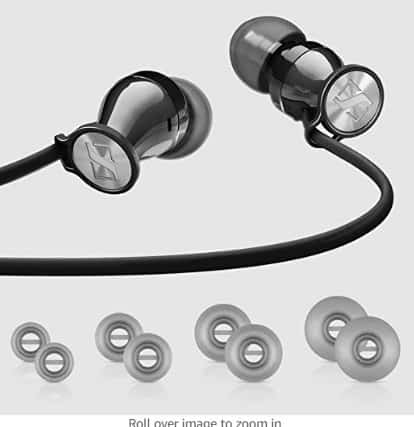 Features
For better compatibility, Sennheiser made two versions of these earbuds – the iPhone and Android versions. The difference is how the in-line remote works with your phone. With the controls, you can play, pause, make calls and receive calls.
This accessibility will prove useful while driving and talking on the phone.Additionally, for your comfort, there are four eartip sizes included in the box. Finding a snug fit is pretty easy.
What we like?
The Sennheiser in-ear earbuds have a stylish design for users that like a fashionable touch.
Compatibility is assured with different versions for different devices.
Sound profile is well fitting for hiphop and other high-ernergy electronic music.
What we don't like?
The flashy design may be a turn off for those who want a more concealed look.
The recessed mid reduces detail in music with a lot of vocals.
#3. Bose SoundSport In-Ear Headphones – Maximum compatibility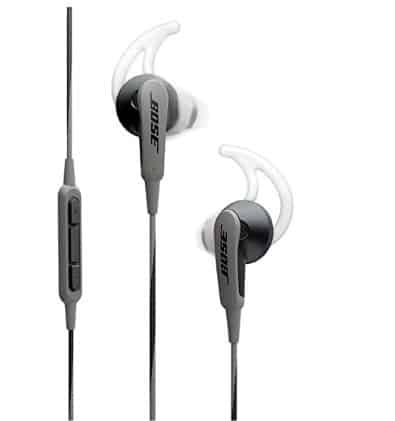 Build and Design
Like the Sennheiser in-ear earbuds, the Bose SoundSport headphones have the Android and Apple iOS versions. However, in the Bose's case, the Android version gives you limited color options. The eartips do not dig deep into your ears. Instead, they sit at the edge while the Bose StayHear tips hold them in place.
The tips have little wings attached that keep them locked in. What's m0ore? The SoundSport earbuds are sweat resistant. You can take them on long jogs, cycling or even to the gym. Ypur sweat won't do any damage. they can also endure the occasional accidental water splash.
Sound Quality
The sound you hear with these earbuds is usually influenced by ambient noise. Because of its design, it lets in some of the sounds from your immediate environment. while this can be a bummer during train or air travel, it is a huge plus for cycling in high traffic areas. Sometimes, it's safer to ear what's happening around you.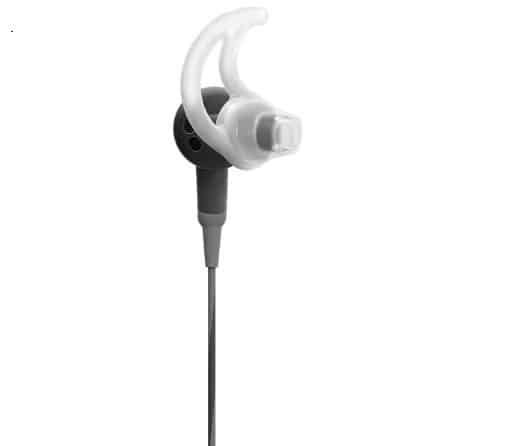 Beyond noise isolation, these in-ear headphones have a decent bass response. Not very boomy, but present enough to make you enjoy any music. The treble has a bit of compression, with a tiny hint of harshness you'll only notice at the highest volume.
Features
The cable is long enough to give you enough room to connect from your pocket to your ears. This is good for athletes because they won't have dangling cables to deal with while working out.
The StayHear tips ensure a good fit and are super comfortable for long hours of use. You could take these earbuds hiking and they'll feel good all the way.
What we like?
Moderate cable length makes the earbuds suitable for most users.
StayHear wing tips ensure a snug fit even while running.
The earbuds are sweat resistant, which makes them a good workout companion.
What we don't like?
The treble can be a little harsh when the volume is loudest.
The sound isolation is below par – it allows ambient noise in.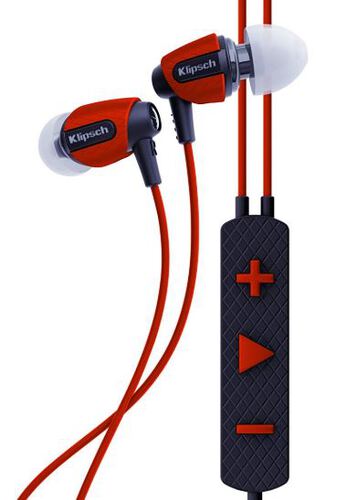 Specifications:
Earbuds Form Factor – In-ear
Earbuds Technology – dynamic
Frequency Response – 10 Hz
Sensitivity – 110 dB
Impedance – 18 Ohm
Diaphragm – 0.3 in
In-Cord Volume Control – Yes
Microphone Operation Mode – uni-directional
Included Accessories – 4 pairs of ear tips, carrying case, clothing clip
The earbuds are rugged than most of the other Klipsch earbuds. The cable has a nice rubbery feel on them and is rugged and durable.
They are also tangle-free so that you can easily keep these in your pockets without worrying to untangle them on the go.
Although these earbuds are not meant to be waterproof, they withstand sweat and is solid for everyday use.
The only complaint about the wire is that they tend to produce some cord noise on movement.
However, this can be fixed with a shirt clip and avoiding rubbing the cord against your clothes.
Want to know more?
The bass of these earbuds are quite punchy but it's not certainly for bass-heads. The mids are clear and the vocals tend to outperform the bass and lows.
The treble is great.
If you listen to genres like classical or acoustics, you'll certainly love the performance of these earbuds in the treble part of the music.
Most of the durable earbuds are quite heavy with metallic construction. But these Klipsch Image S4i earbuds, being a rugged one, are very lightweight which is a plus point.
They rest in your ears comfortably for hours without causing any discomfort. The package comes with various sizes of ear tips so that you find the right fit.
What we like?
The tangle-free cable design ensures that you don't have to struggle with untangling the earbuds.
The clear midrange makes jazz and classical music exciting.
The earbuds are super comfortable – you can wear them for hours without stress.
What we don't like?
There's a little noise in the earbuds when the cable rubs against your clothes.
EDM lovers and bassheads, may not like the neutral bass.

Specifications:
Impedance – 16 Ω
Frequency response – 10 – 20,000 Hz
Sound pressure level (SPL) – 116 dB (1 kHz / 1 VRMS)
THD, total harmonic distortion – < 0.1 % (1 kHz / 100 dB SPL)
Ear coupling – Ear-canal
Jack plug – 3.5mm, straight
Cable length – 1.2m
Attenuation – – 26 dB
Headphone connector – Sennheiser proprietary 2-pin connector
The build quality of these Sennheiser IE80 earbuds is awesome.
They are made out of high-quality plastic and the metal plate gives a premium look to the earbuds.
The earbud cable is detachable, it can be unplugged out from the earbuds. This feature alone combined with the 2 years of warranty by Sennheiser ensures the longevity of the earbuds.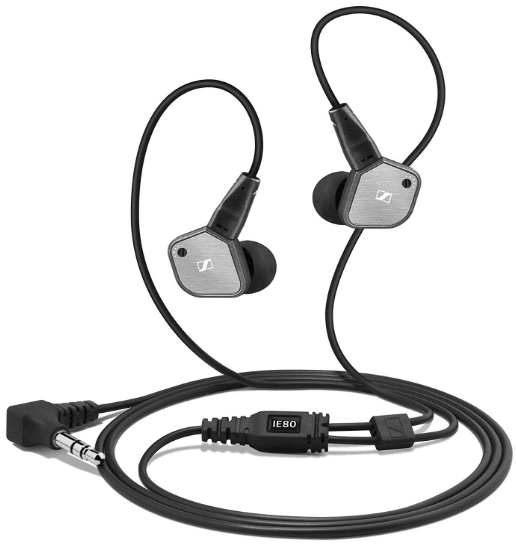 The 3.5 mm jack of the earbuds sit at the right angle, and it thus ensures that the stress on the cable is reduced when you pull off the cable by holding the wire. Also, stress relievers do a great job.
What's the use of durability, without a good sound quality?
So, let's look at the sound quality of these earbuds.
The bass in these earbuds is excellent. You can feel the boominess of the bass. The bass is well balanced and doesn't overpower the details and the clarity of the treble and mids. The fidelity in mids and treble is excellent.
The soundstage effect is great in these earbuds. The frequency response is ranging from 1Hz – 20,000 Hz.
So, there's a certainly slight emphasis on the low-frequency profile.
They offer great comfort for longer periods. They fit perfectly in your ears, filtering out a good amount of ambient noise.
Due to the perfect fit, the earbuds won't tend to fall out of your ears even while jogging. This IE80 headphone is a minor upgrade over the previous IE8.
So, there's really no strong reason for you to upgrade from IE8 to IE80.
What we like?
With a detachable cable, these earbuds are one of the most durable on this list.
They are good for jogging and cycling because they have a secure fit.
The earbuds have a wide soundstage for their size.
What we don't like?
When cable is detached, it's easy to misplace the earbuds.
The previous IE8 is almost just as good.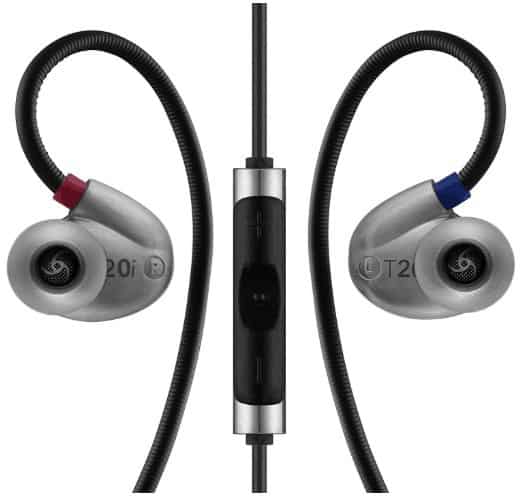 Specifications
Drivers – 770.1 Dynamic Drivers/Td>
Driver type – Dynamic
Impedance – 16 Ohms
Sensitivity – 100dB
Frequency response – 16Hz – 40,000Hz
Wired connectivity – 3.5 mm input
Microphone – No
These RHA T20i earbuds come with 3 years of warranty. It speaks volumes about the durability of the earbuds.
As usual, like that of all of the RHA earbuds, the driver housing is metallic. Once you unbox the earbuds the first thing you admire is the build quality. The earbuds are certainly crafted to last.
The cable is heavy, thick and sturdy. The strain relief is excellent. The cord is not detachable like that of SE215 I reviewed above.
This is the only reason that made me rank these earbuds below the first one. The length of the cable is very long, you need a clip-on to keep the cables from swinging to and fro while on the move.
In addition to that.
They are very heavy for wearing them while jogging or running. That's a downside these earbuds come with.
The earbuds are extremely comfortable. When you wear these on, the wire goes behind your ears giving a secure fit. They offer excellent sound isolation with this secure fit.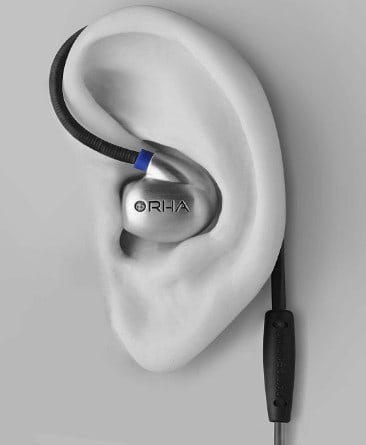 The earbuds come with 3 different filters (Bass, Reference, and Treble). If you listen to bass-centric music like rock and hip-hop, the bass filter would be great for you.
If you listen to classical and acoustics the treble filter gives you the best experience. The reference filter is for you to enjoy the music without any coloring.
In the reference filter, the separation between the lows, mids, and highs are clear. Out of the box, the earbuds come with reference filter activated.
What we like?
The different filters make these earbuds suitable for a wide range of listeners.
The end of the cable has a stress relief that prevents it from snapping when you pull it by accident.
Its 3-year warranty is a guarantee of durability.
What we don't like?
The cable is quite long, so you may need a clip when using the earbuds outdoors.
The earbuds can get a bit heavy when you're jogging or doing other exercise.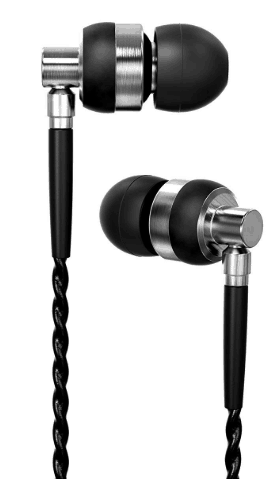 Specifications
Drivers: Dynamic, 10.7 mm
Rated Impedance: 20 Ω
Frequency Range: 20 Hz ~ 20 kHz
Sensitivity: 115 dB at 1 mW
Rated Input Power: 10 mW
Cable: 1.3 m Y-Cord, Silver Plated
Plug: 3.5 mm, Gold Plated
Once you unbox these Brainwavz M2 earbuds, the first thing you notice is the build quality of these earbuds.
The metallic body of the earbuds seems premium and the build quality is above average. You also notice that the cable is braided and rugged to prevent tangling.
The cable is stiff and they won't tangle easily. These are, without a doubt will be long-lasting.
If you consider the build of these earbuds, these earbuds are certainly made out of better materials than that of Klipsch and other earbuds in this range. The thin reinforced cable really adds up to the longevity of these earbuds.
When it comes to sound quality, these offer good bass that is not overpowering. It is well balanced.
The mids are more emphasized on these earbuds. This means the details and vocals of the singers can be heard crystal clear without any loss in quality. The treble part is smooth and above mediocre.
Overall, the sound quality is great with a slight emphasis on mid-frequency ranges.
The comfort is great.
Once you find a good pair of ear tips, the earbuds fit deeply in your ear, offering you good comfort for at least 2 hours of time.
What we like?
The mid-range emphasis makes vocals clear and improves audiobooks and podcasts' crispness.
The eartips have a good fit and are comfortable.
The durability is improved by the reinforced cable.
What we don't like?
The more emphasized mids may be a turn off for bassheads.

#8. JLAB J4 – Tight fit guaranteed
Specifications
Body Material – Aluminum
Additional Features – Tangle-free, flat cable
Earphones Form Factor – In-ear
Connectivity Technology – Wired
Sound Output Mode – Stereo
Frequency Response – 20 Hz
Sensitivity – 90 dB
Impedance – 16 Ohm
Diaphragm – 0.3 in
Connector Type – Mini-phone stereo 3.5 mm
These earbuds are made to last forever. The main things that contribute to the longevity of these earbuds are the aluminum housing and also the kevlar reinforced rugged cable that's tangle-free.
​
The stress relievers and the cord itself are built great and will definitely last longer. If you've ever tried the Jbuds (older one), these earbuds are their newer version and have good build quality than them.
Again, the cable won't tangle even a little bit whatsoever. The JLAB J4 earbuds are built only with heavy-duty materials.
The bass is great and is very boomy.
It is outstanding!
It performs well in low frequencies without any rattling sounds. The mids and highs are also pronounced greatly – there is a good balance of sound across various frequencies.
Although the treble part is not as high as the Jlab J5, they are clear. But they are certainly as good as J5 when it comes to durability.
There is a decent balance between the bass and the treble part of the music. These earbuds require a decent burn-in time (about 40 hours) before they perform to their fullest potential.
When it comes to comfort, these come with 7 ear tips. Once you find the right set of ear tips, you hardly feel the fact that you are wearing these earbuds.
The softness of the ear tips also adds to the overall comfort. The earbuds come with different colors that suit your taste.
What we like?
The stress relief cable end prevents the earbud cable from snapping.
Multiple eartips (7) ensure a tight fit.
The earbuds have a lot of bass that will delight bassheads and hip hop lovers.
What we don't like?
The bass enhancement may be a turn off for audiophiles who like a more balanced sound.
Needs 40 hours burn in time before you can enjoy it fully.

#9. Shure SE215 –
My pick for durable earbuds under $100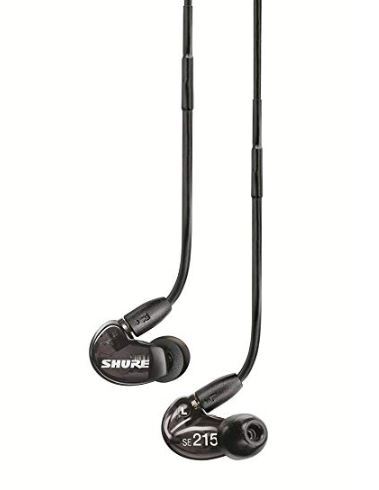 Specifications:
Weight:30 g
Sound signature: Detailed sound + enhanced bass
Sensitivity:107 dB SPL/mW
Impedance:17 Ω
Frequency Range:22 Hz – 17 kHz
Cable length:162 cm
Sound Isolation (up to):37 dB
MicroDriver: Single Dynamic
Cable type: Detachable
Color Options: Black, Clear, White, Blue
Special Features: Inline Mic
The greatest strength of these Shure SE215 earbuds is their solid build quality. The cable is thick and is Kevlar braided.
The cable does not tangle and withstands good wear and tear. With these earbuds, you get 3 pairs of Comply foam and also 3 pairs of rubber ear tips.
The Comply foam ear tips are made exclusively by Shure for maximizing the build quality.
The cable is detachable from the actual earbuds. This feature adds to the longevity of the earbuds.

In case if the stock cable breaks for any reason, rather than ditching the earbuds themselves, you can pick up a new cable and use it with the earbuds. The cable does not tangle easily.
The driver housing is also made of premium plastic, that won't break easily and is rugged. They are transparent so that you can see the internal circuitry of the earbuds.
But wait- there's more!
The Shure SE215 earbuds perform well across the entire frequency band. If you are a true audiophile, you may notice that these earbuds perform great at lower frequencies than that of mids and highs. These are pretty bass-centric.
The bass is great but doesn't overpower the other details of the music.
As I said earlier, these earbuds come with foam and rubber ear tips of various sizes.
Among these, the Comply foam ear tips excel in terms of comfort and sound isolation. These foam ear tips when inserted, expand inside your ear. This it offers a good fit and sound isolation.
You can barely hear ambient noise when listening to music with these earbuds on.
What we like?
These earbuds have a detachable cable, which makes them last longer.
The Shure SE215s have good sound isolation, preventing external sound from disturbing your music.
The transparent design is classy and looks good when you wear them outdoors.
What we don't like?
The sound isolation may prevent you from hearing your environment if you're jogging or cycling in heavy traffic.

Specifications
Cable Length – 48 inches
Audio Input – 3.5mm audio plug
Speaker Power – (3mW x 2) 6mW RMS
Driver – 9mm
Impedance – 18 Ohms
Sensitivity – 98+3dB
Frequency Response – 20HZ- 20KHz
Weight – 0.85 ounces
For the price of under $20, these are the most durable earbuds you can get. These are indestructible and built greatly.
The driver housing of the earbuds is metallic, which gives a premium look and the solidity to the earbuds. The cable is reinforced and is very thick. The connectors are absolutely strong so that you need not worry about breaking your cable.
The sound quality in these earbuds is decent and not too excellent. The bass response and mids are great. The mids are warm. The treble part is a bit lacking and is weak.
If you often listen the classical you may not love these earbuds. These earbuds are suitable for bass-heavy genres like rock and hip-hop.
To be honest.
You may go for RHA T20i instead of these if you hear treble-heavy music more often.
The earbuds seem to be a little heavy for wearing. The earbuds come with various sizes of rubber ear tips.
Once you find the right size of ear tips for your ears, the earbuds offer good comfort.
What we like?
These earbuds are bass heavy, perfect for lovers of high-energy music.
The in-line remote offers multiple functions via the multifunction button.
What we don't like?
The earbuds don't sound very bright, so your music may lack some shimmer.
The earbuds are a bit heavy, making them uncomfortable after a few hours.

Also read:
1. Best Bone Conduction Headphones for 2019 – Our Top 5 Picks
2. Top 7 Best Headphones for Drumming
3. 5 Best Headphones for Metal and Rock in 2019 – Go Heavy!
Features you need to look for durable earbuds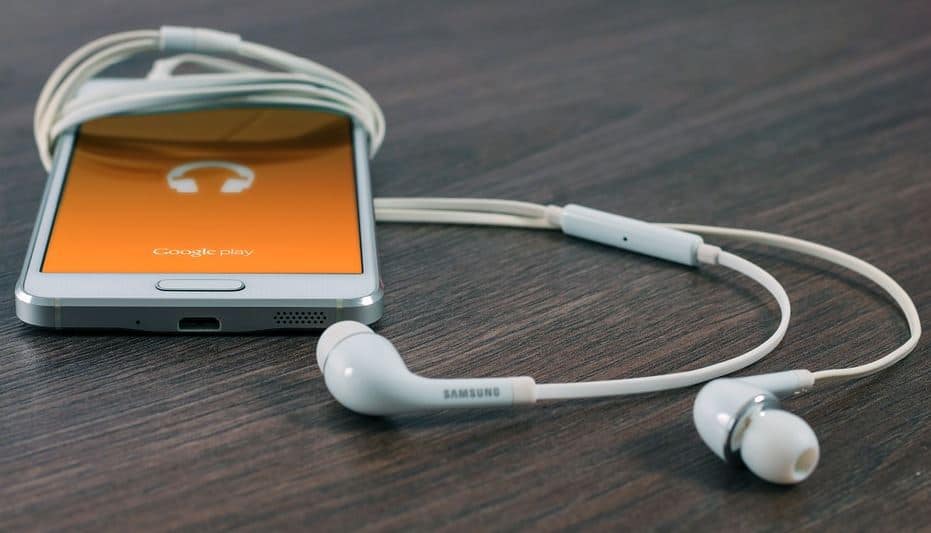 Build
It all comes with the driver housing. Most of the earbuds that do not splice into halves, come with steel and aluminum driver housings.
Most of the cheap earbuds and also some of the premium earbuds come with plastic housings, that do not ensure the longevity of the earbuds.
With a little observation of the build material, you can easily figure out whether the earbuds are durable or not.
Stress relievers
Good durable earbuds have stress relievers both at the point where wires enter the drivers and above the 3.5mm jack.
In some of the good durable earbuds, the stress relievers are also present above and below the inline mic (if present).
These hinges ensure that the wires won't get broken when you pull the wires roughly.
Although this seems like a simple feature, because of the absence of this particular feature I broke several earbuds.
Tangle-free
If you are a regular reader of SoundMaximum, you may have read one of the previous articles on best tangle-free earbuds.
In that post, I've mentioned that earbuds that come with braided or flat cable do not tangle.
As you may have guessed, one of the main reasons why people break the earbuds is that because of their impatience to untangle the earbuds.
I'm also like that.
Go for earbuds that come with the wire that is either flat or braided. With these tangle-free earbuds, you can carelessly stuff your earbuds in your backpack or the pocket without worrying about the durability.
Replaceable cables
Although the earbuds I mention come with durable wires, the support for swapping in a new wire in case if wire breaks in a nice addition.
This comes to your rescue when you are in need to buy a new pair of earbuds mainly due to the broken cable.
Most of the people go with wireless earbuds as there is no risk of cables.
Water or sweatproof
If you are willing to use the earbuds while working out or while it's snowing, you may look for earbuds that are moisture and sweat resistant.
FAQs on durable earbuds
1. Do the durable earbuds come with replaceable cords?
Earbuds may not really need to have replaceable cords to be durable. Because of their size, it may not be so convenient to add replaceable cords to earbuds.

However, this is not really a problem, because the kind of impact that may damage your cord will probably take the earbuds off you altogether. This is not the case with headphones; hence the need for them to have replaceable cords. Most of the most durable earbuds do not have replaceable cords.
2. How much stress can these earbuds withstand?
The earbuds are primarily built to withstand the abuse that comes from everyday use. There's an occasional accidental pull, tug or stepping-on that happens, but not very often.
While they are built to withstand the abuse, deliberate destructive action may prove fatal. Also, most durable earbuds are water-resistant.
3. What makes the earbuds durable?
Usually, it's the material they are made of. Even though most earbuds are made of plastic, these plastic materials have varying levels of strength. For instance, resin as a material for plastic is quite strong and will endure higher levels of abuse than some other types.

The material used to make the cord is also quite important because, for most earbuds, a bad cord means you have to replace the whole thing.
4. Do these durable earbuds comfortable?
A large number of these earbuds are comfortable; at least the manufacturers intend that they are. However, you must also consider the fact that these earbuds are made for "average" ear hole sizes. At times, your ears may be a bit small, such that the earbuds don't really fit well.
5. Do all earbuds with strain relievers are durable?
A strain reliever will generally increase the lifespan of the earbuds. This means that the same earbuds will last longer with strain relief than without it.

Strain relief is generally used in lots of electrical and mechanical applications. Its function is to maintain the performance of the cable by preventing stress and tension that could affect its internal components. The internal component is the conduction part that carries the signal from your device to your ears.
Wrapping up
These are some of the most durable earbuds you can buy today.
Finding a durable pair of earbuds is easy, but finding the right balance between the sound quality and durability is a tough job.
I hope you found this post helpful.
Make sure you consider the above factors that I explained while choosing a durable set of earbuds.
If you want the earbuds that are both durable and comfortable with good sound quality, go for earbuds that are at least above $50.