When using some wired earbuds, one of the annoying problems you face is the tangling of the wires. That's where tangle-free earbuds come into play.
Table could not be displayed.
In this post, I've listed some of the best flat cable earbuds that come with a mic. I suggest you to go with
Zipbuds SLIDE Sport Earbuds if you are a fitness freak. Klipsch Image S4i-II is best suited for outdoor use.
The earbuds which do not have flat cables, tend to tangle a bit quickly when you put them up in your pocket or even when you put it on your couch.
If you are a curious human (I guess you are!), you may have sometimes wondered why the cables of earbuds tangle all by themselves. Finally, scientists are now able to explain why wires tangle itself.
In the study, they found that almost 50% of the time, the string would form a knot by itself.
How strange? Added to that, the strings that are less than 46cms do not get tangled at all. The cable of earbuds is obviously above 46cms, so they tangle a lot.
The earbuds I mention, do also come with the inline mic so that you find these tangle-free earbuds to be used easily with your smartphones or iPhones on the go.
After some research, scientists found out that flat-cable earbuds do not tangle easily. So, if you want tangle-free earbuds, flat-cable earbuds are the way to go.
Best tangle free earbuds – Handpicked for you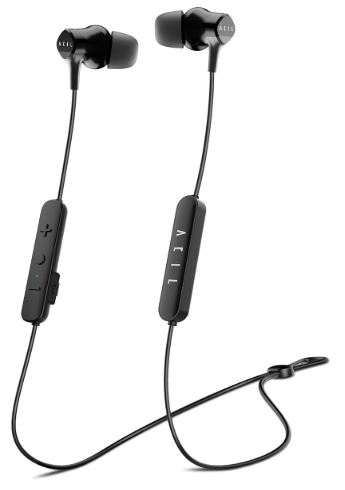 Cable:
The ACIL Bluetooth Noise-cancelling Earbuds are equipped with a unique tangle free flat cable. If you're a music lover, you probably understand how frustrating it is when your earphones get tangled up. It often forces you to spend considerable time untangling the headphones.
Purchasing tangle-free cable earphones such as ACIL Bluetooth Earbuds eliminates the inconveniences brought about by tangled earphones.

Since they're wireless, you don't need to directly connect them with your smart device. Simply switch on the Bluetooth functionality and wear these in-ear headphones as you work out or stroll around the block.
If you prefer earphones with mic, you'll love the ACIL Bluetooth Earbuds. These exquisite earphones come with an in-line microphone that can be regulated using button control.
Sound quality:
The sound accuracy of this tangle free headset makes it one of the best tangle free earphones in the market.
These tangle free cable headphones are designed by highly trained audio engineers. They feature authentic, wide-ranging sound consisting of powerful lows and exquisite highs. You will enjoy the crisp sound quality delivered by these in-ear headphones – users describe this sound as "deep and full".
Considering the budget-friendly price of these tangle-free earphones with a flat cable, there's all the reason to purchase them. These ACIL Bluetooth headphones are equipped with two distinct drivers: the Knowles balanced armature driver and the 10.8mm dynamic driver.

As a result, you get lively treble audiophiles that merge perfectly with the deep, dynamic bass.
Comfort:
It's important to purchase a tangle free headset that's comfortable to wear. The ACIL Earbuds are intricately designed to provide the perfect fit. These in ear headphones utilize an ergonomic, asymmetrical design to offer a comfortable fit.
The distinct ear-tips of the ACIL Bluetooth Earbuds are constructed using soft liquid silicone material that acts as a soft seal. There's an assortment of ear-tips that are included within the package to cater for the dissimilar ears of different users (these are the S/XS/M/L ear tips).
Apart from ear-tips, these Bluetooth earphones are equipped with a magnetic clasp that fits securely onto any outfit, optimizing comfort even when you're on the move.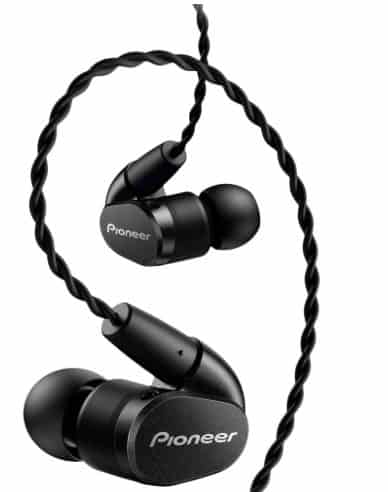 Cable
The Pioneer Hi-Res in ear headphones are equipped with a tangle free cable that offers immense convenience to users. The cable is braided and fitted with a gold-plated jack. Pioneer provides one of the best tangle free earphones in the industry, and they've certainly outdone themselves here.
The braided cable is black in color and features an inline mic and control feature. These earphones with mic allow you to pick up calls without having to grab your phone. You can also control your music selection by manipulating the remote control.

Using the Pioneer Hi-Res tangle free earphones offers users lots of freedom and convenience. You won't have to spend hours untangling these in-ear headphones, owing to the braided cable. It's a great idea to invest in such impressive earphones.
Sound quality
These pioneer headphones provide a surreal listening experience. They are accurately tuned to provide a clear sound that is not only accurate but also enjoyable to listen to.
Pioneer SE-CH5T-K is specially developed to reproduce high-resolution audio formats accurately. It possesses powerful drivers that are capable of delivering 40 kHz sounds. You can comfortably listen to jazz, rock and other instrumental music genres with intriguing clarity.
Music lovers are always keen to find tangle free earphones that deliver detailed vocals consistently. In this regard, these Pioneer Hi-Res headphones don't disappoint. The bass quality is simply to die for.
Comfort
A concise review of the best tangle free earphones wouldn't be complete without a deep look into the comfort level of Pioneer Hi-Res headphones. This unique earpiece sport an ergonomic design that's perfect for in-ear listening.
Weighing at 2.72 ounces, these headphones are lightweight and convenient to wear – you'll barely notice wearing them. In addition, they boast of having Airflow Control Port.

This is a cutting-edge technology that enhances the mid-range bandwidth and also highlights the bass frequencies. As a result, audio is delivered with an exquisite depth of clarity.
In conclusion, the Pioneer Hi-Res headphones fasten securely over users' ears to provide a comfortable fit. The cable deliver less bumps during movement, ensuring that you listen to less noise and more music.

Cable:
If you are looking for a completely tangle-free, and durable earbuds for working out, these work like a charm. Most of the zipper earbuds come with a zipper.
However, these earbuds come with a Zipperless Zipper Cabling, which lets you use the earbuds without worrying about tangling.
The lack of the actual zipper is a significant upgrade over the previous version of ZipBuds and makes the earbuds very lightweight for everyday use.
The zipper starts from the remote pad and does an excellent job of holding the two wires together and prevent them from tangling.
Sound:
The bass is balanced and punchy. It does not sacrifice mids and highs due to the strong bass. These earbuds can even satisfy the needs of a bass-head to some extent.
For the price, the audio quality is excellent. The mids are clear and highs are very crisp. You won't be noticing any muddiness and distortion in your sound at all.
There is an inline mic that is sweat proof and gets you rid background noise effectively. The voice turns out to be very clear, and I personally thought that the mic could be much better in terms of sound quality.
Comfort:
These Zipbuds SLIDE Sport earbuds come with multiple sizes of Dual-Composite Silicone Ear Tips. These ear tips, when combined with the Sport Fit Mold gives you the utmost comfort and great fit for even intense workouts.
They are very comfortable for long use, and never fall off your ears with a secure fit. As they are meant for the active lifestyle, they are designed so that the earbuds won't irritate your ears due to the sweat while working out.
Cable:
This Klipsch Image S4i-II is one of the good flat cable in-ear headphones under $50. Like that of the majority of the Klipsch earbuds, these also do come with a tangle-free flat cable.
With this flat cable, you do not have to worry about untangling your earbud cables repeatedly.
The cables are bit heavier and thick, and they bounce out a little when running or jogging. Nevertheless, this design makes the earbuds very resistant to tangling.
Sound quality:
Bass is balanced and not overpowering. The bass is pleasant to hear.
The mids and highs are pronounced accurately with no distortion at all. The earbuds add some warmth effect to the songs which is great to hear and relax.
The major downside of this earbud is microphonics. With the flat cords, these earbuds produce some cord noise when in movement and rubbing against your cloth fabrics.
The earbuds are not suitable for working out due to this.
As I said earlier, the cord is little heavy causing the buds to fall out for some people while running.
The earbuds come with the three-button remote control and also an inline mic for voice calls. The clarity of the voice in mic is decent and serves its purpose.
Comfort:
These Klipsch S4i-II earbuds come with multiple ear tips. The patent-pending oval ear tips provide great comfort for extended hours of listening.
They fit in perfectly. However, in case if you didn't find the perfect fit, you may find the earbuds fall out of your ears in case of very intense workouts due to the slightly heavy cords bouncing while you are running on the treadmill.
However, if you got a spare short clip-on, this can be prevented.
Apart from falling out sometimes, these offer great comfort without causing any discomfort in your ears.
Although these Sennheiser CX 300 earbuds don't come with inline mic, these are worth mentioning as they are best tangle-free earbuds under $50.
Cable:
Below $50 this is the best bet if you want tangle-free earbuds with a strong bass. The earbuds come with 1.2m tangle-free cable that's of high quality.
It also comes with 3.5mm right-angled connector to prevent the wear and tear of the connection between the cable and the earbuds.
If you've ever used the previous version of these earbuds the CX300II, they tend to tangle. But these earbuds are a great upgrade to the previous one as this never tangle in your pocket.
Sound quality:
The bass in these earbuds are strong. But the bass of these can't be compared to the Sennheiser CX 300 II earbuds – the bass monsters. The bass is well balanced and certainly don't overpower the other sound ranges.
The mids are where these earbuds are great. The vocals sound clear, and you love it. The highs are not harsh but pleasant to hear. It is a pleasant surprise to see these earbuds performing great in all the frequency ranges.
The earbuds do a great job of blocking out an ample of ambient noise; they are good at isolation.
Comfort:
They are very comfortable to wear for extended periods of time. You can expect these earbuds to serve you well in the gym while working out.
The earbuds stay fit in your ears even while moving. The earbuds come with four rubber ear tips but don't come with Comply foam ear tips. The ear tips offer great seal and comfort.
If you want more features in your earbuds out of the money you spent, these earbuds won't disappoint you.
Cable:
The tangle-free flat cable enables the earbuds to get rid of any natural tangles. This lets you use these earbuds without any hassle. The connectors are of the right angle and it ensures that the connection won't get broke.
These NoiseHush NX80 earbuds are comfortable to carry and fold without worrying about those knots. The cable has a unique feel, with a nice blue or red color based on the color of the earbuds you buy.
NoiseHush NX80 earbuds do come with an inline mic. That's fairly good at getting rid of the noise. The sound quality is good and more than enough for voice calls.
Although there's an inline control there's no option to change the volume. But that would not be a serious downside for most of them.
Sound quality:
The sound quality is great for the price below $20. These are bass-heavy earbuds. These earbuds deliver that thumping effect for rock and rap genres kind of music.
The bass overpowers the mids to a certain range. Although the bass does not sacrifice the mids entirely but it affects it a little. But with some slight EQ changes, this can be fixed, though. The mids are clear.
The highs are not too high. But are not too harsh.
The mic quality is great and conversations turn out very clear.
For the price, these offer good value.
Comfort:
These NoiseHush NX80 earbuds are comfortable. These come in with three various sizes of ear tips. For most of the people with medium sized ears, the small ear tips are very comfortable.
You can easily wear these on for hours without getting hurt.
Cable:
These Philips In-ear High Precision Tx2 Earbuds are the best tangle free earbuds with mic below $50. This earbud comes with a tangle-free flat cord with slider technology.
This enables you to get rid of any slight tangles that may occur easily.
You can easily pull them out from your pocket and use them on the go, without worrying them to untangle them.
The cable also includes an inline mic and remote control. The mic does an excellent job of getting rid of background noise, so you'll have clear conversations with these on.
Sound quality:
If you've ever used earbuds from Jlabs or Panasonic in this range, Philips clearly beats them regarding sound quality.
As they fit nicely into your ears, the extended bass can be felt strongly in your ears. The bass is tight and extended.
The mids are very clear; you often notice the details of the songs you've never noticed before. The highs are crystal clear, and there is no distortion whatsoever.
To get a awesome sound quality, you can go with dual driver earbuds.
Comfort:
These Philips In-ear earbuds come with three sets of ear tips. These ensure that you find the perfect pair that fits in your ears snugly.
If you have tiny ears, you may find it difficult to find a good ear tip pair out of these.
So, you may need to get another set ear tips preferably Comply Foam Eartips that suits your ear size and fits in perfectly.
Once you find the perfect fit, the sound isolation is excellent.
FAQs on tangle free earbuds
How to make earbuds tangle-free with paracord?
Wrap the paracord around the length of the earbud and use a clip to keep the cord from touching your clothes. Make sure you cut the paracord into the different segments of the earphone cord.
How to keep earbuds tangle-free?
One easy way to do this is to fold the earbuds over and tie it into a simple figure 8 knot.
How to say that the earbuds are tangle-free?
If you want tangle-free earbuds, buy one with a flat cable. Flat cables are tangle-resistant.
How does an earphone get tangled up all by itself?
The strings would make a knot by itself and tangle up. The study has found that normally the cables with a length more than 46 cms get tangled up easily.
Do all the tangle-free earbuds come with mic functionality?
Not all tangle-free earbuds have mics. Some have and some don't.
Stay Tangle-Free
Let's admit it.
Untangling wires of the earbuds especially in a crowded place may seem a little embarrassing. So, these tangle-free earbuds come handy at those times.
Wireless earbuds are also good choice.
I hope you found these best tangle-free earbuds helpful. Most of the best tangle-free earbuds come with a flat cable, although zipper earbuds I mentioned is the exception.
Before picking up a good earbud, make sure it also has an inline mic. Don't preassume anything.
Thanks.