Which one do you think is a better earphone – Shure SE215 or Shure SE535? We have an answer!
Last update on 2023-12-08 / Affiliate links / Images from Amazon Product Advertising API
Considering Shure's wide range of quality earphones, it's high time we end this debate on which is the better child in the family – the Shure SE215 or the Shure SE535.
| Parameters | | |
| --- | --- | --- |
| Frequency range | 22hz to 17.5khz | 18hz to 19khz |
| Sensitivity | 107 dB | 119 dB at 1 mV |
| Noise attenuation | Up to 37 dB | 37 dBA |
| Impedance | 17 ohms | 36 ohms |
| Weight | 1.05 oz | 1.06 oz |
| Amazon product page | User reviews | User reviews |
Starting from design going all the way up to its sound quality, we won't leave any stones unturned.
Shure SE215 vs SE535: Let's clear out the smoke!
Design
I'm sure nobody likes dull looking earphones and that's exactly what Shure has kept in mind while designing their products.
The new Shure SE215 is an upgraded version of the classic Shure SE210 with which you get the new added features – a new earpiece design and a detachable cable. The previous version had a less bulged out look and now, it looks similar to the legendary ShureSE530.
Meanwhile, the Shure SE535 is an improved rendition from its predecessor SE530. The newborn earphone does fail to carry on the four year legacy of the SE530 and replicates its origin with a number of tweaks for a refined and enhanced impact.
The body of the Shure SE215 is made of clear plastic through which the wires inside the casing and the gold connectors forming the detachable mechanism are clearly visible. It also comes in a shiny black coloured body for those who prefer being subtle!
You get two optional looks for the Shure SE535 –
A metallic bronze finish inherited from the elegant Shure SE530.
And an absolutely fantastic looking clear plastic finish.
​ After all, it's super cool to be able to see the internals of any top-class audio equipment, isn't it?
Cable and mechanism
Shure has put a lot of effort into the minute details to ensure ease of use.
The Shure SE215 has an organic look, it is curvier and is best suited when worn over the ears, thanks to the soft and ductile ear loop built within the 5 centimeter cable popping out of the earpiece.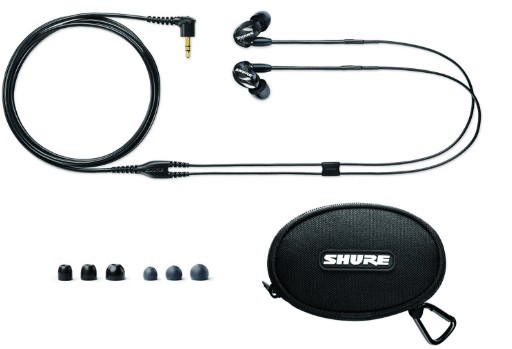 Brushing noises get omitted in the Shure SE535 due to the over-the-ear design where the cable meets the driver through a formable wire.
In order to reduce tangles, the cables of the Shure SE215 have a textured design that keeps the wire from knotting up and for extra protection, it is reinforced with Kevlar which matches the quality of the Shure SE535. Sounds relieving, right?

If you are the one who is looking for hands-free operation, I suggest you go with wireless earbuds.
Although it might take some time for you to get used to the stiffness of Shure SE535's Kevlar reinforced wire, all it does is that it ensures a more secure fit, in case you decide to practice your dance skills, or maybe during jogging!
In the Shure SE215, the buds of the connectors rotate around the joint freely. The coloured dots – red and blue – on either side of the connector show you the position at which it can be pulled apart and you can do it easily without getting confused.
Another new feature of the Shure SE535 include a lock-snap MMCX connector where the cable joins with the driver. You can rotate it freely. The driver units are flatter and smaller to fit into your ears better.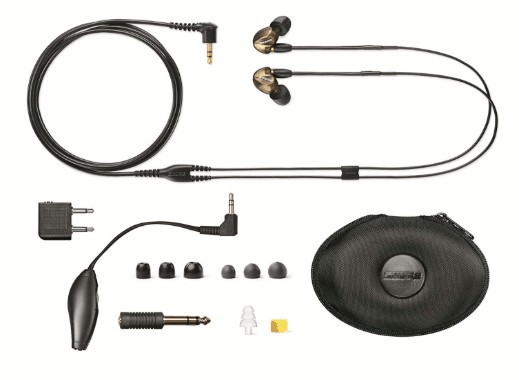 Buds and noise cancellation
Ear comfort is a must for earphones because nobody wants to listen to music by causing trouble to the ear muscles. And so is noise cancellation. What do both the earphones have to offer?
Read on.
Along with the Shure SE215, you get 6 pairs of Shure standard rubber and foam tips of excellent quality and they fit very well too.
In case of the Shure SE535, you can choose from the three different sizes of Shure's trademark hard black foam tips, a pair of soft yellow foam tips, three pairs of silicone tips and one pair of triple-flange silicone tips.
Seems like Shure SE535 doesn't want to compromise with the listener's comfort at all. That surely deserves a point more!
In terms of noise cancellation, the Shure SE215 demonstrates exquisite sound isolation which comes pretty handy in noisy environments. It can be really annoying when your favorite song is interrupted by annoying sounds and unnecessary conversations. Shure feels you!
The black foam tips of the Shure SE535 are the best in terms of noise cancellation and comfortable fitting. In addition to blocking out external sounds, you don't need to increase the volume as the sound quality itself is so incredible. So goodbye to ear fatigue even after long hours of music!
Sound quality
Now that we're done talking about looks and features, let's get into the inside business – sound quality – which is by far the most important aspect. Don't worry, we'll make it easy for you.
Starting with the Shure SE215, it has a single dynamic driver, which is generally seen in lower end earphones that lag behind than the better performing balanced armatures.
But wait, the Shure SE535 is about to gain some extra points because of its triple-driver arrangement. Two of the woofers responsible for the low and mid-range while a separate tweeter is dedicated for the higher frequencies.
The low end sound of the Shure SE215 is big and busty and can sound great for those earphone shoppers who don't analyze much. But to be honest, it can be very muddy and messy.
The crossover of the Shure SE535 produces a full and coherent sound. It is very well balanced without any distortion or added coloration.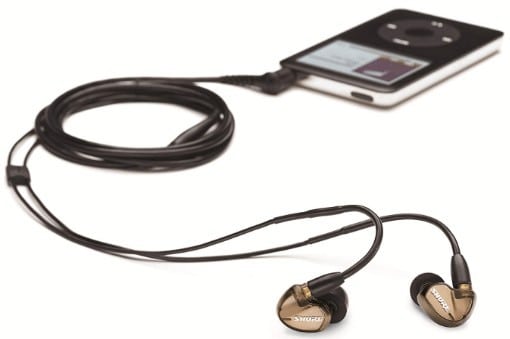 Although the bass in the Shure SE215 operates like the conventional dynamic drivers, it doesn't sound swollen and slow like other low end alternatives.
The bass of the Shure SE535 is silly smooth and doesn't over do it as well.
Being a low end version, you can feel the music spreading out in a wide manner with the Shure SE215 rather than being concentrated at one point in spite of having a 1 mm aperture. This feature of the expanded sound stage helps to compensate for the lack of treble.
The midrange of the Shure SE535 is finely detailed and remains unhampered irrespective of how much you turn up the volume levels.
On the contrary, the midrange of Shure SE215 is a little less detailed but isn't a matter of concern.
The top-end clarity of Shure SE535 is better than its predecessor, has more detail for every note and gives you a sparkling and delightful sound.
The high end of the Shure SE215 has decent amount of audible detailing and there is no hissing sound to irritate you.
Pros and cons
Shure SE215
Pros
Solid clarity and no overboosted bass
Replaceable cable
Ear tips come in six different sizes
Outstanding build quality makes them last long
Cons
Fit tends to become loose if the over-ear wire isn't firmly secured
Ear fatigue after long listening sessions
Extra cost for inline mic and volume controls
Smartphone cable is sold separately
Shure SE535
Pros
Jaw-dropping sound quality
Top-notch build quality
Improved performance from SE530
Extremely comfortable for long listening hours
Triple high definition Microdrivers
Cons
Detachable wire can be unhandy
Smartphone compatible cable has to be purchased separately
Way costlier than the similar SE530
Also look at:
1. Shure SE846 vs SE535- Which Earphone Sounds Excellent?

Bottomline
It's time to put an end to this review by declaring the winner in Shure se215 vs se535.
The Shure SE215 represents the low end of Shure and share a similar quality construction and high quality cable system as the Shure SE535.
Even though the Shure SE215 has a rich bass and warm mid-range, it lacks behind that Shure SE535 significantly in sound quality. Also, the Shure SE215 is more durable.
So if you are thinking about investing in earphones, go for the Shure SE535 without any doubt. So it is highly recommended that you grab one before it goes out of stock!