Which true wireless earbuds sound better – Sennheiser CX 400BT or Sony WF-1000XM3?
This is one of the major factors we consider when comparing earbuds. However, there's a lot more to examine. So, if you're wondering which Bluetooth earbuds are the better choice, then you're in the right place.
In this article, we compare a Sennheiser to a Sony pair of Bluetooth headphones and answer some of your burning questions.
Which wireless earbuds are better for making calls, the Sennheiser CX 4400BT or Sony WF 1000XM3?
Which ones block out outside noise better – the Sony or the Sennheiser.
Let's answer all your questions and more.
Sennheiser CX 4400BT and Sony WF-1000XM3 Compared
Noise cancellation
The Sony WF 1000XM3 has effective noise isolation. The eartips are designed such that low-frequency noise like traffic rumbles is reduced.
To have the best noise reduction, activate the active noise canceling feature. This technology practically mutes all background noise in your environment – from quiet murmurs to roaring engine noises.
The Sennheiser CX 400BT only has passive noise isolation. This kind of noise isolation relies on the design of the earbuds to keep out background noise. Although it does an excellent job it is no match for active noise cancellation.
The benefit is that you do not get overly detached from your immediate environment. This may be crucial for your safety at times. If you're running, cycling, or just walking outdoors, you must have some awareness to be safe.
Having said that, the Sony earbuds also have such safety considerations. The "ambient mode" allows some sound from your environment into your ears. With Sony WF 1000XM3, you can choose whether or not you want external sound.
Comfort and fit
Both Sony and Sennheiser went all out to ensure that everyone who uses their earbuds will have a snug fit. The WF 1000XM3 comes has a 3-point non-slip rubber nozzle, designed such that it stays put in your ears no matter how much head movement you make.
Also, because people have different ear sizes, Sony added a few other sizes of eartips to the mix.
Sennheiser is certainly not left out here. The earbuds fit snugly and come with 4 different ear adapter sizes. It's almost impossible to not find a pair that fits. You can use the CX 400BT earbuds for several hours without feeling the weight pulling on your ears.
Battery life
The Sony WF 1000XM3 gives you 24 hours battery life. It's more than enough for a full day's use. It's also perfect for long flights. To fully charge the earbuds and charging case, you need just 3.5 hours. So, even if you run out of battery, charging the earbuds for just 15 minutes will give you almost 2 hours of use.
The Sennheiser CX 400BT gives you fewer hours when we combine the earbuds with the charging case. Th earbuds give you 7 hours while the case gives 13 hours. That's 20 hours in all. This means if you took the earbuds out in the morning, you would still have some charge left by evening.
However, considering the fact that the CX 400BT has no ANC, I expected the batteries to last a few more hours.
A plus on the side of the Sennheiser earbuds though, is that they take just 1.5 hours to charge from empty to full. This means just 15 minutes charge can give you up to 3 hours of playback time. That's impressive.
Portability
If you like taking your earbuds while running, cycling, or working out, then both of these earbuds may not work for you.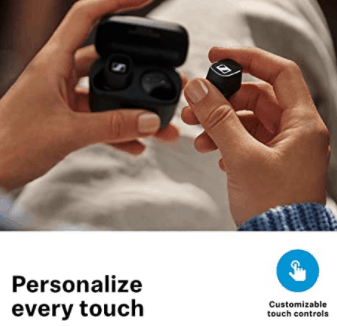 Both the Sennheiser CX 400BT and Sony WF 1000XM3 lack any water resistance certification. They are not sweat-resistant, which is why they're not the best to use during physically demanding tasks.

Also, don't take them near the pool or beach. An accidental drop in the water may cause damage.
Microphone
The Sennheiser CX 400BT mic sounds crisp, giving more detail to the speech. The bass is clearly limited as expected. While it suppresses background noise, the caller on the other end will still hear some of it, even though it's reduced.
Similarly, Sony WF 1000XM3's mic also sounds crisp and clear, but it does a better job of keeping out surrounding noise. Your caller will only hear your voice.
Sound quality and performance
The CX 400BT earbuds have a more neutral approach to sound production, especially the bass frequencies. I'm sorry bassheads, but these Sennheiser has chosen to not add a bass boost.
However, the sound is not all neutral, there's a little enhancement in the mids and highs. This brings out a lot of detail in rock, classical, and vocals. You can feel the "bite" and shimmer in the songs as you listen.
Sony WF 1000XM3 brings something else to the table in terms of sound production. It has some enhancement in its bass.
This low-frequency lift is only a slight increase and not the kind of boost you find in earbuds like Jabra Elite 85t. The Sony earbuds also have a slight enhancement that brings out the midrange details.
You'll enjoy almost any kind of music with these earbuds, but the Sony earbuds will suit bass lovers more.
Other features
Sennheiser CX 400BT comes with the Bluetooth 5.1 version while the Sony earbuds have the 5.0 version. However, the Bluetooth performances in both headphones are similar. They give you up to 10 meters or 33 feet distance with uninterrupted connectivity.
The Sennheiser headphones do not have multipoint connection technology. This makes them unable to connect with two devices at the same time.

However, you can pair up to 8 devices to the earbuds. This makes the connection short and easy anytime you want to stream from any of the paired devices.
Sony WF 1000XM3 has limited multipoint technology. This means that you can connect two devices to the headphones at once, but you can't stream media from both. One of the devices has to be for calls only.
Similarities and differences of Sennheiser CX 400BT vs Sony WF-1000XM3
Similarities
Both earbuds have excellent passive noise isolation.
The Sony and Sennheiser in-ear headphones are not sweat or water-resistant.
The Bluetooth connections in both earbuds give you up to 10 meters or 33 feet.
Differences
Sennheiser CX 400Bt has a flat bass production whereas Sony WF 1000XM3's bass is enhanced.
The Sennheiser earbuds rely on the eartips design for noise reduction. The Sony headphones have ANC which does a better job.
Sony WF 1000XM3's multipoint allows you to receive calls from one device and play media with another, while connected to both devices. The CX 400Bt only allows connection to one device per time.
Pros and cons
Pros
Good passive noise isolation.
Comfortable to wear for long hours.
Excellent microphone call quality.
Cons
No water or sweat resistance.
No active noise cancellation.
Cannot connect to more than one device at a time.
Pros
Excellent noise isolation with ANC.
The multipoint function allows you to connect two devices at a time.
Long battery life – will last you the whole day.
Cons
No water or sweat resistance.
Has a bulky frame.
Conclusion
If you usually find yourself in loud environments where you need to block out the noise, then ANC is a big deal. Of these two earbuds, only Sony WF 1000XM3 has active noise cancellation. But if you don't mind some of your surroundings getting into your ears, the Sennheiser is also a quality option.
Another factor that could be a decider is the multipoint feature. If you need your phone and laptop connected to the earbuds, remember that only the Sony headphones have that capability.
With this, you can stream media from your laptop and receive your calls without taking off the earbuds.