The Nikon D3500 is a DSLR camera that is common among photographers. However, in recent times, YouTubers, vloggers, streamers, and other video content creators have shown interest in this camera. This is because they have discovered its potential in taking really good videos.
There's only one problem: the built-in mic sucks. To make it worse, there is no input port to connect an external mic. So what's the solution?
There are some mics that work well with the Nikon D3500 to give you high-quality audio. In this article, we look at the top 5 mics that you can use with your D3500.
Top 5 mics for Nikon D3500
Specifications:
Number of Tracks 2
Max Sample Rate/Resolution 96 kHz / 24-Bit
Microphone Built-In Cardioid Condenser Stereo Pair, X/Y Configuration
Built-In Speaker Yes, 500 mW Mono
Display 1.25" / 3.17 cm Monochrome LCD (Backlit)
Memory Card Support microSD, microSDHC (Up to 32 GB)
Build and design
This standalone recorder is a lightweight mic that's suitable as a replacement to the regular on-camera mics.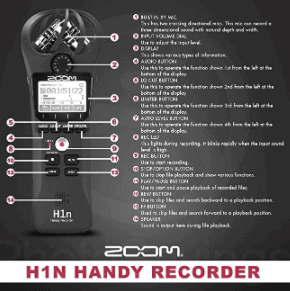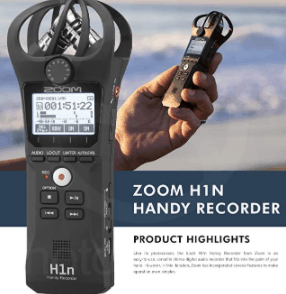 Weighing just 60 grams, it should be easy to carry it along for your video shoots. The Zoom H1n has 12 buttons on it. When you press the buttons, they give a "click sound.
The clicking can guide you when recording in the dark, or anytime you're not looking. Between the time you switch on the mic and when it starts recording, there's a 10 second wait period. So, you always have to do that 10-second wait between power on and recording.
The battery lasts between 9 and 10 hours. This gives you a day of recording (excluding the dark hours.)
Also, the mic does not come with its own windscreen. You need to buy that separately.
To use this mic with your D3500, simply hold it or place it on a tripod. It doesn't come with a hot shoe for sitting on the camera.
Sound quality and performance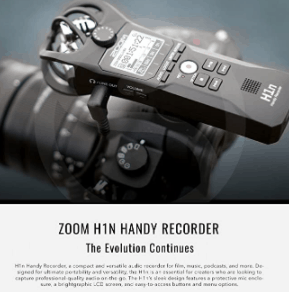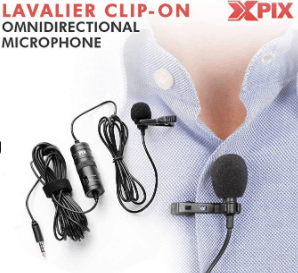 One thing we notice from the H1n's recording is its reduced bass. When recording outdoors, the rumble of traffic and thunder boom is felt a bit less.
The audio quality is still quite impressive though. It records a maximum audio quality of 96kHz/24-bit. This is one of the highest levels of fidelity you'll find today.
The recordings are crisp and clear, not leaving out any detail. For better clarity, the Zoom H1n has a low cut filter that you can set at 80Hz, 120Hz, or 160Hz.
What do we like?
The mic has low self-noise, so you can record quieter sounds without problems.
The X/Y mic configuration makes it suitable for field recording.
There is a lock key to stop you from pressing buttons by accident.
What we don't like?
The plastic feels a bit flimsy- needs extra care.
When put on standby mode, the battery still gets drained.
Bottomline: If you move around a lot to record your videos, the Zoom H1n will be a convenient, lightweight addition for audio.
Specifications:
Recording Format 16/24-bit @ 44.1/48 kHz
Mic Polarity: Supercardioid
Gain: 0 to +50 dB (1 dB step)
Power 1 x AAA battery (alkaline, rechargeable NiMH, or disposable lithium)
Power Consumption 0.75 W (maximum)
Build and design
This mic weighs almost twice the Zoom H1n, but it's a more convenient option. The Tascam DR-10SG is a mic that records without the need for connecting it to the camera.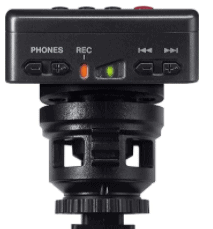 It comes with a hot shoe that enables it to sit on the D3500's shoe mount, but that's all. There is no cable connection between the camera and mic, therefore no audio is sent.
The battery life here depends on the kind of battery you use for the mic. A NiMH battery lasts between 7 to 8 hours, while an alkaline battery lasts between 8 and 9 hours.
The battery with the longest life is the lithium battery. It gives you up to 15 hours of recording time.
Sure, these batteries may not give you around-the-clock recording time, but they will surely outlast the D3500 batteries, so you'll always have time to charge them. It charges via the USB micro B slot.
Sound quality and performance
This mic has a frequency response of 20Hz to 20kHz. This means it has the capacity to record everything that falls within normal hearing. Its recording audio quality could be 16-bit or 24-bit at 44.1kHz or 48kHz.
Either way, you get clear audio. However, you should know that the higher the quality, the more memory you need to store it.
The Tascam DR-10SG has a supercardioid polar pattern. It focuses on sound coming from right in front while rejecting those from other sides.
The pickup angle is quite narrow, so you must get your positioning right. Because of this ambient noise rejection, it's a good voice for outdoor speech recording.
What do we like?
You can record the audio into two files at once -both at different levels to present unpleasant surprises.
You need less space to set it up since the mic sits on the camera.
This mic gives you the benefits of an on-camera mic with the flexibility of an external recorder.
What we don't like?
The windshield does not do an impressive job outdoors.
You need headphones for monitoring – small earbuds don't work.
Bottomline: If you're recording dialogue with your D3500 and you need to avoid background noise, this is the mic for you.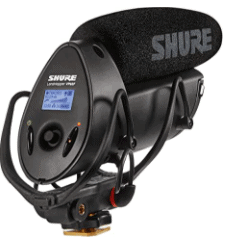 Specifications:
High-Pass Filter 170 Hz, 12 dB/Octave
Tone Adjustment None
Gain Adjustment Up to +60 dB
Indicators 1 x Single LED (Status)
On-Board Controls Gain, Headphone Volume, High-Pass Filter, On/Off
Windscreen Foam (Included)
Build and design
This mic has a solid build, looking and feeling like it's ready to take a beating. The Shure VP83F lenshopper is the Flash recording version of its sister mic, the VP83 Lenshopper.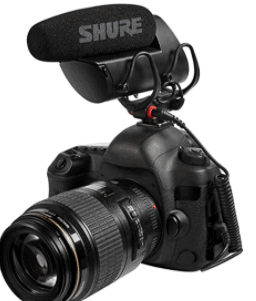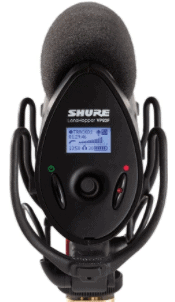 It's considerably heavier than other mics here, coming in at 215 grams. However, it's still in a range that's easy to carry.
It can take up to 32GB MicroSD card. This is essentially why it works for the Nikon D3500. The Shure VP83F sits on the Nikon hot shoe but does not connect via its audio port. That's because the Nikon has none. So, all recording goes to the MicroSD card.
Sound quality and performance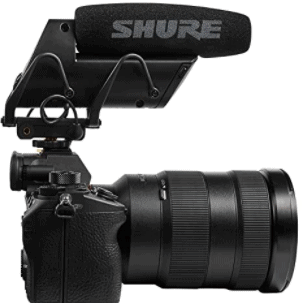 This mic records into the memory card at a maximum quality of 24-bit/48kHz. That's good audio quality by today's standards. All the functions on the mic work just as they should either you connect to the camera or you're recording to the SD card.
Speaking of functions, the mic has a low-cut filter which you can engage to reduce background noise.
Most noises are in the low-frequency range. With a frequency response of 50Hz to 20kHz, you can expect the mic to pick most audio, except the lower bass tones.
The sound is crisp and clear and sounds very natural. However, since this mic focuses on sound in front of it, it's not a good option for field recording.
What do we like?
This mic has a rugged build that makes it suitable for run-and-gun shooting.
It can take loud noises without distorting, thanks to its maximum SPL of 129db
It has a zero-latency audio monitoring slot for headphones.
What we don't like?
It adds considerable weight to the camera.
It is not suitable for field recording.
Bottomline: This mic is rugged and sounds really great. If you're recording dialogue, you can't go wrong with the VP83F.
Specifications:
Number of Tracks 1
Max Sample Rate/Resolution 48 kHz / 24-Bit
Microphone Interchangeable Omnidirectional Condenser Lavalier
Built-In Speaker No
Display OLED
Build and design
It's easy to be deceived by the plastic build of this mic. The DR-10L is quite sturdy despite its plastic frame. As expected from its size, it's quite lightweight. It weighs just 63 grams, enough for you to carry it on your person without inconvenience. It's a lav mic, so this is important.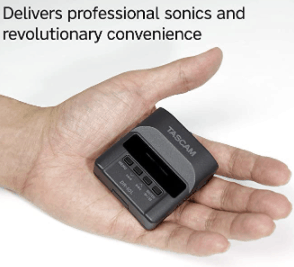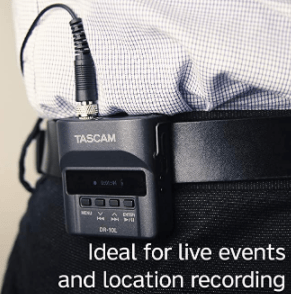 It has a five-step gain control that helps you to adjust the recording volume as needed. Also, there's an audio port that enables you to monitor the sound with zero-latency.
To use this mic with the Nikon D3500, you just need to record your audio into the microSD card and add it to the recorded video while editing.
The battery lasts for 10 hours. so, it's likely that you will fill the memory card before the battery goes down.
Sound quality and performance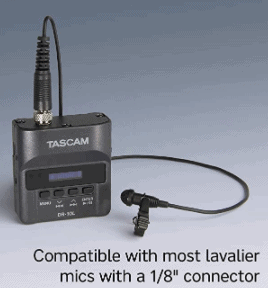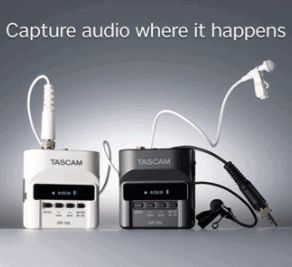 Like most other mics in this list, this lav mic and recorder combo have maximum quality of 24-bit/48kHz. If you record at this level, the ad card will fill up faster.
The DR-10L sound is optimized for speech. Of course, this is expected since it's a lav mic. Also, the mic has a dual-level recording feature.
This means that you can record two versions of the same audio at the same time. One at a lower gain level than the other.
How does this help? If there's a sudden loud sound that makes the recording distorted, you have a quieter backup to use.
What do we like?
Perfect for recording single-person speech.
Excellent rejection of background noise.
Solid plastic build – lightweight and durable.
What we don't like?
Lav mic can only be used for recording single-person speech.
Requires extra time for editing to add audio to video.
Bottomline: If all you want to record is a single-person speech, then this mic is for you.
Specifications:
Number of Tracks 4
Max Sample Rate/Resolution 96 kHz / 24-Bit
Microphone Built-In 5-Mic Array, Mid/Side, and X/Y Configurations
Built-In Speaker Yes, 400 mW Mono
Display 1.8" / 4.57 cm Monochrome LCD (Backlit)
Internal Storage None
Build and design
In many ways, the Zoom H2n looks and feels like an upgrade of the H1n. The frame is made of strong plastic and the buttons and knobs are well made.
The recorder has a black and white display screen that makes it easier to navigate the various functions. The mics are at the top of the recorder.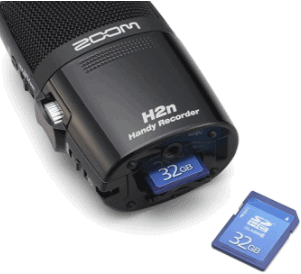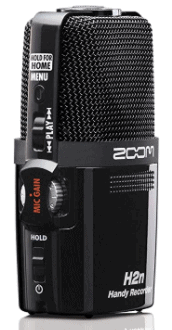 If you're shooting a video outdoors, you need a windshield. It's not included in the box, so you'll have to buy it separately.
To use it with your Nikon D3500, you need to record the audio first, then align with the video when editing.
Sound quality and design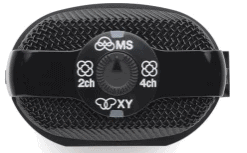 Zoom H2n 's mics are arranged such that they are capable of M-S, X-Y, and 360-degree recording. The common feature in all these pickup patterns is that the mic captures a more realistic sound, with the environment ambiance.
Though it sounds real and more natural than a cardioid mic, there's a risk of having high ambient noise volume.
What do we like?
Solid, durable build.
Long battery life of 20 hours.
High-quality audio recording.
What we don't like?
Not excellent at rejecting background noise.
Does not come with the windshield.
Conclusion
Of all these mics and recorders, my top picks are Tascam DR-10L, Tascam DR-10SG, and Zoom H2n. I picked the DR-10L because it's a lav mic, which means it has a specialized use. When used properly, it does its job excellently.
Also, I would pick the DR-10SG over the Shure VP83F because it doesn't contain features that you don't need, especially when using the Nikon D3500. The Shure mic has some of these features and they add to the weight.
Lastly, Zoom H2n has a natural sound production, and if I'm shooting the video where the ambient sound is decent, it will be my preferred mic.
Read Also: How to Earrape Mic? (Discord, Zoom) – Don't Miss this Guide