True wireless earbuds have become hugely popular gadgets today, and it's easy to see why. They are small, lightweight, convenient options for getting quality audio. Should you consider getting a pair, Jabra Elite 85t and Bose QuietComfort are two options that you're likely to consider.
In this article, I compare these two true wireless earbuds to show you which is better for you.
Which earbuds are better for outdoor, running, and hiking; the Elite 85t or QuietComfort?
Which in-ear headphones have the longer battery life; the Bose QuietComfort or Jabra Elite 85t?
I address these and many other questions in this article.
Now, let's dive in.
Jabra 85t vs. Bose QuietComfort: Features compared
Noise cancellation
The Jabra Elite 85t's design helps it to keep out a considerable amount of outside noise. However, there's a limit to how much background noise that passive noise isolation can deal with. The active noise canceling feature makes sure that all unwanted ambient noise is kept out of your ears.
The active noise cancellation is adjustable. You can select how much of your surroundings you want to hear. This function is essential if you're jogging outdoors or cycling. To be safe, you need to hear the traffic and other things going on around you.
Bose QuietComfort also has this active noise canceling feature. Like the Jabra 85t, they have adjustable ANC. you can increase or decrease the levels to control background noise.
Comfort and fit
The Jabra 85t's eartips are shaped such that they fit into different ear sizes. The major reason why these earbuds are so comfortable is that the eartips leave some room for pressure. Earbuds that build up pressure in your ears can be discomforting.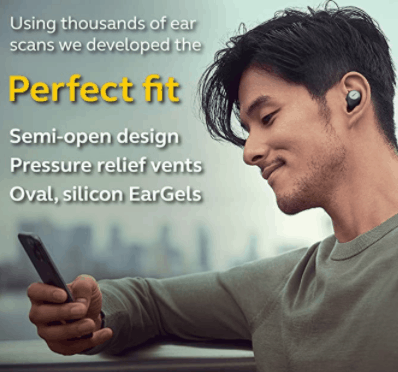 However, if you're not using ANC, that space that reduces pressure will let in some background noise.
Bose QuietComfort does not rely on a single eartips design to give you the best fit. Instead, the earbuds come with extra ear fins for different ear shapes and sizes. With multiple options, it's more likely that you'll find a perfect fit with the Bose.
Both the Jabra and Bose earbuds fit snugly enough to be used while running or cycling. However, Bose QuietComfort has fins and comes in different sizes. The fins give you a better sense of security.
Battery life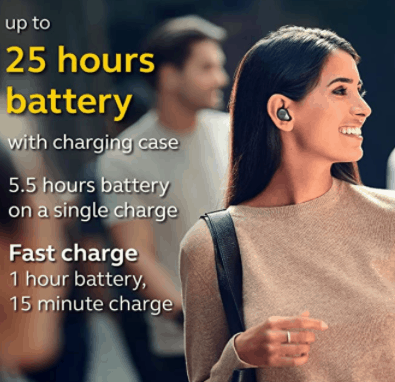 The Jabra Elite 85t earbuds have a fast charging feature. You can charge the battery from empty to full in 2 hours. However, to use fast charging, you need the case to be at a 30% charge at least.
With ANC enabled, the Jabra Elite 85t will last between 5 and 6 hours. If ANC is disabled, you can have 7 hours of playback time. After exhausting the battery, you can charge them back up with the charging case. A fully charged case will give you up to 25 hours with ANC enabled and 31 hours without ANC.
The Bose's battery life is similar; they give you 6 hours when fully charged. Like the Jabra 85ts, you can charge the Bose QuietComfort with the case wirelessly. This means that the charging case can store some power to charge them later.
The QuietComfort's wireless charging is more efficient because it takes just 3 hours to get a full charge. On the other hand, Jabra 85t charging case takes up to 6 hours before reaching the full battery.
However, while Bose charging case only gives you 12 hours with a full charge, Jabra Elite 85t gives you 25 hours at least. Bose QuietComfort charges faster but the Elite 85t gives you longer battery life.
Portability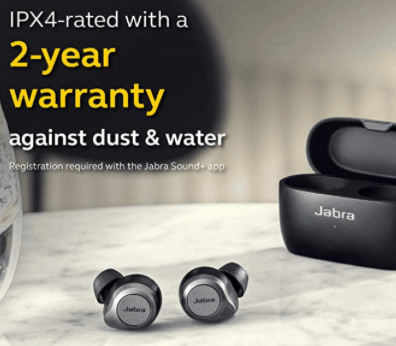 The Jabra Elite 85t and Bose QuietComfort have a similar reaction to water. Their waterproof rating of ipx4 means that they are sweat and water-resistant. Although you won't get away with taking them for a swim, they can take some accidental splashes without having problems.
This is good news if you like using your earbuds in the gym, while out running or hiking. Your sweat will not damage them. Also, moisture from sweat does not cause them to fall off.
Microphone
Like many modern true wireless earbuds, the Jabra Elite 85t and Bose QuietComfort earbuds use multiple mic technology. This helps to suppress noise from your surroundings while you're on a call. Whoever you're talking to on the other side will hear you more clearly this way.
However, the noise filtering mic works best with normal background noise like traffic, hallways, and so on. If the noise is excessive, your voice will sound muffled on the call.
With natural noise levels, both mics give a clear speech.
Sound quality and performance
Interestingly, both earbuds have a bass-first approach to audio production. With ANC enabled, you will feel the bass even better. The midrange is a bit muffled due to the bass boost.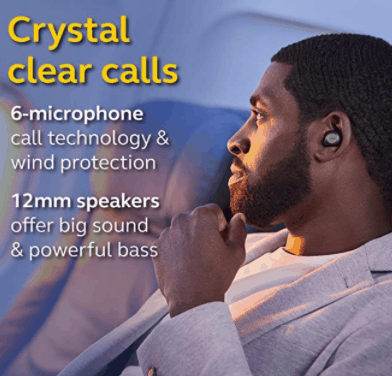 If you live hip-hop, EDM, or bass-heavy music in general, these earbuds are perfect for you. For audiophiles, you may have to look elsewhere or turn to your app to EQ the sound to your taste.
Simply open the EQ and drop the bass frequencies until you like the sound.
Speaking of frequencies, both Bose and Jabra cover all audible frequency levels, even though they give
Other features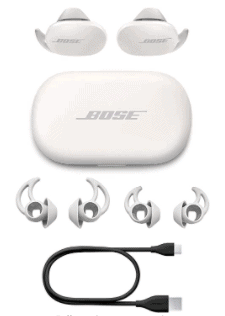 Jabra Elite 85t only has the SBC and AAC Bluetooth codecs. AptX is not present. It's the same codecs that you'll find on the Bose earbuds. The synchronization is smooth in both products. However, when you connect the Jabra Elite to two devices, you may experience a little lag.
Both in-ear wireless headphones use Bluetooth 5.1 version. This latest Bluetooth gives you a range of up to 30 feet or 10 meters of undisturbed connection.
Both pairs of Bluetooth earbuds are compatible with different voice assistants like Siri, Google Assistant, and Alexa. Simply activate the assistant with your regular voice command and give instructions.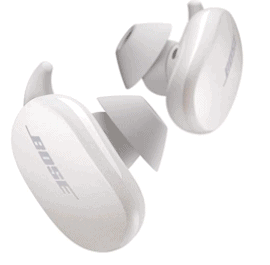 [You can't get all the controls you need on the headphones – there's only so much space. You can access additional features on the apps.

For the Elite 95t, the Jabra Soundplus app allows you to adjust EQ and other features. The Bose Music app gives you a similar advantage on QuietComfort.]
That's not all. Jabra Elite 85t allows you to pair two devices to the earbuds at once. However, you need to stop playback from one device before listening to the other. With the Bose earbuds, you can only pair one device at a time. Some other earbuds give you the option of pairing two or more devices.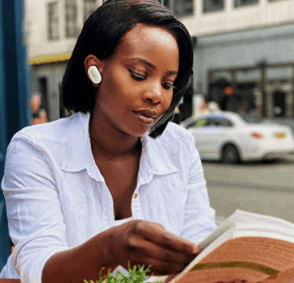 With the multi pairing feature, you can connect your phone and computer, so you don't have to take your earbuds off to receive a call or preview a video.
Similarities
Both true wireless earbuds give you an average of 6 hours of battery life, without the charging case.
The charging cases of both earbuds have wireless charging capabilities. You can use them to charge the earbuds anytime and anywhere.
Both the Jabra Elite 85t and Bose QuietComfort have an active noise cancellation feature that uses technology to keep out all background noise
In both headphones, the ANC is adjustable – giving you the freedom to select just how much background noise you want to hear.
Differences
While Jabra Elite 85t gives you not less than 30 hours of battery life altogether, QuietComfort gives you 18 hours.
The Bose in-ear headphones come with multiple ear fins for a better fit, whereas Jabra Elite 85t comes with one pair of carefully designed eartips.
The QuietComfort has an auto-off feature that prevents them from overcharging. This makes the batteries last longer and the earbuds more durable. Jabra Elite 85t does not have this feature.
Pros and cons
Pros
The charging case has a long battery life – 30 hours with ANC enabled.
The ear tip is carefully designed to fit many different ear sizes.
It is water and sweat-resistant.
Cons
It comes with just one pair of eartips.
Charging case takes up to 6 hours for a full charge.
Pros
The earbuds come with extra ear fins for different ear sizes and shapes.
Wireless charging enables you to charge the earbuds anywhere and anytime.
Auto-off feature protects your earbuds from overcharging.
Cons
It has less battery life – 18 hours altogether.
You can only pair one device at a time.
Conclusion
Picking one of these two in-ear headphones depends on what works for you. For me, I regularly have problems with getting a perfect fit for earbuds. Since Bose has extra ear fins, it should be a better choice for me.
Also, the difference in the battery may be a deal-breaker for some. Do you usually go more than a day without access to a charging outlet? Then Jabra Elite 85t's 30-hour battery will be perfect for you.