Which true wireless earbuds are better – the Sennheiser CX 400BT or the Jabra Elite 75t?
If you are considering which earbuds to choose, then you're in the right place.
In this article, we will explore what makes the Jabra and Sennheiser in-ear headphones unique. Also, we will examine how they fit into your everyday lifestyle.
We will answer questions like:
Which of these two earbuds is better for long flights – the CX 400BT or the Jabra Elite 75t?
Which in-ear headphones are better for running and cycling – the Sennheiser or the Jabra?
Which of these true wireless earbuds have the better sound quality – the Jabra Elite or the Sennheiser CX 400BT?
Let's dive in.
Sennheiser CX 400BT vs Jabra Elite 75t
Noise cancellation
The CX 400BT earbuds are excellent at keeping out external noise and background sound. The tips fit into your ears and prevent some low-frequency sounds from getting in.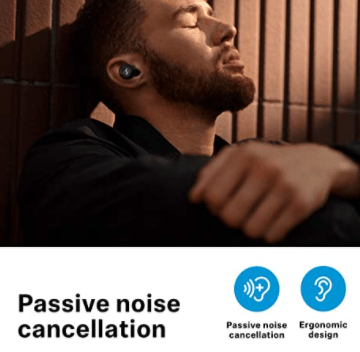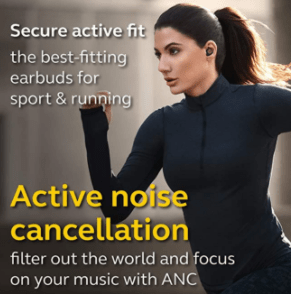 But that's all there is to the noise reduction. These earbuds have no active noise cancellation technology.
Sure, that means you can't keep out all the noise, but the great part is that it keeps you safe when you're outdoors. If you're cycling or running with traffic around you, you need to hear your surroundings to be safe.
The Jabra Elite 75t also keeps out a lot of external noise. However, it doesn't rely only on passive noise isolation. These Jabra earbuds have an active noise cancellation feature that keeps out all the noise. So, even if you were on a plane, the roaring engine won't disturb you at all.
For the Jabra 75t, you can either switch the Jabra ANC on or off. There are no in-betweens. This means that you cannot choose the amount of noise you let in. This hearthrough feature is only available in the later version – the Jabra Elite 85t.
Comfort and fit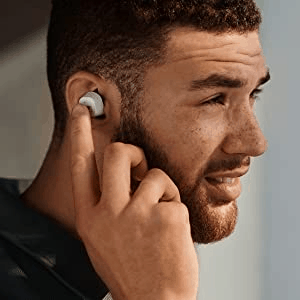 The Sennheiser earbuds are perfect if you like putting them on for long stretches. The eartips are designed such that they do not cause inconveniences as you go about your day.
To ensure that you always get the perfect fit, Sennheiser added 4 different ear adapter sizes. If the ones that come with the earbuds don't fit, simply try others.
Likewise, the Jabra Elite 75t has a comfortable feel even after many hours of use. Also, it comes with multiple eartips, just to ensure that you find a snug fit.
Battery life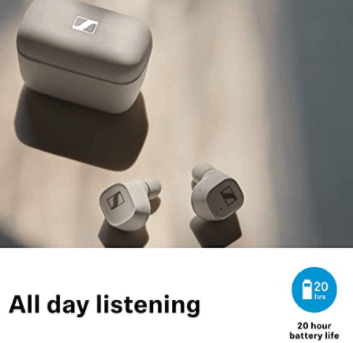 Sennheiser CX 400BT comes with a charging case, just like most other true wireless earbuds. The earbuds alone have 7 hours of battery life while the case gives you an additional 13 hours.
Altogether, that's 20 hours of use. The Jabra Elite 75t headset gives you a bit more, especially with the charging case.
For the Jabra earbuds, you get 5.5 hours if you enable active noise cancellation (ANC) while the battery life increases to 7.5 hours if ANC is disabled. The Jabra charging case gives you 24 hours with ANC and 28 hours without it.
While both true wireless earbuds give you similar battery use times, Jabra Elite 75t's charging case gives you about two times the battery life of the Sennheiser CX 400 BT.
The only upside for the Sennheiser's battery is that it takes 1.5 hours to charge the case fully, while the Jabra Elite's case takes 2.5 hours.
Portability
Sennheiser, the makers of the CX 400BT earbuds do not guarantee any form of water resistance for the in-ear headphones. It is neither water nor sweat resistant.
This means that if you sweat a lot, using these earbuds for working out may damage them. If you have headbands that prevent sweat from getting to your ears, you should use them.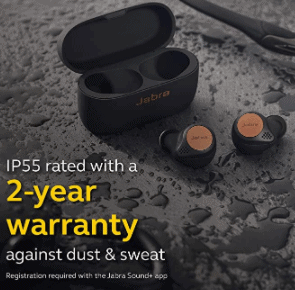 Jabra Elite 85t on the other hand has an IP55 water resistance rating. This means that it is sweat and dust resistant. This Jabra Bluetooth headset is also perfect for your workouts, running, and cycling. Sweat will not do any damage to the Jabra Elite 75t.
Interestingly, Jabra Elite Active 75t has better water resistance than the Elite 75t.
Microphone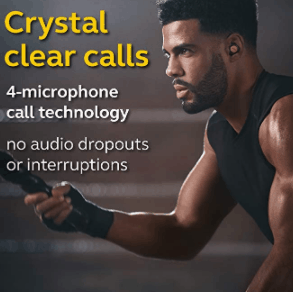 The Sennheiser CX 400BT has a sensitive mic that picks your voice clearly. The mic's frequency response is designed to deliver a high quality of speech.
The call sound quality is crisp and clear. It also picks your voice over surrounding ambient noise. However, if you make calls in very loud spaces, you may become less audible.
Jabra Elite 75t has better noise repression when you're using your mic. It can deliver a clear call even in loud traffic. Also, it has excellent wind sound cancellation. If you're cycling at high speed, you can still be heard over your calls even on a windy day.
All things considered, the Jabra earbuds have a slightly better microphone quality.
Sound quality and performance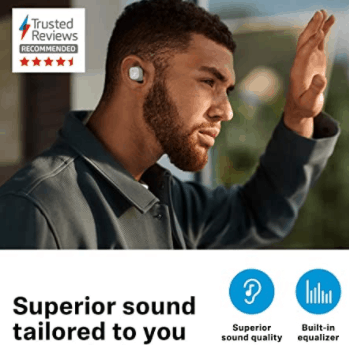 The Sennheiser CX 400BT has a balanced approach to sound production. The bass notes are not overly boosted, but they are prominent and clear. Of course, a bass boost will help drown out some background noise, especially for earbuds without ANC.
However, such balanced sound quality makes the earbuds perfect for different kinds of music, movies, and even games.
The Jabra earbuds sound very different from the Sennheisers. They have a bigger bass boost that sometimes overshadows the mid frequencies. Bassheads and some hip-hop lovers will be wowed by this production. The Jabra sub-bass also has a lot of weight and energy.
While the mids are recessed, the high frequencies are bright. Hihats and cymbals come out with all their shimmer, but without being harsh.
Other features
Jabra 75t only does not support any codecs aside from AAC. Hence, it may perform slightly better in Apple devices than Androids. This means you may have better audio quality and low latency performance with an iPhone than with Android.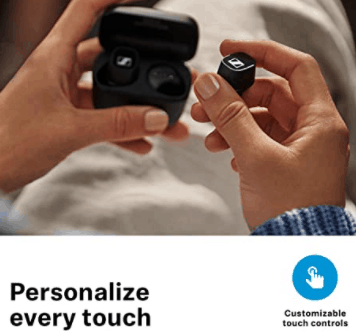 Also, it uses the Bluetooth 5.0 firmware version. This version gives you a range of up to 10 meters or 33 feet. That's not all. These Jabra Bluetooth earbuds have the multipoint feature.

This enables you to connect the in-ear headphones to two Bluetooth devices at once. This means that you can pair your phone and laptop to the Bluetooth earbuds. This way, you don't have to take them off every time a call comes in.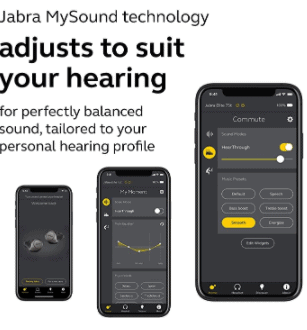 The Sennheiser Bluetooth earbuds support AAC, SBC, and AptX codecs. So, they perform similarly on both Apple and Android devices.
Also, they run on Bluetooth 5.1 firmware version. It's more recent than 5.0 but gives the same range. It allows a Bluetooth range up to 10 meters or 33 feet between your device and the Bluetooth earbuds.
However, the CX 400BT does not support multipoint technology. So, it's just one device at a time with these Bluetooth earbuds. But it can remember devices that have paired with it in the past so that the process is much quicker.
Similarities and differences of Sennheiser CX 400BT vs Jabra Elite 75t
Similarities
Both Bluetooth earphones give you about 7 hours of battery life from the buds only.
The Bluetooth range in both Bluetooth headsets is 10meters or 33 feet.
For both Bluetooth headphones, there are extra ear fittings that ensure that you get a snug fit.
Differences
Jabra Elite 75t has active noise cancellation while the Sennheiser earbuds only rely on the eartips design to keep out noise.
The Jabra Elite earbuds are sweat and dust resistant. On the other hand, the CX 400BT cannot withstand sweat or water.
The Jabra charging case gives you more battery hours than the Sennheiser case.
Pros and cons
Pros
It has a comfortable fit that stays comfy for several hours.
Multiple ear adapters make the Bluetooth earbuds fitting for everyone.
It has a balanced sound quality that works for many music styles, movies, and games.
Cons
These Bluetooth earbuds are not water or sweat-resistant.
It lacks active noise cancellation.
It cannot connect to more than one device at a time.
Pros
It is sweat and dust resistant, making it perfect for workouts and beach hangouts.
The charging case has a long-lasting battery. It gives you up to 24 hours of use.
The multipoint feature enables you to connect two devices at once.
Cons
There's a lot of bass boost, which may affect the sound quality of classical or jazz music.
It does not support any other codecs aside from AAC.
Conclusion
Both the Sennheiser and Jabra Elite earbuds have their strengths. The better earbuds for you depend on how you intend to use them.
If you like taking your headphones out while running or cycling, you need the sweat-resistant Jabra Elite 75t. These Bluetooth earbuds are also good for canceling noise during flights.
On the other hand, if you don't work out with your Bluetooth headset, but need it to enjoy cool music, the Sennheiser CX 400BT is more than capable.