In the world of truly wireless earbuds, the Galaxy Buds and Sony WF 1000XM3 are quite popular. So, if you're looking to get yourself a pair, they will naturally come up as viable options.
Having said that, how do you choose between these two earbuds?
Between Galaxy Buds and Sony WF 1000XM3, which one is better for work out?
Which true wireless earbuds have the best batteries, Galaxy Buds or Sony WF 1000XM3?
In this article we will weigh all the options and compare these two headphones, giving you all you need to make an informed choice.
Let's dive in.
Samsung Galaxy Buds vs Sony WF 1000XM3 compared
Noise cancellation
In terms of ambient noise rejection, these earbuds are quite similar. While they both have ear tip designs that encourage noise isolation, they also have Active Noise Cancellation. This takes the noise rejection a notch higher and stops all external noise from getting in your ears.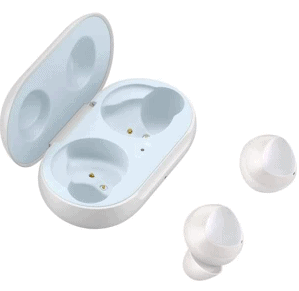 With the Samsung Galaxy Buds, you can adjust the ANC to allow some of the sound from your surroundings. This may come in handy when you go jogging or cycling.
You need some awareness of your immediate environment for safety. The Galaxy Buds allow you to either use the auto ANC adjustment or to do it manually.
For Sony WF 1000XM3, you can also allow some ambient noise to get in. However, you cannot manually select how much background noise you want. It's all automatic.
Comfort and fit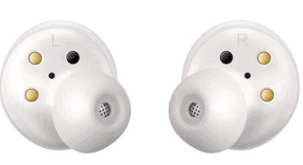 To ensure that you get the best fit, Samsung Galaxy Buds have wingtips in addition to their eartips. It gives the earbuds more grip, especially if you're moving around a lot.
That's not all.
To make sure that everyone gets a snug fit, Galaxy Buds come with 3 extra eartips and wingtips of different sizes.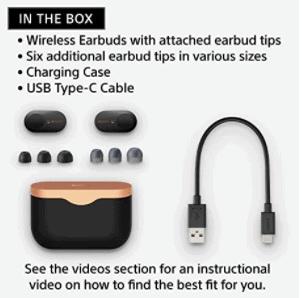 Though Sony WF 1000XM3 does not have wingtips, its non-slip 3-point fit rubber tip stays in your ears with good grip.
And like the Galaxy Buds, the Sony earbuds come with extra ear tips of different sizes. No matter the size of your ears, you will find a pair that fits.
Battery life
The Sony earbuds give you 5 to 6 hours, and the charging case gives you 18 hours with ANC. Without ANC, you can get up to 24 hours out of these batteries.
The Galaxy Buds also give 5 to 8 hours. You will only get 7 or 8 hours if ANC is disabled.
The Galaxy Buds charging case will give you an additional 13 hour with ANC and 20 hours without it. Evidently, the Sony WF 1000XM3 charging case gives you a more extended time for draining the batteries.
Also, the Galaxy Buds case needs 2 to 3 hours to be fully charged, while the Sony earbuds case takes 3 to 4 hours. It's expected since the Sony case battery lasts longer.
Portability
The Galaxy buds have an IPX2 water resistance rating. This means that they can withstand sweat from running, cycling or gym workout. However, they may not survive an accidental dip in the pool. Good news for everyone except swimmers.
Sony WF 1000XM3 on the other hand is not resistant to sweat. It doesn't have any water resistance certification. So, if you're looking to take your earbuds on your morning jogs or to the gym, Galaxy Buds are the better choice.
Microphone
Samsung Galaxy Buds mic gives crisp and clear call quality. It also uses noise cancelling technology to remove noise from your calls, making the caller at the other end hear you audibly.
You can easily make or receive your calls and give voice commands in a noisy area without raising your voice.
The Sony headphones' microphone is of similar quality. It removes noise from your calls and has speech-focused sound quality. The result is a crisp, clear and smooth phone call every time
Sound quality and performance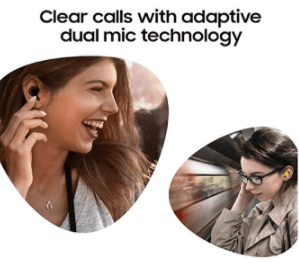 Galaxy Buds have what I describe as a "warm sound". The bass is deep and punchy and the mids are detailed. However, there is a little less emphasis on the highest frequencies. The result is a solid and detailed production. Its soundstage is also wide – despite the size of the buds.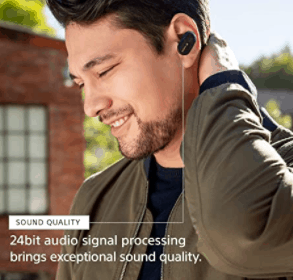 Sony WF 1000XM3 has a similar sound signature – a little bass boost with detailed mids. Both headphones sound very good with most genres. Hip Hop and EDM fans would love the bass while Rock, Metal and Classical fans would prefer the detailed midrange.
Only audiophiles may not be satisfied with this sound, because it's not neutral or flat. If you want neutral-sounding earbuds, go for in-ear monitors (IEMs).
Other features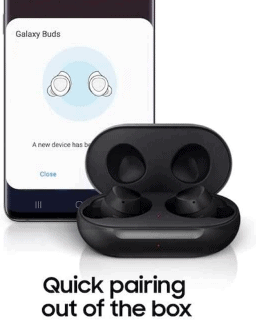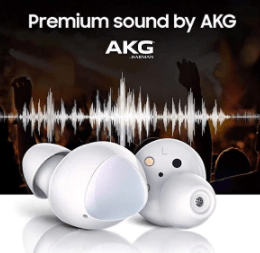 The behavior and performance in pairing of these Bluetooth headphones are similar. They both cover a range of 10 meters or 33 feet from your device to the earbuds. Also, there is no noticeable lag or delay in audio when watching videos on your phone.
Where we find the difference is in the multipoint feature. This allows you to connect two devices to your headphones. Galaxy Buds does not have this function, as it only allows one device.
On the other hand, the Sony earbuds have the multipoint feature, but in a limited form. While you can connect two devices to your headphones simultaneously, you can only stream media from one. The other device will be restricted to calls alone.
Both earbuds support voice assistants like Alexa, Siri, Cortana and Google Assistant.
Similarities and differences Galaxy Buds vs Sony WF 1000XM3
Similarities
Both earbuds come with extra ear tips to ensure that everyone gets a perfect fit.
The Samsung Galaxy Buds and Sony earbuds have a similar sound signature – deep, punchy bass and warm mids.
Both headphones come with their apps for more control. Galaxy wearable app for the Galaxy Buds and Sony headphone connect app for the WF 1000XM3.
Both true wireless earbuds have active noise canceling technology.
Differences
Sony WF 1000XM3's charging case has a longer battery life than the Galaxy Buds case.
The Samsung Galaxy Buds are sweat-resistant, but the Sony earbuds are not.
The ANC in the Sony earbuds is adjusted automatically, while Samsung Galaxy Buds adds a manual adjustment option to the mix.
Pros and cons
Pros
The earbuds are sweat-resistant.
Multiple eartips and wingtips ensure a perfect fit.
The battery lasts you for a whole day.
Cons
It can connect to just one device at a time – no multipoint feature.
The sound is not neutral.
Pros
Multiple eartips and wingtips ensure a perfect fit.
The battery lasts you for a whole day.
You can connect two devices to the earbuds at once.
Cons
It is not water or sweat-resistant.
The design looks a little bulky.
Conclusion
After examining both true wireless earbuds, it's obvious that the tiebreaker is the sweat resistance of the Samsung Galaxy Buds.
If you like to use your headphones while working out, then the Sony WF 1000XM3 earbuds will not do a good job. Since they are not sweat-resistant, you will risk damaging them in the short term.
On the plus side, the Sony true wireless headphones have a longer battery life and allow you to connect two devices at once. Those qualities are also worth considering.