In this post, let us review the best external Nikon D3400 microphones.
How do you connect an external mic to your Nikon D3400? This is a question on the lips of many video content makers.
First, what's so special about the D3400?
Our Best Pick
Zoom H4N PRO Digital Multitrack Recorder, Black (H4nPro)
Highly Portable
Tascam DR-40X Four Track Handheld Recorder and USB Interface,Black
Super Compatible
Zoom H1n Portable Recorder, Onboard Stereo Microphones, Camera Mountable, Records to SD Card, Compact, USB Microphone, Overdubbing, Dictation, For Recording Music, Audio for Video, and Interviews
Last update on 2023-09-21 / Affiliate links / Images from Amazon Product Advertising API
The Nikon D3400 is a good choice for beginner video makers. If you're just starting out in video content creation, you probably don't have enough lights to make your video looks good. The D3400 has a low-light capability that enables it to record good pictures even in low light conditions.
Also, this camera gives you a 1080p video quality, which is not very common at this price. When you also consider the long battery life of this, you realize what gem it is.
Lastly, the Nikon SnapBridge allows you to connect to your other devices via Bluetooth and also upload your files to the cloud, in case of a memory card failure.
#
Products
Batteries
Microphone
Maximum SPL
Amazon product page
1

Zoon H4n
2 x AA batteries
Built-in X/Y Stereo
140 dB

Check price

2

Tascam DR-40
2 x AA batteries
Unidirectional, stereo
(Possible to switch between
A-B/X-Y positions)
NA



Check price

3

Zoom H1n

2x AAA Batteries
Built-in stereo condenser mics
in 90˚ X/Y stereo format
120 dB



Check price
Before we get carried away, this is not a D3400 review. In fact, it's one of the big downsides of this camera that led to this article.
Does Nikon D3400 allow you to use external mics?
Like the Sony A6000, the D3400 has no input jack for external mics; but unlike the a6000, Nikon did not make mics for this kind of camera. The popular opinion is that Nikon wanted to limit this mic to semi-professional and amateur use only.
I have seen some posts and videos that recommend the use of a 3.5mm to micro USB adapter to connect an external mic. It simply doesn't work, so don't waste your time and money.
This is because the adapter needs a DAC to function. Actually, the adapter was made for phones that have no headphone jack. These phones have in-built DACs. The D3400 doesn't.
The only way to have an external mic record your audio is to use a digital recorder. You can place the digital recorder on your D3400 by using a tripod screw to shoe mount adapter to place it on the camera.
This means that your external recorder must have a tripod screw hole. One more thing: After recording, you must sync the audio to the video, using a computer, then export them together.
Here are the top 3 external mics to use with the Nikon D3400:
Specifications:
Simultaneous 4-track recording
Record up to 140dB SPL with the built-in microphones
Up to 6 hours of operation
Records directly to SD and SDHC cards (up to 32GB)
24-bit/96kHz frequency sampling
Needs +24 main input power or +48V phantom power
4-In/2-Out USB audio interface
Compatible with Windows Vista and newer Mac OS X 10.6 and newer
The Zoom H4n Pro is a digital multitrack recorder that would definitely do a better audio job than the built-in mic in the D3400.
What's unique about this mic is that you have a wider range of possibilities as regards the kind of sounds you can choose.
The X/Y configuration of the mics allows you to have a stereo soundscape recording, thereby giving you a more natural ambiance and making the audio have more context.
What's more?
The width of the stereo can be adjusted and narrowed down to a mono reception by reducing the space between the two mic heads.
Two AA batteries will provide enough power to work for about 8 hours of continuous use. For longer battery use, make sure to switch the recorder off when it's not in use.
The options you have when using the H4n Pro are diverse. You can add effects like reverb, delay, high pass filter, and even compression to process your recordings.
If you also like to get creative, you can use the pitch shifter and tempo changer on the recorder. With the D3400 however, you must do audio and video synching after recording.
Today most people use their iPhones for professional recording. If you are one of those who use the iPhone for making videos, you may need to look at iPhone mics.
Sound quality
The Zoom H4n has a frequency response of 30Hz to 20000Hz, with a presence boost from around 5kHz upwards.
With this response, we can say the h4n is optimized for speech. However, you must watch out for low-frequency background noise. You can deal with it by engaging the high pass filter switch on the mic.
Additionally, you shouldn't be worried about loud source recording. The h4n's maximum SPL is 140db. This means you can record a performing band at a concert while staying close to them, and you won't have to worry about distortion or clipping.
Pros:
Stereo recording capabilities
High SPL; you can record at loud volumes
Compact design
Cons:
Slow booting (20 seconds)
Battery life not very predictable
Bottomline
The H4n Pro allows you to have professional-level audio for your video productions. It's definitely worth it.
Specifications:
4-Track recording
96Hz/24-bit resolution
Sampling frequency: 44. 1K/48K HZ
XLR/TRS inputs compatible with +4dBu line level / +48V
Power: 2 AA batteries, USB bus power, AC100 to 240V (Optional AC adapter)
Number of Channels: 2-Channel (Stereo)
4-channel mode can be used for dual recording and overdub recording
Build and design
The TR-40 is a digital multitrack recorder that can record up to four channels at a time. It's made of high-grade plastic, and it has a few controls on it.
Looking at this device, what grabs your attention is the orientation of the mic heads. Four mic heads are positioned in x/y orientation. The distance between each pair of the mics can be adjusted from 90 degrees down to zero degrees.
In addition to the internal mics on the Tascam, you can connect external mics to it too. This way you can have up to 4 channels recording at once.
Additionally, a safe copy of your audio is made at a lower volume; between -6db and -12db lower than the recording volume. This could serve as something you can fall back on if the original copy goes bad or starts clipping.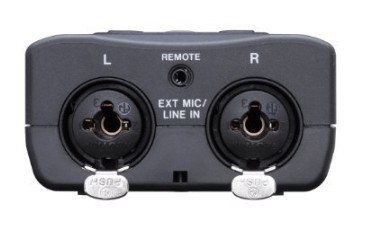 Another cool feature of this mic is that you can adjust your playback speed to about 1.5% of the original tempo. Even though you can connect external mics to this recorder, you should be aware that it cannot use the external mics alone. They must be used together with the onboard mics.
To connect it to the D3400, you would need a tripod screw hole to a shoe mount adapter. With this, you can use the screw hole on the recorder, and the shoe mounts on the D3400 for the placement.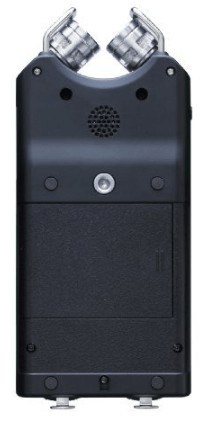 Sound quality
The DR-40's frequency response depends on the recording quality you choose. However, at 44.1kHz which is the lowest, you still have a response of 20Hz to 20000kHz.
That's a pro-level standard. On the other hand, at 96kHz, you get a response of 20Hz to 40000Hz.
As you can see, the range is quite wide, so you must be careful of low-frequency background noise. Especially those caused by wind. You can engage the low cut option to deal with this. You have 40Hz/80Hz/120Hz low cut options.
Pros:
Wide frequency response
Big stereo soundscape
Cons:
A bit bulky
You may experience pops in close-miking situations.
Bottomline
The Tascam DR-40 really makes your audio work easier with the D3400, especially if there are a lot of natural sounds in your recording.
Specifications:
Maximum SPL – 120 dB SPL
Sampling rate – 24-bit/96 kHz
Built-in stereo condenser microphones in 90-Degree x/Y format
1.25" monochrome LCD display and one-touch button controls
Records directly to SD and SDHC cards up to 32 GB
Build and design
The Zoom H1n is made of plastic. This does not mean that it's flimsy or fragile; it's a high-strength plastic.
To fix this mic on your Nikon D3400, you need a ¼" tripod screw to shoe mount adapter. All you need to do is screw the adapter on to the H1n and fix the shoe mount end of the adapter onto the camera.
Also, the zoom has an input level controller or knob that you can use to set the gain that comes into the mic.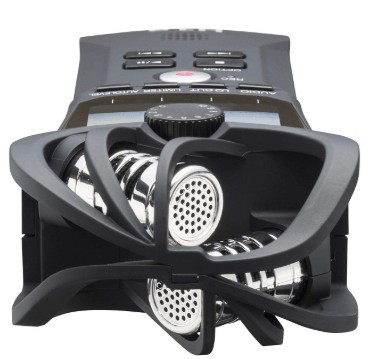 The good thing about this knob is that you can't turn it without having any clicks that get captured by the mic. The Zoom has a lock settings button that helps you to keep all your settings intact, even if you accidentally press another button.
So in case, you put the zoom in your pockets while recording, and accidentally pressed a button, you have nothing to worry about provided you engage the lock settings button. The only caveat here is that the lock settings button does not work with the input level knob.
Sound quality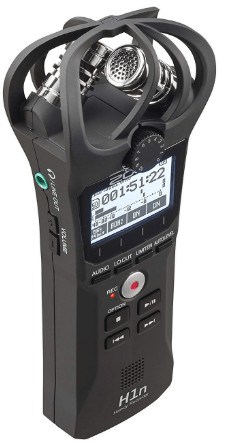 The Zoom H1n sounds really good, with good depth and considerable brightness. Although no figures were stated for the frequency response, it sounds quite expansive; it doesn't feel like you're leaving anything important out.
It has a low cut filter to keep out unwanted low-frequency noise and it also has a maximum SPL of 120 decibels. This means that you can safely record concerts from a safe distance without any problems.
The baskets that protect the mic heads also prevent you from using a windscreen to protect them when on an outside shoot.

Additionally, the X-Y orientation of the microphones helps you to make stereo recordings. This means that you can have some ambiance with your recordings.

At 90 degrees, it means that you don't have too much width, so it is easier to control, also considering the fact that the distance between the mic heads is not adjustable.
All of these recorders can be mounted easily on any of the cameras. GoPro cameras also need good microphones to record great audio. You can look at some good external mics to use with GoPro in case if are searching for them.
In case if you have a DSLR then lav mics are the best to go with to get clean and crisp audio.
Pros:
Protective covering for the mic head
High maximum SPL
Cons:
Requires editing skills to sync.
The input volume knob can be easily nudged accidentally.
Bottomline
Though it gives less room for adjustments than others, the Zoom H1n offers pro-level quality if you get the positioning right.
Conclusion
If you have a Nikon 3400 camera, and you need better quality audio than what you get from its internal mic, these are the options that you have.
Even though they require some syncing after you record, they serve their purpose well. Plus, you even get to put them on the shoe mount as we have described.
So, don't let anything or anyone stop you from having quality on a budget. Go get one of these.
Related articles: 12 Best 8-Bit and 16-Bit Music Makers (Chiptune Music)