Okay, so you like music, right?
And as most people trying to get into this art form, you want to learn an instrument…
Which is the most comprehensive instrument?
The piano!
Yes! The one with the black and white keys, ordered from left to right, low to high!
It sounds great, especially when you play and sing along… People will love you for that.
But, first, you gotta learn how to play it!
You can't just start randomly hitting keys, it's gonna sound horrible.
So what do you do? You get Synthesia!
But, Synthesia needs you to load MIDI files into it, in order to learn the songs properly on your digital piano.
Where do you get these MIDI files?
Read this article and I will give you tips on 5 different sites to get Synthesia MIDI files.
Top 5 sites to Get Synthesia MIDI Files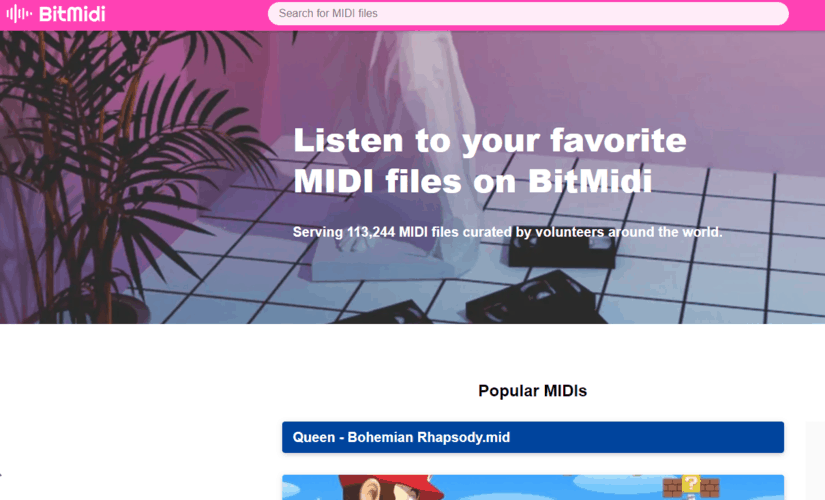 BitMIDI is one of the most comprehensive MIDI files sites out there these days.
It contains pretty much anything that you have heard at the Top 40's list, a lot of commercial music.
They also gather a good amount of MIDI files of songs from movies, series and musicals, which is pretty cool if you are into sound for picture.
The site is totally free, no need to pay a cent for any material you download.
The quality of the MIDI files depends on the person uploading it. Some are extremely spot-on, while others are a bit more "shaky" and imprecise.
The website has this really cool feature in which you can drag and drop a MIDI file into the website and it will play it back for you to listen and have a reference of the sound.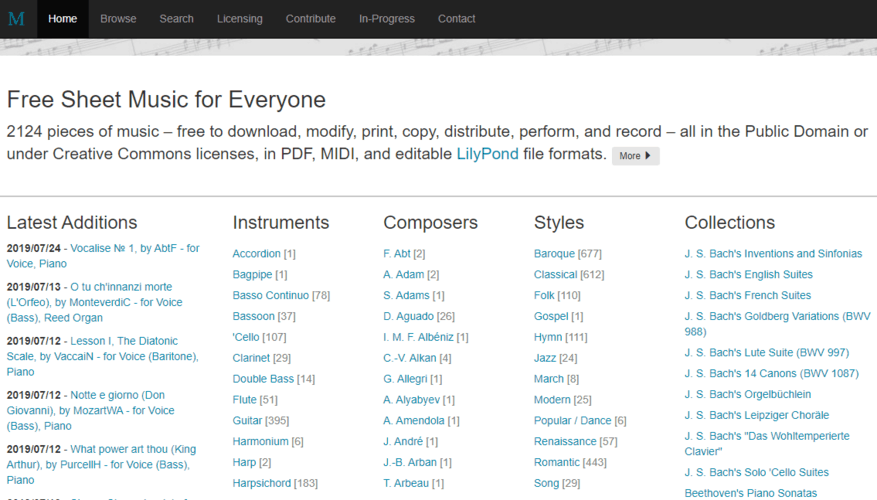 Mutopia is considered to be one of the best sites to download Synthtopia MIDI files for classical music, for FREE!
People from all over the world can upload their MIDI transcriptions to the site in order to collaborate their electronic instruments scores.
Most of the files are high quality because the vast majority of users are professional musicians and composers.
One of the cool features is the fact that it shows you the date the original composition was written and it also tells you if it is part of the public domain or who is the original author.
It lets you download the MIDI file as well as the PDF or PS files of the pieces, which comes handy when you need to read sheet music at affordable prices.
One downside, it has no preview images so there is no way to "visually" locate a piece by its album cover.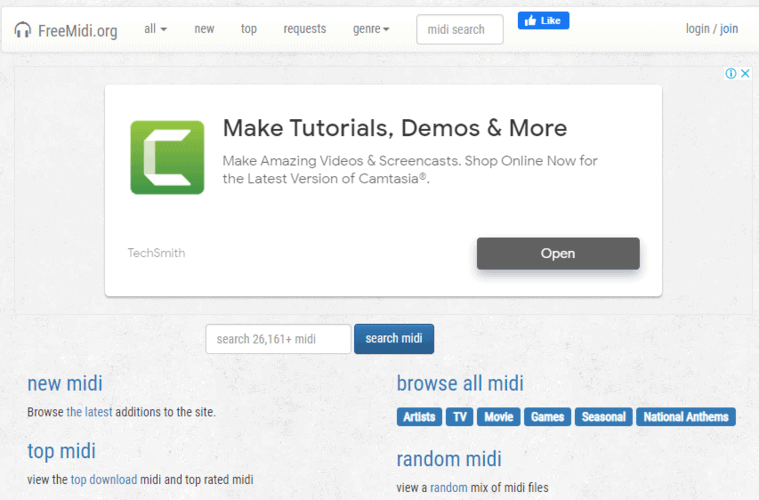 FreeMIDI is another very popular website to download MIDI files for Synthesia for free.
Their MIDI catalog contains a wide range of genres with around 27,000 different files for you to download.
All the MIDI files that are available have been precisely written, so they are high quality you can trust.
The site lets you type a name and search or you can also scroll by genre, which is very helpful sometimes.
FreeMIDI lets you download MIDI, but also upload your MIDI files in order to share them with your peers.
Finally, the site lets you "request" a certain MIDI file if it is not available, and believe it or not, someone will write it for you!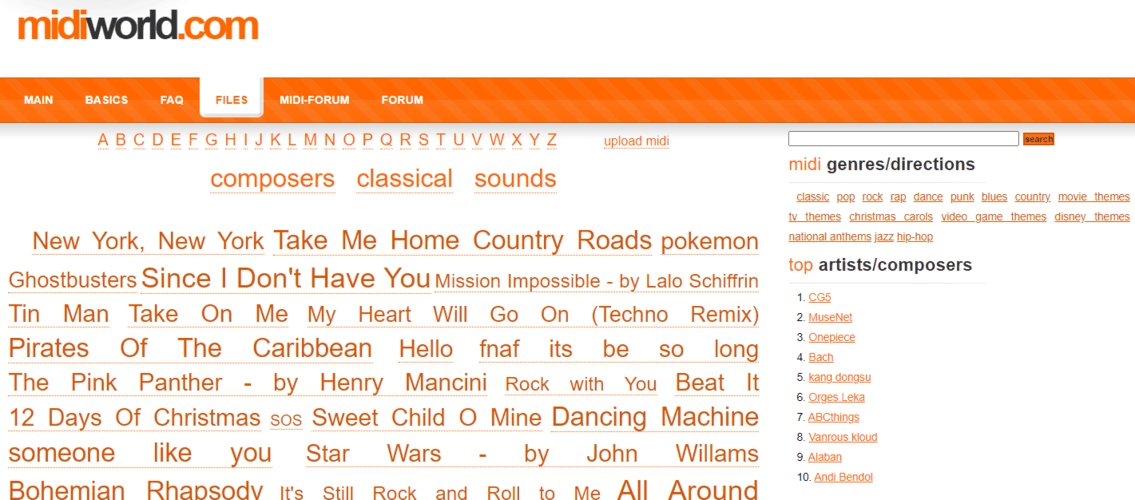 MIDIWorld is a "classic" site to download MIDI files for Synthesia because they have been around since 1995!
They have all kinds of MIDI files that you can imagine and you can search alphabetically, or also by genre.
The quality of the MIDI files varies, because virtually any user could add MIDI files into their database, so my advice is that you download and listen to make sure they all sound nice and precise.
Once again, this is totally free!
It has a really cool feature that lets you browse by top composer, if you are deep into MIDI composing!
One downside is the GUI of the website, it just does not look attractive to the eye and can actually make you feel visually tired.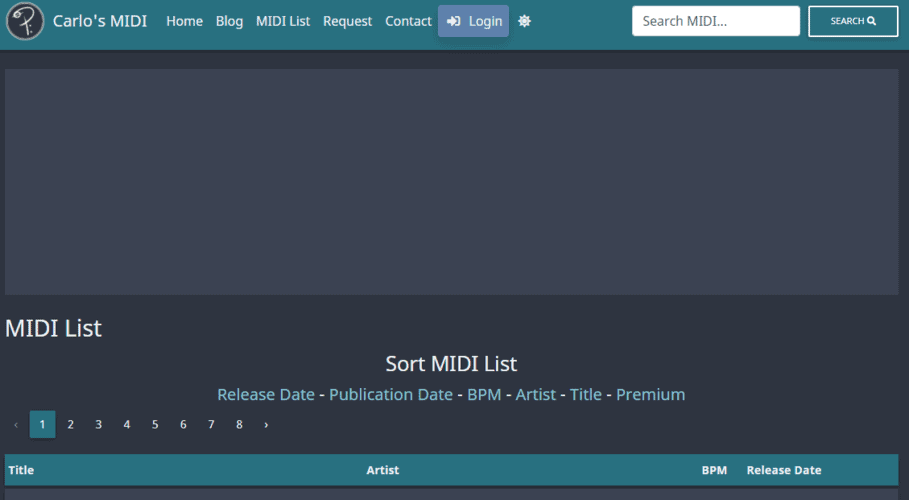 Carlo's MIDI is a famous MIDI site where you can download your MIDI files for Synthesia.
What makes this site so special is the fact that all MIDI files have been written and prepared by Carlo, the owner.
Now, this means that the amount of available music isn't that broad. Carlo is specialized in electronic genres such as trance and house music.
If there is something you cannot find, you can always request it so that Carlo can write it for you. Just keep in mind you might have plenty of people in the line.
The site is free!
However, the site has 3 subscription options that give you additional features such as early access to new MIDI files and access to the "Premium" library.
Give it a try with your Virtual Instruments and their internal sounds, you will like it!
Conclusion
If you are looking for one of the largest MIDI file sites on the internet that will have anything from pop to rock and jazz, you should check out BitMIDI. They simply have all the stuff you have ever heard on the radio and MTV!
Now, if you are more into more underground electronic genres such as techno, trance, hardstyle, and house, your best bet will be Carlo's MIDI. The level of detail that Carlo puts on his transcriptions is just pristine!
Last, but not least… Let's assume you are into classical music and score composition. In this case your best option is to get into Mutopia. There is no other site that can beat the amount of classical music and scores that this site has uploaded and given away for free!
Recommended read: 6 Best Music Genre Finder Websites to Check Genres of any Song