Are you guys looking for the best free MIDI files? Do you want to know the sites that allow you to download MIDI files for free?
If this is the case, you are in the right place.
You just bought a new DAW to record your new album, right?
Of course, it came with a whole bunch of virtual instruments, all kinds of pianos and keyboards…
So at this point, you are trying to test all of these virtual instruments, by triggering them using MIDI files that you downloaded for free.
You have in mind a list of famous piano songs that you wish to try with your new instruments, correct?
Or maybe you just want to download for free a MIDI collection of a couple of simple MIDI songs for reference purposes.
The question is, where do you download these MIDI files?
I promise you, this article will tell you the answer… Just keep reading!
Top 5 websites to download free MIDI files
What is the purpose of MIDI files?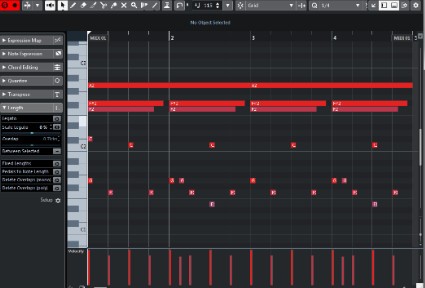 Read Also: 20+ Best Free Ableton Live Themes and Skins
First of all, MIDI, what is it?
MIDI stands for Musical Instrument Digital Interface.
This is a communication protocol between devices in which signals are sent that contain messages related to a note value and a velocity.
So if you have a MIDI controller, and you press a key, you are recording the note value and the velocity of that individual key.
Once recorded, you can use those MIDI messages to trigger a virtual instrument, let's say an organ, or a synthesizer so that it plays back the same note.
But, what about MIDI files?
Once you record or program a MIDI performance or part, you can export this series of notes and chords into a MIDI file.

You can share this file with other producers, but you can also import it into any DAW to trigger virtual instruments. That is the purpose of MIDI files.
If you want to "program" a song from the radio, you can record that MIDI information, and then share it with the world.
On the other hand, if you want a certain piano part from a song to be part of your own song, but you can't play the piano, you can simply import the MIDI file of that desired part and make it trigger your piano VI.
Best Websites to Download Free MIDI files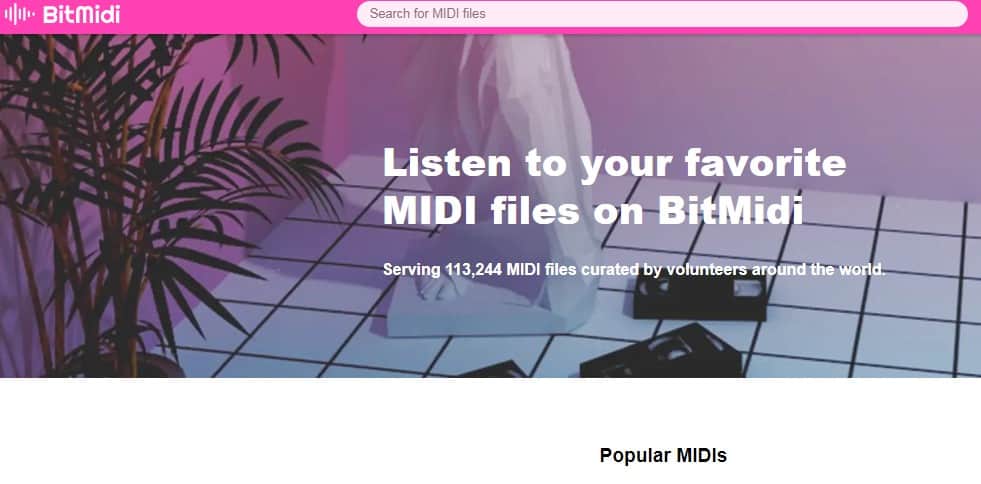 This has been around since 2018, and it has become one of the most famous free MIDI websites you can find online.
The genres you can find on this platform are really vast! After doing a quick search I was able to find anything from rock, to rap, to film soundtracks, and anything in between.
As far as themes, you can really find a lot of theme-based MIDI, stuff from movies, action films, sci-fi, and even cartoons.
You can also find some stuff related to video games, mostly cartoon-themed video games.
Another cool thing, you can download as many MIDI files as you want per day.
The system also lets you playback the MIDI on the website, but it isn't that great considering you cannot select the VI being triggered.
One downside is the search engine it has. It is not very smart and you basically have to type the name of the band or song perfectly so that it can find it.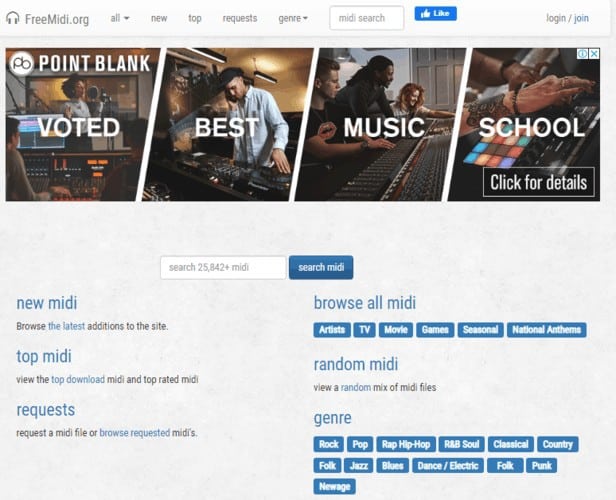 FreeMidi is another important online platform for free MIDI file downloads.
It does have less amount of MIDI files compared to BidMidi, but the search menu it has is simply flawless.
Music genres are pretty much all you can imagine from pop/rock to jazz and even opera!
It is also very powerful with TV themes, as well as movie themes and video game themes, covering all the bases.
There is no limit for MIDI files you can download per day, which is good!
Even better, the system lets you playback the MIDI directly from the website as a listening reference before you actually download it.
Also, it lets you download both the MIDI file as well as the mp3 rendered from the MIDI, so you have more options.
One bad thing is you have to create an account, wait for the authorization procedure to happen, which is a bit of a waste of time when you are in a rush.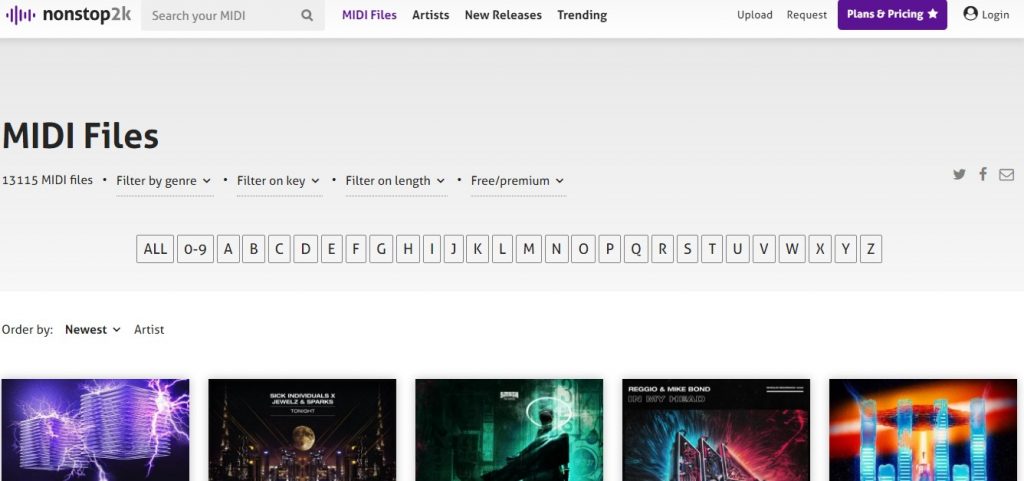 These guys promote the site as a platform where you can obtain MIDI files for purposes of remixing songs.
So if you are an EDM producer, trying to destroy, rearrange and rebuild someone else's song, this is your place.
The genres they cover are all located around the dance music scene, anywhere from trance, to trap and house.
They do not really offer any soundtrack from movies or theme-based music unless it is some very important EDM tune from a video game for example.
There is a limit on the number of daily downloads allowed, and it depends on the membership plan selected. If you go for a free plan, you can only download 5 "regular" MIDI files per day.

The user can listen to the MIDI files before they are downloaded, but only the premium files, which you will need a premium membership to download.

The problem with this platform is that the "free" membership is kinda useless because it cannot let you audition the files. This policy basically forces you to get a paid membership.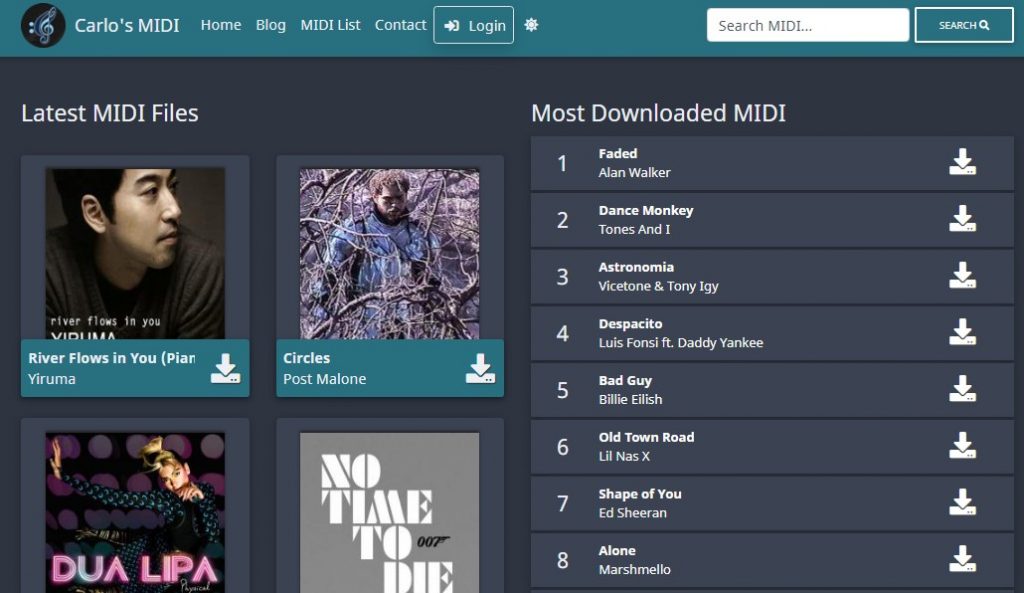 This one is very interesting because it is not a "community" that creates the MIDI together, but just a single guy, Carlo Prato.
Carlo's website does not really cover a lot of genres. His platform specializes in electronic music from trance, to house, to hardstyle.
Eventually, you will see some random pop songs posted, mostly coming from requests, but that is not the bulk of the files provided.
This website does not really offer theme-based MIDIs, so do not expect to find any of that here, unless Carlo's agrees to a special request you do.
Cool thing, there is no download limit per day, and you do not need to create an account to enter the database.
It will also let you playback the MIDI on the website prior to downloading it.
The only negative aspect is the fact that the catalog is very limited to electronic music… So if you are into rock, jazz, reggae, stay away.
Recommended read: 6 Best Music Genre Finder Websites to Check Genres of any Song
Cymatics is a website that offers a lot of production-based resources. Some of which are free, others paid.
Their bulk of products are sample-packs that you can later trigger with MIDI messages on any sampler. However, they do offer a very limited amount of MIDI collections.
The genres they cover are based on electronic music. Anything from hip-hop to future bass, passing through dubstep and house.
You can download (or buy) as many products as you want per day, but you must register an account with them.
You can audition short excerpts of music produced with their sample packs directly from the website, which is really useful.
The downside is that the amount of MIDI files is too short. Actually, I only found 1 MIDI pack offered, for free.
The Best MIDI Files in 2023
Top free MIDI files by genre
EDM MIDI Files
Pop MIDI Files Free
Trap MIDI Files
HIP HOP & RnB MIDI Files
Dubstep MIDI Files
Rock-n-Roll MIDI free files
How to Load MIDI Files in your DAW?
The operation of loading MIDI files into a DAW depends completely on the software of your choice…
However, there are a couple of widely-known methods that work on most programs.
One way is to simply select the "Import" function of your DAW, and then select MIDI as the file type to be imported. That should automatically create a MIDI track with the MIDI file added.
Another method is a simple drag-and-drop approach. Drag the MIDI file from the software where it is located, and drop it anywhere on the timeline. The program should create a new MIDI track with it.
Pretty easy, right?
Read Also: River Flows In You (Yiruma) – Easy Piano Notes With Letters
Conclusion
If you are looking for MIDI files from different genres, for free, my recommendation is that you search using a combination of BitMidi.com and FreeMIDI.org…
Those two platforms should get you what you need.
Now, let's say you are looking for some obscure hard-to-find electronic music MIDI file, go to Carlo's MIDI and request it. It might take some time for him to respond, but most likely he will do it for you.
Last, if you are actually looking for electronic music sample packs to trigger from the MIDI file previously downloaded, just go to Cymatics, they just have them all.