Cool, so you bought yourself the lovely Macbook, right?
And the obvious next step is to start making music, just as you have seen from every single Macbook commercial in which producers are shown making beats with their laptops.
I know the feeling, been there, done that!
Also, you went ahead and bought the MIDI controller to make "beats" like a real producer!
But, as expected, you have no idea of how to connect it or even where to start, correct?
No worries, I am here to help you.
Read this blog, and I assure you by the end you will know all the possible ways of connecting a MIDI keyboard to your Macbook laptop!
How to connect the MIDI keyboard to Macbook?
Option 1: USB to USB connection
This is perhaps the best scenario (if your computer can actually do it).
Very simple, USB to USB…
So you wanna make sure your computer has some kind of USB 2.0 or 3.0 port, the same port you would use to connect your flash drive, your external drives, or even your printer!
Here is a picture for you to understand what I am referring to…

Does your computer have that port?
If the answer is yes, keep reading!
Now, you need a USB to USB-A cable like this one:
As you can see, one end goes in the laptop (the horizontal end) and the square end (USB-A) goes in your MIDI keyboard!

Now, once you plug both ends, you can simply turn ON your MIDI keyboard and then open your DAW (supposing the drivers are already installed).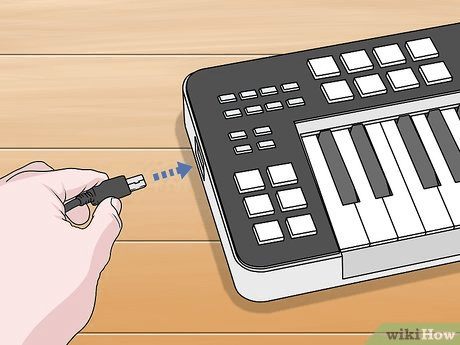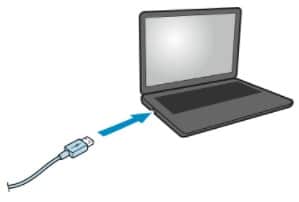 If the connections were done properly, you should be able to turn ON the keyboard and the computer should recognize it.
Most DAWs will recognize your MIDI keyboard as a plug-and-play device when connected using this method because there is no interface or adapter involved, you are just going from USB to USB directly.

Also, you wanna make sure, if the MIDI keyboard is USB-powered, your computer must be able to give enough power to turn it ON. Otherwise, it might not turn ON, or even give you sudden disconnection issues, and you obviously don't want any of that!
By the way, don't just buy the cheapest USB cable you can find, don't be that type of producer.
Think about it this way…
These are your production tools, you might even need to use them on the road, and they need to last! Cheap stuff won't do the trick and you will end up replacing it sooner than later, ultimately making you spend more and more money every time.
Option 2: Through the USB-MIDI interface
Okay, so here we are going one level up!
Let's suppose your MIDI keyboard does NOT have any kind of USB port, but only the standard MIDI port, kinda like this one: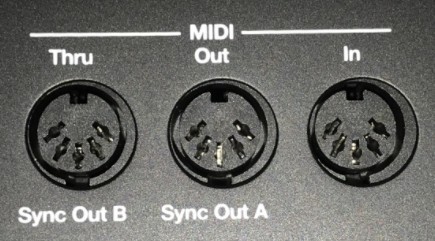 You might be thinking, you are dead because your computer does not have any ports that look not even remotely close to those, right?
Well, let me tell you, you are wrong!
There are ways to fix this, I promise.
You will need a MIDI-USB interface.
The purpose of a MIDI-USB interface is very simple, you connect the MIDI cables into it, and it will take those signals, and convert them into signals that are USB-compatible.
This way, your old MIDI keyboard will be able to connect to your USB-ready Macbook laptop computer!
The question is, which USB-MIDI interfaces are recommended?
Well, it all depends on your budget, obviously.
If you are looking for a professional, studio-graded MIDI-USB interface, this MOTU MIDI Express would be amazing because it features 8 MIDI I/O, letting you connect up to 9 MIDI devices to your computer using a single USB port.

Now, if you have a moderate budget, this MIDI 4×4 will also do the trick, letting you connect up to 4 different MIDI devices: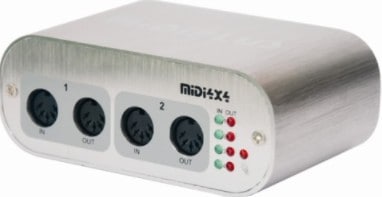 But, if you are working from your home studio, and you want the good, affordable, and easy-to-operate option, you need to get this Roland USB-MIDI interface, can't beat this bad boy!
How are we going to connect these?
Easy, the MIDI connections of your MIDI keyboard will go straight into the MIDI ports of the MIDI-USB interface.
The MIDI connection of the interface will simply connect straight to your laptop.
Easy!
Option 3: Audio Interface + MIDI Leads
Things get a bit more complicated here…
Let's say you want to do your MIDI stuff like beats, synths, and programmed patterns, but you also want to be able to record audio, perhaps vocals or instruments.
Are you gonna get a MIDI interface and also an audio interface?
Of course not!
You are just gonna buy an audio interface that also has the MIDI inputs to connect your MIDI cables coming out of your MIDI keyboard…
Does it sound confusing?
It is not! Trust me.
[Think about a regular audio interface with XLR or TRS inputs for audio signals, but it also has the standard MIDI female ports where you can plug in your MIDI cables from your MIDI controller.]
Sounds lovely, right?
And the best part is, all the data is converted to USB and sent to your computer with a single USB port. Easy and quick.
Now, keep in mind, most professional-level audio interfaces will in fact come with some kind of MIDI connection, just look at the back and you will be able to notice the ports.
Do I recommend a couple of options? Yes!
This SSL2+ is super nice, the audio quality is top-notch, and it has the MIDI ports we all need!

If you are on a lower budget, you can also get this Presonus Audiobox that is actually pretty rock-solid and will never let you down!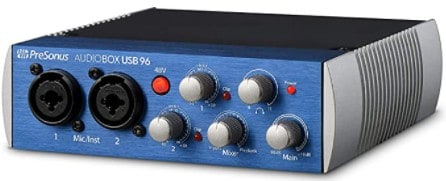 Option 4: Connecting With Bluetooth
Cables are harder and harder to find every day, and wireless is the place to be!
So, believe it or not, now we have wireless MIDI controllers.
Yes, you read it right!
No cables to connect to your Macbook.
And the question is, how? Bluetooth!
The MIDI controller connects to your computer via 2.4 GHz Bluetooth, just as a Bluetooth mouse would connect.
Now, this is not just "plug and play"…
First, you must make sure your computer is compatible with the 2.4 GHz Bluetooth standard protocol of wireless communications. You can probably confirm this from your system preferences window.
Once checked for this, you must "pair" the devices.
Pairing a Bluetooth device is a procedure you do once for each peripheral, you basically tell the computer that you are trying to connect it to a new device, it will scan for available devices, and then it will connect.
Once everything is correctly paired, you are good to go!
But hey, just make sure you are not super far from the laptop! Use common sense, imagine it was connected with a cable, and use that distance.
Any recommendations for Bluetooth MIDI controllers?
Here they go:
This AKAI LPK25 is the legend of wireless midi controllers: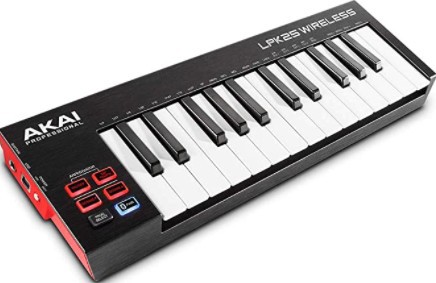 But if you want another alternative, get this Novation Launchkey Mini MK3, you will be satisfied!