In this post let us review Sennheiser e906 vs Sennheiser e609 vs Shure SM57.
The Sennheiser e906 is a dynamic supercardioid microphone that is commonly used for instruments.
| | | | |
| --- | --- | --- | --- |
| Features | | | |
| Mic type | Dynamic supercardioid microphone | Supercardioid microphone | Cardioid |
| Switches | NA | No switches | No switches |
| Sensitivity | 2.2 mV/Pa | 1.5mV/Pa | 1.6mV/Pa |
| Frequency response | 40Hz to 18000Hz | 40Hz to 15000Hz | 40Hz to 15000Hz |
| Connectors | XLR-3 | XLR-3 | Three-pin professional audio (XLR), male |
| Amazon product page | Check price | Check price | Check price |
Some people also use it to capture vocals, but the major reason it's so popular is that it's a favorite of many guitar players and engineers, alongside the Shure SM57 and Sennheiser e609.
The Sennheiser e609 bears a striking resemblance to the e906 in terms of the external design, but there are some important differences, which we will discuss extensively in this article.
The Shure SM57 looks very different from the others, but equally (if not more) popular. The Shure mic is legendary hardware that has proven itself over the years, with countless engineers agreeing on its greatness when used for either instruments or vocals.
The e906 and e609 may look different from other mics, but they perform similar functions as all others and will be subjected to the same standards as other guitar and instrument mics.
One major thing that all these mics have in common, is that a lot of engineers and guitarists use them for their guitar cabinets.
Is this a coincidence or not?
Also, is any of these mics better than the others?
These are the questions that this article will seek to answer, to enable you to make an informed choice.
Sennheiser e906 vs Sennheiser e609 vs Shure SM57
Build and design
The e906 has a solid build, both the shaft and the mic head are made of metal that will definitely withstand the rigors of use.
Either you're using it in the studio or on the road, you can be sure that the e906 will be reliable over and over again.
The e609 has a similar build; all metal and all rugged. Also, they are both side-address microphones. This is quite uncommon, especially for dynamic mics, but this design has its benefits.
The Shure SM57 looks different than the e906 and e609. Looking at this mic, you first notice its miniature size.
Don't be fooled; the SM57 is rock solid. You could practically throw this mic against the wall repeatedly and it wouldn't even scratch. Its grille is quite smaller than the others' too, and it features an end address design, not side address.

Of all these three mics, only the e609 offers you color options, and they are silver and black.
Both the e906 and SM57 are available in black only. While some people may prefer to have more options, I don't think performing guitarists would like this; most of them would prefer to have their guitar cabinet mics as discreet as possible.
Both Sennheiser mics have a 10-year warranty while the SM57 has only 2 years. Don't get any ideas from these warranty figures; they mean almost nothing.
The Shure SM57 would probably last more than 10 years, and it would take some serious destructive tendencies to damage an SM57 in two years.
The e906 offers more hands-on options than the SM57 and e609. This is demonstrated by the switches on it.

You can choose between a flat response, a presence boost and a presence cut. This feature is quite important for guitarists who love to have more control over their sound.
Generally, during a performance that has more than one guitarist, we have one of them playing the rhythm, while the other plays riffs or solos.
The guitarist doing the rhythm may want less presence, as opposed to the one doing the solos. This switch can make the guitar player have more control over their own sound, rather than leaving it to the engineer's discretion.
The Shure SM57 and Sennheiser e609 have no switches; any adjustment must be made by the mix engineer.
Interestingly, the Shure SM57 is the smallest in size, but the heaviest of all three mics. At 284 grams, it weighs more than twice the e906 and e609, which weigh 140 grams each. If you're a traveling guitarist, you may want to consider this.
Features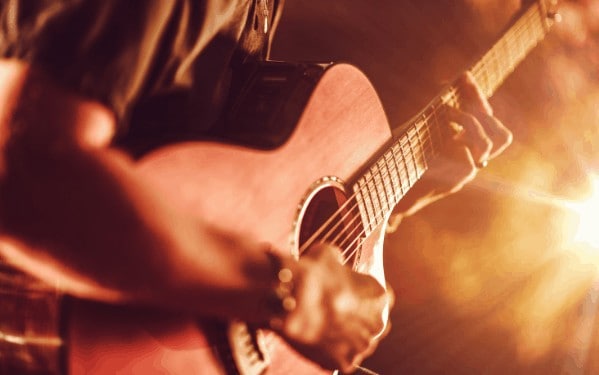 Opening up the e906 box, you get a mic clip with a screw hole to attach it to a mic stand, an instruction manual, a carrying pouch and the mic itself.
The mic clip is important because the shaft of the e906 is not so common, so it may not be part of the stuff you already have in store.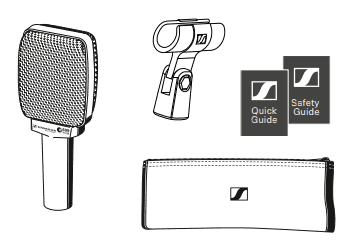 The e609 package has the same content as the e609. The mic becomes visible once you open the box. The Shure SM57 box has similar contents too, but Shure added their sticker and a cable strap to the mix.
All three mics are low impedance mics, which means that they will give quality sound, regardless of the cable length.
A high impedance mic would typically lose some high-frequency quality when used with a long cable.
Also, you don't need to worry about phantom power, since the SM57, e609, and e906 all do not need any extra driving power. The one supplied via the XLR port is enough to do the work.
The Sennheiser e906 has a higher sensitivity rating than the SM57 and e609. With a figure of 2.2 mV/Pa, you have more room when setting it up, compared to the 1.5mV/Pa and 1.6mV/Pa sensitivity figures of the e609 and SM57 respectively.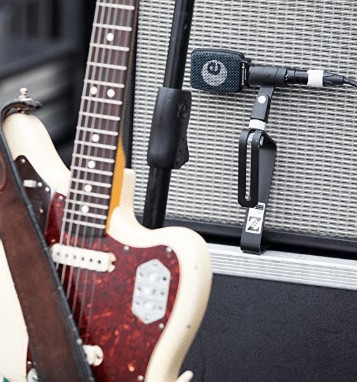 However, all these three mics must be placed close to the sound source to get the best sound.
Also, be aware the low sensitivity figures are not necessarily weaknesses; they have a unique advantage.
When you're using any of the mics for an instrument, guitar, for example, you need to prevent the mic from capturing sound from other instruments on stage, or else, the mix will be muddled up.

The low sensitivity figures of these mics make it compulsory to move the mics quite close to the guitar cabinet, such that unwanted sound is largely rejected.
The Shure SM57 has a cardioid polar pattern, which means that it will capture only what's right in front of it, leaving out another off-axis sound.
This pattern makes a lot of sense for the kind of use that the SM57 is often subjected to. E906 and e609 on the other hand, have the super-cardioid polar pattern, which is even better at rejecting off-axis sound than the cardioid pattern.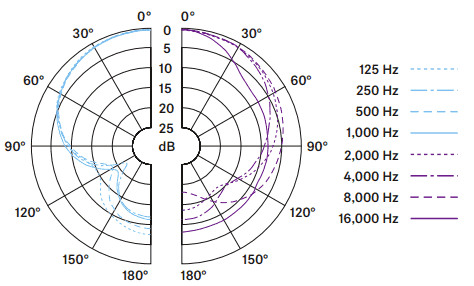 As I mentioned earlier, you get a switch on the e906 that can change the character of your tone. The switch allows you to choose to have a high-end boost, a high-frequency cut or just keep the sound as it is.

To use the switch, you must be sure that's what you really want because it will determine what the engineer will have to work with. The other mics don't have this function or any other switches.
Sound quality
The three mics have similar frequency response, although the e906 has a slightly wider range. Its frequency response is 40Hz to 18000Hz. The e609 and SM57 have a frequency response of 40Hz to 15000Hz.
If we're talking in terms of vocal and guitar sound quality, I think all these three mics hold their own in the low frequencies.
Considering that all these mics are either cardioid or super-cardioid and that we typically place them close to the sound source, you would expect some form of bass buildup due to proximity effect.

The good news here is that the e609, SM57, and e906 all have no excessive low-frequency build-up.
Moving a bit higher on the spectrum, the low mids is where the mics individual characters begin to show. The SM57 has well-tempered low mids; the response here is almost flat.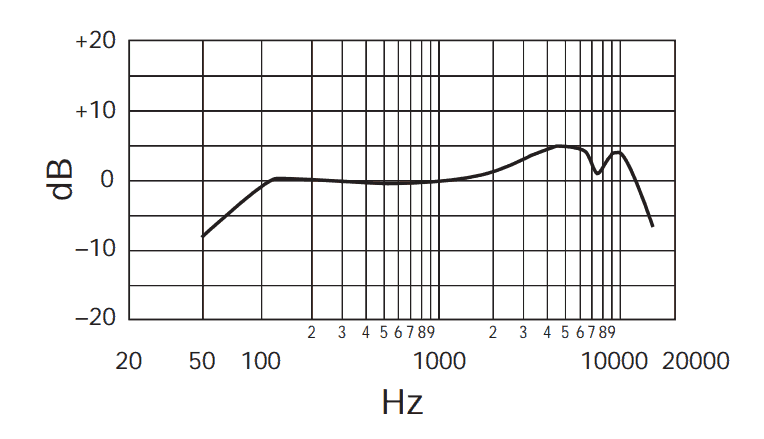 Listening to it, we can't really say there's anything to it, just reproduces what it gats at these frequencies.
The e609 is a bit different on this front. Its low mids are not just tempered, they are actually a bit reduced, and it's audible when you listen to the mic, especially when using it with a guitar cabinet.
It feels like the frequency curve is v-shaped, even though the mid-cut is very little. While this may be good for some uses, when you use it to mic a guitar cabinet, you don't feel the warmth in the sound so much.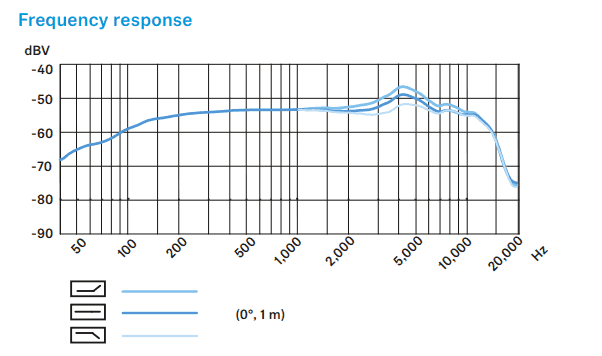 The e906 is also quite distinct in the low mids. Its frequency charts show a slight boost in the low mids, so you would expect some warmth from this mic. It doesn't disappoint on this ground during sound tests.
You immediately hear the full-bodied sound with enough warmth the moment it comes through the speakers. The difference here is so clear. When I listened to the e906 on a guitar cabinet, I suddenly felt like the SM57 and e609 are not doing enough in this area.
The high frequencies of these three mics are quite similar too, with the popular presence boost noticeable across board.
Of course, it's quite different for the e906, since there are three possibilities where the presence and clarity is concerned.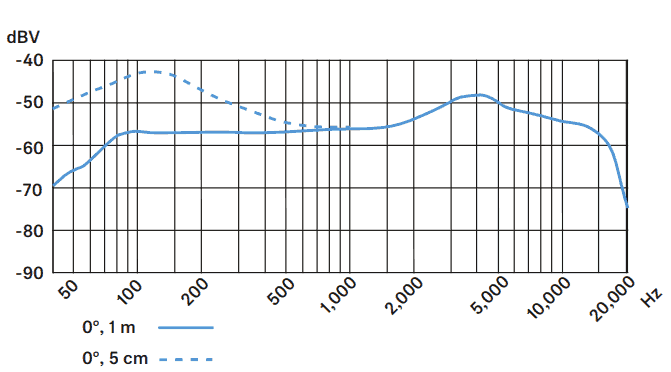 Even with the high-frequency boost enabled, the e906 handles those high frequencies such that it does not sound harsh while maintaining that sparkle too.

As a matter of fact, the e609 high-frequency sound is closer to harshness than the e906 with the presence boost. It's possible that the reason is that e906 has 3000Hz more room in its high frequencies than both the SM57 and e609.
For dynamic mics, there are usually no definite figures for maximum SPL. I have seen people practically try to induce distortion by cranking up sound sources volumes, but without any success.
This means that you can put these mics in front of any instrument no matter how loud they may be. So, feel free to use them for a mic cabinet even during a heavy metal performance. You can be sure to have no problems with distortion.
Similarities
All three mics are dynamic mics, and they all have a rugged build.
The maximum SPL for all these mics almost untouchable; even deliberate actions can't seem to make distortion happen.
All the mics have good low-frequency handling, effectively preventing bass buildup due to proximity effect.
Differences
The e906 has a switch that enables you to pick one of three eq settings; a presence boost, presence cut, and a flat response.
On the other hand, the SM57 and e609 have no switches or filters on them.
The e609 and e906 have sided address mics, which makes them much easier to use in miking guitar cabinets. The SM57 is an end-address mic, and although you can use it for guitar cabinets, it may be more suited to horns and drums.
Pros and cons
Sennheiser e906
Pros:
More hands-on control with the presence boost/cut switch.
Gives warm full-bodied sound
Good off-axis sound rejection
Sennheiser e609
Pros:
Lightweight
Compact design
Side address design makes it easier for guitar cabinet use.
Cons:
No switches or filters for more hands-on control.
Mid frequencies are reduced, leading to less warmth.
Shure SM57
Pros:
Rugged build.
Good off-axis sound rejection.
Very high SPL; distortion is almost impossible
Cons:
Because of its small head, placement may be tricky, especially for guitar cabinets.
Read our popular Shure and Sennheiser comparisons:
1. Shure SM57 vs SM58 – Top 5 Differences for Vocals
2. Shure SM58 vs Sennheiser e845 – Live Mic Showdown!
3. Shure Beta 58A vs Sennheiser E935: Is There Any Difference?
Verdict
It's time to declare the winner in Sennheiser e906 vs Sennheiser e609 vs Shure sm57 battle.
These three mics are really good at recording vocals and guitars, but as you must have noticed, each of them has its own uniqueness. The SM57 and e609 are excellent choices for vocals and guitars, as you have seen in this comparison.
However, when we look at the Sennheiser e906, we see that it has the most unique characteristics, especially in features and sound quality.
At the same time, the prices are not the same. Therefore if you're in a budget, you can have splendid results with the Shure SM57 and Sennheiser 609. But, if you have a few more bucks to spare, the e906 will give you an improved experience.