Our Best Pick
Sony Micro Hi-Fi Stereo Sound System with Bluetooth Wireless Streaming NFC, CD Player, FM Radio, Mega Boost, USB Playback & Charge, AUX Input, Remote Control
Best Value for Money
Toshiba TY-ASW91 Micro Component Speaker System: Wireless Bluetooth Speaker Sound System with FM, USB & CD, AUX Input, LED Display and Remote Control
Best All-in-one Alternative to Bose Wave
Yamaha MCR-B020BL Micro Component System,Black
Included Features
Bluetooth Wireless Streaming NFC, CD Player, AM/FM Radio, Mega Boost
Wireless Bluetooth Speaker With FM, USB & CD, AUX Input, LED Display
CD player and AM/ FM radio Bluetooth Wireless Streaming
Our Best Pick
Sony Micro Hi-Fi Stereo Sound System with Bluetooth Wireless Streaming NFC, CD Player, FM Radio, Mega Boost, USB Playback & Charge, AUX Input, Remote Control
Included Features
Bluetooth Wireless Streaming NFC, CD Player, AM/FM Radio, Mega Boost
Best Value for Money
Toshiba TY-ASW91 Micro Component Speaker System: Wireless Bluetooth Speaker Sound System with FM, USB & CD, AUX Input, LED Display and Remote Control
Included Features
Wireless Bluetooth Speaker With FM, USB & CD, AUX Input, LED Display
Last update on 2023-09-21 / Affiliate links / Images from Amazon Product Advertising API
In this post today we are going to review the 3 best Bose Wave alternatives.
Bose Wave radio is one of the most popular stereo music systems out there. However, with time, users began to identify one or two issues that discouraged them from using the Bose Wave.
If you've used the Bose, you must have noticed that you need an external amp or power source to drive an external speaker that you connect to it.
If you're in this category, there's some good news we have for you. We have come up with three music stereo systems that are worthy alternatives to the Bose Wave. Every single issue you may have with the Bose Wave is addressed in these alternatives.
Here are our top 3 Bose Wave alternatives:
Build and design
The Sony Stereo System is a versatile device. You take a look at its capabilities and it becomes obvious that this stereo music system was created to work with the past, present, and future; from the ethernet connection to the Bluetooth and wireless options available.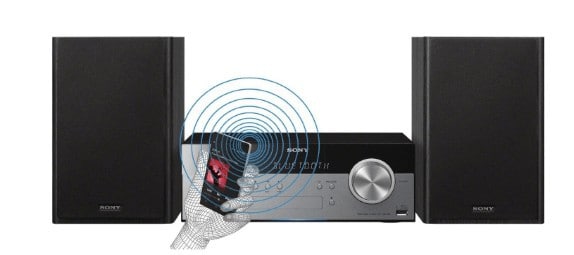 The system has a brushed metal glossy finish. A very noticeable characteristic of this Sony system is the positioning of the control knobs.
Even though it has a remote, all the controls available on the remote are also clearly located on the device itself.
This is unlike the Bose Wave, which has all its controls on the remote only. This means that for the Bose, no remote, no music. The good news is that the Sony Micro Music System gives you another option, just in case you lose your remote.
Additionally, you can connect your devices through any of the options provided; Bluetooth, NFC, and even ethernet cable.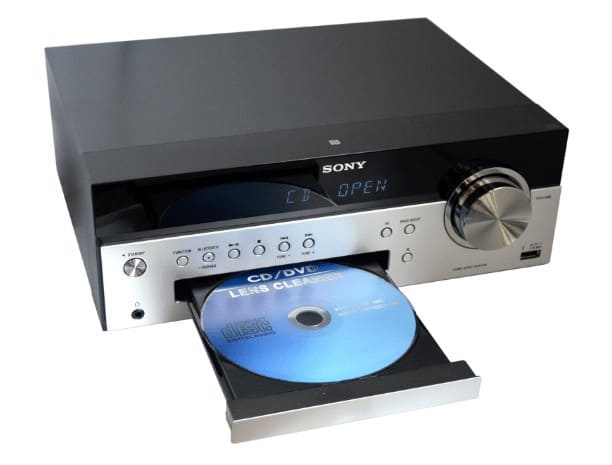 However, the Sony Micro Music Stereo System cannot play WAV and FLAC audio formats. You would have to keep to the only MP3, WMA and AAC.
Sound quality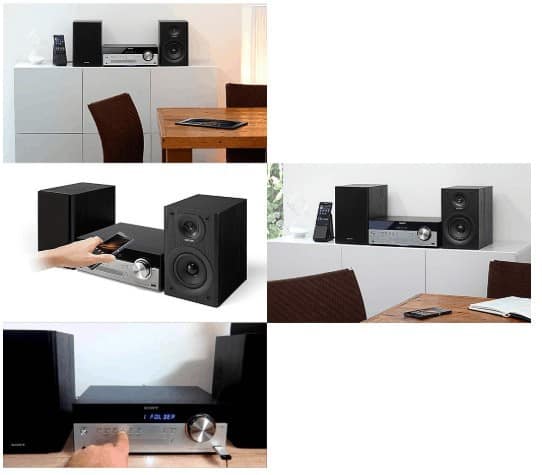 The Sony Micro Music System's bass is what I like to call tight. The bass frequencies are well responsive; they present all the artifacts without any fuss. However, we can't also say it's exceptional. It's very decent at best.
Although the makers of consumer speakers can sometimes make them have flat responses, they may not serve their purpose well if the frequency curve is all flat, there should be some emphasis on some frequencies.
While I wouldn't say the mid frequencies have a warmth of their own, if your source music has a lot of warmth, the Sony Micro Music System would do well to reproduce it accurately for you.
The low-mid warmth that is usually noticeable while listening to some artists singing, especially those with a bit of hoarseness or huskiness in their voices, you really feel that timbre comes to life.
The high frequency is really where the emphasis is on with this music system. There's an extra topping of brightness when you listen to your music here. The only issue here is that, if your music is on the bright side already, you may experience a little bit of harshness at high volumes.
Pros:
Bright production
Easily accessible buttons
Multiple connection options
Bottomline
The Sony Music System gives you all your Bose wave offers, and more; additional connection options and more accessibility to your controls.
Build and design
The Toshiba TY-ASW91 is a micro component music system that allows you to play music or listen to audio from different sources.
The options provided include Bluetooth for wireless connection to your device, USB port to play audio from your flash drive or other USB enabled device, an aux cable if you need to use a wired connection to play audio and a CD player for some good old deluxe music.
One thing that the TY-ASW91 has over the Bose Wave is that the music system itself is enough to power the speakers.

The Bose Wave needs any connected speakers to be hooked up to power supply, or at least have an amp connected. This is because the Bose Wave cannot provide power to drive external speakers.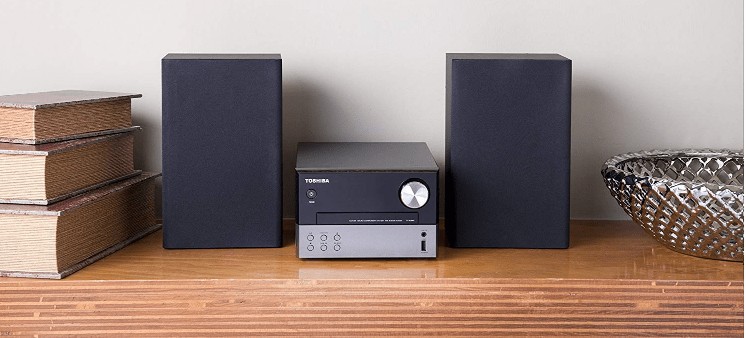 The Bluetooth connection has about a10m range of good sound production without interference. However, if you'll be using this system in your bedroom, be aware that there's no sleep timer, so, you would have to switch it off by yourself always.
Sound quality
The bass is quite good for a micro music system. While the general design helps the low-frequency response, the thickness of the cabinet does not help much.
All in all, the bass is pretty good at its job. However, it is also worth mentioning that at high volumes, you may perceive some vibrations due to the low frequencies. This is largely due to the thin cabinet.
The mid and high frequencies are pretty good too, although you may experience some high mid harshness depending on the music and volume you're playing at.
The CD engine sound is audible. By this, I mean that the sound made by the rotating disc when you're playing music with the disc player with lower volumes, you can hear the disc rotating.
This may not be a big deal for most people, but can be a concern if you like listening to the system at quieter volumes.
Pros:
Balanced sound
Responsive EQ presets
Cons:
No sleep timer
Audible CD rotation
Bottomline

Toshiba TY-ASW91 has some really nice features and production, especially when you consider its price range too.
Build and design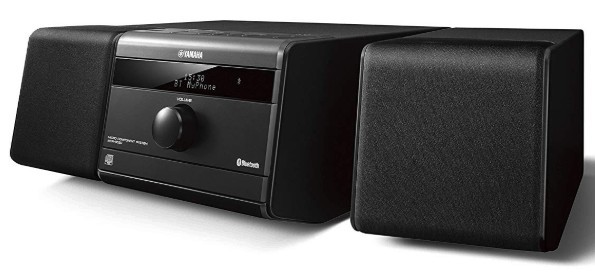 Weighing 1.8 kilograms, the Yamaha MCR-B020BL is not something you can always carry with you, but that's okay since it's not designed for such.
This is a Bluetooth sound system with detachable speakers. It's called a micro music system, but the only thing micro about it is its height. Considering its length and width, the Yamaha MCR-B020BL may take a chunk of space.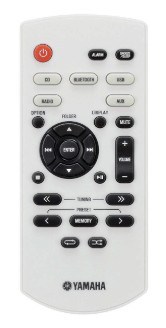 It is equipped with a CD player, AM/FM radio and Bluetooth wireless streaming. If you also wish to use a wired connection to play music from your phone, computer, and other devices, you can do via the aux input.
There's a USB port on the MCR-B020BL, but it's for charging your USB powered devices only. You can't play music from it.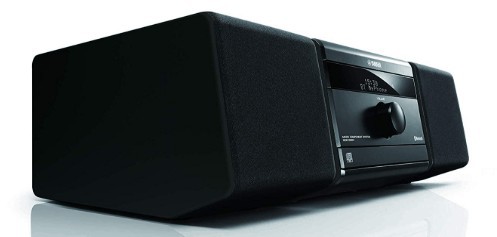 Unlike the Bose Wave music system, the Yamaha MCR-B020BL has detachable speakers. The advantage that this has, is that if you don't have enough space to spare at once, you can vary the speakers' positions as you please.

Another advantage of this is that you can have a larger stereo field than the Bose Wave. Increasing the gap between the two speakers gives you a bigger soundstage.
Also, you have the option of saving 60 radio stations. If you manage to have all of them covered, you could go the whole day without being bored at all.
Sound quality
The Yamaha MCR-B020BL has a frequency response of 50Hz to 20000Hz. The range pretty much covers the whole human hearing spectrum. The bass reflex nature provides enough room for the low frequencies to flourish.
The bass can reach very high volume levels without distortion. This seems to be the mainstay of this micro sound system. The mid and high frequencies are well represented, but there's not much emphasis in their production.
The Bluetooth connection will give clear sound within a range of 10m. This figure will be less if there's any interference between your device and the system.
Pros:
Expansive bass
Detachable speakers give more flexibility
Cons:
Remote can't be used to tune the radio
Bottomline
With the MCR-B020BL, you have a larger stereo field and more room to be creative with your speaker arrangements.
Conclusion
The Bose Wave radio has its shortcomings, and some of them can make you consider other options. These three Bose Wave alternatives provide solutions to any issues you may have had with the Bose Wave.
That's not to say that our three options do not have their weak points. As you've probably seen, they do.
However, if the cons of the Bose Wave are enough reasons for you not to purchase it, then you should consider these three choices since Wave's weaknesses are their strengths.