In this post today we are going to review the top 5 wireless church microphones.
Our Best Pick
Shure SM58S Cardioid Dynamic Vocal Microphone with On/Off Switch, Pneumatic Shock Mount, Spherical Mesh Grille with Built-in Pop Filter, A25D Mic Clip, Storage Bag, 3-pin XLR Connector
Best Value for Money
Sennheiser EW D1-ME2 Evolution Wireless D1 Digital Presenter System with ME2 Omnidirectional Clip-On Microphone
Excellent Off-Axis Rejection
Rode M5 Matched Pair,Black
Our Best Pick
Shure SM58S Cardioid Dynamic Vocal Microphone with On/Off Switch, Pneumatic Shock Mount, Spherical Mesh Grille with Built-in Pop Filter, A25D Mic Clip, Storage Bag, 3-pin XLR Connector
Best Value for Money
Sennheiser EW D1-ME2 Evolution Wireless D1 Digital Presenter System with ME2 Omnidirectional Clip-On Microphone
Last update on 2023-12-08 / Affiliate links / Images from Amazon Product Advertising API
One of the most important equipment in churches today is the microphone, together with other sound equipment of course. The kind of mic used in a church usually shows the worship style and general musical leanings of the congregation as a whole.
Aside from music, mics are also used by preachers for their sermons. They're also used for announcements among other things. Also, the preacher's personal preaching style reflects in the kind of mic they choose.
Regardless of your worship style or preferences, this article shows you the 5 best wireless mics you should consider if you intend to buy a mic for church use.
What to look for when buying church microphones?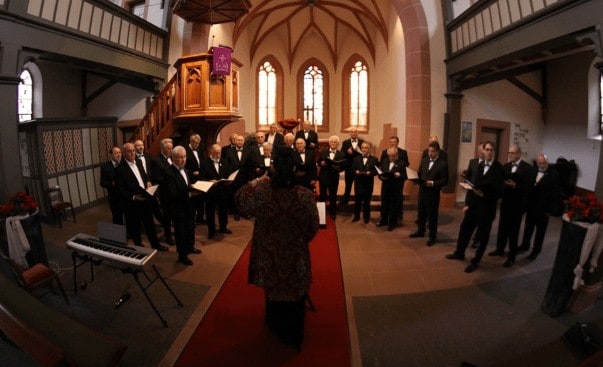 There are different types of church mics that you can consider for different reasons.
Here they are:
Type of the mic
Lavalier/Lapel:
A lavalier mic is the smallest of all church mic types. It's set up by clipping it to the user's clothing. The Lapel mic is connected to the transmitter, which is also placed on the user.
This kind of mic is useful for preachers that prefer more freedom of movement while preaching. It can also be used by lead singers.
2. Handheld:
As the name implies, these kinds of mic are designed to be held by the user, although you may decide to place it on a stand.
This mic will be a good fit for song leaders who do a lot of moving around while singing. It can also be used by backup singers. It is the most commonly used church mic. If you love singing with apps like Smule, then you should certainly look at these mics to improve your singing.
3. Headsets:
Headset mics can only be advised for the sound engineer; probably for communication between engineers. Headset mic sound quality is simply not good enough for church use.
The number of mics needed:
This is an important question you must answer before you buy any mic.
To answer this you must ascertain how large the choir is, and what kind of music they make.
Sometimes, you may not need more than two mics, and other times, you may need six or more.
Worship style:
I use this subheading for lack of a better word. By worship style, I mean the general ambiance you wish to create in the church.
A church with a more vibrant feel would have more handhelds and lavalier mics than ceiling-mounted ones, while a church with a more conservative worship style may go for a more holistic approach to choir sound capturing.
Top 5 wireless church microphones
Build and design
The Shure SLX2/SM58 is a wireless dynamic cardioid mic. Like most, if not all Shure mics, this one is rugged and solid; able to withstand the rigors of repeated use. These dynamic mics are also best for doing voice overs.
The mic design is pretty simple; just a metal grille on the held and the handheld shaft. The SLX2/SM58 is basically a combination of the SLX2 wireless system and the mic, fitted with an SM58 cartridge.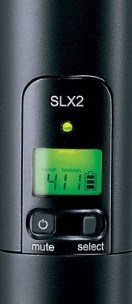 Also, you can easily change the cartridge in case of damage, or for any other reason. The mic has a mute switch, with a backlit LCD display. One of the immediate benefits you'll get from this sort of display is the battery power information.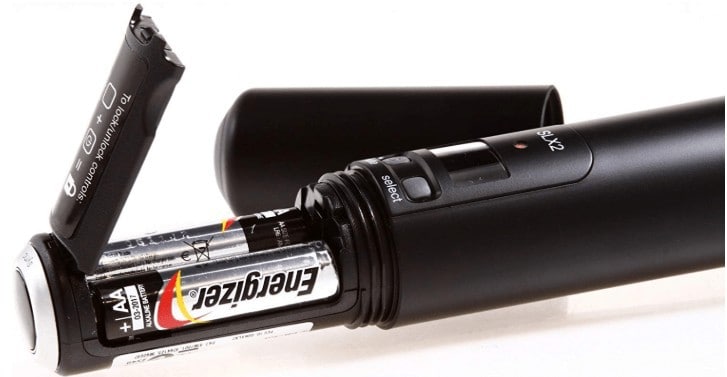 The small screen shows you how much power you have left. Speaking of power, the mic is driven by 2 AA batteries, and this can last for up to 6 hours; that's longer than most church services.
The wireless system automatically searches for available frequencies and selects the one to use. Perhaps because of the battery space, the mic looks a bit long, which may not go down well with some people. The width also makes you force it into most mic stands.
Sound quality
With a frequency response of 50Hz to 15000Hz, the SLX2/SM58 wireless mic provides the needed range for live use.
The capsule is specially made for live vocal use, which includes church use, both singing, and preaching. The number one reason why it's so highly recommended for live singing is its internal spherical filter.

This serves as a pop filter that prevents pops and hisses from hitting the capsule too hard, and compromising the sound. The effectiveness of this mic mostly depends on what you intend to use it for.
If you're using it for contemporary worship singing, it can be a good choice for the lead vocals and even the backup singers.
However, if the church music tends more towards classical, you may prefer a mic with wider frequency response.
The Shure SLX2/SM58 would also be a great choice if you record the sermons and songs during the service. You can be sure to have a clean recording of the preacher or lead vocalist.
The cardioid polar pattern and other design details make sure that another sound is well rejected while the focused sound sourced is well captured.
Pros:
Rugged Build
Batteries will last the whole service
Effective internal pop filter
Cons:
Possible interference from users of the same frequencies
Can be a bit heavy when batteries are inserted.
Bottomline
The Shure SLX2/SM58 is basically a wireless version of the legendary Shure SM58, and it's pretty affordable too. You sure can't regret buying this one.
Build and design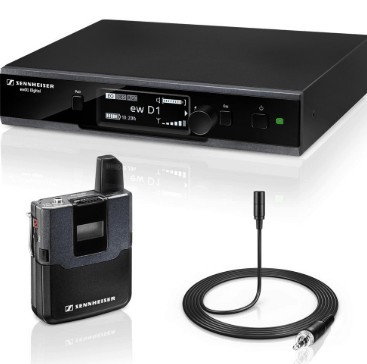 The Sennheiser EW D1-ME2 is a wireless lavalier microphone system. The whole is made up of 3 parts; the ME-2 clip-on microphone, the EM-D1 rackmount receiver, and the SK-D1 bodypack transmitter.
The ME-2 microphone is an omnidirectional condenser mic. The first thing that came to mind as I observed the size is, "where do all the parts fit in?" It's all black, and so small that if well positioned would not even be noticed by the congregation.
This mic would be highly effective for more expressive preachers, who like to move around and use their hands more.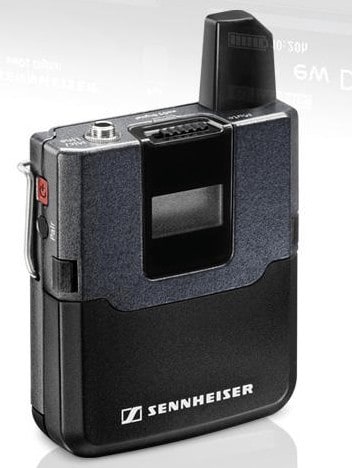 Even for preachers that prefer to stay on the pulpit while they preach, this mic will be a good option for their sermons, making it easier to turn the Bible pages with both hands.
The EM-D1 rackmount receiver weighs 824 grams, which makes it easy to move it around.
What I find really cool about this receiver are its audio effects.
It also has automatic frequency management, which means it can search for available frequencies without your help.
The SK-D1 body transmitter is the device that you'll connect the mic directly to. It weighs 85g; very light, which is expected since it is carried on the person of the speaker or vocalist. It is also quite small, which makes it a good choice especially for female speakers or vocalists.

The male users can simply put the transmitter in their pockets or better still, clip it to the belt. On the other hand, female users, because of the nature of their clothes at times, may need a little more strategy in placing the transmitter.
That's why it's important that it's as small as possible so that it doesn't get in the way of the user's style or fashion.
Sound quality
The evolution of wireless D1-ME2 is one lavalier wireless system that would match most handhelds, wired or wireless in sound quality. The frequency response of 50Hz to 20000Hz ensures a rich sound production.
The polar pattern is omnidirectional, which is a reasonable choice by Sennheiser. I say this because as a lapel mic, you're supposed to clip it to the preacher's clothes. This means that it would not be positioned in front of them.
The best polar pattern to pick up sounds that are not directly in front of it is the omnidirectional pattern.
Having said this, you must be careful with the placement, so that the mic does not pick up too much surrounding noise. If the song leader is using the mic, for instance, you don't want the drums coming in.
This may not be very obvious during the worship service, but if you're recording the choir ministrations and sermons, the resulting audio may be messy.
Additionally, a maximum SPL of 130db means that the mic can take some loud signals without having any distortion or clipping. This is very important for preachers and singers that preach or sung with a lot of intensity.
Pros:
Unobtrusive design
Lightweight transmitter
On-board audio effects
Cons:
May pick up unwanted noise
Not very versatile
Bottomline
The Sennheiser EW D1-ME2 ticks all the boxes of a good preacher lavalier mic. If you want the ultimate freedom while preaching or singing, this mic is for you.
Build and design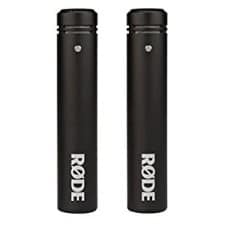 The Rode M5 manages to look delicate and feel solid at the same time. The external parts of the mic are covered in matte black ceramic; not the type that would break if dropped, this is a strong type of ceramic.
It's not just the ceramic that covers the capsule, beneath the ceramic coating is a perfectly machined all-metal body that houses the capsule.
The Rode M5 weighs 80 grams; very light and measures just 100mm x 20mm. The size and weight of this mic combine to ensure that it is easy to mount and maneuver if need be.
Also, being matte black, it can be quite inconspicuous and can be mounted for the choir or the preacher, while being barely visible.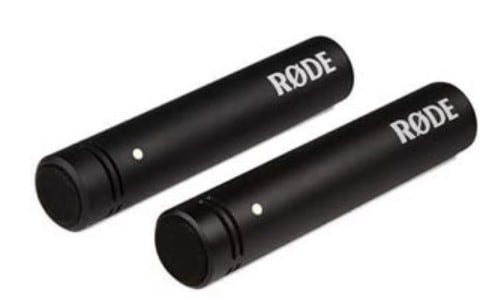 The mic typically comes with a windshield, which may be useful, depending on what purpose the mic is serving. The mic's body is smooth from top to bottom, ending in an XLR port for connection. There are no switches on the mic.
For some mics, an on/off switch is very important, but for the M5, it really isn't, because this Rode is not really expected to be used as a handheld, so the engineer can do the switching on their board.
Sound quality
The Rode M5 is a cardioid condenser with a frequency response of 20Hz to 20kHz. Being a cardioid microphone, you would expect it to reject off-axis sound, which it does pretty well.
On the other hand, a cardioid polar pattern also means that if you intend to use the M5 to capture a choir, you may need to use two at a time to have a full range capturing.
Even though there's no pad switch on the mic, loud volumes should not be a problem, because the M5 has a maximum SPL of 140db, which means it would most likely capture loud sounds without any distortion.
It gives mostly flat response over the frequency ranges, with a little lift around 7kHz. This gives the voices a little presence in that region.
This would be useful in church use since most of the vocal audio is centered around having clarity and making sense of what's being said.
Pros:
Small size: easy to mount
Unobtrusive
High SPL
Cons:
No switches
Need at least two to effectively capture the whole church
Bottomline
Once you can get the placement right, you can use the Rode M5 for different purposes in the worship service.
Build and design
The Shure CVO-W/C is a hanging cardioid condenser microphone. A hanging mic is one that is mounted primarily by hanging it from the ceiling.
For such mics, it's important that they are as discreet as possible, so they don't take anything away from the venue's design. The Shure CVO does this so well. This design makes it very effective for use in worship auditoriums.
This CVO mic would be most effective if your church has a high ceiling. Which means it's better for dedicated church buildings, rather than rented properties being used as temporary church venues.
It comes with a windscreen, which prevents wind noise from getting in the way of sound. Also attached is a 7.5-meter cable, which makes it suitable for use in bigger venues.
As you may have noticed, some wireless devices are prone to interference. This may occur if there's another device transmitting on the same frequencies.
With this Shure overhead mic, you wouldn't have to worry about that, as the comm shield technology ensures that you don't have to deal with noise from interference. For a mic that is mostly out of reach while in use, this particular function is important.

The cable that we supplied with this mic is called a memory cable. This is a type of cord that allows for more freedom of placement because it is flexible and tough at the same time.
You have ample freedom to maneuver it, and as soon as you achieve your desired placement, you can put it in place and be sure that it'll stay put for as long as you want.
Sound quality
The Shure CVO-W/C has a frequency response of 70Hz to 16kHz. You may think this doesn't cover everything, but if you think about it, it can be an important advantage.
While a choir is singing, you may have a few singers tapping their feet. You don't really want this to be audible on the church speakers, do you? This mic already took care of that with its lower frequency boundary of 70Hz.
The maximum SPL if 120db is good enough since nobody would be close enough to sing that loud anyway.
Pros:
Easy to mount with memory cables
Immune to low-frequency noise
Cons:
Frequency response may not be wide enough for some uses
Needs professional to set it up.
Bottomline
The Shure CVO-W/C doesn't have many different uses, but if you're looking to capture your choir's voice as one, it's the mic for the job.
Build and Design

The AKG C1000S is a small diaphragm microphone, built with a cast alloy body. If you don't know what dark blue-grey looks like, just take a look at this mic. That's the color AKG chose for the external finish. When you unscrew the top half, you can see the internal parts in the bottom half of the mic.
You can power the mic either through phantom power, which is available on most good mixers. In the absence of phantom power, you have the option of using two AA batteries. With good power management, the batteries should work for you to 120 hours effectively.
Speaking of power management, the mic has an on/off switch that you can engage to have the best of your batteries. Other switches that you'll find on this mic are the high pass filter switch and the 10db pad switch.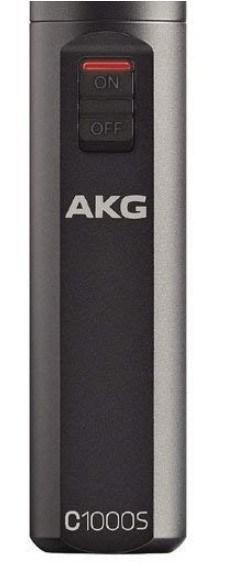 One curious thing about these switches is their accessibility. You can't flip the switches unless you unscrew the top half of the mic.
Before you write this off as a minus, think of it this way: the people using the mic wouldn't have cause to flip the switches accidentally otherwise, especially while setting it up.
Also, if you're a sound engineer, you probably know how choir members can sometimes touch things they're not supposed to. With this design, anyone that would flip a switch would go out of their way to get there.
Depending on the particular use also, you have the option of placing a plastic widget over the capsule. This changes the polar pattern of the mic from cardioid to hypercardioid.
There's one more plastic widget. This one adds some clarity. More on that in a bit.
Sound quality:
When you engage the 10db pad, the AKG C1000S has a maximum SPL of 137db. This is a very competitive figure, and in reality, you'll need unusually loud sound to even come close to shaking this mic's diaphragm.
Without the plastic widget added, there's a bit of a presence boost between 3kHz and 10kHz. As expected, because of its cardioid polar pattern, you'll get some low-frequency build-up when the sound source is up close. You can always deal with this with the high pass filter switch.
Additionally, this mic is quite sensitive, so you don't need close-miking very often. Just make sure the choir give some space and not get too close. The preacher shouldn't have problems with that since the mic is not handheld.
Make sure you only use the presence boost widget when it is really needed. Otherwise, you'll only be adding too much boost in these higher frequencies, resulting in harsh vocals.
Pros:
Well protected switches
Changeable polar pattern
Cons:
The capsule can be easily exposed
Bottomline:
Mic users in the church include both professional and unprofessional people. The AKG C1000S caters well to both groups.
Conclusion
Audio technology keeps making giant strides, and the church is one of the biggest benefactors of this progress. Either you're using cordless mics or corded mics, sooner or later, there'll be a need to replace your current microphones with others.
Whether it's the preacher mic that you need, or you want a wireless mic for the lead singer or something that the whole choir can use, I believe this best 5 list has given you comprehensive information as to what choices to make.
Surely, you've found a mic that suits your worship style and preference.