In the battle for audio supremacy, the Bose Bass Module 500 vs 700 takes center stage. Both subwoofers are great in their own regard but which is the best one overall? If you are also confused about the two, I invite you to check out my detailed comparison.
I will explore crucial factors such as design, setup, and sound quality in this epic showdown. Let's get right into it!
Quick Comparison
The Bose Bass Module 500 and 700 are both formidable options for music enthusiasts. Both offer powerful bass and enhance your audio experience.
The Bass Module 500 is lightweight and compact, making it a great choice for smaller spaces.
The Bass Module 700 delivers deeper and more impactful bass with its larger drivers.
Both models are easy to set up and integrate seamlessly with other Bose speakers.
There are still intriguing details and features left to uncover in my in-depth comparison. Continue reading to find out which one is best suited for your needs!
Comparison Chart
Here is a quick comparison of these bass modules.
| | | |
| --- | --- | --- |
| | | |
| | | |
| | Normal remote (Only for soundbar) | Universal remote for all devices |
| | | |
| | | |
| | | |
| | | |
| | | |
| Smartphone Compatibility: | | |
| | | |
| | | |
| | | |
| | | |
| | | |
Positives and Negatives: Bose Bass Module 500
These are the benefits and drawbacks of choosing the Base Bass Module 500:
Bose Bass Module 500
Pros:
The build quality is very good and has a compact design.
Being lightweight makes it very portable and perfect for travel.
Has a wide sound stage with Dolby Digital that adds more immersion.
You get different connectivity options with a soundbar/smartphone.
It has a semi-matte finish that doesn't show any fingerprints or dust.
The affordable price point makes it compelling for people on a tight budget.
Cons:
There is no support for DTS.
Doesn't come with a Chromecast.
You don't get a universal remote.
Last update on 2023-09-21 / Affiliate links / Images from Amazon Product Advertising API
Positives and Negatives: Bose Bass Module 700
Here are the good and bad about the Bose Bass Module 700:
Bose Bass Module 700
Pros:
It has a really rich sound due to its large driver.
It has a very cool style, with a premium build.
Universal remote can be used to control multiple devices like a TV and soundbar.
DTS and Dolby's Digital support enhance your audio experience.
PhaseGuide transducers provide better performance.
QuietPort tech is great at removing sound distortion.
Cons:
It is heavy on the purse as compared to other models.
The glass top is prone to dust.
It is hard to carry around due to its increased weight.
Last update on 2023-09-21 / Affiliate links / Images from Amazon Product Advertising API
Exploring Key Similarities and Distinctions: Bose Bass Module 700 vs 500
Let's first explore the key similarities that bind them together. From there, I'll transition to uncovering the distinct features that set them apart in the realm of audio excellence.
Similarities
There are the following similarities between the two subwoofers: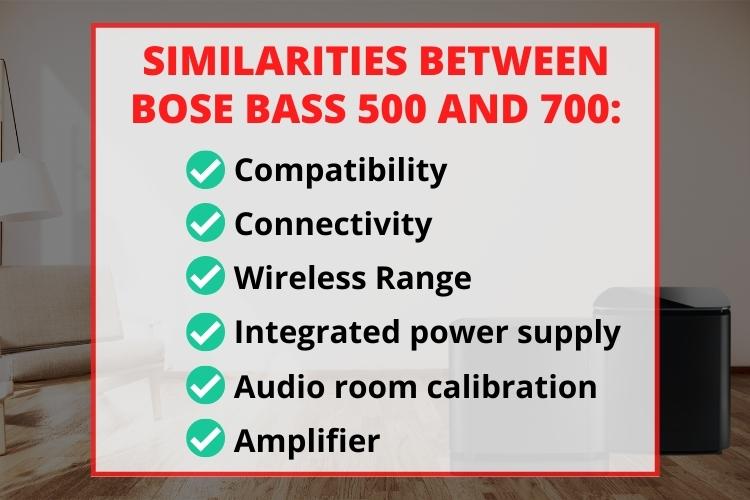 Compatibility: Both of these subwoofers can be paired with other devices as well.
Connectivity: You need to either use a cable or connect through the Bose music app on your smartphone.
Wireless Range: You get the same wireless range of 30ft on both products which are plentiful.
Other Similarities: An integrated power supply is present on both the subwoofers with built-in features like audio room calibration and an amplifier.
Differences
Here are some of the differences between the two and see which Bose smart soundbar stands tall!
Design: The 500 comes in a box shape with a matte finish. It is small in size and portable. It looks good and doesn't attract any dust or scratches. The Bose bass module 700 also has a similar design with a premium glass top. It is built really well but is large in size and therefore, not portable.
Sound: The major difference is in the sound quality. The 500 has a 5.25-inch driver whereas the 700 has a 10-inch one with lower sound distortion. Basically, double the size. The prior provides a really good and crisp sound but is no match when you compare it with the 700. The 4 mid-range drivers are also present in the 700 that further enhance the music-listening experience. The sound distortion is also lower as a result.
Extra Features: You get two buttons on the 500. The first one is used to connect to other devices while the other one allows you to turn off the mic. It also has LED lights on the input slots to show the connection status. The 700 also has the same buttons but one is used for voice functionality and the other one for muting the mic.
Connectivity: Bose Bass Module 500 only has a single HDMI cable while the 700 has an additional digital optical cable as well. So, you get multiple options with the larger model.
Price: The 500 is much cheaper than the Module 700. It is a more affordable option while the 700 falls into the premium category.
Weight: The 700 weighs 30 pounds which are more than twice the 11 pounds of module 500.
Bass Quality: It is better on module 700 due to its large drivers. It produces a thumping base with lower distortion.
An Insight Into the Bose Bass Module 500
The Module 500 is a compact and well-designed subwoofer. It delivers great sound for the price.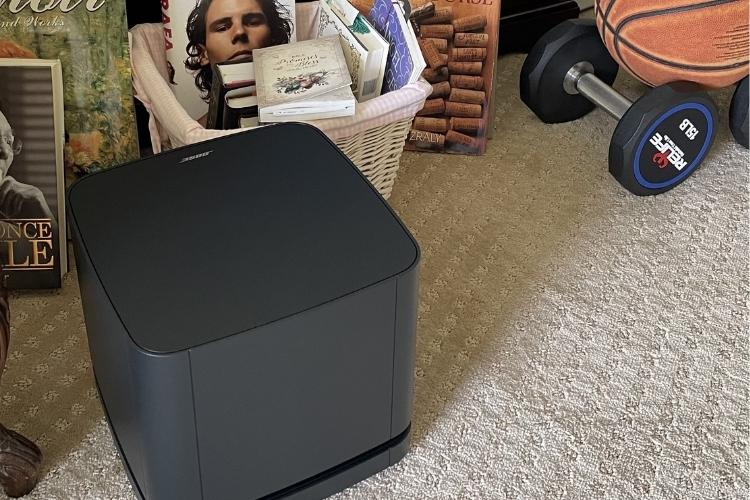 You can seamlessly integrate it into your audio system.
Despite its small size, it produces deep bass that adds richness and depth to your audio experience.
The wireless connectivity and easy setup process make it very convenient to use.
To learn more about this subwoofer, check out this video.
A Quick Look at the Bose Bass Module 700
The 700 is a bigger subwoofer with larger drivers to deliver superb sound.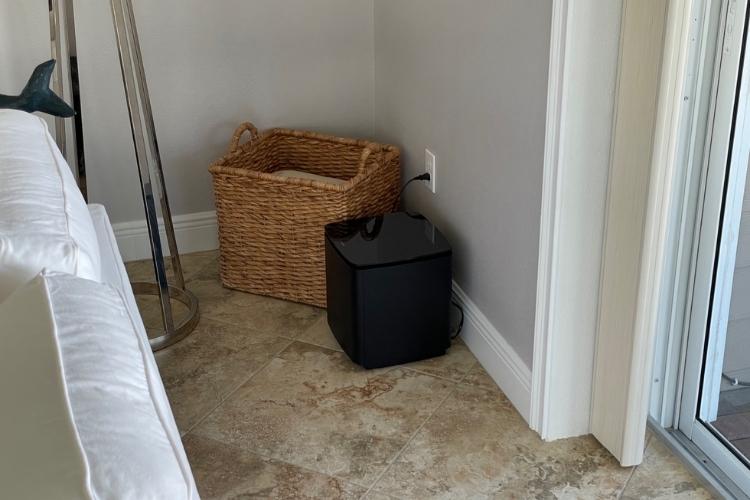 With its larger size and advanced technology, it produces deep, thunderous bass.
The module seamlessly integrates with your Bose system.
Also offering wireless connectivity for easy setup and flexibility in placement. Pairing it with a Bose soundbar, you can create the ultimate audio experience.
You can follow this video to know more!
Design
Even though the design on the surface feels really similar, there are some things you should know. Let's go through them:
Bose Bass Module 500
If you have a really narrow space, then you would want the Bose Bass Module 500.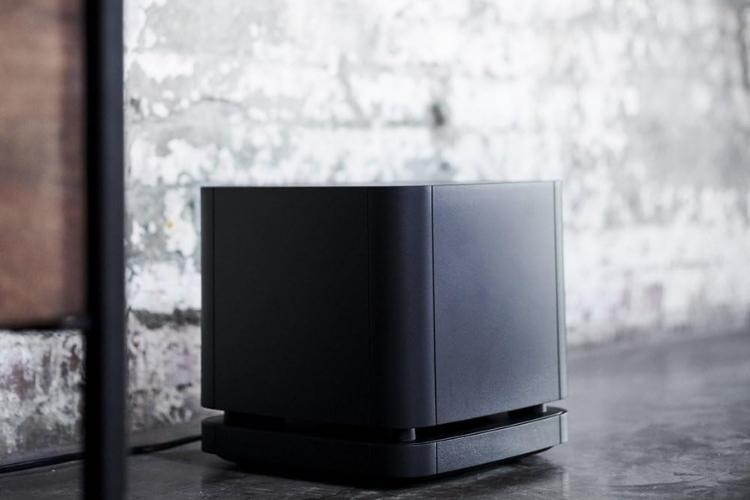 It has a really compact design and is also portable.
The top surface is matte-coated and doesn't attract any fingerprints or dust.
Bose Bass Module 700
The Bose Bass Module 700 has the same design but is bulkier.
The matte finish is swapped with a glass top that adds more premium.
The construction and design are definitely superior to that of its little brother. Keep in mind that the glass top does attract fingerprints and dirt.
Winner: Even though both subwoofers have the same design but the superior build quality of the Bose 700 is just unmatched. It feels like a premium product.
A Deep Dive Into Connectivity and Functionalities
Moving on to connectivity and functionalities, let's explore the key features:
1. Setup Options – Bose Music App
Setting up these subwoofers might be tricky for some people. Here is how you can do that easily:
Bose Bass Module 500
It has a very simple setup process:
Plug it in and use the Bose app for connecting it to your device.
The other way is by simply turning on the Bluetooth.
Bose Bass Module 700
As both are Bose subwoofers, the 700 has the same process. However, you do get an additional optical port for connection.
2. Remote Control
Let's take a closer look at the remote control of both modules:
You get a generic remote in the 500 whereas the 700 comes with a universal remote.
The remote in the 500 only controls the soundbar and can't control any other thing.
Whereas, you can use the universal remote for controlling multiple devices.
Universal one saves you the trouble of having a separate remote for your TV, cable box or Blu-ray player, etc. This functionality is not available on the 500.
3. QuietPort Technology
The QuietPort tech provides you with a surround sound experience: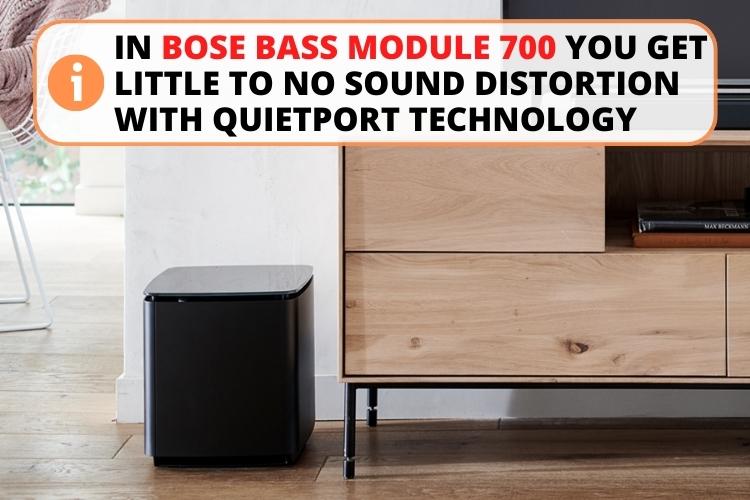 Sound distortion is very prominent in the Bass Module 500 due to the lack of this technology.
Whereas, you get little to no sound distortion on the 700 with QuietPort technology. It allows you to have an enjoyable music-listening experience.
Winner: The Bose 700 wins again when it comes to connectivity and functionality. It has more features than the Bose 500 such as a universal remote and support for QuietPort technology.
Bass & Sound Quality Reviewed of the Duo!
Now, let's turn our attention to the overall sound and bass quality of Bose bass module 500 vs 700:
Bose Bass Module 500: Audio Performance
The 500 impresses with its respectable extension in all frequencies.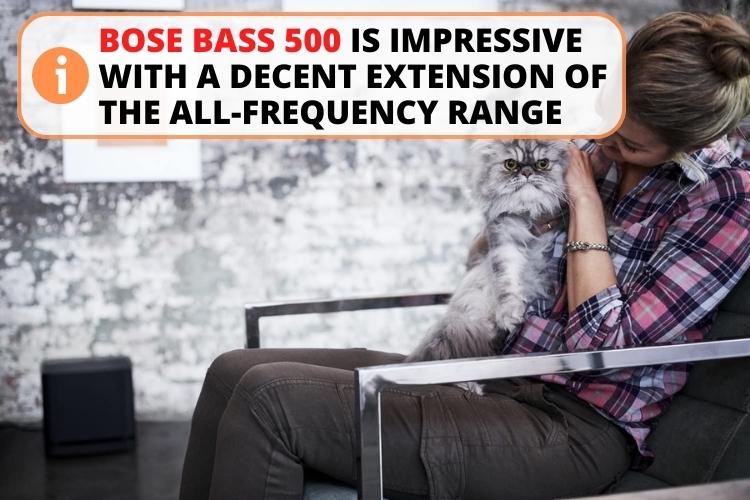 It delivers deep rumbles that enhance the audio experience. It excels at producing heavy bass across various music genres.
It can be a favorite among electronic and hip-hop music.
The sub-bass does exhibit some limitations, but the overall sound profile is very balanced.
The treble is also quite good. It showcases exceptional performance with instruments like drums, guitars, and horns.
Bose Bass Module 700: Audio Performance
The 700 is just a monster of a subwoofer with its extreme bass. Combined with any soundbar, it creates an energetic atmosphere.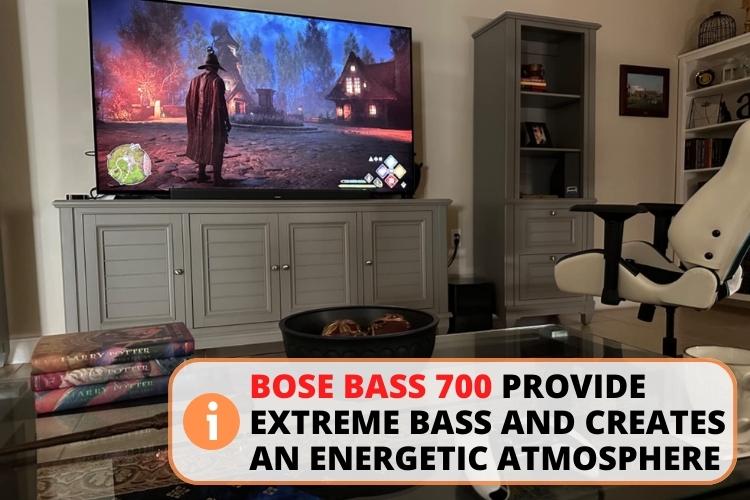 It excels in music genres such as rock and hip-hop.
With its heavy base emphasis, it truly shines in action and adventure movies.
It elevates the viewing experience, making you feel like you're right there in the moment alongside the cast.
Notably, the module incorporates QuietPort technology. It is great for creating an environment similar to surround speakers.
Winner: There is no competition when it comes to the audio performance. The 700 is far superior to the 500 when you look at the sound quality and the bass produced.
Wireless Range
The range is an important factor when it comes to subwoofers. Here is what you can expect from these models: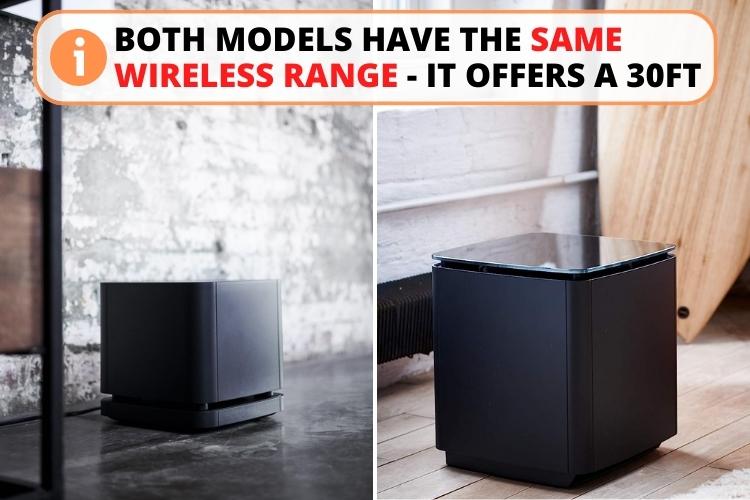 Bose Bass Module 500
It offers a 30ft wireless range which is long quite long. With its wireless connectivity, it can be easily positioned in an optimal location within your entertainment setup. There are no constraints of any wires dangling around.
Bose Bass Module 700
It also has the same 30ft range as the 500. You can connect with your Bose soundbar and place it anywhere you see fit.
Winner: It is a tie in this wireless range category. Both models have the same range.
Box Contents: The Unboxing Experience!
The Bose Bass Module 500 has the following things in the box:
Instruction Manual
HDMI Cable
Power Cable
Satellite Cable
Bar Power Brick
Bose ADAPTIQ Headset
Small Screwdriver
The larger Module 700 has these things in its box:
Instruction Manual
HDMI cable
Digital Optical Cable
Universal Remote
Bose ADAPTIQ Headset
4 Power Cables
Screwdriver
Cleaning Cloth
Winner: The Module 700 comes with a lot more stuff in the box and therefore, it is the obvious winner. You get a digital optical cable alongside a universal remote as well as a cleaning cloth.
Verdict: Which is the Better Pick?
If you are already into the Bose ecosystem and have their soundbar, then these two are the best options out there. Let's have a quick rundown of different scenarios. Here is why you can go with the Bass Module 500:
Bose Bass Module 500
It is more durable and sturdy. Less prone to fingerprints/scratches.
Needs low maintenance due to the matte finish.
Cheaper and provides a bang-for-buck experience.
It is lightweight and compact. You can take it on your travels.
Last update on 2023-09-21 / Affiliate links / Images from Amazon Product Advertising API
Now, why should you choose Bass Module 700? These are some of the reasons:
Bose Bass Module 700
It has a more premium build quality with a glass top finish.
Large drivers produce rich-quality sound with much better bass.
Comes with a universal remote in the box.
It has QuietPort Technology for lowering sound distortion.
Last update on 2023-09-21 / Affiliate links / Images from Amazon Product Advertising API
FAQ
Should I buy Bose 500 or 700?
If you want a compact option that is cheaper and offers a decent bass performance, go for the Bose Bass Module 500. However, if you desire a more powerful bass experience and aren't afraid to spend more money then the Module 700 is a better choice.
Does the Bose 500 subwoofer work with the 700 soundbar?
Yes, the Bose Bass Module 500 is compatible with the Bose Soundbar 700. It allows you to enjoy an enhanced audio experience by combining the two components. It is compatible with other Bose soundbars as well.
Does Bose Soundbar 700 work with Bass Module 500?
Yes, the Bose Soundbar 700 is compatible with the Bose Bass Module 500. Thus, providing you with the option to enhance your audio setup. It allows you to enjoy the experience of surround speakers.
How many watts is Bose 500 subwoofer?
The Bose 500 subwoofer consumes 50 watts. It is pretty good considering the amount of sound you get from it.
Read our other popular posts:
Conclusion
When it comes to audio, there are few manufacturers that can match the excellence of Bose. They excel in creating audio products and also enhance them through their connected ecosystem. If you already have Bose soundbars, either the 500 or the 700 is a great choice.
Both have their fair share of advantages and drawbacks. In the end, it boils down to your preference. If you want a sleek device that is portable, affordable and delivers great sound, the 500 is the way to go.
Bose Bass Module 500
It is a compact subwoofer that enhances your overall audio system. It is built well and its low weight makes it very portable. You can easily connect it to your smartphone through the Bose app. Voice assistance capability makes it very easy to use.
Last update on 2023-09-21 / Affiliate links / Images from Amazon Product Advertising API
The 700 is best for those who aren't afraid of the high price point and it also provides a much wider sound stage.
Bose Bass Module 700
It is a bigger and beefier version of the 500. It is large in size and has a premium build quality. It delivers superb bass and crisp sound. You get wireless connectivity that makes it convenient. It has voice functionality and you can also turn off the mic as well.
Last update on 2023-09-21 / Affiliate links / Images from Amazon Product Advertising API