What good is a road trip if there is no music, right? Especially when you are traveling in cars. Music keeps the interior atmosphere of the car very lively. Even if your car is old, a good music system can smoke some life into it.
Subwoofers with deep bass are the current high in the world of car audio. Whenever a car with a powerful subwoofer passes by on the road, they make their presence felt.
And for that very reason, today we have brought forward some of the top car subwoofers for you that will rumble the road with their deep bass.
Let's check them out:
Top 5 car subwoofers reviewed
Specifications:
Phase Switch: 0° or 180°
Low Pass Filter: 50Hz – 150Hz
Frequency response: 20 Hz – 250 Hz
Bass Boost: 0 – 12dB @ 45Hz
20 Hz Subsonic Filter
Dimensions: 14.17" diameter x 5.7" height
Build and design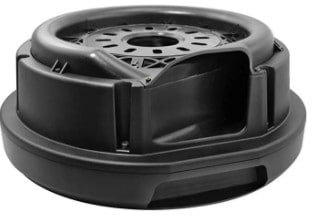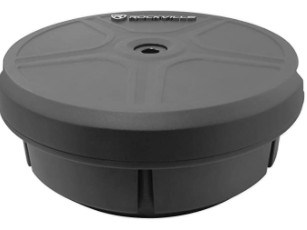 From the looks of it, the Rockville RockGhost has a strong resemblance to a car tire, but more flat and compact. It is designed in a way that it can easily fit in your car trunk or even underneath the seat.
Rockville RockGhost has a peak output of 800 watts while the RMS power output is rated at 200 watts.
The PWM MOSFET power supply amplifier is built into Rockville RockGhost.
Features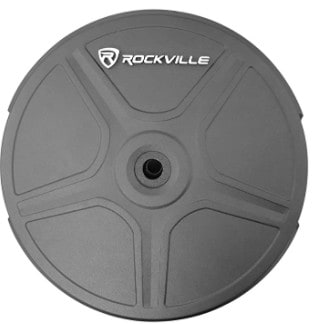 The audio performance of Rockville RockGhost is amazingly clean. It is not tiring to hear and hence your ears won't be fatigued.
You can crank up the volume as loud as you want and it still won't get distorted or affect bass clarity. At the maximum level, the output is enough to rattle your car.
Rockville RockGhost comes with a bass boost knob that keeps you in full control of how much you want the bass amount to be for each song. The bass sounds clear and deep. This subwoofer also features a low pass filter from 50Hz to 150Hz.
Rockville RockGhost is a self-contained subwoofer with an integrated amplifier and speakers.
There is a remote control to increase your convenience. It helps you to tweak settings as per your wish.
Simple and easy installation process
The richness in the stereo audio
Loud yet not fatiguing
Bass knob prone to glitchiness
Few faults in the installation process
Subwoofer tend to get damaged soon
Bottomline: For those who do not wish to buy an extra amplifier for their car subwoofer, the Rockville RockGhost is the perfect choice for them. Also, the remote control gives you more control over the subwoofer, so that's like any added benefit.
Specifications:
Dual 2 Ohm Voice Coil Configuration
Peak Power: 300 Watts
RMS Power: 150 Watts
Pressed Paper Cone
Advanced Air Flow Cooling System
Frequency Response: 28 – 325 Hz
Build and design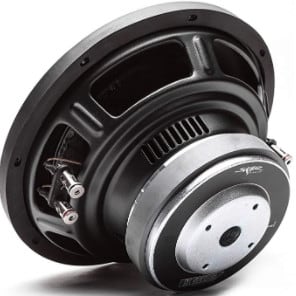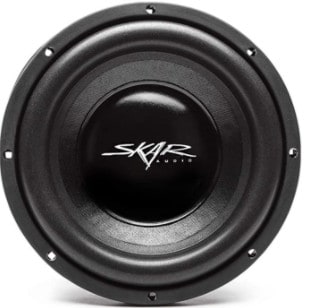 The Skar Audio IX-10 has a traditional cone-shaped design like many other car subwoofers in the market.
Its paper cone has ultimate strength and is further reinforced by high roll foam in its surroundings. These two combine together and help the driver achieve versatility in terms of getting nice and low while remaining very responsive.
Skar Audio IX-10 is rated with a Peak power handling of 400 watts and RMS power handling of 200 watts.
This subwoofer features a ferrite magnet motor, a 2-inch copper voice coil capable of withstanding high temperatures, and a high-performance single slug.
The Skar Audio IX-10 is durable enough to go on for long hours at peak levels safely.
Features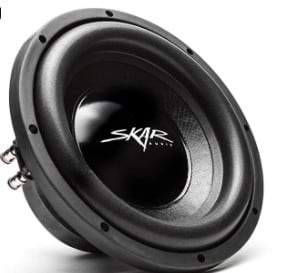 Overall, the Skar Audio IX-10 has great sound output. The bass is punchy and highly responsive. This subwoofer can get low without any difficulty whatsoever.
The performance in Skar Audio IX-10 is enhanced even more with the help of its advanced cooling structural design.
Engineered specifically to be used as a daily subwoofer, this is an extremely reliable and efficient audio equipment for any car. Moreover, this subwoofer will flawlessly work with a variety of applications without any difficulty.
It is well-sized for a car subwoofer
Very affordable and worth the investment
Guaranteed solid performance right from installation
Lacks a bit in the frequency range
Awkward mounting system
No amplifier
Bottomline: If you are a little skeptical about whether your car is big enough for a subwoofer, the Skar Audio IX-10 is built to clear the air of confusion.

It has been so well-designed that it perfectly fits into any car. This subwoofer is extremely versatile for those wishing to experiment with different applications.
Specifications:
Power handling: 225Wrms, 900W peak
Speakers Maximum Output Power – 900 Watts
Speaker Size – 10 Inches
Item Weight – 7.6 Pounds
Build and design
With the logo in the center, the JBL Stage 1010 sticks to the conventional car subwoofer design. The lustrous disk extends out to a cone-shaped holding the driver.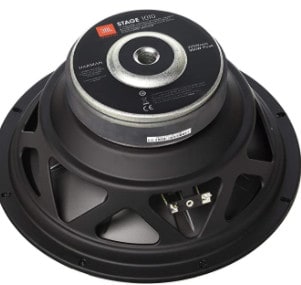 You will instantly feel the highest grade of materials that have been used to make this subwoofer the moment you see it. This is what makes the JBL Stage 1010 super reliable.
The cone is made from polypropylene and is surrounded by nitrile rubber. The use of automotive-grade materials in JBL Stage 1010 gives it the tough durability that you expect from the brand.
The airflow generated from the cone's movement works as a cooling agent for the voice coil, which is responsible for contributing to this subwoofer's awesome power handling.
The subwoofer has 225 watts of RMS power handling and a peak power handling of 900 watts.
Features
The JBL Stage 1010 is all about its bass. The subwoofer has been engineered to deliver clean audio reproduction under all circumstances.
In addition to that, the JBL Stage 1010 has been tuned carefully to ensure there is a minimum amount of distortion and high SPL.
The subwoofer has a frequency response from 35Hz to 200Hz and a sensitivity of 89dB.
Heavy and thumping bass sounds
Can reach very high levels easily
Top-quality building materials
The grille is not included
Bottomline: JBL Stage 1010 gives the assurance of quality and performance who are new with car subwoofers. From its industry-standard build to the trusted brand image of JBL, this subwoofer is a safe option for first-timers.
Specifications:
Kenwood KFC-W3041 (Single) + Gravity Magnet Phone Holder Bundle
Subwoofer Type: 12 inch PP Cone
Peak Power: 2000 W (300 W RMS)
Frequency Response: 29Hz-300Hz
Impedance: 4 ohms / Mounting Depth: 5-3/8 inch
Build and design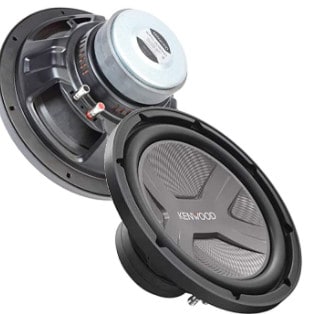 Kenwood has employed an advanced design concept in making the KFC-W3041. It has an X-Motif Cone with a diamond array design pattern that contributes towards its rigidity.
The two-piece cone of the subwoofer is made from polypropylene. The X-Motif cone is responsible for controlling the resonance frequency and cutting off the unnecessary frequencies. As a result, the final output has a powerful and solid bass response.
Kenwood KFC-W3041 features advanced airflow control with its robust thermal management system. Its closed yolk design helps in the entire process.
This subwoofer has an RMS power handling of 300 watts and Peak power handling of 2000 watts.
Features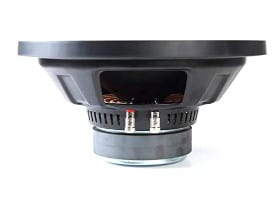 Kenwood KFC-W3041 aces the bass game by adding phenomenal amounts of low-end punch to the music you listen to.
By incorporating cutting edge technology, Kenwood yet again succeeds in delivering high-quality sound output.
Given the tremendous amount of power handling capacity of this subwoofer, be rest assured to get your mind blown by its heavy bass sounds,
Supreme deep bass
Very reliable and durable
Amazing temperature controlling system
Needs a good amp to perform the best
Must be put in vented boxes for great output
May take a while for the subwoofer to fully break-in
Bottomline: It is often seen that subwoofers get damaged due to overheating. This is primarily because there isn't enough trunk space or otherwise in the car.

But with Kenwood KFC-W3041's advanced airflow control and thermal management system, the subwoofer stays cool. This guarantees extended life and prolonged performance.
Specifications:
Injection-molded polypropylene cone
Power handling: 50-400 watts RMS (200 watts per coil)
800 watts peak power handling
Sensitivity: 83. 6 dB
Speakers Maximum Output Power – 700 Watts
Speaker Size – 10 Inches
Build and design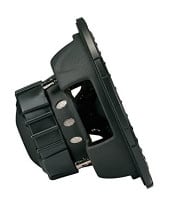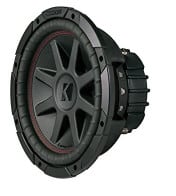 The Kicker CVR1-4 demonstrates a top-plate design with two strong voice coils. The overall motor structure of the subwoofer makes it more rugged and enables it to handle more power. The surroundings are ribbed with Santoprene that increases its strength.
The injection-molded cone of Kicker CVR104 is uniquely made with an aluminum coating that eliminates any kind of flex.
This subwoofer comes with a Peak power handling rating of 800 watts and RMS power handling of 200 watts.
Features
For many years now, Kicker speakers have delivered industry-standard sound and performance. With this subwoofer, there is no exception as well and we see the same level of high-quality output.
The bass sounds of Kicker speakers are popular for some good reason. This can be felt with this subwoofer as well. There is minimum distortion due to the carefully structured body.
The feature-rich Kicker CVR104 comes with a silver-coated stamped steel basket. On its back, you will find spring-loaded push terminals. They are really useful in the installation process of the subwoofer by providing a secure grip within minutes.
Impressive power handling capacity
Transient response is amazing
Extended low-end adds more muscle to bass
The wrong installation can lead to muddy sound
Lack of cooling system
Bottomline: Car subwoofers are all about their power. And Kicker CVR104 has a tremendous power handling capacity. What does that mean? You can roar down the streets with the loud, boomy bass. So if you want to turn some heads whenever you hit the road, this is what you want to get.
Conclusion
After going through all these products, you should be a step closer to getting your own car subwoofer.
But are you still confused? Do not worry. Let us deduce it further for you.
Among these five, we have three favorites – Rockville RockGhost, JBL Stage 1010, and Kenwood KFC-W3041. Our reasons are pretty simple.
Rockville RockGhost is a one-man-army among car subwoofers with its integrated amplifier and speakers.
JBL Stage 1010 becomes even more reliable with its automotive-grade materials used for its construction along with the trusted brand image of JBL.
And last but not the least, Kenwood KFC-W3041 provides superior airflow control with its thermal management system and takes care of cooling the subwoofer.
Powerful, chassis-shaking bass in your car is guaranteed in all these three subwoofers. All of them are winners in our eyes. Now the choice is yours.
Related articles: