Today in this post I am going to present you the best budget subwoofers for home theater.
The subwoofer is like the heart of a home theater system. It adds the much needs rumble and low-end frequency that results in a wholesome sound.
Whenever we think of setting up a home theatre system, it can seem like a mammoth task with huge financial investments.
Well, that's why we have come up with the best subwoofers that won't hamper your budget, so you can have the home theater of your likeness.
Check them out!
Top 7 subwoofers for home theater reviewed
Specifications:
Bass-reflex (ported) enclosure.
50-watt RMS amplifier.
10" front-firing driver.
Frequency response 40-160 Hz (-3dB)
Continuously variable 80-160 Hz crossover.
Phase switch.
Auto on/off.
Build and design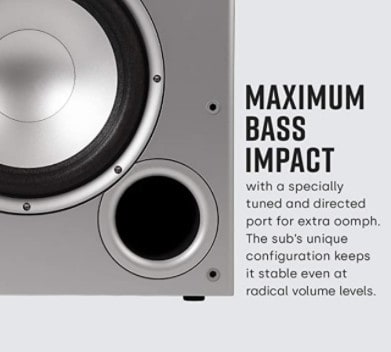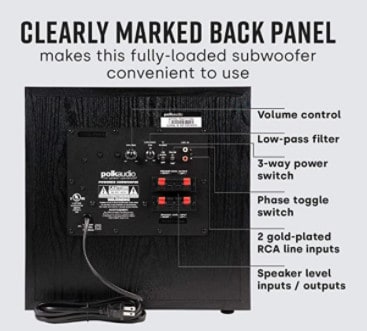 The Polk Audio PSW10 is a compact subwoofer with a minimalist yet solid design shaped like a cube. Its body is primarily constructed with medium-density fibreboard.
To give it a sleek look, the face of the subwoofer has a metallic silver finish. However, you can choose to cover the face with the black mesh.
Polk Audio PSW10 has a maximum power output of 100 watts.
On the rear panel of the subwoofer, you will find the input and output connections. The connectivity options include the stereo speaker inputs and outputs, and the RCA line in L and R.
Sound quality and performance

The sound performance of Polk Audio PSW10 can be summarized in one word – amazing. Be it movies, music, or games, this subwoofer suits any scenario and immerses you into the audio field.
The bass is not overpowering, rather it is very clear and detailed. It does not have the boomy texture, which may disappoint those with a taste for that extra loudness.
One good thing about the Polk Audio PSW10 is that there is no scope for any kind of distortion even when you crank up the volume to the highest levels.
When you connect the Polk Audio PSW10 with speakers, the mids and treble balance quite evenly with the bass. The resultant output is satisfying to the ears.
This subwoofer is rated with a frequency range of 35Hz to 200Hz.
You can find an Auto Mode in the power controls. In this mode, the subwoofer will power up instantly as soon as it gets the signal; or when you turn up the volume.

The subwoofer will automatically turn itself off after being unused for 15 minutes to save power.
There is a 50 watts high-current amplifier in the Polk Audio PSW10.
What do we like?
The ideal choice for home theatre systems
Very simple and straightforward setup
Sleek design helps it blend with interior decor
What we don't like?
Absence of low-frequency effects
It is not shielded magnetically
Not the most powerful bass
Bottomline: If you are planning on getting the Polk Audio PSW10, make sure you have a moderately sized room. Placing this subwoofer in a huge room will significantly degrade its audio performance.

Also, Polk Audio PSW10 will not impress those who intend on getting a subwoofer that is booming with heavy bass.
Specifications:
Speakers Maximum Output Power 500 Watts
Mounting Type In_ceiling, In_wall
Frequency range – 24 – 250 Hz with 98dB at 8ohm,
Auto ON/OFF
0 – 180 degree Phase control switches, Gain and
40 – 140 Hz Crossover control knobs
Build and design
Looking for a subwoofer with stylish designs to add to your home theatre system? Acoustic Audio PSW-12 is the answer for you. The black ash finish of this subwoofer makes it a perfect companion to your huge LED TVs.
The maximum power output of Acoustic Audio PSW-12 is 500 watts.
The subwoofer is made with medium density fibreboard that is known for having amazing bass-reflex qualities.
The power source of Acoustic Audio PSW-12 is a standard US 110V grounded wall plug. The input and output options are standard as well. You can the subwoofer to your home theater via RCA inputs and Subwoofer output.
Sound quality and performance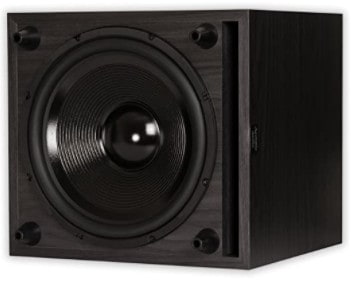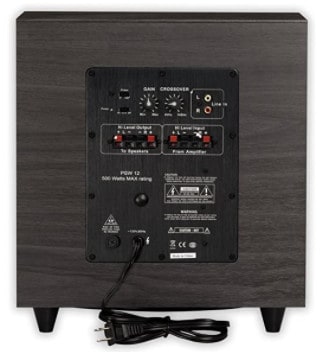 Coming to the sound performance of Acoustic Audio PSW-12, it is capable of handling heavy. That means it can get pretty loud, without being disturbingly noisy.
What about the bass?
Oh, the full-bodied bass is going to become your instant favorite. Thumping bass is guaranteed with Acoustic Audio PSW-12.
As for the frequency response of the subwoofer, it ranges from 24Hz to 250Hz.
Acoustic Audio PSW-12 is integrated with a high-power amplifier of 500-watt that is very efficient in its performance.
What do we like?
Tight and rich bass sounds
Perfect audio production in small rooms
Lightweight subwoofer for easy portability
What we don't like?
Presence of humming noise
Tends to get distorted and muddy at higher levels
Bottomline: Acoustic Audio PSW-12 would really satisfy bass lovers. It is an ideal subwoofer for setting up a home theater system in a compact room.
Specifications:
Sound clarity – 200 Hz
Speakers Maximum Output Power – 230 Wat
115 Watt, Amplified Subwoofer (6 ohms, 80 Hz, 10% THD).
10 inches Foamed-Mica Cellular Reinforced Woofer
Speaker and Line Level Inputs, Frequency Response 28-200 Hz
Build and design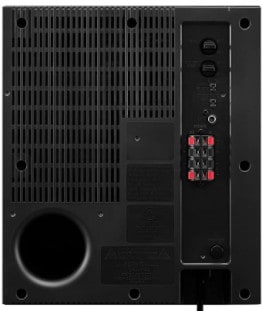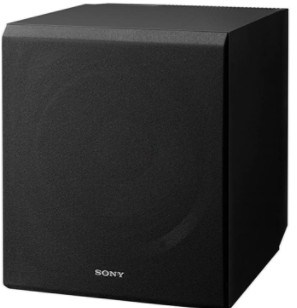 The looks of Sony SACS9 is definitely not its selling point. It has a rather bland, conventional subwoofer feel that is shaped like a black box.
The build materials of this subwoofer comprise mainly foamed-mica and solid wooden veneer.
These materials do not hamper the performance of the speaker under any kind of environmental conditions such as humidity or temperature.
Sony SACS9 is rated with a peak power output of 115 watts and a continuous power output of 34.5 watts.
The automatic power-saving feature is an interesting one as it automatically makes the subwoofer go into standby in the absence of an audio signal.
The backside of the Sony SACS9 features connectivity ports – the standard RCA input and stereo line outputs.
Sound quality and performance
Thanks to the bass reflex duct of Sony SACS9, the subwoofer delivers an amazing sound reproduction. Also, it contributes significantly towards the deep and powerful bass output.
The frequency response in this subwoofer is very wide. It starts from as low as 50Hz and goes all the way up to 200Hz. Here is another interesting feature. There is a phase switch. Turning it on will enable the subwoofer to play in sync with the speakers.
What do we like?
Frequency range is very wide
Subwoofer design is very durable
Availability of tuning options
What we don't like?
Very low power output for the price range
Tacky looking front grille
Bottomline: Given the price range that the Sony SACS9 comes with, the performance is quite decent. It may not have the most sophisticated looks but it surely does have the reliability of Sony. If you love high power output, this is not the subwoofer for you.
Specifications:
Speakers Maximum Output Power – 120 Watts
Frequency response – 50 to 250 Hz
Gain and frequency knobs on the control panel
Amplifier Power Output: 60 Watts (RMS).
Mounting Type – Floor Standing
Build and design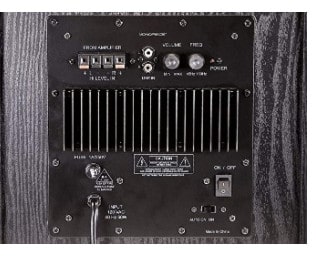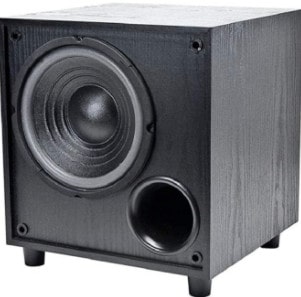 The Monoprice 60-watt subwoofer is designed like a cube. It comes in black color and has a wood-grained finish. The front is covered by a removable cloth grille.
This subwoofer is rated with a maximum stereo output power of 120 watts.
Monoprice 60-Watt Powered Subwoofer is equipped with multiple input options. These inputs enable the subwoofer to be connected with any stereo system or a 5.1 amplifier system. In correspondence to each input, there is an output as well.
Sound quality and performance
It would be rather unfair to claim that the performance of the Monoprice 60-Watt Powered Subwoofer is the best in the market. But given its affordable price, the output gives complete value for money.
There is a 60-watt amplifier that is built into the subwoofer. The power generated by it won't boom through your house but it definitely louder than most other subwoofers out there.
The bass performance is not the greater you will come across. But yes, the lowpass crossover filter can be adjusted from 50 Hz to 150 Hz that helps in tightening the overall frequency response of the subwoofer.
Speaking of which, Monoprice 60-Watt Powered Subwoofer's frequency response ranges from 50Hz to 250Hz.
What do we like?
Very affordable price for a subwoofer
Heatsink stops the subwoofer from overheating
Crossover frequency can be tuned
What we don't like?
The power button at the back hampers user-friendliness
Sound can get distorted when overpowered
Bottomline: The Monoprice 60-Watt Powered Subwoofer will surely satisfy the needs of casual listeners. However, the lacking low-end response will indeed disappoint the audiophiles.
Specifications:
Amplifier: Class D
Woofer Impedance: 4 Ohm
Signal to noise ratio: 85 dB (Maximum output with THD+1<1%, A-weight)
THD: 1%
INPUT sensitivity: 88dB +/- 2dB
Frequency Response: 20 Hz – 200 Hz
400 Watts peak output
Build and design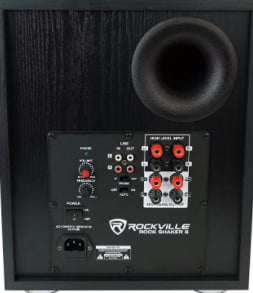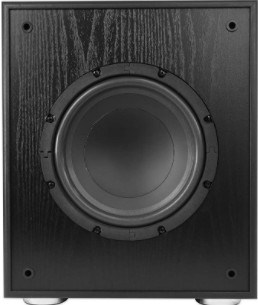 For better sound and extended longevity, Rockville Rock Shaker is made from top quality medium density fibreboard wood. The subwoofer has an exquisite finish with a high-grade vinyl enclosure.
Coming to power ratings, Rockville Rock Shaker has an RMS output of 200 watts and a peak output of 400 watts. It can operate within a voltage capacity of 110 volts to 240 volts.
The rear panel houses all the input-output controls, which include the RCA line input and line output, and Speaker High-level inputs and outputs.
Sound quality and performance
Rockville Rock Shaker is equipped with a Class D amplifier. It is perfectly engineered to match the subwoofer specifications. It is capable of auto-switching power supply.
The sound performance of the subwoofer is simply superb, that credit of which goes to its MDF build. The rear-firing port succeeds in delivering an amazing bass response. The reflection is optimized to travel throughout the room.
The frequency response in Rockville Rock Shaker ranges from 20Hz to 200Hz.
Even at maximum volume playbacks, there is no kind of distortion in the sound profile. The subwoofer also houses a 4-layer voice coil.
What do we like?
The design looks very classy
Good bass output
Capable of distributing sound in big rooms
What we don't like?
Foam enclosure not efficient enough
Bottomline: Bass lovers are going to love the Rockville Rock Shaker because of its rear-firing bass port. There is a minimum amount of reflections that means the output is precise, so the subwoofer should fit in any room with your home theater system.
Read our other popular posts:
Conclusion
Still cannot decide which of these five should you consider for your home theatre system? Here are some further deductions for your benefit.
According to us, these are our favorites – Polk Audio PSW10, Sony SACS9, and Rockville Rock Shaker.
Polk Audio PSW10 is one such subwoofer that makes its presence felt without overpowering others. The bass is so well-balanced that it does not drain out the rest of the frequencies.
Have a thing for Sony? The SACS9 is undoubtedly the best Sony subwoofer you can get at such an affordable price. Although it is not very boomy and bassy, it can still do a decent job.
And finally, the Rockville Rock Shaker. The name speaks for itself. The tremendous bass generation will excite heavy music lovers.
Now, you can make an informed decision and complete your home theatre with one of these best budget subwoofers.
Related articles: