Most cars do not come with subwoofers. Even the stock speakers are pretty average at best.
If you need more bass from your car audio, you must get into the market for a subwoofer. However, if you're on a budget, this may be a tricky venture.
You need as much value as possible for your money. Hence the question: what are the best budget subwoofers for cars?
In this article, I review 6 of the best bass-heavy subwoofers that can give you the bass boom you want.
Top 6 budget subwoofer for cars reviewed
The Boss Audio D10F is a 10-inch subwoofer that fills your car with a solid bass sound. It is a shallow mount speaker – a great fit if you don't have up to 5 inches of vertical mounting space. It will slot in well behind the seats in your truck.
The sub is made of poly injection cones and a rubber surround. Together, these materials protect the sub from moisture and maintain low distortion.
Also, the D10F is a single coil sub. So, you only have one connection path. But it works well even under high-temperature conditions.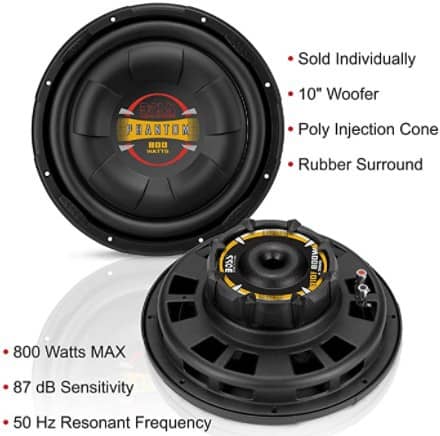 The D10F has a peak power rating of 800W, with 400W RMS. If your car has a good stock head, it should be able to drive this sub to high volumes.
Now, let's talk about audio quality. This sub gives you sound as low as 35Hz and goes all the way up to 2200Hz.
This means that your other speakers can dedicate all their power to give high mids and treble sounds. The D10F gives you solid, tight bass. With its 50Hz resonant frequency, the bass boom occurs just at the right spot for most music styles.
Before pumping up the volume on this sub, allow 3 to 4 hours break-in by playing your sound at low to medium volume. If you start blasting immediately after setup, you may damage the speaker.
Pros
This subwoofer is great for small mounting spaces.
It works well in high temperatures.
Cons
The D10F needs about 4 hours of break-in time to reach its full potential.
Power requirements may be too much for cars with much smaller car stereos.
Bottomline: The D10F is great if you're worried about space. It gives you more bass without taking your whole trunk space.
The Rockville W8T4-S4 subwoofer is an 8-inch speaker made of a butyl rubber surround. This ensures that the surround does not absorb moisture and maintains a low distortion when producing sound.
With its shallow mount slim design, you can place this subwoofer behind the seats or all the way back in the trunk.
Also, this Rockville subwoofer has a peak power handling of 1200W, while the RMS figure stands at 300W. With such a peak, you can be sure that sudden high volume sound from your car stereo will not break this subwoofer.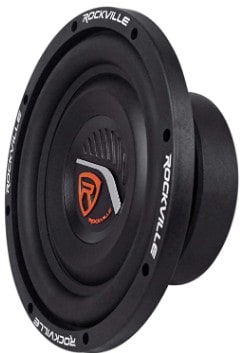 Your factory-fitted car stereo will power this subwoofer decently, but if you need to feel the energy from outside the car, you need an aftermarket car amp to drive up the sound.
The sub comes alone – there's no adjustment knob, phase control, or any other. It gives you a frequency range of 36Hz to 500Hz. While the bass is loud and solid, the deepest sub-bass does not burst through.
This Rockville sub favours overall bass energy over depth. That said, make sure that your other speaker components include a mid range or full range speaker, because this sub does not give you much real mids.
That's not all. The W8T4-S4 sports an aluminum single voice coil. This means that there's only one connection option with this subwoofer. But being an aluminum coil, it can withstand high temperatures and keeps your bass blasting for several hours.
Pros
The subwoofer's slim design makes it fit into small spaces.
The rubber surround helps to avoid moisture.
It can be powered by your built-in stereo without an external amp.
Cons
There's only one connection route since it's a single voice coil subwoofer.
It can't produce sub bass sounds below 36Hz.
Bottomline: If you only have mounting space for an 8-inch sub, the Rockville W8T4-S4 is a great choice.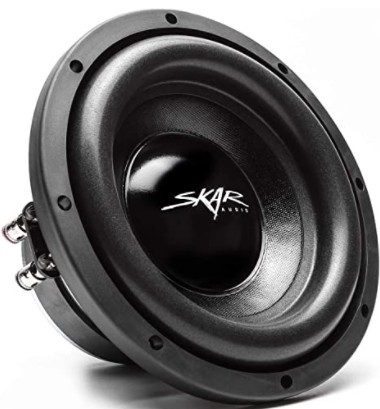 The Skar Audio IX-8 D2 is another 8-inch subwoofer. If your car or truck has enough mounting space, it's great for booming bass. However, this is not a shallow mount sub. For proper installation, you need 4.17 inches of mounting depth.
The pressed paper cones contribute to the subwoofer's durability. Also, the speaker has a foam surround. This makes it lighter, but it's not as tough as rubber surround, as we have in the Rockville WT84-S44.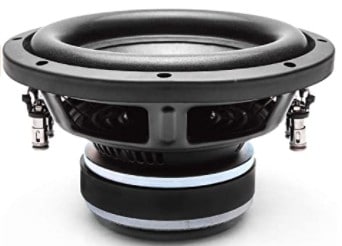 This speaker can get pretty loud – at least enough for the average listener. And you can achieve this loudness without an aftermarket amp.
Your stock car stereo should drive this subwoofer to get enough volume. A peak power of 300W and RMS of 150W is within the range of several built-in car amplifiers.
That's not all. This Skar Audio subwoofer gives you multiple options for wiring with its 2-inch dual voice coils.
Also, the sub does its job well by delivering solid bass from 30Hz to 350Hz. To complete your set up, you should have a full-range car speaker, because the sub doesn't give you any midrange sounds.
In terms of sound quality, you won't have any audible distortion if you don't overdrive the speakers from your amp.
Pros
You can get high volume with your stock head – no additional amp needed.
Dual voice coils give you more connection options and opportunity for more effective use of your amp.
Cons
The foam surround is not as durable in harsh conditions as the rubber surround.
It's only loud enough to serve people inside the car – it's not powerful enough to give powerful bass that will be felt hard outside.
Bottomline: If all you have is your factory-fitted stereo, the Skar Audio IX-8 D2 is enough to improve your music listening experience.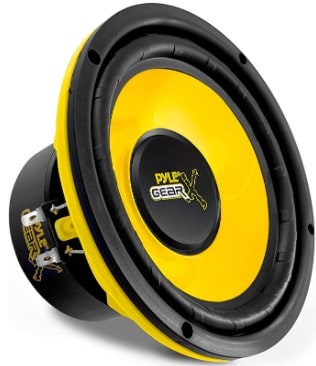 With its poly injection cone and butyl rubber surround, this Pyle subwoofer is built to last. This combination of materials ensures that the speaker does ot absorb moisture, and has low distortion.
Unless you drive this speaker with excessive power, you shouldn't hear any distorted audio.
Speaking of power, this speaker has a 300W peak power rating. That's not a lot when you compare it to some other woofers on this list. But when you look more closely, you'll find that you can have two of these woofers.
Because of its wide frequency range of 60Hz to 20000Hz, you can use it as a full-range speaker, while adding dashboard tweeters to complete the setup.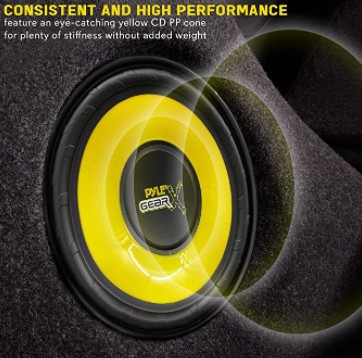 The bass is solid and well defined, but it's not as deep as Rockville or Skar Audio subs. If you need more rumble, you can go for those ones.
You need 2.84 inches of vertical mounting space to install this woofer. This can fit into the smaller compartments behind your truck.
The single aluminium voice coil can keep your speaker blasting even on extra hot days without burning out.
One stand out quality of this speaker is its design. It comes in an obvious yellow color. It can bring some brightness to your car interior. But if you prefer a less obvious design, you may consider the Rockville W8T4-S4.
You really don't need to add another amp to your factory-fitted car stereo to drive this speaker, except the amp has a certain sound quality that you need.
Pros
The bass is solid and tight.
It's good for car audio systems that don't have dedicated tweeters.
The sub has low distortion.
Cons
The bass is not very deep.
The subwoofer has low peak power rating (300W)
Bottomline: If you need a sub that can do the job of a full range speaker system, then Pyle 6.5-inch mid bass woofer is a great option.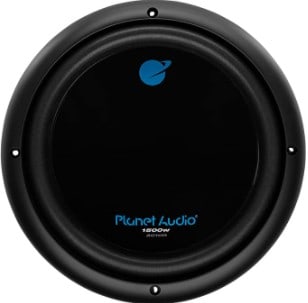 The Planet Audio AC10D is a 10-inch subwoofer that can fit into both sealed and ported enclosures.
However, it's not a shallow mount speaker like the Rockville or Pyle Audio subwoofers.
You need considerable mounting space to install it. It's about the most powerful speaker on this list – handling up to 1500W peak and 750W RMS.
Your stock amp may do a decent job driving these speakers, but if you need all the juice, you need an extra amp.
This subwoofer enables you to use your car amplifier more efficiently because of its dual voice coils. You can connect the speakers with up to 3 different configurations.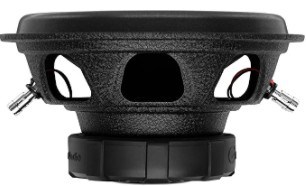 Unless you're a very hardcore basshead, you'll never need to drive this subwoofer to the max, let alone hear any distortion. Even with your stock amp, it gets pretty loud. That's expected with a sensitivity of 87db.
Also, like all the other subs on this list, there are no phase controls or remote control for this speaker. You may only access those settings through an amp or car stereo head.
Lastly, the bass here is really deep and is solid and boomy. This is not just because of the speaker, but also due to the enclosure. More space means more resonance.
If you need that extra boom, the AC10D is the 10-inch sub that does the job.
Pros
It has incredible power for the earth-moving bass boom.
It works with both sealed and ported enclosures.
The dual voice coils give you more efficient amp use and more connection options.
Cons
You need to add an amp to get a powerful performance from this subwoofer.
It uses a foam surround, which is more prone to moisture than rubber.
Bottomline: If you don't mind getting an extra amp, the Planet Audio AC10D is the subwoofer that can give you very loud, impressive bass.
The Kicker 44CWCD84 is an 8-inch subwoofer that brings a lot of low end energy to your car audio. Even with a 400W peak and 200W RMS power, it gets loud enough when your car is filled with passengers.
And this loudness can be achieved with your stock head. But if you need earth shattering sound that will be felt miles away from your car, you should go for a more powerful sub like the Planet Audio AC10D.
To mount this sub, you need 3.88 inches of vertical space. This should work with cars and trucks that don't give much room for mounting large speakers.
Also, this kicker sub is compatible with both sealed and ported enclosures. So, if you change your car in the future, you can easily move the speakers without worrying about compatibility.
In addition, the dual voice coils give you more connection options. These voice coils also work well for several hours even at high temperatures.
In terms of audio quality, this sub gives your music a lot of bottom end boom. There is more boom around 40 Hz which gives enough heft to any genre of music.
However, for a better overall enjoyment, you need to add midrange speakers and tweeters to the setup. If you don't have enough space, you can stick to midrange speakers for the sound.
Pros
It works with both sealed and ported enclosures.
With the dual voice coil, you have multiple connection options.
You can power the sub with your stock car stereo only.
Cons
Not the best choice for party-level bass.
Bottomline: If you simply need enough bass to enjoy your music while driving on your own, the Kicker 44CWCD84 is just enough for that.
Conclusion
I have reviewed 6 car subwoofers in this article.
My 3 top picks are the Boss Audio D10F, Skar Audio IX-8 D2, and the Planet Audio AC10D subwoofers.
The Boss Audio and Skar Audio speakers give you bass boom even without buying extra amps to drive them. Combined with their high sensitivity rating, you can get high gain with low power.
The Planet Audio AC10D is the most powerful of them all, and you will need to add an amp to feel the best of this beast. It's the one for bassheads who love to turn heads while driving by.