Are you a big fan of Bose soundbars? Do you want to know which is the best soundbar among Bose Soundbar 500 vs 700?
Last update on 2023-12-08 / Affiliate links / Images from Amazon Product Advertising API
Audio is an integral part of the TV-watching experience. Lack of quality audio reduces the immersion of the experience and can take you out of the film, show, or music video. Soundbars are the modern replacement to the more traditional home theater speaker systems and Bose makes some great models.
The Bose Soundbar 500 and the Soundbar 700 are two awesome options that can provide great quality sound for your home entertainment setup.
In this article, we'll explore both models and see what they have to offer and how they can meet your home audio needs.
By the end of the article, you will hopefully have a better understanding of both speakers so that you can make a decision on which one is better suited to meet your needs.
| Features | Bose Soundbar 500 | Bose Soundbar 700 |
| --- | --- | --- |
| Performance | Classic Bose sound | Loud, low, more spacious |
| Design | Matte-finish top | Premium glass top |
| Microphone system | Custom 8-mic array | Custom 8-mic array |
| Remote | Included | Universal remote |
| Built-in Alexa | Yes | Yes |
| Audio input | Optical | Optical |
| App control | Bose Music app | Bose Music app |
| Size | 31.5" x 1.75" x 4" | 38.5" x 2.25" x 4.25" |
| HDMI-ARC connectivity | Yes | Yes |
| Bluetooth and Wi-Fi | Yes | Yes |
| Amazon product page | Check price | Check price |
Bose Soundbar 500 vs 700


Build and design
Both soundbars are beautifully designed and have a premium look. The 500 has a matte finished top whereas the 700 has a tempered glass top. An aluminum grill covers the woofers to complete the classy, clean look.

All in all, the design aesthetics of both the Bose Soundbar 500 and 700 are pleasing to the eye. It ultimately depends on whether you prefer the shiny finish of the 700, which is a fingerprint magnet or the matte finish of the 500, which is not shiny but doesn't attract fingerprints.
Both speakers have an HDMI port with an audio return channel, an optical TOSLink, a USB input, an Ethernet port, and some system expansion ports which can be used to add extra speakers to your setup.

Each of these speakers comes with a remote control unit. However, the Bose 500 comes with a basic remote for controlling the Soundbar whereas the 700 has a universal remote for controlling your entire home entertainment system.
There is an option to mount the speakers to your wall if you wish. Note that the mounting brackets are sold separately so you have to consider ordering a set if you wish to go through with the wall mount.
The Soundbar 700 is the bigger unit of the two measuring 35 inches long while the Bose Soundbar 500 is 31 inches long.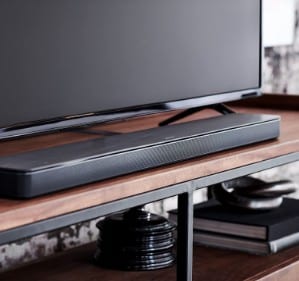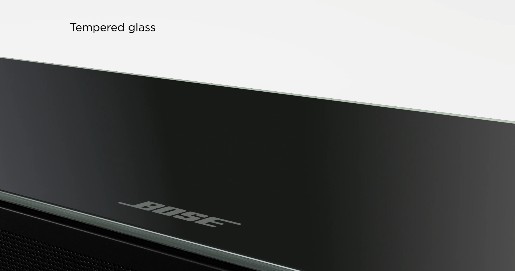 Either speaker should be able to fit comfortably on top of a table next to your TV. However, if you want to fit one inside a media console with limited space the 500 is more suitable as it takes up less space.
The 500 comes in an external power adaptor whereas the 700's power supply is inbuilt, hence there's no adaptor.
Sound quality and performance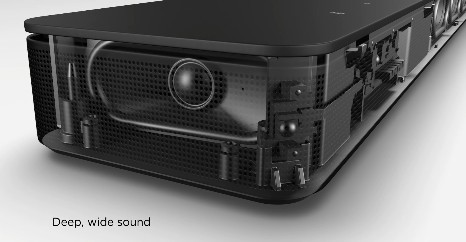 Sound quality is the most notable difference between the Bose Soundbar 500 and 700. Right out the gate, the 700 is a bigger unit and therefore also produces louder and higher quality sound. It has an additional midrange driver and a tweeter inside which help create a bigger sound.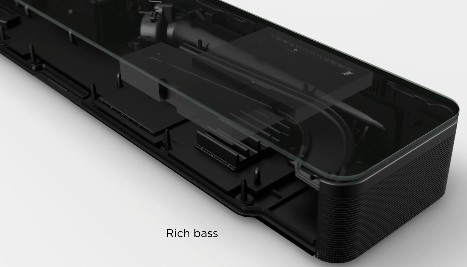 The bass response on the 700 is deeper thanks to the bigger physical box as well as the wider frequency range which it boasts.
The mids are slightly muddier in the 500 than they are in the 700. But they both perform well considering that they are consumer speakers. Guitars, vocals, pianos, and other instruments with a lot of midrange energy are easily distinguishable.

The highs on both units are clear. However, the 700 sounds brighter and more lucid than the 500.
The 700 can playback frequencies as high as 18.5 kHz whereas the 500 maxes out at 14.3 kHz.
The extra high-end response in the 700 enables the shimmer to come out in audio. This is quite apparent in heavy metal and music of that nature which contains a lot of high-frequency sounds such as crash cymbals.
The stereo soundstage is wider in the 700 making the movie-watching experience more immersive. Dialogue is clear and present as is music playback on both devices. The film-watching experience works even better if you expand your soundbar with a Bose subwoofer to accentuate the low-end frequencies.
Note that both Soundbars supports surround sound but neither of them supports the Dolby Atmos format. But that isn't a deal-breaker since they have a lot to offer in terms of sheer performance, looks, and usability.
Lastly, the Bose 700 has a more natural sound even at its maximum volume. Audio doesn't sound as compressed and squashed as it does on the 500. But that's expected due to the size of the speaker so it's no big deal.
Setup

Setting up the system requires the use of the Bose app which you can download through the Google Play Store of Apple App Store. The app provides you with a step-by-step guide on how to connect your speaker to Wi-Fi, to your TV, etc.
The app also provides guidance on how you can calibrate the speaker for use in your room via the ADAPTiQ audio calibration system.
Features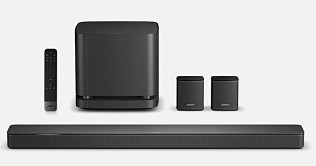 Both the Bose Soundbar 500 and 700 are packed with plenty of useful features to enhance the user experience.
They both have voice recognition capability which enables you to interact with Amazon's Alexa digital assistant. This is made possible by the microphone system which consists of separate 8 mics which are installed in the speaker to listen for voice commands.
A dedicated mute button on top of each speaker enables you to mute Alexa if you don't want to use the digital assistant feature.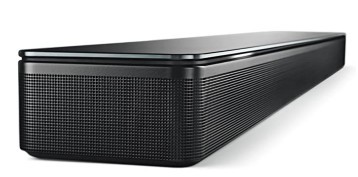 Both speakers come with a Bose ADAPTiQ headband. The headband is used for calibrating the sound in your room.
You simply put it on and sit in various locations within your room and the speaker's software works out the best sound settings for all those locations. This is done via the use of the Bose app.
You can repeat this process as many times as you wish if you move furniture around and need to recalibrate your room's audio settings.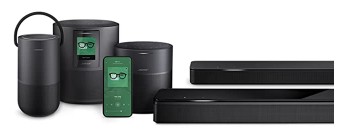 Both soundbars have ports that allow you to add more speakers such as the Bose bass module and Bose surround speakers if you need more sound.
This means that you can buy your home theater set one item at a time which might be a more flexible arrangement if the budget to buy a complete home theater set isn't available in one go.
As far as audio formats go, both speakers support the Dolby Digital format. In addition to this, the Soundbar 700 also supports DTS. If you watch a lot of content that uses the DTS format you're better off getting the 700 if your budget allows.
However, as DTS isn't as popular as Dolby you may not miss out on much if you decide to get the 500 which doesn't support DTS.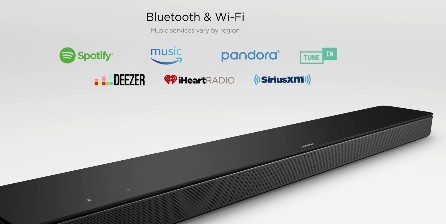 Both speakers also support Apple AirPlay and can also play music directly from Spotify via Wi-Fi which is a convenient feature.
You don't need to tinker with any cables to playback your favorite tracks. This ensures a cleaner environment with fewer cables laying around and it gives you the freedom to skip control your music remotely on your smartphone, computer, or other supported device.
Similarities
Both have built-in voice activation with Amazon's Alexa digital assistant.
You can control the soundbar with a remote, the Bose app, or your voice.
Both have HDMI ARC connectivity.
Both support the Bose app and allow you to personalize playlists, music stations, and services.
Both support Bluetooth and Wi-Fi connectivity.
Both support ADAPTiQ Audio Calibration.
Both support AirPlay.
Both speakers support the Dolby Digital format.
Differences
The Bose 700 is physically larger than the Bose 500.
The Bose 700 has a louder and fuller sound than the 500.
The 700 includes a universal remote to control all your entertainment equipment whereas the 500 comes with a basic remote to control only your soundbar.
The 700 has an additional mid-range driver and tweeter as opposed to the 500.
The 700 supports the DTS format.
Read our other popular posts:
Conclusion
Both the Bose Soundbar 500 and 700 are formidable home entertainment system, speakers. There are notable physical and feature differences but the main deciding factors are likely the cost and sound quality.
Concerning sound quality, the Bose Soundbar 700 has a better performer. It's louder, it has a wider frequency response, it has a better bass response and a better stereo soundstage.
All this comes at a slightly higher cost though, and that's where the Soundbar 500 shines. The 500 is a smaller unit that provides excellent sound at a lower price.
If you have a bigger budget, the 700 is a more premium package. However, if you may not be as flexible, the 500 is also a great piece of equipment that will provide you with good sound.