Are you guys looking for the best PVSR headphones?
The PlayStation VR is an amazing gadget that brings the VR experience to gaming. We know that the visual experience is a major aspect of gameplay.
However, we also know that the audio experience is critical. Without audio, the 3D visual experience is incomplete.
Unfortunately, the headset that comes with the PSVR has basic audio. To fully enjoy gaming, you need an audio production that matches the video experience.
In this article, we'll look at the very best gaming headsets you should consider for your PSVR.
Top 7 PSVR Headphones reviewed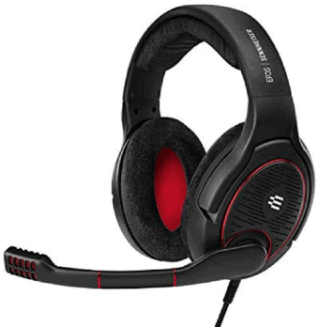 Sound quality and mic
The Sennheiser Game One is a gaming headphone that is compatible with both the PS4 and Xbox. It can also work with the PSVR. It's one of the top picks because most VR headsets do not have gaming headphone capabilities in terms of sound.

This headphone has impressive object localization. This means that with these cans on, you can tell where each sound is coming from.
This is essential, especially in competitive virtual reality games. However, because they have an open-back design, the Sennheiser Game Ones are not so good at noise isolation. Hence, if you want to enjoy them, you should play your games in a quiet environment.
The bass is not overly boomy. In fact, no frequency has any noticeable enhancements. The headset has a relatively neutral response. So, game explosions and gunshots will not drown out the quieter sounds.

Let's talk about the mic audio quality. Like many gaming headphone brands' microphones, it swivels up and down, and it has the flip-to-mute feature. However, you may need to speak loudly at times, because the mic gain does not go so high up.
Fit and comfort
Sennheiser Game One is a wired headset, so the connection to the PSVR is straightforward. However, the headset is on the bulky side – not in terms of weight, but in size.
But I believe the sound quality is worth it. It's not too heavy and the earpads are super comfortable. You can play your PSVR games for long gaming sessions and without any inconvenience from the earcups.
Pros
Neutral sound – great for multiple game types.
Super comfortable for long gaming sessions
Impressive object sound positioning for virtual reality gaming.
Cons
Poor noise isolation
Mic not loud enough
Bottomline: If you want that superior gaming headphone sound with neutral production, the Sennheiser Game One is for you.
Also read: Sennheiser Game One vs Game Zero: No Brainer Choice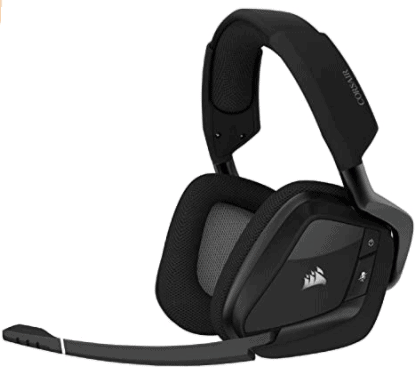 Sound quality and mic
I'll start with the bass here. There is a little emphasis on bass with this headphone. It's louder but doesn't go very deep. So, when you're playing action-packed games, you'll have louder explosions but the rumble wouldn't give you sub-woofer vibes.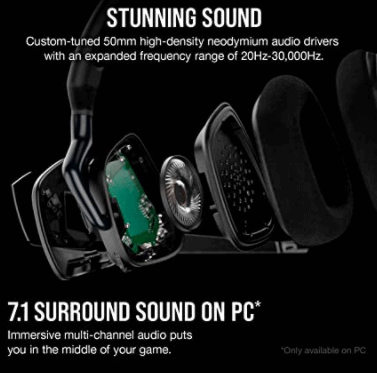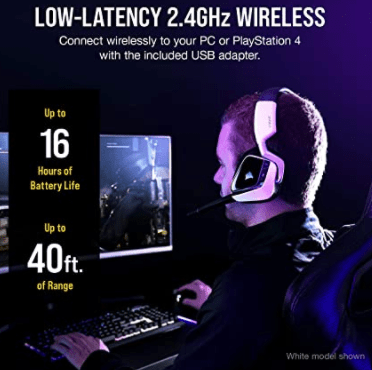 The treble sound is of good quality, but if your game has a lot of harsh sounds, you may find it a bit too bright. The mids are quite neutral – nothing sticks out in those frequencies.
Like the Sennheiser Game One, this gaming headset does not have good noise isolation. If you're playing a PSVR game in a room full of people, their chatter will keep getting in your ears.
This headphone comes with a surround sound feature. but you can only activate it when connected to your PC. However, because the PSVR has 3D audio you can still have an immersive experience.
That's a bummer because it would have been the total package if you could have 3D audio on PSVR.
However, the stereo sound has very good imaging, so you will have a good idea of where the sound is coming from while playing on your PSVR.
In terms of audio quality, the microphones in this headphone and the Sennheiser Game Ones are similar. It has the flip-to-mute feature and it's not so loud.
Fit and comfort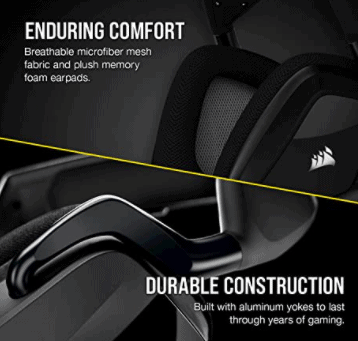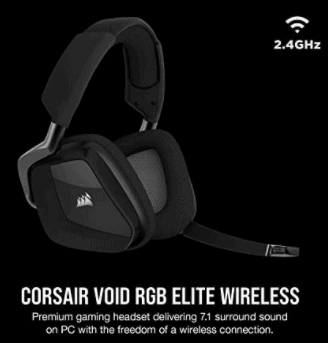 The Corsair Void headphone has unconventional square-shaped earcups. While it's a cute design for gamers, it does not work for everyone. Some people get the outer parts of their ears pressed by some parts of the earpads.
However, the shape works for most people. The earpads are soft and comfortable. You can keep gaming on your PSVR for several hours with this headset. The cable is not detachable, so you must take extra care so that it doesn't break or get weak.
Pros
Futuristic design with square cups
Bass boost for action-packed games
Cons
The surround sound feature only relies on PSVR
Non-detachable cable
Bottomline: If the ear cups fit your ears, this headphone gives you a superior gaming sound with a lot of clarity and crispness.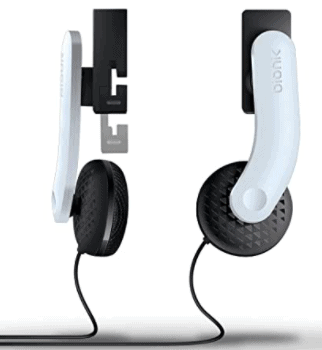 Sound quality and mic
This pair of headphones is tailor-made for virtual reality headsets. This means that you can expect to hear 3D sound with these cans and get that immersive experience.
Even though it has the surround sound feature, the overall production quality is not as great as what you'll have in dedicated gaming headsets.
There is some enhancement in the bass that brings out the energy in your game environment. The treble is also good, as it doesn't make the sound harsh even at high volume.
It's the midrange that may overshadow things a bit sometimes. While it makes dialogues very clear, it may make the game explosions and sound effects appear like they're not loud enough.
Also, if you use these in a noisy area, you won't enjoy your gaming. The earpads are not designed to reduce noise.

While this headphone will give you a good surround, they don't have built-in microphones, so you must use the built-in PSVR mic to communicate with friends in multiplayer games.
Fit and comfort
The Bionik Mantis headset does not come with a headband, which makes it much lighter than a regular headphone.
All you need to do is clip each earcup to the thin parts of your PSVR strap, and you're good to go. Since they're very light, you can play for hours without feeling any discomfort.
The headphone gives you some room for adjustment – you can shit them in/out and up/down to find a good spot or placement.
Pros
Sound does not distort at high gain.
A convenient option, since they're tailor-made for PSVR.
Cons
Does not sound as great as a regular gaming headphone
Poor noise reduction.
Bottomline: If convenience is very important to you, these headphones should be your go-to choice for PSVR.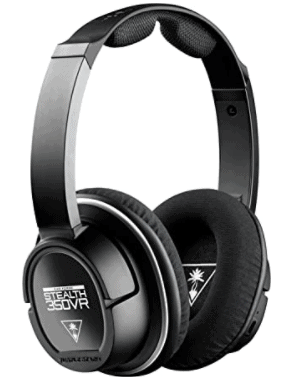 Sound quality and performance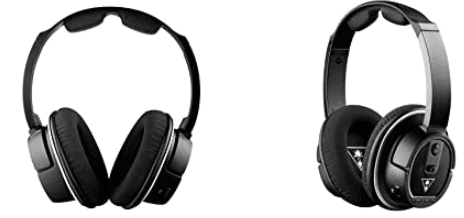 The turtle Beach Stealth 350VR is another headset that is made specifically for virtual reality gaming. However, unlike the Bionik Mantis, this one can be useful for several other purposes.
The Stealth 350VR has impressive 3D audio that gives you more gameplay immersion. The overall sound quality is crisp and clear, with clean bass and non-invasive midrange. You will hear all dialogues and even the quieter sound effects clearly.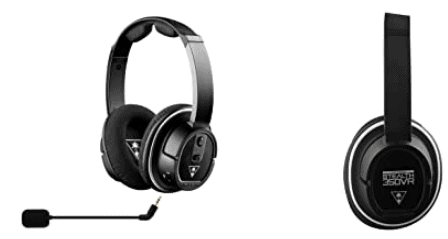 It has a bass boost control that allows you to add more bass to your sound. If you prefer your game explosions with more energy, you can push the bass control all the way up.
It comes with a mic that you can easily detach when you're not using it. The mic audio quality is decent and gives your teammates crisp, clear chat quality.
Fit and comfort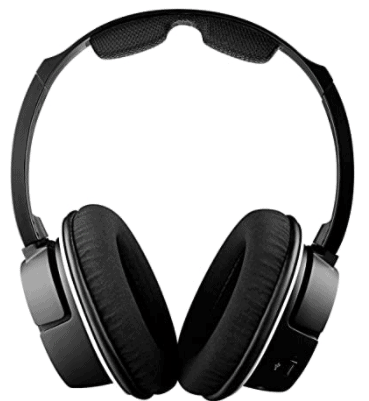 Though this VR headset comes with a headband, it's still super lightweight. The headband is designed such that the headphones make zero contact with the VR headset.
Also, for easy cable management, Velcro straps are added. Though they are VR headsets, you can use them pretty much anywhere – on flights, at work, or at home.
For the bass boost, the Stealth 350VR has an amp that is powered by a battery. The battery gives you up to 30 hours of bass boost before it needs recharging.
Pros
The bass boost button makes the headset suitable for different game genres.
The detachable mic makes it convenient to use the headset when the mic isn't needed.
It's comfortable for long hours of gaming.
Cons
For the bass boost to work, you must charge up the headset.
Bottomline: If you don't mind the plain design, the 350VR gives you good gaming sound with bass boost, in a lightweight headset. It's a great combination.
Also read: Turtle Beach Stealth 600 vs 700: Which is the Best Gaming Headset?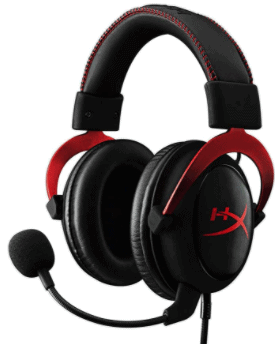 Sound quality and performance
The HyperX Cloud II, like any other good PSVR headset, has virtual surround sound. Its virtual 7.1 surround sound gives your gaming that extra immersive experience.
Although the headphones typically come with a USB soundcard, you don't need it to get your surround sound. Since the PSVR has 3D audio capabilities, any great stereo gaming headset can give you a 3D audio experience.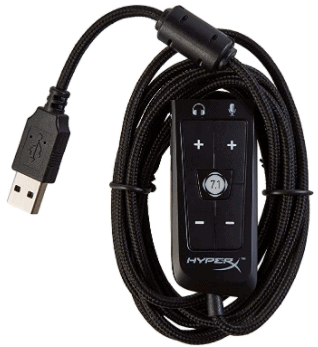 These headphones not only have a wide frequency response range, but they also have a depth of sound that you will appreciate. They bring out the details of in-game sound effects.
Though the bass is not boosted over treble, the deep tones and rumbles remain rich, clean, and punchy.
Also, the headset comes with a detachable mic, so you can easily remove it when it's not needed. The microphone's audio quality is good, at least your teammates will hear you clearly.
While the mic is loud enough, your voice may sometimes sound compressed. It's HyperX's way of preventing distortion from very loud sound.
Fit and comfort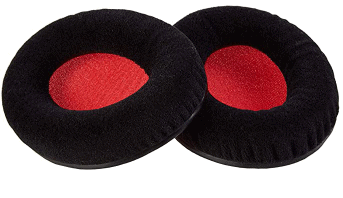 Though these over-ear headphones were not designed specifically for VR headsets, they work. The headband is wide enough to accommodate the PSVR's strap.
Also, the earpads are super comfortable and suitable for several hours of gaming. They come with an extra pair of earpads, but they are not the same as the built-in ones. Also, they're not as comfortable.
Pros
Detachable mic can be removed when not in use.
Immersive surround sound.
These earphones are loud.
Cons
The extra ear pads are of lower quality.
Mic audio quality may sound overcompressed.
Bottomline: If surround sound is your thing and you want the full virtual reality gaming experience, you should try these.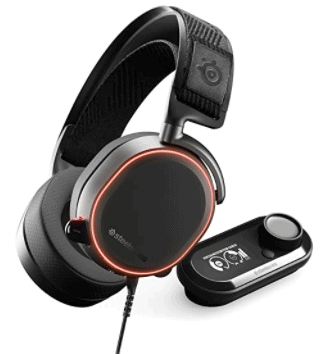 Sound quality and performance
These wired headphones give you a much better sound than the headphones that come with your PSVR. The Arctis Pro has an extended bass that goes so deep and still stays clean and crisp.
The treble is also clear and shiny without any harshness. Your game explosions dialogues and other sound effects fell very present with a lot of detail.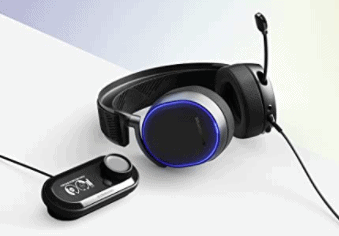 The mic is retractable. When you don't need it, you can easily push it back inside the headphones and out of sight. The mic audio quality is clear, but it has no bass.
Also, the headset gives you some noise isolation. It's not perfect but can keep out low-volume chatter.
Fit and comfort
Like any good gaming headset, the Steelseries Arctis Pro comes with soft, comfortable ear cups that make it convenient for long gaming sessions.
However, you must find a good placement for the PSVR straps so that the earcup does not cover them. This can limit noise isolation.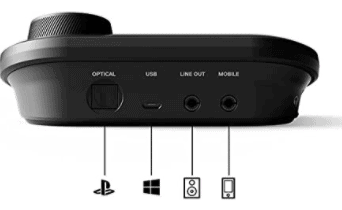 Also, you cannot connect the headphones to the PSVR directly. You have to connect it through the DAC first. Here's why. The headset does not have a 3.5mm port. It only has a USB port that cannot connect to the PSVR.
So, you must first connect the headset to the DAC and then connect to the PSVR from the DAC via a 3.5mm cable. To pull this off, you need good cable management.
Pros
Retractable mic can be pushed out of sight when not in use.
It swivels flat when you wear it on your neck.
Surround sound features give you a more immersive experience.
Cons
You must connect the headset to PSVR using the DAC.
The volume knob is flimsy and can be accidentally turned.
Bottomline: If you don't mind the added DAC, this pair of headphones is a good option to take your PSVR gaming experience to the next level.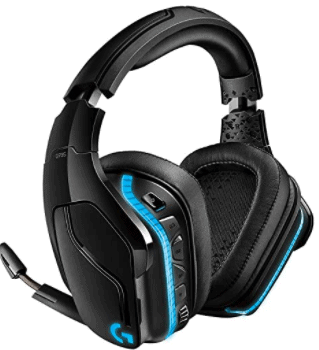 Sound quality and performance
The Logitech G935 gaming headphones have a great surround sound feature with good positional awareness.
So, when you use them with your PSVR, you will have an accurate sound direction. Although PSVR has 3D audio, you can improve the quality by enabling the surround sound on the G935.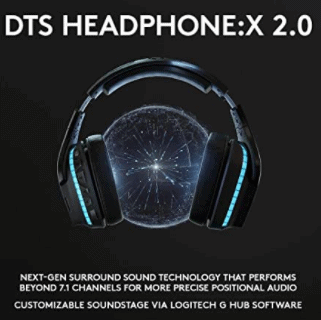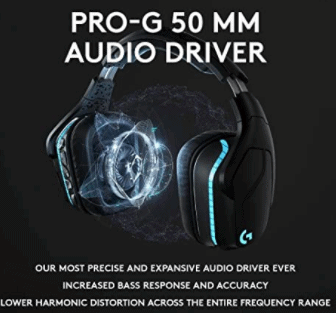 You can customize one of the buttons on the headset to control the surround. The PC app that comes with the earphones will help you to achieve this.
The headphones also have impressive noise reduction. Although they don't have active noise cancellation technology, the earpad's design helps to keep out most background noises.
The mic retracts halfway and flips up and down. It enables you to have crisp and clear voice chats with your teammates, but when you talk very loud, they may get a compressed or slightly distorted sound.
Fit and comfort
These earphones are made of plastic, and they really feel like plastic. The advantage here is that it makes them lightweight despite the bulkiness. The earpads are made of leather material – comfortable on the ears but may warm up after several hours.
The G935s are wireless headphones, but to connect to your PSVR, you must use the 3.5mm cable.
Pros
Great surround sound feature.
Good sound isolation
Cons
Combined with the PSVR, it may start to feel a little heavy after some time.
Glossy finish makes the headset retain fingerprints on them.
Bottomline: If you need wireless headphones for other purposes, you can get this one. It works as wired with your PSVR and you can use it as wireless with your mobile devices.
Our other posts to read:
Conclusion
Each of these headphones has its unique qualities. However, if I have to pick my top 3, they would be Sennheiser Game One, Corsair Void and Turtle Beach Stealth 350VR. I chose these three because they give an immersive 3D experience and do not take time or space to set up. Also, they only require one cable.
Also, remember that wireless headphones cannot work with the current PSVR. You need the 3.5mm cable connection for it to work.