Affiliate disclosure: In full transparency – some of the links on this website are affiliate links, if you use them to make a purchase we will earn a commission at no additional cost for you (none whatsoever!). Will this be a problem? This is how we manage to create free content for you. Please know that your trust is so important for us. If we recommend anything, it is always because we believe it is worth exploring. And, buy me a coffee ☕️
In this post, I'm going to review some of the best gaming headsets under $200.
Every gamer should have a good headset to get a competitive edge over other gamers. When you look forward to buying a good gaming headset, you may be overwhelmed by the variety of headsets available in the market.
It is often hard to pick up the best gaming headset that's a perfect balance between the price and the quality.
Not all games are the same. Some are shooting and some others are arcade games. Taking this into aspect, I've put forward some of the really good gaming headsets that you may consider.
The gaming headsets I put forward are also very well suited for watching movies and listening to some genres of music.
Aspects to consider while buying a gaming headset
Price: The fact is that, if you are paying for gaming headsets above $200, you're just paying for the brand, not for quality. There's no solid reason on the earth to go for gaming headsets above $200.
For many of the casual gamers, headsets below $100 or even $50 serve their purpose well. Nevertheless, there are seriously good headsets in the range of below $200 for critical gamers.
If you are under tight budget, you can go for gaming headsets under $50.
Comfort: You are wearing these headsets for hours altogether. You don't even know how addicted are you to gaming. No matter how much you spend on your headset, no matter how much little features you've got, never settle for poor comfort.
Or else you'll end up wasting money and buying another one. The headset should comfortably fit on your ears. Go for circumaural headsets that rest around your ears. Don't worry, I'll address this aspect in every headset I review in this post.
Sound: The bass is the most important thing you need to have in all the gaming headsets. With this, the sounds of explosions and gunfires are brought to life, you can feel the thing by using bass headphones.
Gaming headsets should have soundstage or surround sound effect. With this feature, the sound does not appear to be originating inside your head, rather the sound will be more natural.
You can determine the direction of footsteps of your enemies, the explosions happening. When the game activities are happening in an acoustic space, it's easy for you to draw out strategies that give you the game winning experience.
Open-back headphones often offer good soundstage effect. But the downside is that the sounds tend to leak to the surroundings, it means it provides less noise isolation, as headphone drivers are exposed to the surroundings. Also, most gaming headsets are compatible with PS4 controller, so if you want to experience a rich sound then going with a PS4 headsets is also a good choice.
Microphone: The ability to chat with other gamers in the gameplay is great. That's where gaming headsets excel over other headphones.
You need to make sure that the boom mic that your gaming headset comes with can easily be able to differentiate between the background sound and your voice. In this case, the unidirectional mic comes handy.
Although you can use a separate vocal mic for gaming, mics that come with headsets are straightforward and ready to go with no hassles and multiple wires.
Best Gaming Headsets Under $200
The best gaming headset, today!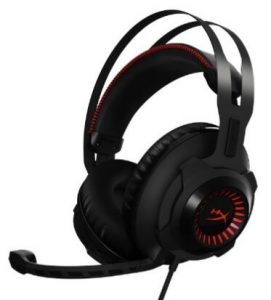 Sound quality: These are the headsets especially made for playing most popular FPS games like Call of Duty, Counter Strike, or Battlefield.
For people who play first-person shooting games, positional audio is critical to know the direction from which the enemy is attacking and tracking the enemy footsteps.
This headphone comes with studio-grade soundstaging experience, for giving you the ultimate competitive advantage over other headsets. You can easily compare the soundstage to that of 5.1 Dolby speakers.
The bass is great and extended. You can feel the gameplay. Overall they are tight and make you feel the explosions in the gameplay. The mids are good and clear. You can hear every detail of the gameplay. The sounds sound natural and engaging.
The highs are very pleasant to listen. They really excel in the highs, and never harsh. Overall I liked the consistency that these headsets have in varying frequencies.
Comfort: The headphones are highly comfortable. Although it does not come with a manual headband adjustment, it adjusts automatically to your head for a comfortable fit.
The earcups are huge and padded with HyperX memory foam that is of premium leather giving you maximum comfort for hours. Once you make sure that the ear cups cover your entire ears by pulling the earcups down it will offer good comfort and isolation.
Mic: The greatest thing is that the mic is detachable. Suppose, if you are playing an offline game and not chatting, you can detach the mic and play hassle freely.
The sound is crystal clear, and mic cancels out the external sound extremely well.
Pros
Great for FPS games
Consistency in various sound frequencies
Detachable noise-canceling mic
Great comfort with thick memory foam
Cons
Bottomline: The best gaming headset you can get especially for FPS games.
Sound quality: These headphones come with 50mm Neodymium fine tuned drivers, that are capable to produce the sounds of frequency ranging from 20Hz – 20,000 Hz.
These are basically 7.1 surround sound headphones! You can accurately determine the directions of the shootings and footsteps.
Once you wear this headset, you start to notice the details of the gameplay, you've never heard before.
The bass is not too strong, and definitely not overpower the gameplay. The bass is balanced and punchy at times. I found it optimal for my gaming needs.
The mids and trebles are very clear and as I said earlier, you find it easier to catch the minute details in your gameplay.
Comfort: The headband and the earcups are thickly padded for superior comfort for long hours. You don't have to worry about sweating in the ears, except if you are living in hot climate conditions.
The headband comfortably rests on your head, without much pressure making it suitable to wear for longer periods.
Mic: This comes with an unidirectional mic, making it great at rejecting off-axis sounds effectively giving you clear conversations with your VoIP Mates.
The mic is detachable like that of HyperX Cloud Revolver Headset, which is a great feature you find in limited headsets for gaming. The mic can be bent to any direction to suit your needs, which is a nice addition.
Pros
7.1 Surround sound for good soundstage
Good sound stage
Excellent sound
Great mic
Breathing foam
Cons
Some may find volume to be low in PS4
Bottomline: Good 7.1 surround headset for great gaming experience with the best mic quality in the range.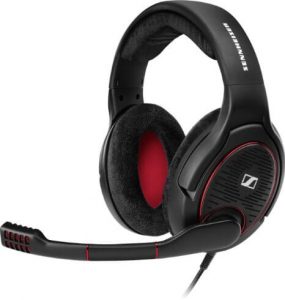 This headset is the most-loved gaming high-end open-back gaming headset.
Sound: The clarity of the sound is amazing. The sound doesn't get distorted even at high volumes. The greatest part is bass. It is not too overwhelming and is balanced and punchy.
It lets you completely immerse in the gameplay. The frequency response is amazing. The headset performs consistently over the varying frequency ranges. Even the trebles are crisp-clear and not harsh.
For the headset to perform to full extent, you need to use an amp to power it up. If you have a built-in amp with your soundcard, don't worry about buying a new headphone amp.
The headset flaunts an open-acoustic design. It enables the headset to offer brilliant soundstage and you can accurately determine the direction of the sound.
The noise around in the space will enter in, making the headset quite hard to use in the noisy environment, yes, the soundstage effect that comes with all open headphones comes with this downside.
When it comes to sound quality, it's absolutely worth the price.
Comfort: The earcups are big, and truly engulf your ears. The earpads are padded with soft cushion for comfortable long time gameplay.
After wearing these on for hours, you tend to forget the fact that you are wearing the headset. The headband size adjustment comes in handy, for adjusting to various head sizes.
The earpads remain cool and breathing even after hours of gameplay, forget about sweaty ears. They are lightweight headphones when compared to the size.
Mic: The mic quality is excellent. The voice sound crystal-clear. The mic is actually noise cancelling, that does a great job of canceling out external noises.
The unidirectional nature of the mic also adds up to the noise isolation. The greatest advantage is that the mic automatically mutes when you flip it up.​
This comes very handily when you're busy to look for the mic mute button when playing the game.
Pros
Great bass
Good frequency response
Top-notch comfort
Noise-canceling mic
Cons
Lack of PS4 compatibility, however, you can buy Sennheiser PCV 05 Combo Audio Adapter
Bottomline: The best open-back headset for gaming and ultimate comfort.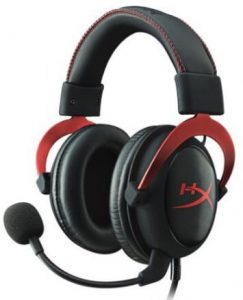 Most popular gaming headset today, especially for FPS gaming.
Sound quality: These headphones come with 55mm Neodymium drivers. The headphone sounds great with 7.1 surround sound.
The soundstage is excellent for gameplay. The mid-bass gives a good explosive experience in the game but doesn't overpower the trebles.
The mids are bit recessed nevertheless, offer good details and clarity. Treble is quite high, it won't be an issue if you are not using it for classical songs!
These are noise isolating headphones, that means the background noise is minimized effectively. However, at a lower volume, you can still hear the noise.
Comfort: The headphone earcups are made of memory foam, that offers top-notch comfort. After wearing it for some minutes, you barely can feel the headphones resting on your head.
The headband is also padded with foam, enabling the headset to be worn for extended periods of time.
Mic: The mic is good for the price. The recording quality of the mic turns out to be average when compared to other headphones like HyperX Cloud Revolver.
The mic is omnidirectional and tends to pick up sounds from all the directions, making it sensitive to use in noisy environments.
There are toggles for you to mute or unmute the mic, along with the adjustments for 7.1 surround sound.
Pros
Good soundstage
Good frequency response
Superior comfort
Echo cancellation in the mic
Cons
Omnidirectional sensitive mic
Bottomline: This is the best gaming headset you can buy under $100.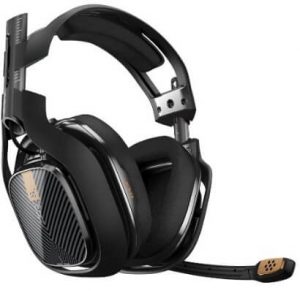 Sound quality: The sound quality of this headset is tuned by professionals and pro gamers. These are open headphones, so you cannot expect sound isolation with these and are not suitable for noisy environments.
The bass is great and extended. The only downside here is that the mids are bit lacking especially when not connected to an amp.
You need an external amp to get the most of these headphones. The trebles are clear and not too harsh.
Acoustically open headphones like these offer excellent soundstage, for good gaming experience.
Comfort: The headset is bit heavy and the thick padding of the earcups add to it. But it appears to have some impact on the smaller heads. You can easily wear these on for hours, without any worries.
Mic: The headset has two options – inline mic and notorious boom mic. The noise isolation of the boom mic is excellent, and crisp clear.
These headphones have the best mics available in the range. If you would not like to compromise with the quality of the mic, go for it.
Pros
Great sound quality tuned for FPS games
Quite comfortable
Comes with boom and inline mics
Cons
Mids are little lacking
Headset is little heavy
​Bottomline: Good headset for gaming if you also want inline mic along with a good boom one.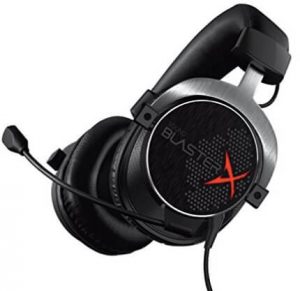 Sound quality: These headphones come with 50mm Neodymium Drivers that are meant for delivering powerful bass and unmatched clarity. The soundstage is great, providing you an in-game like feeling.
These headphones surprisingly sound consistent throughout the frequency spectrum, that too with a single driver in each ear cup.
The bass is thumping, you can feel the game. The mids and highs are crisp-clear and you can hear every detail of the game. You can also use these headphones to listen to songs and for watching movies.
Consider driving with an amp you'll surely love them.
Comfort: Creative BlasterX series is known for offering unmatched comfort. H5 is no exception. Once you wear the headset, the first thing you notice is the pillow-like comfort these headphones offer you.
The headphones are extremely light so that they rest quietly on your head without causing any pressure. The earcups are filled with premium foam, giving a warmth feeling to the ears.
Mic: This gaming headset has the best mic under $100. The mic is unidirectional and is extremely good at isolating out off-axis sounds.
The sound quality of the mic itself is very clear, making it very suitable for use in voice commands and VoIP calling.
Pros
Thumping bass
Clear sound
Great comfort
Mic is best in its range
Extremely comfortable
Breathing foam
Cons
You may need a DAC amp to unlock the full potential of this headset.
Bottomline: Great gaming headset with the best mic under $100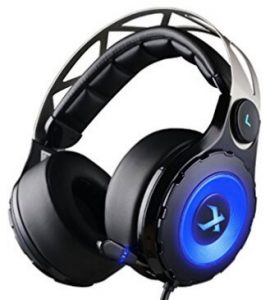 Sound: These offer 7.1 surround sound, for great gaming experience. By this, you get fully immersed in the game, with directional sounds.
These headphones come with 40mm dual drivers, especially for providing rich bass that's deep and rumbling. The explosions in the game seem like an explosion in real life.
If you are looking for a good bass gaming headset, these can't be a wrong choice.
The mids and treble in these headphones are also really good. Thanks to the dual drivers mounted in each earcup.
The frequency response and consistency are amazing. You can hear to every detail in the game and is great for precision gaming.
Comfort: The padding for the earcups are extremely thick, making the headphones big and very comfortable.
The outer headband is of metal, whereas, the headband that rests on your head has a good leather padding that lets you wear on the headphones for hours without any clamp-like feeling on your head. They are the most comfortable.
Mic: It do come with an omnidirectional mic, that tends to pick up off-axis sounds. The sound quality of the mic is average if you have already played with the studio-grade mics.
The mic is retractable, making it convenient to use.
Pros
Dual drivers
Surround sound
Great bass
Good frequency response
Superior comfort
Breathing foam
Cons
Bottomline: A bass-head gamer's headset under $100
I hope you found the best gaming headsets under $200, I mentioned in this post helpful. Make sure you research the headset well, before buying any.
​
If you've liked this post, please share this with your friends.​
Hi, I'm Jennifer I'm a passionate singer and an audiophile from Detroit, MI. 
I'm on a mission to help music creators to create fine music that help them position uniquely in the saturated music space.
Follow my blog for regular content :-)