Best Budget Gaming Headset
HyperX Cloud II - Gaming Headset, 7.1 Surround Sound, Memory Foam Ear Pads, Durable Aluminum Frame, Detachable Microphone, Works with PC, PS5, PS4, Xbox Series X|S, Xbox One – Red
Virtual 7.1 Surround Sound
SteelSeries Arctis 7 Lag-Free Wireless Gaming Headset - Black (Discontinued by Manufacturer)
Super Compatible
Logitech G PRO X Gaming Headset (2nd Generation) with Blue Voice, DTS Headphone 7.1 and 50 mm PRO-G Drivers, for PC, Xbox One, Xbox Series X|S,PS5,PS4, Nintendo Switch - Black
Best Budget Gaming Headset
HyperX Cloud II - Gaming Headset, 7.1 Surround Sound, Memory Foam Ear Pads, Durable Aluminum Frame, Detachable Microphone, Works with PC, PS5, PS4, Xbox Series X|S, Xbox One – Red
Virtual 7.1 Surround Sound
SteelSeries Arctis 7 Lag-Free Wireless Gaming Headset - Black (Discontinued by Manufacturer)
Last update on 2023-12-08 / Affiliate links / Images from Amazon Product Advertising API
Do you need better sound for your Fortnite gaming sessions?
Then you need a good pair of gaming headphones. Headphones are essential in multiplayer games. This is because the enemies are actual humans and they can come from any angle.
In single player games, enemies rarely come from behind you.To have better awareness and better overall gaming experience, you need a well-sounding headset. But how do you know which one to buy? This article shows you the best headphones that will make you better at fortnite.
Playstation 4
PC
Nintendo switch


Playstation 4
Nintendo switch
Xbox One
PC
Top 5 headsets for fortnite reviewed
Specifications:
Frequency response: 15Hz–25,000 Hz
Nominal impedance: 60 Ω
SPL: 98±3dB
Transducer type: dynamic Ø 53mm
Power handling capacity: 150mW
THD: 2% at f = 1 kHz
Sound quality
HyperX Cloud II has a very detailed sound output. There is not so much emphasis on bass though.
The gunfire and explosions in Fortnite are not extra boomy. However, the sonic detail is well produced. This means that even in the midst of multiple explosions, you can still hear other elements such as speech, picking up a weapon, and footsteps.
HyperX Cloud II has a virtual 7.1 surround sound feature. When you use this feature, you notice the difference instantly. Every sound has a spatial definition and the bass gets even better. However, it's still not like the actual 7.1 surround.
Mic
The microphone is detachable, and you can swing it up out of your face. It has an impressive background noise rejection. On the other end, other players will hear your voice clearly even though you push the mic head some distance from your face.
Features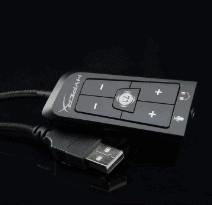 The Cloud II has a dongle that comes with it. This dongle allows you to use the headphones with just about any device.
For the PS4, you can simply connect the headphone's 3.5mm jack. It's the same for Xbox, but you'll need to use the Xbox headset adapter.
For your PC, use the USB from the dongle.The 7.1 virtual surround is only available through the USB.
What we like
Works with multiple devices
Detailed sound production
Mic rejects background noise well.
What we don't like
7.1 surround is only available for USB connection
Less bass emphasis
Specifications:
Frequency Response : 20Hz-20KHz
Battery Life : Up to 24 hours
Cord length : 8.2 feet (2.5m)
Driver Type : 40mm neodymium
Impedance: 32 Ohms
Sound quality
The virtual 7.1 surround sound in these headphones surely makes your gaming experience better.
In Fortnite, you are able to hear footsteps and gunshots and instantly know what direction it's coming from. Stereo sound also gives some direction, but it's not as precise. This is a nice advantage to have, since there'll be less surprises.
In terms of bass boost, these cans differ from the HyperX Cloud II. There is considerable bass boost here, so expect lots of explosions. While the explosion is going on, you will hear less of other sounds like footsteps.
Mic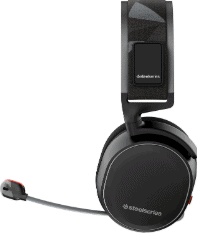 In a bid to make the speech clear, the mic has a highly reduced bass. This means that if you have a deep voice, you can be sure that's not what other players are hearing.
Also, the emphasis on treble means that there may be a lot of sibilance when talking. You can push the mic back in when it's not in use. It blends well with the rest of the unit.
Features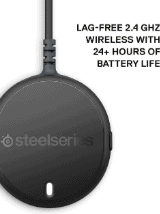 To enjoy the Arctis 7 across all consoles and computers, you must attach the USB dongle. It allows you to connect seamlessly with the Playstation 4 , Nintendo Switch dock,and your PC. Connection to your Xboxone and Nintendo switch is via the 3.5mm jack.
It is also important to note that this headset works with wireless connection. The connection goes through the USB dongle, not bluetooth. It's fast and you will record no latency while playing.
Controls are available at the base of the earcups. They help you to mute the mic, control the volume and switch between game and chat audio.
What we like
Great bass boost
Zero latency wireless connection
What we don't like
Less midrange
Mic emphasizes sibilant sounds.
Specifications:
Frequency Response: 5Hz-35kHz
Impedance: 250 ohms
Driver Size: 45mm
Plug Size: 1/8", 1/4" adapter
Sound quality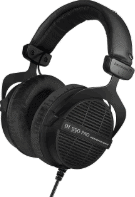 The DT 990 Pro is one of the best sounding headphones you'll find, although it's not your traditional gaming headphone. In Fortnite, you will hear all explosions and earth-shaking sounds as you should.
There's a little bass emphasis, but not too much that it becomes boomy. It packs just enough punch to deliver the intended effect in those bangs and thuds.
The best part of the headset's sound is the midrange. There's a lot of detail here, and you'll appreciate the excellent work of the sound designers here.
These Beyerdynamic cans don't have 7.1 surround sound and they don't pretend to. The Stereo soundstage is wide and gives you accurate perception of sound.
Mic
It has no mic. If you need a mic with this headset, you may need a separate gaming mic.
Features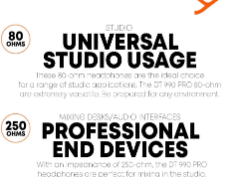 These are wired headphones with 3.5mm jack. So, it will work well with your playstation and PC.
For Xbox, you need the audio adapter to make it work. There are two impedance classes of the Beyerdynamic DT 990 Pro.
The 80-ohm and the 250ohm impedance options. If you're using the 250-ohm headphones, you may consider using an amp to drive the headphones for more loudness.
These cans have no controls on them.that's another reason to use an amp. You'll easily control the volume and other stuff.
What we like
Impressive clarity
Highly detailed sound
What we don't like
No mics
No virtual surround feature
Specifications:
Frequency response : 20Hz-20KHz
Impedance : 35 ohm
Driver type : 50mm Pro-G
Connectivity : 3.5mm line in
Sound quality
The virtual surround feature is quite impressive. It even gets better when you use the logitech G Hub app. The app gives you added advantage while playing Fortnite.
Besides from the EQ and other settings you can control, the G Hub app allows you to control individual surround channels.
Since the virtual surround technology is the 7.1 type, you can adjust all the channels. This means that you can increase the sound of the channel directly behind you. This way no rival player can sneak up on you unnoticed.
The logitech G Pro X goes for balance rather than bass boost. Every detail is clear, but the booms and explosions are not earth-shaking. It's a good choice for those that wish to enjoy every aspect of the game sound equally.
Mic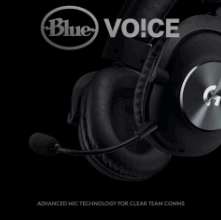 The headset's mic is good enough for basic gamer communication. It reduces the bass in your voice and leaves more treble. This makes your voice clearer over the chat.
To have an improved mic audio quality, use the Blue Voice application. It allows you to add a limiter, compressor, high pass filter and even de-esser.
With the basic settings you may have a highly sibilant sound. If you apply the de-esser, the sibilant can get back to normal.
Features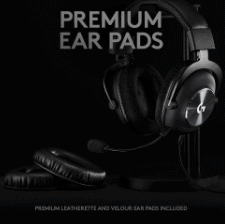 G pro X is compatible with any console. It works well with your PlayStation 4, Xbox One, Nintendo switch, and your PC.
However, the G Hub application only works on PC. That means you can't use virtual surround sound on any of those consoles except the PC.
The headphone controls are on the in-line remote. It has a switch for muting the mic and a volume adjustment wheel.
What we like
Virtual surround sound has metter hands-on control.
Mic sound can be improved through the bluevoice app.
Balanced sound production.
What we don't like
Surround sound only available for PC gamers.
No bass emphasis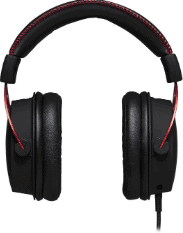 Specifications:
Frequency response : 13Hz–27kHz
Impedance : 65 Ω
T.H.D. : < 1%
Sensitivity : -43dBV (0dB=1V/Pa,1kHz)
Driver : 50mm with neodymium magnets
Sound quality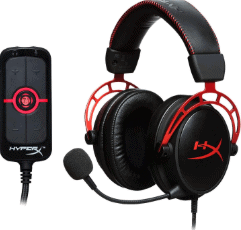 The HyperX Cloud Alpha is another gaming headset with well balanced sound.
The bass is not more emphasized than other frequencies. This means that the explosives in Fortnite will not be earth-moving, but you will hear other elements quite well.
For me, clarity is more important than bass boost in Fortnite. Most importantly, I want to hear footsteps of players that may want to sneak up on me in all the confusion.
Additionally, the HyperX has no virtual surround sound feature. However, the stereo field is quite wide and provides some spatial precision.
Mic
I will describe the mic audio quality as functional at best. It focuses on the frequencies that make your speech clear and reduces others. That's why players with deep voices may find that their voices sound different.
Features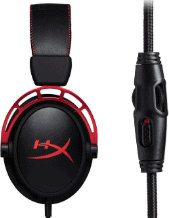 It's a simple 3.5mm wired headset, so there's no special setup needed. It works well with PlayStation 4, Xbox, PC, and basically any device that has a 3.5mm port. For the Xbox One, you need the adapter to make a connection to the headphones.
The controls are on the in-line remote. It allows you to mute the mic and adjust the volume.
What we like
Balanced sound
Easy to set up
What we don't like
No virtual surround sound.
Average mic audio quality
Conclusion
All of these headphones are excellent choices, but my favorites are the HyperX Cloud II, SteelSeries Arctis 7, and Logitech G pro X.
Tese three gaming headsets have virtual surround sound.
Of course, it's not as perfect as the real surround, but it's better than stereo. Virtual surround makes your gameplay better by far.
It not only tells you the position of every element in Fortnite, it also lets you know the relative distance, so you can plan your moves accordingly.