How to reset Turtle Beach Stealth 600 is a common question for owners of this popular wireless gaming headset. It is a great accessory but occasionally encounters technical issues like any gadget. However, you don't have to worry. Read on as I will offer the 4 solutions to get back your headset voice. Let's get into this helpful guide!
Quick Answer 
When your Stealth 600 wireless headset starts malfunctioning, a reset is often the solution. To answer quickly, if you are on a PC, you can reset through the companion app and when on Xbox, you need to manually do it via hold and mode buttons. It can resolve common issues like:
Loss of audio in one or both ear cups;
The microphone stops working;
Difficulty connecting to Bluetooth devices;
The headset becomes unresponsive or freezes.
However, these are just the basics. Continue reading below, where I'll reveal 4 more reasons that could demand a reset. Moreover, I'll also unveil 6 secret tips for the stubborn Turtle Beach headphones that are not responding to a quick reset. Stay with me till the end.
4 Common Reasons for Resetting the Stealth 600
Most of the time, the Turtle Beach headsets will keep working as long as they are connected to a sound source with proper setup. However, there may be problems from time to time. Performing a reset will help you with the following issues: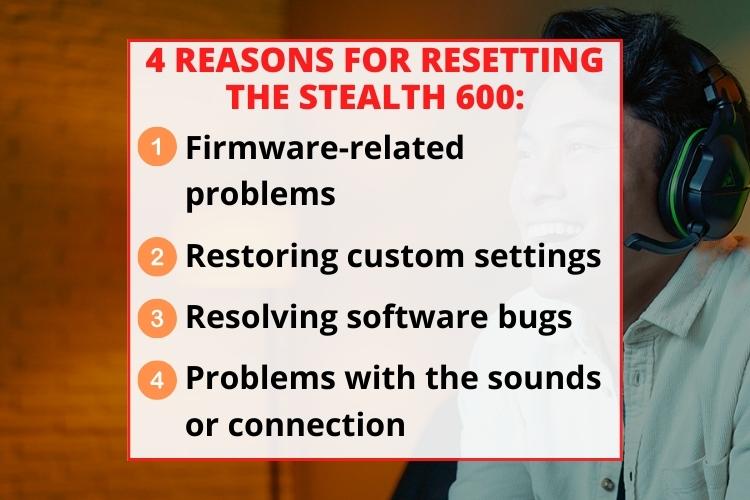 Firmware-related problems: If you update the headset firmware and it causes issues, a reset can roll back the firmware and restore regular operation.
Restoring custom settings: If the audio presets or other custom settings change accidentally, a reset gets them back to default.
Resolving software bugs or glitches: Sometimes peculiar software bugs pop up that make the headset misbehave – a reset typically resolves them.
Problems with the sounds or connection: A rough sound and disturbance in the connection can also be solved with a simple reset.
Resetting Your Headphones for PC With Turtle Beach Audio Hub
If you are experiencing issues with your Stealth 600 wireless gaming headset, resetting it can often get performance back to normal. Here is a 6-step guide on this topic:
Step 1: Visit the official turtle site and get the latest Turtle Beach Audio Hub Software for your PC.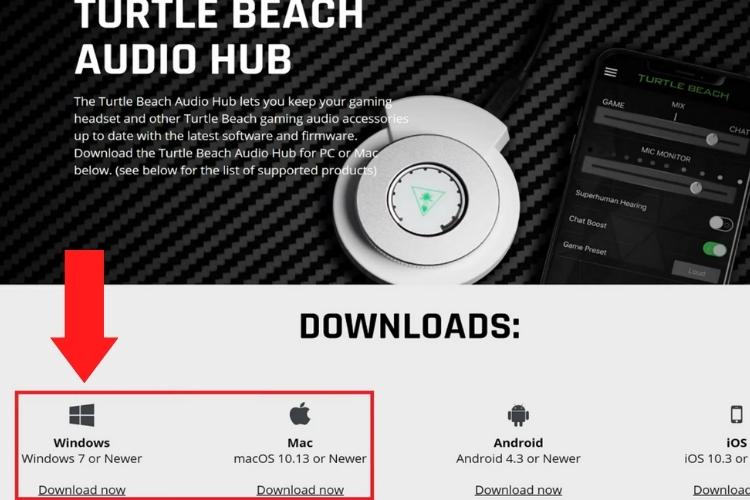 Step 2: Connect your headset to your computer via a USB cable or a compatible audio adapter.
Step 3: Open the Turtle Beach Audio Hub app. It will find your headset in a few seconds.
Step 4: In the app, click "Restore" under your headset's picture on the left. This will reset your headset.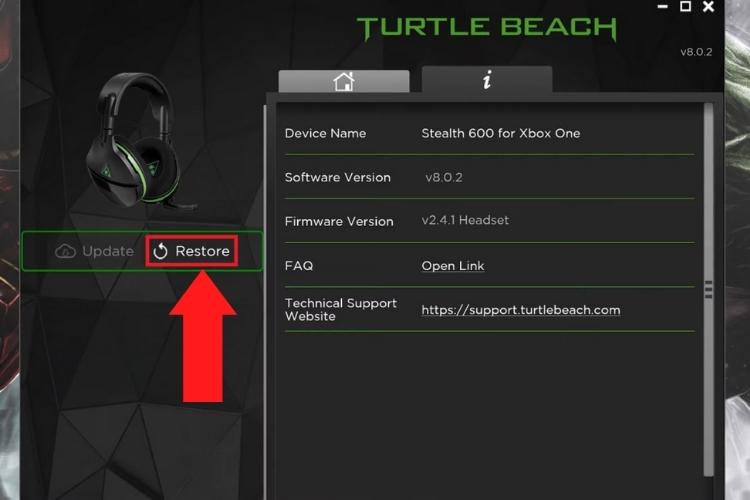 Step 5: Confirm the reset by clicking "Yes." You'll see a progress bar while it resets.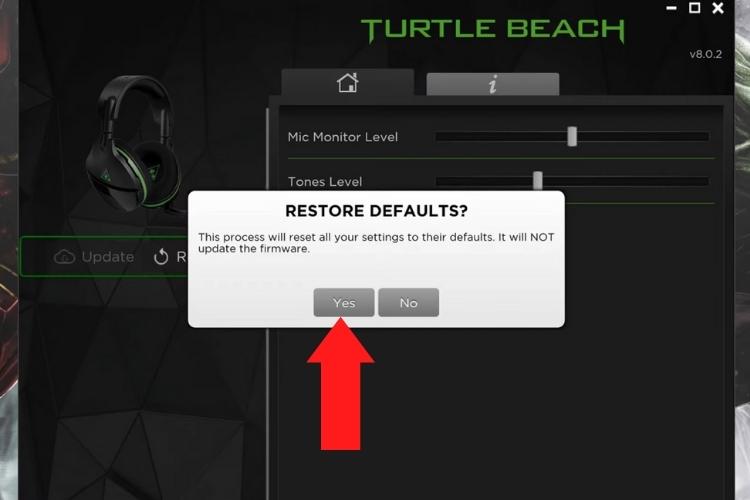 Step 6: Once it's done, click "OK." Your Stealth 600 is now reset, and you can connect it to your PC or smartphone.
5 Easy Steps To Resetting the Turtle Beach Headset on Xbox
If you use your Turtle Beach Stealth 600 with an Xbox console, the reset process is slightly different but simple. The headphone connects wirelessly to Xbox. To reset the Turtle Beach headsets, you'll need to put them in pairing mode manually. Follow these steps:
Step 1: Turn off your headset by holding the power button for 2 seconds.
Step 2: Press and hold the Connect and Mode buttons together for about 20-30 seconds.
Step 3: Keep holding those buttons until the headset's lights turn off and it turns off completely. It will then restart in pairing mode.
Step 4: Let go of the Connect and Mode buttons once the reset is finished.
Step 5: To finish, turn on your headset again by holding the power button for 2 seconds. Now, it's reset to its original settings.
Important note: If the red LED is still turned on, repeat the method while giving a very long press to the buttons.
For further understanding of the reset procedure, check out this easy video.
Updating the Firmware on the Stealth 600
Turtle Beach occasionally releases new firmware versions for the Stealth 600 headset to improve performance, add features, and fix bugs. Updating the firmware is easy to do using the Turtle Beach Audio Hub software.
Listed below are the handy steps for a successful update:
Step 1: Connect your headset to your computer using a USB cable. Also, plug the adapter into a free USB port on your computer.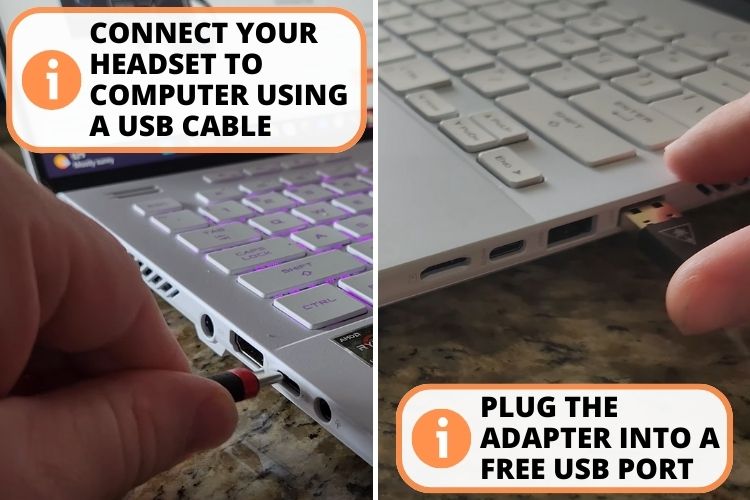 Step 2: Open the Turtle Beach Audio Hub app on your computer. It will find your headset and ask you to update to the latest firmware.
Step 3: Click to say "yes" to the update. The app will download and install the new firmware.
Step 4: When it's done, the Turtle Beach Audio Hub will confirm that the update was successful.
Important note: Don't put your headset in sleep mode or turn it off while updating, as it may crash the software.
Watch this video to get a demonstration of how to update the software on the Stealth 600.
Pairing the Stealth 600 to Xbox After a Hard Reset
If you performed a hard reset on your Stealth 600 headset, you must wirelessly re-pair it with your Xbox console. Listed below are the 4 easy steps for pairing:
Step 1: Check if your headset is on. You should see a light on it.
Step 2: Press and hold the Enroll button on your Xbox until the light blinks quickly.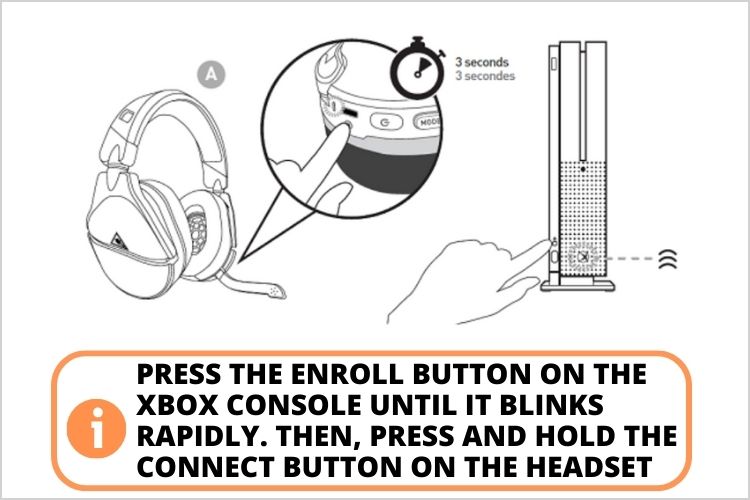 Step 3: Now, press and hold the Connect button on your headset until its light blinks rapidly.
Step 4: After a short wait, both lights should become steady, showing that the pairing is done.
When you've done this but still the headset doesn't connect. You should try hard resetting the Xbox.
You can easily do this by holding down the power button for about ten seconds and waiting until it shuts down.
Unplug the cable and wait another ten seconds.
Replug the cable back in and turn on the unit. You should see the Xbox logo display.
Now, your headphones should connect without any hassle.
What To Do If Your Stealth 600 Won't Reset?
In some cases, the reset process may not go smoothly, and your Stealth 600 headset seems unresponsive. Resetting your wireless gaming headset should restore it to factory settings, but occasionally, an issue occurs mid-reset that prevents this. If your Stealth 600 shows no signs of life or won't complete the reset steps, try the following solutions: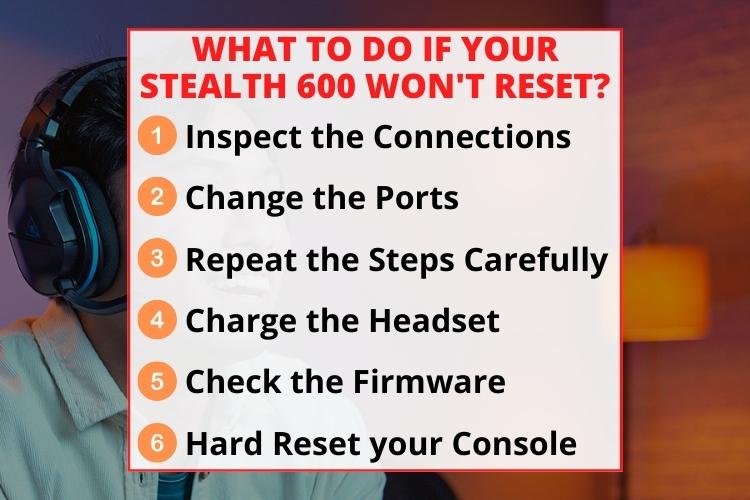 Inspect the Connections: Check that the USB and power cables are fully inserted into the base station. Loose connections can interrupt the reset.
Change the Ports: If using a PC, try a different USB port if the current one malfunctions.
Repeat the Steps Carefully: Attempt the reset steps again while carefully following each instruction. Rushing can lead to missed steps.
Charge the Headset: As a last resort, leave the Turtle Beach headset to charge for at least 30 minutes, then retry the reset.
Check the Headset's Firmware: Sometimes, a glitch in the headset's software can prevent the reset. Try upgrading the firmware.
Hard Reset your Console: Sometimes, the issue is in the console, and you should reset your console to resolve this issue. To restore Xbox to factory settings, go to Settings > System Settings > Storage > Choose the hard drive > Press Y > Choose Format.
If your headset is still unresponsive to a reset after trying all the above troubleshooting, then it is time to call Turtle Beach support.
Troubleshooting a Stealth 600 G2 Headset Not Working
The Stealth 600 G2 builds on the original with improved sound and mic quality. But even a high-end wireless headset can sometimes encounter technical problems.
If you notice your headset is unresponsive or not functioning, there are a few things to check:
Verify the connections: Ensure the transmitter is securely connected to your device or console. A loose connection can cause a lack of audio.
Check the battery: Check if the headset battery simply needs to be recharged. The Stealth 600 G2 has a 15-hour battery life when fully charged. 
Block other devices: Interference from other devices can disrupt wireless connectivity. Try moving the USB transmitter to a clear location.
Reset the headset: Reset the headset to factory settings in case of a software freeze. Follow the reset steps above.
Update the firmware: Update the firmware and audio hub software to the latest versions for compatibility.
FAQs
Why is my Turtle Beach Stealth 600 not connecting?
The Turtle Beach Stealth 600 may not connect due to low battery, interference, or incorrect pairing mode.
Why is my Turtle Beach Stealth 600 headset not working?
Your Stealth 600 headset stops working because of battery depletion, loose headset connections, hardware issues, or the need for a reset to factory settings.
Why is my Stealth 600 Gen 2 not pairing?
The Stealth 600 Gen 2 may fail to pair if the headset is off, the Xbox needs to reboot, the headset needs re-syncing, or there is wireless interference.
Why won't my Turtle Beach Stealth 600 connect to my Xbox?
Your Stealth 600 may not connect to an Xbox if the headset is powered off, needs re-pairing after a reset, has a low battery, or is too far from the Xbox.
Conclusion 
The final say is how to reset the Turtle Beach Stealth 600 headset is not very tricky. If you are using it with your PC or Xbox and doesn't connect properly, then you can easily follow a few simple steps to resolve the issue.
If you're on a PC, you can reset your headset with the help of the Audio Hub application. Whereas on an Xbox, holding down the Mode and Connect buttons for about 20 to 30 seconds will do the job.
However, if you have issues that do not allow resetting, try changing the port battery or updating the firmware. For the last resort, contact Turtle Beach customer support – they are experts for a reason.