Are you looking to buy the best Bluetooth audio receiver for you speakers?
A Bluetooth audio receiver is a small device that you can connect wirelessly to sources of music in your home, office, car, or any other place.
Our Best Pick
Audioengine B1 Bluetooth Receiver with 5.0 aptX HD - Extended Range and High Fidelity 24 bit DAC Wireless & Streaming Audio Systems
Best Value for Money
StarTech.com Bluetooth Audio Receiver with NFC - Wireless Audio - Aux BT Speaker Adapter / Converter for Home Theater or Stereo (BT2A) Black
Super compatible
Bose SoundTouch Wireless Link Adapter Black
Our Best Pick
Audioengine B1 Bluetooth Receiver with 5.0 aptX HD - Extended Range and High Fidelity 24 bit DAC Wireless & Streaming Audio Systems
Best Value for Money
StarTech.com Bluetooth Audio Receiver with NFC - Wireless Audio - Aux BT Speaker Adapter / Converter for Home Theater or Stereo (BT2A) Black
Last update on 2023-09-21 / Affiliate links / Images from Amazon Product Advertising API
With such an audio receiver, you can play loud music and avail efficient sound quality without the need of transforming or disturbing your audio system.
You can stream any device wirelessly with the receiver and it will provide you with amazing sound quality.
With the Bluetooth enabled technology, it is possible to enjoy music and make it easy to listen to high-quality sound at any time and from any device.
You can use this device with speakers and devices with the option of wireless music streaming.
It is even possible to regulate the music playback without the requirement of switching off or on, or without coming close to the receiver again and again.
The market is filled with numerous Bluetooth enabled audio receivers that claim to deliver high performance, excellent functionality, and extraordinary design.
If you are confused among the various options available and are not able to make a reliable decision, then here we present you the list of the top Bluetooth receivers.
The list has been compiled on the basis of the design, performance, functionality, and features of the audio receivers. So, have a glance at it and know yourself the best audio receiver that suits your requirements.
Top 10 Bluetooth audio receivers reviewed
#1. Audioengine B1 – Audiophile's best pick
Specifications:
Bluetooth receiver type: Bluetooth 5.0 audio
Supported Bluetooth codecs: aptX HD, aptX low latency, aptX, AAC, SBC
Outputs: Stereo analog RCA Digital optical (SPDIF)
Input bit depth: 24-bit (upsampled)
Latency: ~30 milliseconds (ms)
Build and design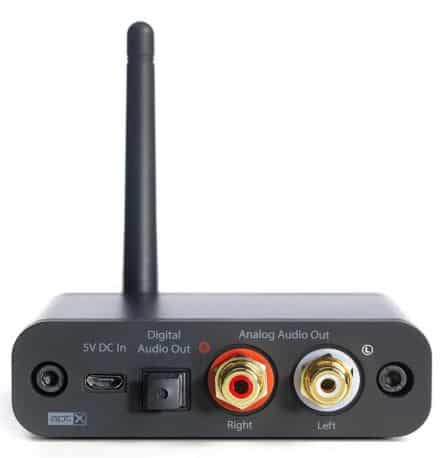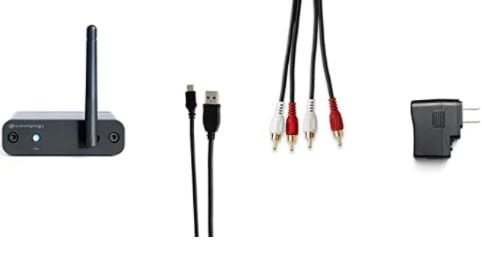 The Audioengine B1 Is a compact Bluetooth audio receiver with its pairing button in front and connecting ports at the rear. The ports include an RCA stereo output, a digital optical output, and a micro USB port.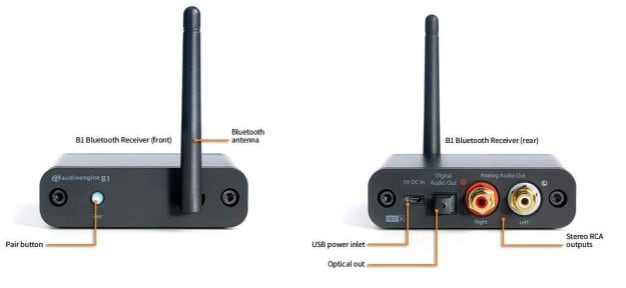 The RCA output is for connecting to amps, your TV, speakers and any other powered audio outlets. The digital optical port works with most TVs, soundbars and other playback devices with a digital optical input port.
The micro USB port is strictly for charging the Bluetooth adapter and does not transfer or play audio. The charging adapter is added to the package.
Setting up the whole thing is pretty straightforward, provided your playback device has the ports needed.

Unfortunately, there's no 3.5mm output port, so desktop speakers that only have the 3.5mm input are incompatible with this Bluetooth receiver.
Sound quality and performance

If your audio quality is decent, then the Audioengine B1 will maintain the quality or even improve on it a little. This high fidelity production is due to its 24-bit sampling quality.
That's not all. The receiver connects with the AptX feature. This codex ensures a higher quality streaming than the standard Bluetooth connection.
The B1 also impresses in terms of Bluetooth range. With up to 30 feet distance, your music keeps playing without breaking, even with one or two instructions.
So, you can stream music from your phone in your bedroom while the receiver is in your living room.
With this Bluetooth audio receiver, if you're not hearing high quality audio, you should check either the source or the playback system.
Features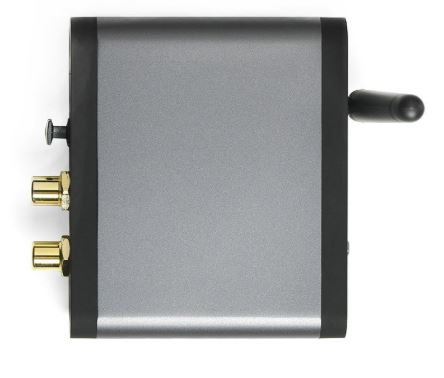 The Bluetooth version is 4.0. Even though thi is not the latest, it still renders high quality audio with the AptX feature.
The latency is better than the standard Bluetooth, but is still a bit noticeable, especially when you're playing fast-paced games.
Pros

:
Houses excellent design, efficient sound, and offers absolute ease of use.
Bluetooth range better than the average one.
Besides offering excellent range it delivers high-quality sound for Bluetooth. The simple setup makes it easy to use. It hosts powerful DAC and does not own a discernible delay.
This receiver is well built and comes with optical link options and RCA connections. You can pair it with numerous devices and can stream from all types of Bluetooth devices. It serves within 100 feet range.
With a 24-bit audio output, it offers a stutter-free and hassle-free audio stream.
Cons:
It is quite expensive as compared to the other audio receivers in the market.
It just pairs with one device at a time.
Specifications:
Special Features – DC-in Jack
Color Screen – No
Batteries Included – No
batteries required – No
Connector Type – Wireless, Bluetooth, Usb
Contains Liquid Contents -No
Includes Rechargable Battery – No
Supports Bluetooth Technology – Yes
Build and design
The Startech BT2A Bluetooth audio receiver has a compact frame. It's a simple black plastic form factor that easily blends in anywhere. You can easily keep it out of sight if you want.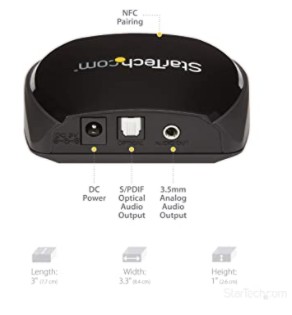 The indicator light is right in front while the output ports are at the rear.
The only ports available for audio are the 3.5mm and digital optical ports. The additional port is the USB, which is strictly for charging.
The Bluetooth audio receiver itself does not have RCA outputs. However, if your playback device uses RCA, there is an RCA to 3.5mm adapter included in the pack.
Sound quality and performance
The audio quality is standard, to say the least. The receiver does not alter your music in any way. It's just like you were playing directly via a cable.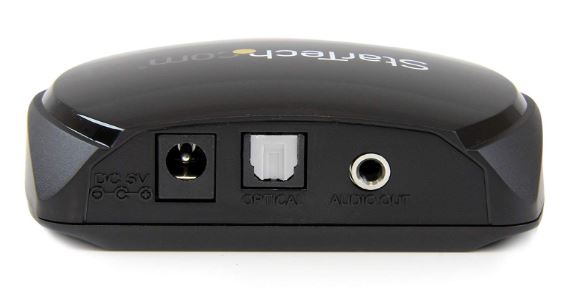 If your music has a lot of bass and your playback can support it, you can be sure that Startech BT2A will produce it perfectly.
Also, the Bluetooth 2.0 connection gives you smooth playback up to 10 metres or 33 feet. With music, latency will not be an issue, but when watching movies or gaming, you may notice very little delay.
The AptX codec ensures that the high audio quality is maintained no matter what.
Features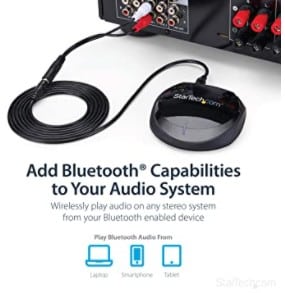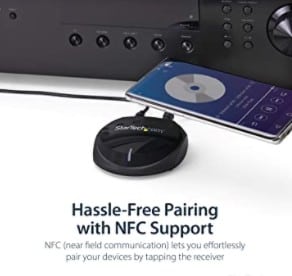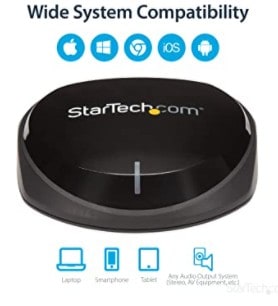 For me, the standout feature in the BT2A receiver is the NFC. It's impressive because it's Bluetooth version 2.0, The NFC enables you to pair your phone to the receiver in less than a second.
If your phone is NFC enabled, just touch the receiver with your phone once, and the pairing is done.
Also, it's thoughtful of the manufacturers to add a 3.5mm to RCA adapter for better compatibility.
Pros:
Comes with numerous cables and inputs offering a good range.
Offers a high-quality Bluetooth range and efficient performance. You can use it with any type of stereo equipment.
Cons:
The cost is on the higher side.
There is scope for improvement for the conventional circular plug.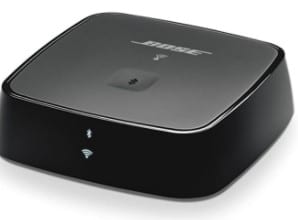 Specifications:
Mounting Hardware – SoundTouch adapter, Power cable, Optical to mini optical cable, 3.5mm stereo cable, 3.5mm female to RCA cable
Speaker Connectivity – Wi-Fi, Bluetooth Wireless
Bluetooth – Yes
Wi-Fi – Yes
Wireless Range – Up to 30' (9 m)
Build and design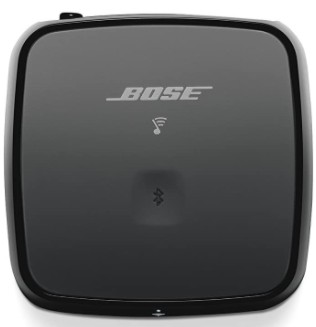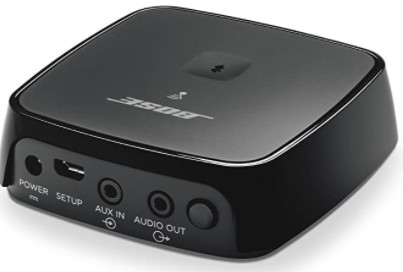 The Bose wireless audio system adapter is also a compact unit, but it's slightly larger than the Anker and Mpow receivers. The body has a black, glossy finish that reminds me of many other Bose gears.
Because of its design, it blends in easily with other media gadgets in the room. While hooking it up, your cables can remain hidden because the ports are at the rear of the receiver.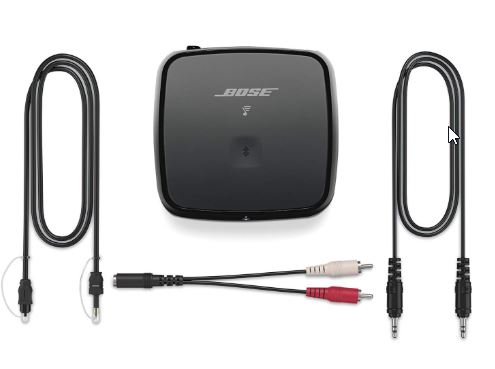 Even though it has a compact design, the Bose wireless audio system adapter is a bit heavy, so I would not recommend it for mobile use. The Anker A3352 and Mpow are more suitable for that.
There is just one button on the top – that's all the controls you get with this receiver.
Sound quality and performance
In terms of sound quality, this Bose receiver does a decent job. It uses the SBC codec. So, to render ultra high-quality audio, you may experience a slight drop in quality.
The SBC codec is not as effective as AptX in terms of audio quality. However, there's the added option of streaming your audio through Wi-Fi instead of Bluetooth.
The Wi-Fi connection retains more high quality without compressing. So, when playing lossless formats, you will get a higher fidelity.
Features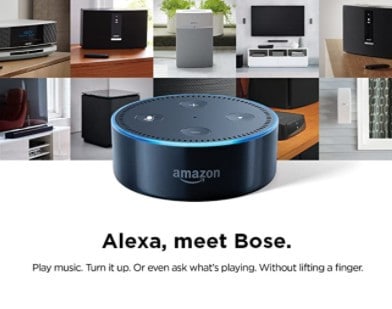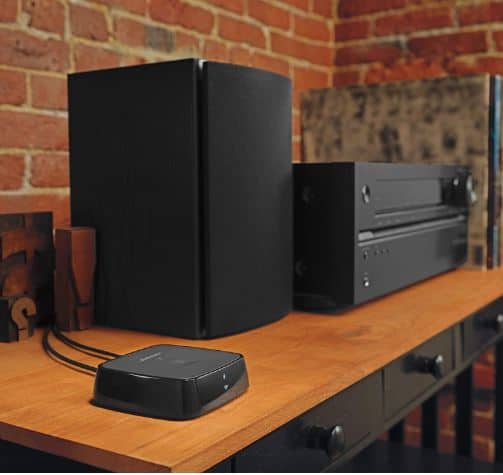 If you're watching a movie or gaming while using the bose receiver for your audio, you will notice a little latency.
Also, if you want to have more control, download the Soundlink app on your phone. It gives you access to features like EQ, volume, and others.
Lastly, the audio receiver gives you hands-free control over your music when you're using Alexa-enabled devices like the Echo.
Pros

:
This is a powerful adapter that offers excellent sound quality and efficient performance.
The design is simple yet elegant, and even compact. You can hide this adapter while playing the audio system if you wish to and even if it is visible still you will find it graceful.
It doubles as FM/AM radio and can also be used as an alarm clock.
The equipment comes with exclusive connectivity features and can be linked to various sorts of gadgets and equipment to avail unmatched performance.
Cons

:
It is a powerful device, but can deliver excellent results if used at home only.
Specifications:
Wireless Music Streaming
12-Hour Playtime
Hands-Free Calls
Bluetooth version – 5.0
Bluetooth range – 30ft
Features – Space-Saving Design/Hands-free calls/Space-Saving Design
Build and design
The Anker SoundSync A3352 Bluetooth audio receiver is another compact unit, just 2 inches long. However, unlike many others, the body build is not made of plastic material.
It's made of aluminum, which can take more drops before getting damaged. Although to be honest, you shouldn't be dropping a receiver often.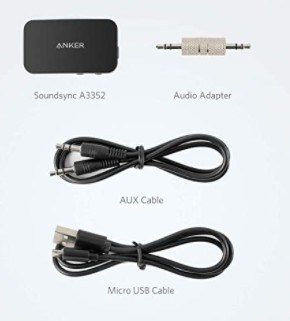 It comes with two cables, a shorter one and a longer one. The long cable measures about 3 feet, giving you freedom to place the receiver wherever.
The control buttons are quite few – they're just three, but they handle much more features. The volume buttons are in front of the receiver.
When you look to the side, you'll find the multifunction button that handles pairing, call receiving, call ending, and a host of other functions.
It may take some time before you get familiar with this button control.
Sound quality and performance
This SoundSync Bluetooth audio receiver is quite loud. It doesn't increase the volume of your audio, but it does not reduce it either.
There are many audio receivers that drop your music volume by a couple of decibels.
Aside from loudness, the audio quality is maintained for up to 30 feet distance, even with one or two obstacles in-between.
Features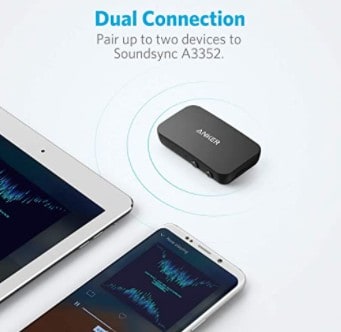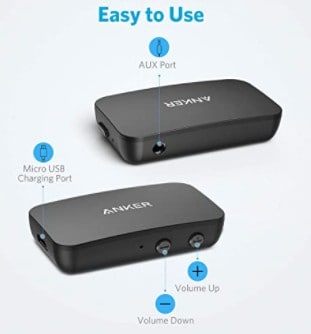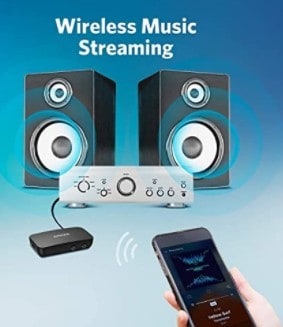 When fully charged, you can keep playing music with this receiver for up to 12 hours. The USB port is there strictly for charging. The charge time is decent; it takes roughly 2 hours to get a full charge.
Lastly, note that the only output port on the A3352 is 3.5mm. To use it with RCA, you need an adapter. Also, there's no digital optical port. Of course, it means you can't use this Bluetooth receiver in some cases.
However, the upside here is that the form factor makes it perfect for use in your car.
Pros
Long battery life of 12 hours gives you a full day's use.
This receiver gives you a loud volume, so you don't have to turn your speaker all the way up.
The compact size makes this receiver fit in almost any location and use case.
Cons
It has just a 3.5mm output; you can't use it with optical digital devices.
Memorizing the control functions may take some time.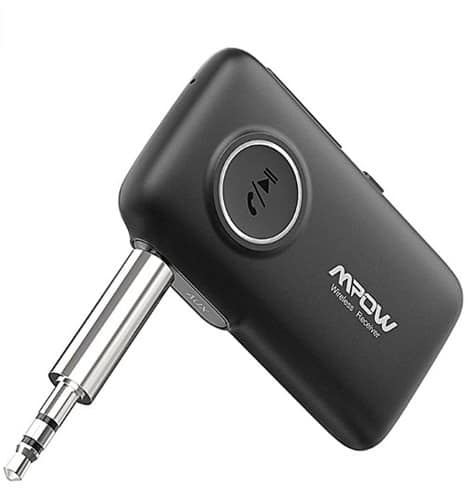 Specifications:
Item Weight 0.68 Ounces
Total USB Ports 1
10 hours' play and talk time, 120 hours' standby time, 1.5 hours to fully charge it.
Bluetooth range – 30 ft
Compatible with smartphone, MP3, tablet, etc, ideal for home or car audio systems.
Build and design
The Mpow Bluetooth receiver is another super compact unit that instantly makes your speakers or headphones wireless. It's a black, small receiver with "Mpow Wireless Receiver" printed on it in white.
If you need a reference to know its true size, think of a regular car door remote – it's not much bigger than that. The only control button is at the top.
It's a multifunction button that handles the pairing, call receiving, and to play/pause your music.
Moving on, let's take a look at the inputs and outputs. The only output option here is the 3.5mm port. You can either use the removable 3.5mm jack or the short cable.
Sound quality and performance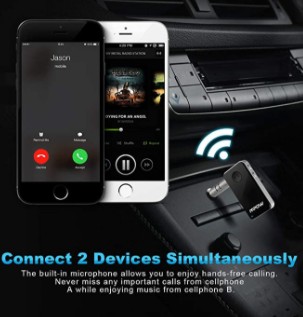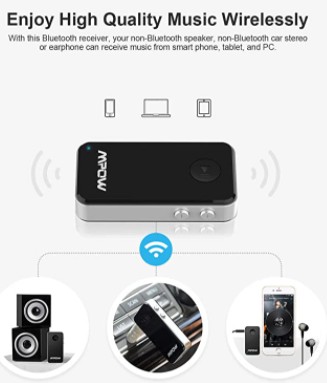 This Mpow Bluetooth receiver gives you a crisp, clear sound over great distances up to 66 feet. The Bluetooth only offers the standard connection, with no AptX or other fancy codex.
This means that when watching movies, you may notice some slight latency.
This shouldn't hurt much for movies, but when playing a game like COD or Fortnite, those milliseconds could be the difference between life and death.
Even though there are no special codecs, this receiver will retain the quality of most of your audio, except you're playing high quality lossless formats.
Features
The dual connection feature is one of the things that make this Mpow Bluetooth receiver special. You can connect it to two different devices at once. So, you can hook up both your phone and laptop to your bookshelf speakers.
It gets even better. When you connect your phone and computer to the receiver, you can answer your calls hands free. The multifunction button is there for your calls and voice assistant activation.
The battery lasts for 12 hours if you're playing music the whole time. If not, the standby time is 120 hours. Here's the best part – It takes less than 2 hours to get fully charged. 15 minutes charge gives you 2 hours of playback.
Pros
With the battery fully charged, you can go on a road trip with this receiver. It lasts up to 12 hours.
Dual connectivity enables the receiver to connect to your phone and laptop at the same time.
The connection is strong over long distances up to 66 feet.
Cons
One button does different functions, so it may take some time for you to master it.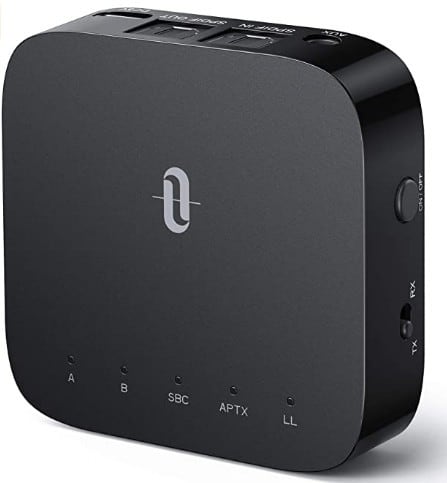 Specifications:
SBC, aptX, aptX Low Latency codec
AUX & SPDIF IN/OUT
Digital & optical audio in/out
24hrs constant use
Bluetooth 5.0
aptX Low Latency codec
Inputs – 3.5mm audio jack and digital optical jack
Build and design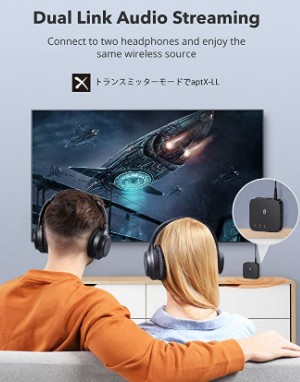 The TaoTronics Bluetooth audio receiver is both a transmitter and a receiver. It's a bit bulkier than the other receivers on the list. This is expected because it has more functions.
It should be super easy to place this in your home because its black color makes it almost unnoticeable. There are a few controls on this audio receiver.
Aside from the on/off switch, there's a switch that enables you to change the primary function of the device from transmitter to receiver and vice versa.
You can also put the switch in the middle to have a bypass. This way, you can connect your phone or laptop to your TV simply by using cables.
Sound quality and performance
The Taotronics transmitter-receiver has it all when it comes to sound rendering. It does not drop your audio quality at all. It uses the AptX Low Latency codec.
The regular AptX codec gives you high-quality audio. However, the AptX Low latency codec makes sure that you have zero lag when watching movies or playing games.
What does this mean?
Now, you can play fast-paced games like PUBG and Fortnite with proper sound timing.
Features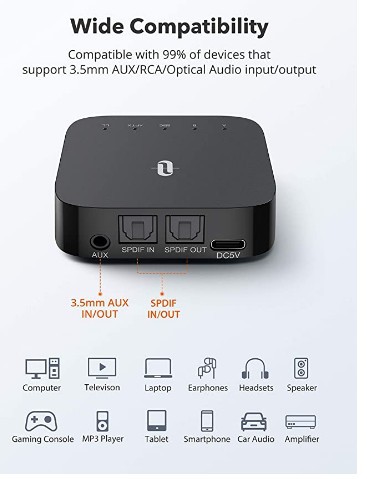 This transmitter-receiver gives you up to 150 feet of Bluetooth distance even with a couple of obstacles. You can connect your device from next door.
Because the Taotronics combines the capabilities of a transmitter and a receiver, you can either use it to connect your phone to your speaker or use it to connect your TV to your headphones. It works both ways.
It even gets better. You can have this sweet connection with two devices at once. So, your TV can be connected to two wireless headphones, and you can hook up your phone and laptop to your wired desktop speakers.
With a playback time of 25 hours, we can call this transmitter-receiver a tireless connector.
Pros
It combines all benefits of both transmitter and receiver
You can use it as a simple passthrough device by using the input and output.
It produces the best quality, low latency Bluetooth sound you can find.
Cons
It's quite larger than most receivers and may be unsuitable for tight spaces or cars.
The extra features make it more expensive than most regular Bluetooth receivers
Specifications:
Connections Bluetooth, USB, NFC
Supported Internet Services Pandora, Amazon Music, IHeartRadio, SiriusXM, Spotify
Item Dimensions LxWxH 1.89 x 1.89 x 0.94 inches
Bluetooth range – 33 feet
Build and design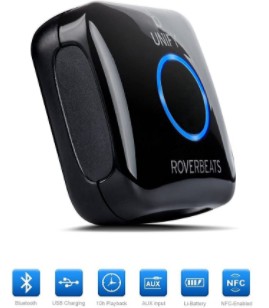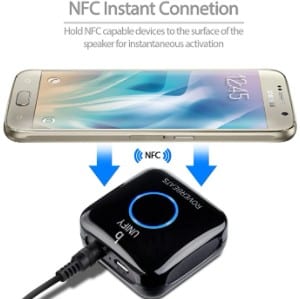 The Etekcity Bluetooth receiver is a sleek, small unit that instantly adds Bluetooth compatibility to any playback device. Many users have differing opinions about the design, but I like it. It's sleek, looks classy, and does not get in anyone's way.
It's dimensions are less than 2 inches on all sides. Aside from its small size, it's also lightweight. If you're carrying this audio receiver around, be careful not to lose it.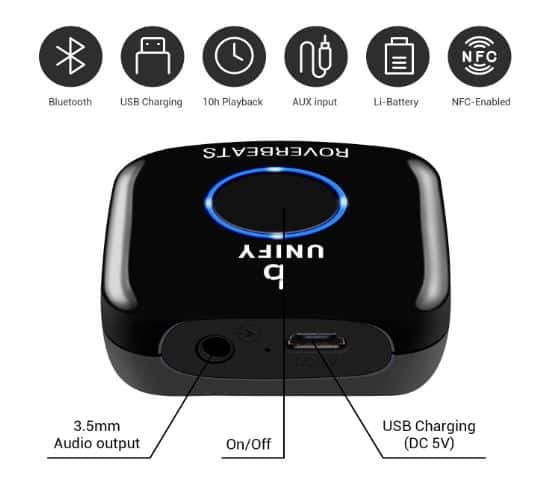 The top panel is a classy combination of black, silver, blue and white. Although the receiver only has a 3.5mm output, it comes with an adapter that enables you to connect it to RCA speakers.
Sound quality and performance
Everything about the audio quality of this Bluetooth receiver points to a regular output at best. The SBC codec ensures that you get standard audio quality. The difference only comes when you play high-quality lossless audio.
This shouldn't make a difference for most users because they rarely work with lossless audios.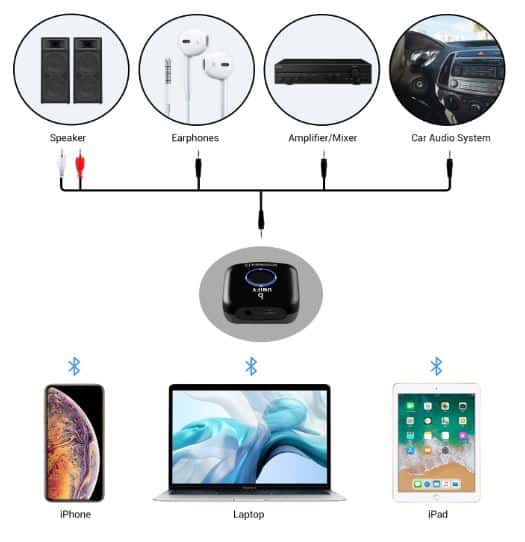 The only area where this codec is found wanting is in latency. If you're playing fast-paced games or watching a movie, you may notice a slight lag in audio and video sync.
Features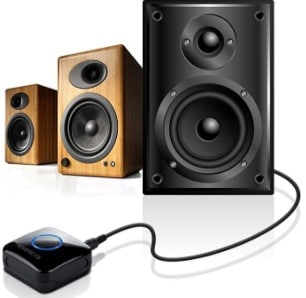 The Etekcity Bluetooth receiver has the NFC feature. That's another way of saying "pairing made easy". You can easily pair your NFC enabled phone to the receiver by simply tapping them against each other.
That's not all. The battery, when fully charged, lasts for 10 hours while taking 2 full hours to charge. The Bluetooth range gives you up to 33 feet of freedom before the signal starts breaking off.
Pros:
You can connect this device instantly to all sorts of phones with NFC, and it consumes very little energy. It is because of that of version 4.0.
Efficient data transmission rate between the audio receiver and a Bluetooth device.
Function up to 10 hours and requires only two hours to charge the battery.
Cons:
The audio output generates a remarkable noise when linked to a USB port.
The level of audio tends to be slightly low at times.
Might be the auto connect feature may work only 8 out of 10 times. That you can know only when you use it.
Specifications:
Bluetooth 4.0 (backward compatible with 2.1+EDR)
Support A2DP profile and store up to 8 paired devices
Auto-reconnect to last paired device during power-up
FastStream & Low Latency codecs ensuring synchronized audio during video playback
Build and design
This Bluetooth receiver is another compact unit that makes your headphones speakers and car stereo Bluetooth enabled. The only output port is the 3.5mm. There's no compatibility with digital optical devices.
To be honest, though, there's really no space in the form factor of this Bluetooth audio receiver to accommodate such ports. Also at the side of the receiver is a Bluetooth pairing button.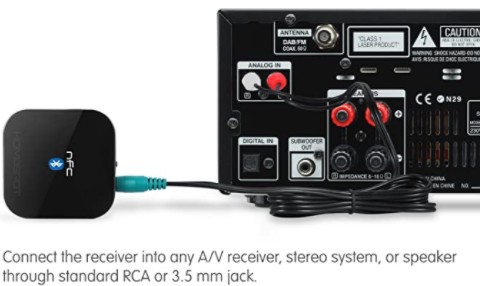 If it's important that you connect this receiver to an RCA input unit, you can get an adapter to help you with such connection.
Sound quality and performance
The Homespot BTADP-233 Bluetooth audio receiver carries your audio and delivers it to your playback system in high fidelity.
However, in the spirit of full disclosure, I would say that there are some audio formats that may lose some quality when you play them from hi-fi systems like floorstanding speakers.
Having said that, it is also true that most people don't typically listen to such formats or through such systems. Your run-of-the-mill speakers will not show this difference.
Additionally, there's a slight reduction in the gain when you stream your music through this Bluetooth receiver. It's not a deal breaker though, since you can make up for it by turning up your speaker volume.
Features

Without obstacles, this Bluetooth signal can travel up to 66 feet. In real world use, there could be solid obstructions that lower this possibility.
The NFC feature is the highlight of this receiver's capabilities. Simply tap your phone on the receiver and pairing is automatically initiated. This method takes just a second to pair up your device.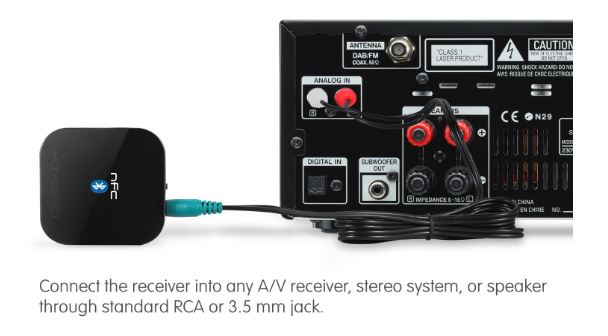 Pros

:
You can play high-quality sound with the A/V receiver.
Allows you to move freely to all locations and conveniently control as well as stream music from around 67 feet / 20 meters away.
It is a highly compatible device that can be linked to all sorts of Bluetooth enabled devices or gadgets.
You can play excellent sound wirelessly with Bluetooth-capable smartphone, iPhone, iPod Touch, Android, and iPad.
Cons

:
You may find it a little pricey than other audio receivers available in the market.
Specifications:
Connections – NFC, 3.5mm Audio Cable, 3.5mm to Dual RCA Audio Cable, Micro-USB Cable.
Built-in microphone for hands-free phone calls
Bluetooth range – 33ft
Battery life – 10 hrs
Stand by time – 180 hrs
Build and design
The Aukey Bluetooth audio receiver is another compact unit that turns your speakers and headphones into wireless devices. It's powerful enough for your home stereo and small enough to fit in your car.
The only control on the receiver is the multifunction button. It's large, right at the top. This button is for pairing, hands-free calling and other functions.
That's not all. The only output option available is the 3.5mm port. The digital optical port obviously will not fit in this form factor. For added compatibility, the manufacturers added a 3.5mm to RCA adapter.
It enables you to connect the receiver to powered speakers and amps that use such input.
Sound quality

This wireless audio receiver uses the standard codecs only, nothing fancy. In most use cases the standard codecs give you enough in terms of audio quality.
The only time when they seem inadequate is when handing lossless formats and playing through high powered speakers like floorstanding speaker systems,
Also, The Bluetooth 5.0 connection gives you up to 33 feet distance with good streaming quality.
Features

The NFC connection option makes it super easy to connect your phone to the receiver. If your phone has NFC, simply tap it on the receiver to initiate pairing; easy-peasy.
The Aukey setup comes with a built-in mic for hands-free calling. This is perfect for car use. You can receive your calls and talk without holding your phone to your ear.
Pros

:
This is a powerful device that comes with exceptional sound quality. It needs a very short time to charge and hence is an ideal device to carry along.
The setup is really very simple and with the dual aux output, you can connect it to two speakers at a time. You can even connect it to headphones from two distinct verticals at the same time.
It offers high performance from a distance of 20 meters away.
Cons

:
Might be the Bluetooth connectivity get spotty after long hours of usage.
While the setup is simple, connecting the device with each other might consume some time, which can be frustrating if you are in a hurry.
Specifications:
Multipoint Bluetooth
One-push pairing button
Reliable 15-meter line of sight range
Bluetooth Audio Adapter
RCA to 3.5 mm cable
Power cable
Build and design
Even though the logitech Bluetooth receiver is made of plastic, it feels solid and durable. The design is simple and straightforward. Sue, it does not look like much in terms of beauty, but it does its job and has a sturdy build.
While plugging on the inputs and outputs into the rear of the receiver, it doesn't move around much like some others. The rubber base helped its grip on the surface.
At the top centre, you'll find the pairing button with the Bluetooth logo right on it. The outputs available are the RCA and 3.5mm ports.
Sound quality and performance
The sound quality we have here is similar to most Bluetooth receivers, at least for mp3 and similar formats. However, if you're playing lossless formats like wav, you may lose some quality.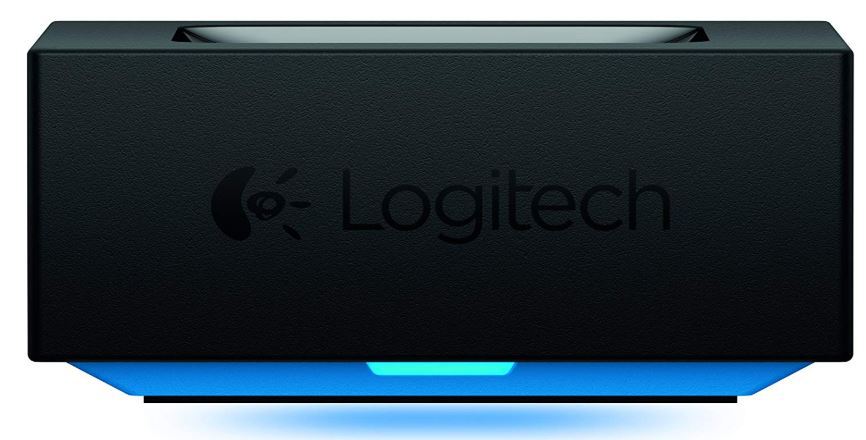 The higher the quality of the playback speakers, the more audible the differences. Having said that, most users won't even recognize this difference. It's the latency that they may notice.
With the SBC codec used in this receiver, you may notice some audio lag when watching videos on your phone. It's nothing too serious though just a few milliseconds.
Features
The Logitech Bluetooth audio receiver is compatible with any phone computer or tablet that has Bluetooth. It works with both powered and unpowered speakers.
What's more? You can stream music from your phone from a distance of up to 50 feet. Surprisingly, this audio receiver gives you some multipoint Bluetooth connectivity. It's surprising at this price point.
This connection feature enables you to pair two devices with the receiver at the same time,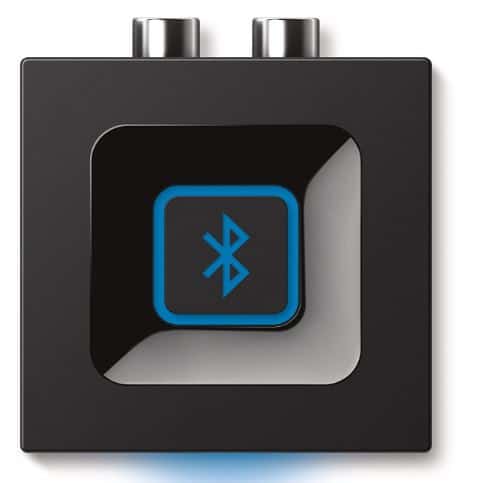 Pros

:
It is a powerful device that can be connected to all sorts of devices and gadgets. You can connect it to your TV and desktop as well.
The setup is simple and even the connectivity is very powerful.
It offers efficient music streaming and is ideal to use in the home and other places as well.
Cons

:
It lacks efficient battery and hence does not operate much longer as compared to other devices in the market.
Things to look before buying Bluetooth audio receivers
Buying an audio receiver can be one of the biggest issues for a buyer.
It is because the buyer is putting a good sum of his earned money into this, and hence, you intend to buy the perfect receiver that can serve you with all sorts of features at great affordability.
If you are planning to buy a Bluetooth enabled audio receiver for yourself and don't want to make a mistake, then there are numerous factors that you must take into consideration before making a final investment.
Level of frequency
The ultimate aim of a Bluetooth receiver is to offer users with lasting performance and high sound quality.
So, you must evaluate the effectiveness of the Bluetooth receiver and pick a piece that is capable enough of offering you high performance.
Check for the range of the device and ensure that the receiver is able to offer you with high definition quality of sound.
The better the level of frequency, the better will the receiver would work for you. The level of frequency of the Bluetooth receiver holds a range of 20 Hz to 20 kHz.
If you are able to find a Bluetooth receiver with a frequency range between 40 Hz to 20 KHz, then it can be a great option to consider.
Life of the battery
The hours that an audio receiver can work before the need for charging. It is a very important factor, particularly when you are traveling.
Definitely, you would not prefer buying a receiver that turns off every other hour. You must look for a receiver that takes less time in charging and the one, which is able to deliver high performance for long-lasting hours.
This factor is also very important if you wish to listen to a movie or to sound that you don't want to switch off in between.
Price
This is an imperative factor that you cannot overlook! The most important thing is to make sure that you buy a receiver that suits your pocket and the one, which is affordable to you.
So, before you pick any receiver or plan to buy one, then it is essential to frame a budget in advance.
It is not necessary that you will be able to avail a good audio receiver only if you are spending more money.
You must be sure that the Bluetooth receiver that you intend to plan is of high-quality and is able to serve you features that are worth the value.
In short, you should go for a receiver that offers you with good features at affordable prices.
Additional features
Bluetooth audio receivers are efficient devices that offer you the convenience to listen to your favorite sound without the need for additional wires or connections.
It is not necessary for you to have sockets around in order to use this receiver.
Another amazing benefit of such receivers is that they are portable and can be carried around easily.
These receivers have great battery life and hence you don't have to recharge them again and again in order to use. You must check for these additional features before buying a receiver for yourself.
Read Also: How to Fix Bluetooth Lag in Car? – 8 Super Quick Solutions
Compatibility
There are powerful Bluetooth audio receivers available in the market that are water-resistant and can be used to stream the music with any of the devices.
You must, therefore, pick for a receiver that is equipped with all such features and that is compatible with various devices, which you use for listening to your favorite sound.
Bottomine
So, these are important factors to consider before you buy a Bluetooth audio receiver. By considering these factors, you would be able to buy the best device that is able to serve you with numerous features and within your budget limit.
What is a Bluetooth audio receiver?
A Bluetooth audio receiver is an adapter that allows you to connect to any speaker or headphone via Bluetooth. When it's connected to any device, it gives the device the wireless function.
What to look for in a Bluetooth audio receiver
Make sure it has the correct output ports that are compatible with your headphones or speakers. If it doesn't make sure there are adapters you can use.
How do you play music through Bluetooth receiver?
pair your phone or other device with the receiver, then connect the receiver to your headphones or speakers via the correct cable.