What are the best DAPs you can get without breaking the bank?
Is it even possible to get a quality DAP without spending over $200?
If these are the questions on your mind, then this article is for you.
Here, I review the top 5 high resolution audio players under $200. I also look at their features and how each of them gives you a unique music listening experience.
I'm sure that you won't have any trouble choosing the best for you by the time you're done with the article.
So,
Here are the best 5 DAPs under $200
Specifications:
Connectivity Technology Bluetooth, USB
Color Black
Component Type Battery
Supported Standards MP3
Media Type Micro SD
Memory Storage Capacity 1 TB
Screen Size 2.45 Inches
Battery Life 12 Hours
Build and design
The AP80 comes with a 2.5-inch screen. The screen covers most of the front of the player with its crisp and colorful display. It also has a smooth touch to it. It responds to touch like a decent smartphone.
There are some control buttons, but you'll get most access through the touch screen. The buttons on the side of the player are play/pause, next and previous.
If you have the AP80 in your pocket, you don't have to bring it out before switching to the next song or pausing your music.
The player is quite portable – it will fit into an average adult's palm conveniently. It can also go into your pocket if you're outdoors. However, it has sharp corners, so you may have a considerable pocket bulge.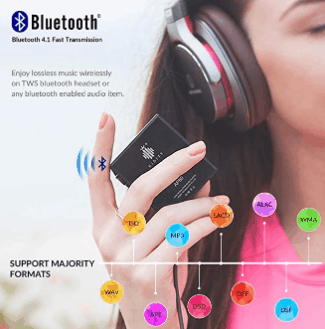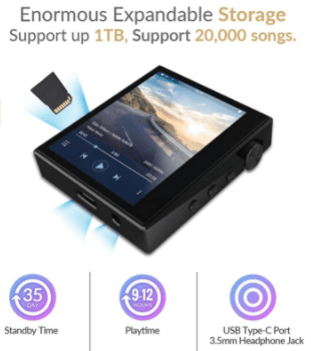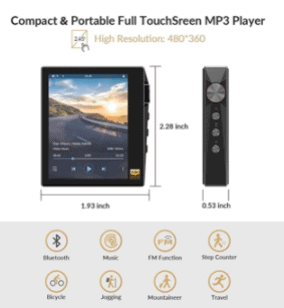 Also, its Bluetooth 4.1 gives you up to 33 feet or 10 metres distance. So, if you're in the house, you don't need to carry the AP80 around, just get Bluetooth headphones.
The battery lasts for 11 hours on average – so it should be enough for your day out. However, the playback time will reduce the longer you have the display on. So, try to switch off the screen as much as you can during your day.
The HIDIZS AP80 player does not come with any internal storage or micro SD card. But it supports up to 1TB memory. That's enough to hold several high quality songs.
Other notable features
Of course, what you eventually hear from any player depends on what headphones or speakers you're using. But with decent playback systems, the AP80 will give you a generally neutral tone.
There's a little bit of warmth in the midrange, but it's soft and does not alter your audio significantly. The bass and treble are clean and flat with good extension.
You can play your music directly from the AP80 or use it as a USB DAC. The USB Type C and 3.5mm ports enable you to do this.
The player supports most lossy and lossless formats including DSD, FLAC, WAV, WMA, MP3, AAC, and others.
Specifications:
Connectivity Technology Bluetooth, USB
Color Grayish Black
Component Type Memory, Battery, Display
Supported Standards MP3, AAC, ALAC, AIFF, APE, FLAC, WMA, M4A, WAV, OGG
Media Type SD Card
Memory Storage Capacity 32 GB
Screen Size 2 Inches
Build and design
Don't be thrown by the "mp3" in this player's name. It plays many higher quality formats.
But first, let's talk about the display. It's the opposite of what we have in HIDIZS AP80. The Surfans F20 screen takes less than half of the whole face of the device. That's not an issue since it is not a touch screen player. All the controls are clicky buttons and one volume knob.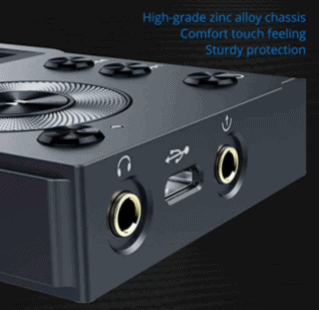 Even though it's not touchscreen, the display is colorful and shows the trak art or album art of the song you're playing.The buttons are clicky, so you're unlikely to press them by mistake.
Also, the F20 has a solid build with a compact, portable frame. It can easily fit in your pocket, alongside your wallet.
The battery gives you 10 hours of playback time when it's on a full charge. It usually lasts that long since there's no complex display to share the power.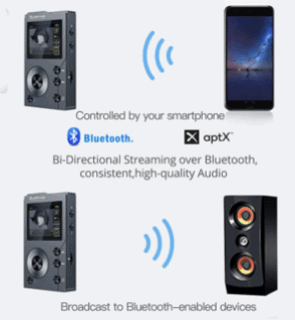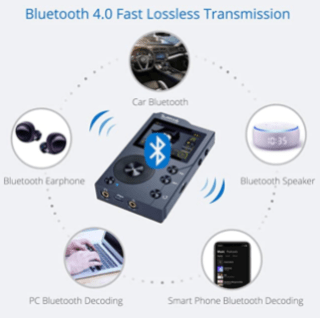 The Bluetooth function comes with the APTX codec. This means that the wireless connection will not reduce the quality of your audio playback. Also, you can get up to 10 feet with the Bluetooth 4.0 connection.
Now, let's move to storage. This player comes with a 32GB SD card. So, you can start gathering your favorite songs as soon as you get it. But it supports up to 256GB. So, if you want more space, get an SD card with more space.
Other notable features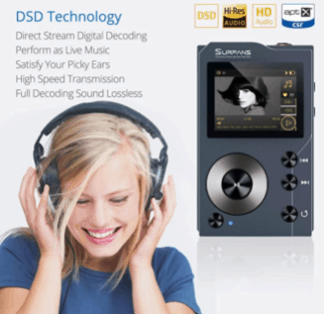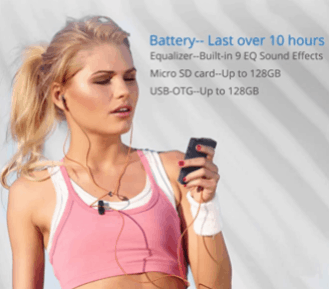 The default sound in this player is quite balanced. No bass boost or recessed mids – just your natural sound as it is in your original music. If you want different sounds, you may explore the different EQ presets. They are mostly genre-specific, so you should find one that works.
Asides from being an audio player, the F20 can work as a USB DAC, or with your phone as a USB OTG.
Of course, there's the 3.5mm aux port for direct playback.
If you have very high impedance headphones, you will need an amp to power them. This player can effectively support headphones with impedance up to 150 ohms. That's most consumer headphones.
Like the AP80, this player supports both lossless and lossy audio formats including FLAC, DSD, AIFF, OGG, MP2, MP3 and others.
Specifications:
Connectivity Technology Bluetooth, Wi-Fi, USB
Color Black
Component Type Battery
Supported Standards MP3
Media Type Micro SD
Memory Storage Capacity 2 GB
Screen Size 3.2 Inches
Battery Life 13 Hours
Build and design
The M6 display screen is a little larger than most. The 3.2-inch display has a bezel-less panel. The screen is crisp and clear from different angles, so you don't need to do much tilting before you get a good view.
All the controls can only be accessed via touchscreen. But it also has volume adjustments by the side, so you can turn it down fast when it's in your pocket.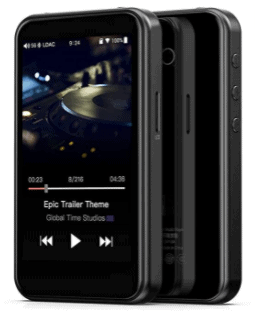 Its wireless features include Bluetooth and WiFi. The Bluetooth is version 4.2 and gives you clear playback at 33 feet distance. The Bluetooth codec is AptX-HD, which guarantees that all your hires audio will be properly transmitted over the connection.
If your speakers use WiFi connection, you should try it, it gives lower latency than Bluetooth.
Also, the Fiio M6 gives you 12 hours of playback when it is fully charged. With a fully charged M6, you're good to go for the whole day.
The player comes with a 4GB of internal memory, although the apps and operating system will take half of that. To expand the memory, you need to add a microSD card. The Fiio M6 supports up to 2TB.
Other notable features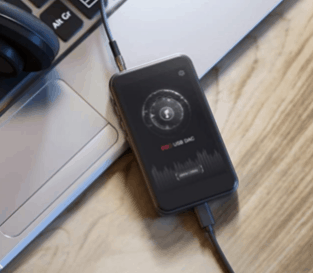 Assuming you have neutral sounding speakers or headphones, you will feel the light midrange warmth, especially in jazz and other acoustic music.
The treble is also a bit recessed, which I find pleasing because many budget headphones have bright trebles. So, there's a balance at the end.
[You can connect the Fiio M6 to your headphones, speakers, or amp directly via the 3.5mm aux. That's not all. You can also use the player as a USB DAC, via the Type-C port. If your headphones or speakers have an impedance of 300 ohms or less, then you're covered. Anything above that, you'll need to add an amp.]
The player uses Android OS, so you can install different streaming apps like Qobuz, Deezer, Spotify, Tidal and others.
Like other players on our list, it supports lossless formats like DSD, FLAC, WAV, and ALAC. It also supports lossy formats like OGG, MP3, and WMA.
Specifications:
Transmitter frequency: 5.2 / 5.8 GHz Dual Band
Frequency response: 10Hz ~ 23 kHz
Signal-to-noise ratio: >80dB
Audio Output Level: 2V
Dimensions (transmitter & receiver): 2.6" x 2.3" x 1.1" (66mm x 59 mm x 29 mm)
Build and design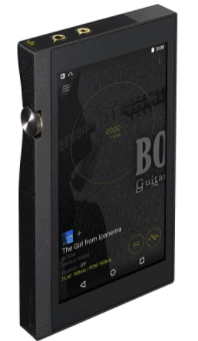 The Onyko DP-X1A has the largest screen of all the hi-res audio players on our list. It has a 4.7-inch screen, the same as an iPhone 6. So, you expect that all of your controls and features will be accessed by touching the screen.
But to improve user experience, the manufacturers added a volume wheel and playback control buttons. This way, you can access the most important controls when the screen is off.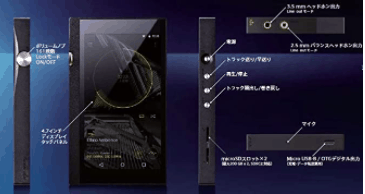 It's not the most portable player, especially when you still have to carry your phone too. But if you're going on long road trips or flights, it's worth the extra load.
Speaking of long trips, once you have a full charge, you can keep playing music for the next 16 hours. You don't have to worry about recharging till you reach your destination.
It has an internal storage of 64GB, and can support up to an additional 400GB. It has two SD card slots, but all the storage must add up to 464GB or less.
Other notable features
The depth and width of the soundstage in the DP-X1A are impressive. If you're playing music that is rich in tonality, be sure that this player will deliver those rich sounds fully. However, your speaker or headphones also have their roles.
The bass and midrange are neutral, while the treble has a little bit of lift. It's almost unnoticeable, but it becomes more pronounced when you're using treble-heavy speakers or headphones.


It works perfectly with all streaming apps, Bluetooth headphones, and any connections using the 3.5mm jack. Also, there is a balanced 2.5mm port option if you have the correct connecting cables.
Lastly, the DP-X1A supports all audio formats like the rest of the players on the list. But it adds one more – the most recent MQA format. So, if you have MQA songs downloaded on your storage, this is one of the few players that are compatible.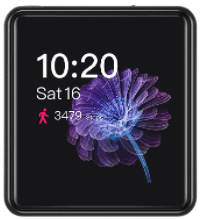 Specifications:
Connectivity Technology Bluetooth, USB
Color Black
Component Type Battery
Supported Standards MP3
Media Type Micro SD
Screen Size 1.54 Inches
Battery Life 13.5 Hours
Build and design
The Fiio M5 is a DAP so compace that you can wear it as a watch. Actually, you can buy the strap separately and wear it on your wrist. That's how portable it is. The 1.54-inch screen has a bright display and is responsive and smooth to touch.
The only two controls you can access without touching the screen are the power and volume controls. But the power button also acts as the play/pause and call answering button.


With the Bluetooth connection, it works as both transmitter and receiver. This means that you can play music from the Fiio M5 to your speakers and headphones. You can also stream music from another source onto the player.
When the Bluetooth and screen display are off, you can have up to 10 hours of playback. The duration reduces the more you have Bluetooth or the screen on.
[Also, the DAP does not have any internal storage. That's not surprising considering its size. But it supports up to 2TB SD cards. ]
Other notable features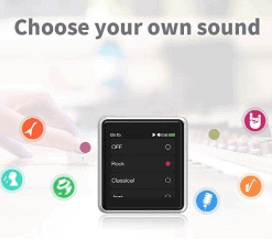 The Fiio M5 almost has no sound characteristic of its own. It's just laid back and delivers the music as neutral as possible.
Something a lot of audiophiles would like very much. Aside from playing directly from the M5, you can use it as a DAC for your computer by connecting through the USB.
Also, like I mentioned earlier, you can use it to turn your wired speakers or ams into wireless by using it as a Bluetooth receiver.
Read our popular posts on audio format:
Conclusion
So far, we have reviewed 5 different DAPs.
Of all five, my top 3 picks are the Surfans F20, Onkyo DP-X1A, and Fiio M5.
I'm not really a fan of medium sized touchscreen devices.
Surfan F20 does not have any touchscreen options, while the Onkyo and Fiio DAPs and either large or super compact.
I especially like the option of wearing the Fiio M5 as a watch. That way, I just have my phone to carry.