What is the best keytar to go for right now?
This is the question on your mind if you're looking for a keytar to buy.
While it seems like a simple question, the answer is not so simple. The best keytar for you is different from the best for another person.
In this article, I will give you the three top choices in the market today. Also, I will give a review of what makes each of them unique. Certainly, you will find one that is perfect and suits you whether you're a beginner or pro player.
So, what are the best keytars that you should buy? Let's find it out.
Top 3 Keytars reviewed
The Alesis Vortex Wireless is a Midi Keytar that has no internal sounds of its own. Just like regular Midi keyboards, it makes sounds by connecting to another software or hardware synth.
It has 37 keys – that's 3 octaves, giving you some freedom of choice of pitch while maintaining a compact form.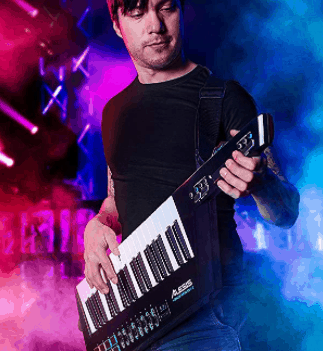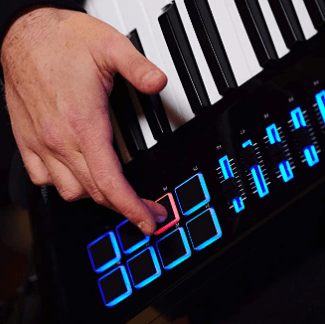 The keytar is easy to carry and wear. It has a tilt feature that gives your sound a certain behaviour when you tilt the keytar up or down. This may be a vibrato or a filter sweep. Whichever controls your program, it adds more flexibility to your performance.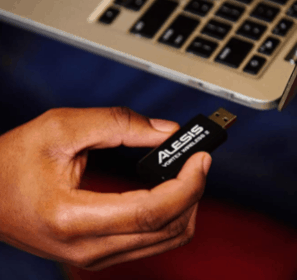 Let's talk about the wireless feature. The Alesis Vortex gives you freedom of movement when playing with its wireless option. It comes with a USB dongle that you insert into your computer. That USB serves as the signal receiver.
Speaking of computers, a dual core PC or core duo MAC is the minimum required processor specification. But for the best performance, you should aim for Core i5 or i7 for PC.
Alesis has made sure that you don't have to go looking for synth plugins before playing thor keytar. Along with the Vortex Wireless, they have added Hybrid 33, Loom 2, Vacuum Pro, and Xpand! 2. The sound banks in these VSTs are enough to choose and combine from.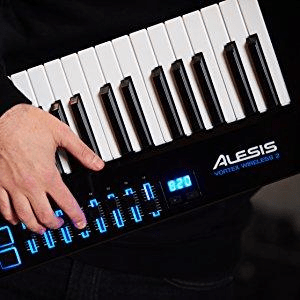 Also, they added Ableton Live Lite and a couple of other DAWS that can host these VSTs.
So, how do you choose the sounds you want?
You don't have to keep going to your computer. You only need to program them into the keytar. You can program up to 225 unique sounds.
The 37 keys are velocity-sensitive and have after-touch impact. Also, the 8 trigger pads are soft and feel super smooth. Some people may prefer them clicky so that you don't press them by accident while performing.
Pros
The tilt sensor enables you to add extra special effects during your performance.
All the sliders, pads, and controls are programmable and assignable giving you full control.
The LED backlights make the keytar look unique during a performance.
Cons
The trigger pads are soft, so you can press them by mistake while performing.
Can't work on its own – it needs to be connected to a computer or another synth.
Bottomline: If your computer has the requirements to work well with the Alesis Vortex Wireless, then go for it.
The Sonogenic is an excellent choice if you're buying your first keytar. It does not confuse you with too many features and functions. And it gives you a fun way to start playing the keytar.
Like many keytars, the Sonogenic has 37 keys, all of which are velocity-sensitive. However, the keys are a little smaller than regular keyboard keys.
If you have big hands, your fingers may trip a little at the beginning, but you'll get used to it quite fast.

The advantage of having small keys is that the whole keytar is more compact, and you can reach all keys without stretching. It's also quite lightweight so carrying it on your shoulders should be convenient.
The Yamaha Sonogenic Keytar comes with 30 sound presets. Some of these sounds are good enough for standard performances while others are a little lacking.

To expand your choices of sounds, you can easily connect the USB to your computer to access VST sounds from your DAW.
Also, the keytar is wireless, but you can only enjoy the Bluetooth MIDI connection while using the mobile app. The built-in speaker in the keytar is small. It's only fit for personal practice. For louder sound, you have to connect the keytar to a speaker or amp through the line out.
One standout feature of this speaker is the feature that enables you to play music through the keytar. You can hook up your phone to the keytar and perform with music as the soundtrack, just like in karaoke.

Also, if you switch on the Jam option, you can impress your audience by playing any song. Any key you strike will come out right using the chord tracker tool.
There are no programmable buttons or trigger pads here. But there are effects that spice up your performance like sustain, pitch, modulation, octave, transpose, chorus, reverb, and others.
Pros
Lightweight and easy to carry for a long duration.
Great for beginners
Cons
Keys are smaller than the standard size.
It has no trigger pads.
Bottomline: If you want to buy your first keytar, the Yamaha Sonogenic is a great option. It helps you learn and have fun at the same time.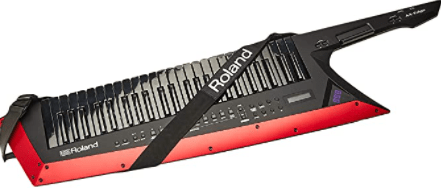 The Roland Ax-Edge will probably catch the most attention on stage out of all the keytars on this list. The design is striking not only in shape but also in the colors.
It comes in a red and black combination or white. The red and black option has all-black keys while the white keytar has the traditional white and black keys.
Speaking of keys, the Ax-Edge has 49 keys, which makes it a 4-octave keyboard, and not 3 octaves like the others on the list.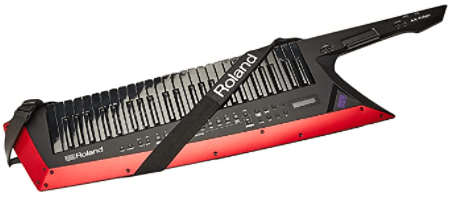 No doubt, this gives you more freedom during performance, especially for seasoned keyboardists or pianists trying the keytar for the first time. The other side is that it adds to the bulkiness.
Even with the 49 keys, this Roland keytar is convenient to carry by the average adult.
For easy reading, there are two displays. One shows you the patch number of the current sound where your eyes can easily pick them up.

Aside from the 49 keys, this keytar also has 7 assignable buttons and controls for sustain, portamento and unison. Also, there are two assignable wheel and volume dials.
You can connect the keytar via a USB to your computer VST for sound. But that's for more advanced users, because this keytar gives you over 500 sound presets on its own. I'm pretty sure it will take you some time to go through those.
Aside from connecting via USB, other options include the 5-pin MIDI, Bluetooth MIDI, and USB memory stick.

The Bluetooth MIDI enables you to use the Ax-Edge with your phone via the mobile app. If you have a memory stick containing other sounds, you can hook it up to the keytar via the provided port.
Lastly, the batteries last for 4 hours. If you're not performing on a large stage, you can simply plug it into power.
Pros
It has an input port for the pedal.
Solid performance standard sounds.
It can be used as a vocoder with the mic input.
Cons
Slightly bulkier frame than other keytars.
Bottomline: If you want the full performance standard and feeling of playing a keytar, then Roland AX-Edge is the way to go.
Conclusion
This selection covers everyone from beginner to pro keyboardists. So, whether you play in a band or you're just trying to have some fun, there's a keytar that fits your exact needs.
That said, as an experienced keyboard player and producer, I would prefer the Roland Ax-Edge. It sounds professional right off the bat, plus it looks darn good!