Do you like blasting your car speakers whenever you are going for a ride? Have you been looking for some of the loudest car speakers for your car?
| | | | | |
| --- | --- | --- | --- | --- |
| | | | | |
| | | | | |
| | | | | |
| | | | | |
| | | | | |
| | | | | |
Look no further and as we will guide you to your next speaker upgrade.
In this post, we will be talking about the 5 loudest car speakers that will blow your mind away.
So in case you are a car speaker enthusiast, read on and be amazed!
Top 5 loudest car speakers reviewed
Specifications:
6.5" 2-way car speakers (pair)
Hybrid fiber woofer with multi-roll rubber surround | 1" silk dome tweeter
Handles up to 100 watts RMS (300 watts peak power)
Frequency response: 65-29,000 Hz | Sensitivity: 88 dB
Top-mount depth: 2-3/8"
Sound quality and performance
The Alpine R-S65 is a 2-way speaker that features 2 swivel tweeters. Its diaphragm is made from CFRP – Carbon Fiber Reinforced Polymer. This material enables the tweeter to perform up to a range of 45kHz. And for this very trait, the speaker can support High-Resolution Audio playback.
Moreover, the swivel application featured in the tweeters allows it to produce a range of sound that is best-suited for in-car audio performance.
The woofer of R-S65 houses a larger voice coil – 35 mm. The increased size contributes to better motor control that handles the bass output.
The neodymium magnetic structure of the speaker's voice coil helps it in delivering powerful bass. On top of that, the High Amplitude Multi-Roll surround feature also contributes greatly to its bass sounds.
R-S65 also impresses with its mid-bass performance as the use of CFRP widens the dynamic range of the speaker.
But wait, there's more. R-S65 is also known for its cleared vocal sounds along with precisely well-detailed high-end sounds.
Features
R-S65 comes in an all-new design that guarantees sonic excellence in the line of car speakers.
The speaker is capable of handling power up to 100 watts RMS and has a peak power of 300 watts.
The woofer of R-S65 has a Bi-Amp ready design. Additionally, it has a sensitivity rating of 88 dB.
Another important feature of the speaker is its exclusive cone technology. The cone is made from lightweight and high-strength CFRP material. This technology aligns the fibers of CFRP in a similar direction to the cone's curve and shape. The mounting depth is a subtle 2-⅜-inches.
The cone movement has amazing linearity, thanks to its square wire extra-large voice coil. The HAMR feature also keeps a strong control over the cone movement.
Likewise, the carbon-fiber-reinforced polymer dome tweeter also provides a well-balanced high-frequency output.
What do we like?
Much better sound quality than stock speakers
Frequency response in extremely wide
Speaker performance not compromised under high volume levels
What we don't like?
The absence of screws makes it difficult to fit
Extra amplifier or dedicated subwoofer needed for enhanced bass performance
Bottomline: R-S65 is a very dependable car speaker without question. Looking to scrape off your old speakers that came with your car? Don't think twice and get these speakers for the good. A perfectly safe and trustable sound update.
Specifications:
Power Handling: 100Wrms, 300W peak Sensitivity (@ 2. 83V): 94dB
Frequency Response: 40Hz – 25kHz
Voice Coil Diameter: 1-3/16 in. (30mm)
Impedance: 2. 5 ohms
Sound quality and performance
First, let's talk about the tweeters of Infinity KAPPA-86CFX. These 2-way speakers have a modern build quality and are made from high-grade materials. Its Uni-pivot design aims the tweeter straight at you.
Plus, they are placed in the speaker in an angled position. And moreover, after installation, they can even be rotated up to 270 degrees.
How is this helpful? Well, if you want to experiment with sound imaging or adjust the soundstage to your liking, this design feature allows you to do that. Even by mounting the speaker very low on the door, you have nothing to worry about.
Moving on, we can definitely not forget about its built-in woofer. In fact, they are the main reason why KAPPA-86CFX can produce such awesome bass.
KAPPA-86CFX adds that missing punch to the audio with its decent bass output. The amount of bass response generated by this speaker will definitely surprise you. Credit for its deeper bass performance goes to its oversized voice coils.
Even though the speaker has a good midrange, you can also choose to upgrade it by adding an optional midrange speaker and a band-pass crossover. This will change the original 2-way component speaker into a 3-way speaker system with enhanced audio quality.
The oversized voice coils of KAPPA-86CFX also enables it to produce silky smooth and crips sounding highs. It is very well-balanced with the overall sound output.
Features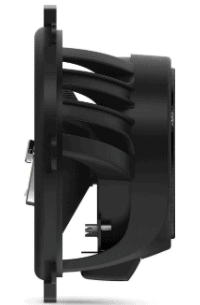 KAPPA-86CFX has an exceptional build, designed with top-grade capacitors and inductors for wider sound detailing and dispersion.
This speaker has adequate power handling capabilities with 100 watts RMS and a peak power of 300 watts. On top of that, the 2-ohm design of KAPPA-86CFX lets it extract every watt of power coming from the amplifier or car head-unit to achieve full-range audio performance.
With an impedance of 2.5 ohms, KAPPA-86CFX can be easily powered by the standard car stereo amplifier without needing extra amplification.
Next, the speaker is rated with an excellent sensitivity rating of 94 dB.
KAPPA-86CFX features patented plus one glass fiber cones in its woofers. They hold their shape under any situation thereby reducing any possibilities of glitches or distortion. Additionally, the cone is supported by a potent hi-roll rubber surround. The mounting depth is 2-5/16-inches.
What do we like?
High sensitivity and very loud output
Low impedance and lesser power consumption
Larger voice coils and great volume handling capacity
What we don't like?
The woofer basket has a flimsy feel to it
Speaker does not come with grilles
Frequency response is narrow
Bottomline: Want a pair of high-performance speakers? Look no further than the KAPPA-86CFX 2-way speakers. Talk about its amazing design and fabulous audio. And all this at a very reasonable price. What else could you possibly ask for in such a great package deal?
Specifications:
Size 6" x 9"
Max. Music Power (Nominal) 600 W (100 W)
Frequency Response 29 Hz to 40 kHz.
Sensitivity (1 W/1 m) 92 dB.
Impedance 4 Ω
Crossover Frequency 4500 Hz.
Mounting Depth 3-1/2"
Sound quality and performance
Pioneer TS6900PRO features two ⅞-inch tweeters. And it's not just about their bullet-looks, their sound is aggressive as well.
These twin tweeters perfectly team up with the woofers and do an excellent job in producing the extremely low and high-end notes with unmatched neatness.
As a result, the bass is well-defined and well-balanced. Even the lower bass response is quite punchy and tight.
The mids sound clear and crispy. As for the highs, they sound bright and the trebles ranges are detailed as well. It has a dynamic frequency response from 29Hz to 49 kHz.
The level of detailing in TS6900PRO is simply stunning and you will rarely come across speakers with such an exquisite soundstage.
Features
The build and design of TS6900PRO are characterized by its large, oversized magnets and steel frames. The internal structural design of the speaker has a lot to do with keeping the sound right.
Coming to power, this speaker has a staggering peak power of 600 watts. With 100 watts RMS, you can crank it up to louder volumes with ease.
But do keep in mind that with high-powered car speakers like the TS6900PRO, you have to pair them up with an amplifier with 100-150 watts per channel at least to get maximum efficiency.
This speaker has a sensitivity rating of 91 dB, which means it is great at handling high-frequency notes.
The cone of TS6900PRO is built with blended pulp and is reinforced by dual urethane for durable surrounds. It has a mounting depth of 3.5-inches.
What do we like?
Great power handling capacity
Precisely designed crossover
Angled sound and detailed soundstage
What we don't like?
Needs a powerful amplifier
Mounting brackets are not included
Bottomline: TS6900PRO is indeed ideal for audiophiles looking for a dynamic audio experience and want speakers with high power handling capacities and high sensitivity. But remember, only getting these speakers won't be enough, and as you'll need an amp that is powerful enough to drive these legends. Also, you will need to get some mounting brackets to fit these speakers.
Specifications:
6 x 9-inch three-way loudspeaker pair.
Plus One woofer cone with rubber surround
Adjustable mylar-titanium tweeter and supertweeter with level control
300 Watts peak power handling; 2 ohm impedance
Three-inch mounting depth
Sound quality and performance
One of the biggest highlights of JBL GTO939 is the one-inch tweeters. They are built from a blend of mylar and titanium, making them extra strong and lightweight.
The tweeter design has been optimized to handle more power, minimize distortion, and perform efficiently under several playing conditions. The resultant audio output from the tweeter is crisper and clearer.
Moreover, the tweeter's UniPivot system allows you to position the tweeters and aim them directly at you. There is also a control switch as part of an after installation customization where you can adjust the dB level according to your choice.
Thanks to JBL GTO939's patented carbon-injected woofer, the speaker has a good bass response. The signal transition between the woofer and tweeter is well-balanced and thus it gives a high bass output.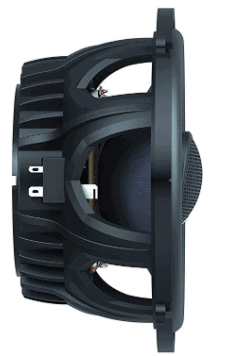 Further, the woofer manages to move more air that helps in producing louder volume and deeper bass quality. Like most JBL speakers, even JBL GTO939 is made for bass and it succeeds in pumping out some great low-end thump to the music, especially hip-hop, EDM, and rock.
By virtue of its crossover with quality components, JBL GTO939 easily separates the mids and highs from the lows. This gives a pretty clean sonic image. The midrange sounds smooth and the highs are crispy as it comes without causing fatigue to your ears.
Sound dispersion is another worth mentioning performance criterion of JBL GTO939. This speaker will disperse the sound inside your car with precise detailing, accurate separation, and a quality soundstage altogether.
Features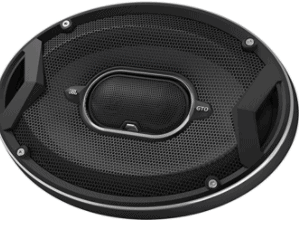 To talk about its build, JBL GTO939 is larger than most speakers of the same size category. It has been designed and built with quality materials that ensure durability while sounding great. The speaker comes with a mounting depth of 2-13/16-inches.
You are definitely going to be satisfied with the power handling capabilities of this speaker. With 100 watts RMS and peak power of 300 watts, JBL GTO939 can deal with some serious power.
And when we talk about power handling, we have to mention the soft-dome tweeters as well. They feature oversized voice coils that have tremendous heat dissipation qualities and can perform flawlessly without any distortion even at the highest volume levels.
Because JBL GTO939 has a low impedance rating, you can easily hook them up with the existing audio system of your car without getting an extra amplifier. Of course, you can always choose to pair them up with GTO series amps and subwoofers for more bass requirements.
JBL GTO939 is rated with a sensitivity of 94 dB and it will use only 50 watts of power to give out its best.
Featuring JBL's very own plus one cone technology, JBL GTO939's woofer cone is made by using special materials and is larger than other speaker woofer cones. This enlarged cone size makes sure it can vibrate the maximum amount of air for supreme bass performance.
What do we like?
Impressive treble range and crystal clear audio
Very efficient crossover functioning
Larger voice coils deliver greater power handling
What we don't like?
Will need a subwoofer or amplifier for extra bass
Not easy to install the grilles
Bottomline: It goes without saying that JBL GTO939 is a great speaker update if you are not interested in scraping off your old car audio unit. These speakers can be easily hooked up with the existing stereo system of your car without any mounting accessories. Also, if you are looking for a pair of speakers that would be ideal to listen to during long road trips, this is the one you should go for.
Specifications:
3-way car speakers (pair)
1/2" PEI domed tweeter and supertweeter
Power range: 6-90 watts RMS (360 watts peak power)
Frequency range: 30-20,000 Hz
Sensitivity: 92 dB
Top-mount depth: 3-1/4"
Impedance: 4 ohms
Sound quality and performance
Kicker 43DSC69304 is a 3-way speaker. Apart from the woofer and tweeter, it also offers an extra sound driver – "super-tweeter". It has been incorporated into the speaker to take care of higher frequencies in the sound spectrum.
In comparison to the factory speakers of your car, 43DSC69304 has a much better tweeter with a significantly bigger magnet. The tweeters are made of polyetherimide polymer that ensures full audio clarity. Due to minimal intrusion by the tweeter, there is no hassle in installing the speakers in your car.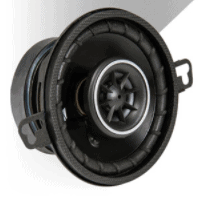 The woofer of 43DSC69304 is made from polypropylene and it is enormous in size. This particular dimensional factor helps the speaker to perform in a wide range of volume levels.
43DSC69304 is known for producing some serious bass output. But in order to get an even deeper bass response, you have to connect them to a good amplifier. It is ideal for playing music from bass-dominated genres.
Even the mids and highs sound damn good in these speakers. Plus, these speakers can be angled in an upward direction so they can throw the sound in your desired direction.
Doesn't matter if you mount them to the lower end of your car door, the soundstage will remain to be crystal clear.
Features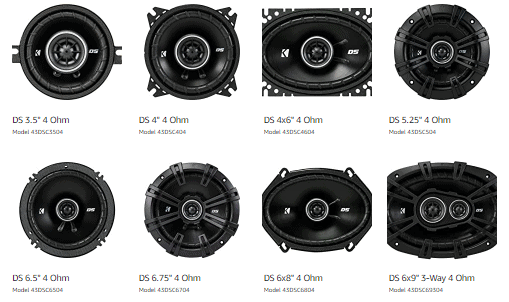 43DSC69304 is built in such a way that it will fit easily in most cars where other speakers won't. Their structure is not very deep so there is minimal interference with other in-car items. Also, the speaker has two grilles for added protection. The mounting depth is 3-¼-inches.
The power ratings of 43DSC69304 are 70 watts RMS and peak power of 300 watts.
Note that the output of these speakers is good enough but there is always an option to hook it up with an amplifier. Connecting them to a DX amplifier will let you increase the overall volume level and improve sound quality. Likewise, a good amplifier system between 90-150 watts RMS is sufficient to quench all the juice out of these speakers.
The sensitivity level of 43DSC69304 is 92 dB and has a frequency response of 30Hz to 20,000 Hz.
The rigid polypropylene cone of the woofer is supported by a ribbed UV-treated foam surround. All this is held together by a stamped steel framework. The woofer is supported by the PEI dome tweeter for an all-out audio attack.
What do we like?
Low profile design easily fits into a number of cars
Negligible distortion at high volume levels
Superior engineering and supreme sound quality
What we don't like?
Mounting holes may have to be modified
Needs added amplification for better low end
Bottomline: Kicker 43DSC69304 is undoubtedly the right choice for those looking for loud car speakers. With easy installation and no wiring requirements, it becomes a suitable speaker option. It can easily run without an amp but the best output can only be obtained by connecting it to a power amp.
Conclusion
Now the time has come when we have to announce the best out of these 5 speakers. Lucky for you, we really like 3 of these speakers and we would highly recommend them.
Number one is the Infinity KAPPA-86CFX. These are without any doubt one of the best high-performance car speakers in the market. From design to sound, they cover all the bases with a price tag that will make you smile.
Next up, we have the Pioneer TS6900PRO. A perfect car speaker for audiophiles who are really into the technicalities of speakers and want them to be loud and powerful beyond limits. But there is a catch. These speakers will need an amplifier to reach their maximum potential.
And lastly, we like the JBL GTO939. The brand value of JBL speaks for itself. And if you get them, you can keep your old car head unit instead of getting a new amplifier altogether. Plus, these speakers are a jackpot if you go on frequent road trips.
This was our review of the 5 loudest car speakers. We have spoken about our favorite speakers. Which one is yours?