I know exactly where you are…
You have some songs you have written and practiced at home, and now it is time to record them.
At the same time, you have a couple of really nice live concerts on BlueRay that you want to watch and learn from those pros, right?
But once again, you have no idea of where to start as far as the hardware needed for these tasks.
You have gone online, and read some articles, but as always, opinions seem to be pretty wild and mixed.
Some people say you need a digital audio interface, some others say you need a computer sound card.
Actually, some forums even mention the need for an audio interface, mixer, USB interface or even a sound card for a laptop.
What are the differences?
Do the words Focusrite Scarlett, USB Audio Interface, Audio Quality, and External Sound Card ring any bells?
Read this and you will know!
Audio Interface vs Sound Card
What is an Audio Interface?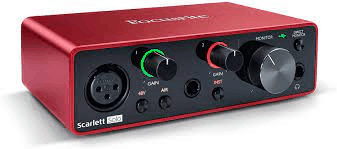 An audio interface is a digital audio converter that connects to a computer in order to record and playback digital audio.
They come in different sizes depending on the number of channels.
Interfaces also serve as headphone amps and Direct Boxes for high impedance (Hi Z) connections from instruments.
Interfaces have different sample rates and bit depth parameters that the user can configure prior to the recording and must be compatible with the Digital Audio Workstation of choice.
These devices are typically used in home studios and professional studios as the main piece of hardware that lets you record audio into your computer and convert it into digital. They serve as a bridge between the physical medium and the digital world.
What is a Sound Card?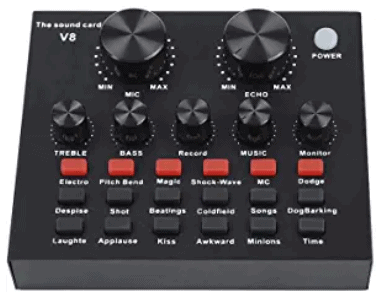 A sound card is a digital audio converter that is normally used for audio playback purposes. However, some of these do include physical analog inputs.
Sound Cards have been designed to be used on desktop-based computers and typically connect as PCI cards inside the computer's case.
These cards have several audio outputs for stereo, 5.1 and 7.1 surround systems so your speakers can be connected into these outputs, normally using 3.5mm connectors.
As far as inputs, sound cards do not have enough inputs to record a drum kit for example. They normally come with single or double input options for basic computer microphone applications.
What Are The Differences Between An Audio Interface And A Sound Card?
Sample Rate and Bit Depth parameters are typically wider on Audio Interfaces because they are designed to record audio professionally, while Sound Cards might only present a couple of sample rate options.
Audio Interfaces normally come with more analog inputs than sound cards as well as connection options such as XLR, TS, and TRS. Sound Cards only have 3.5mm jacks.
Sound Cards normally come with plenty of outputs because they are designed for surround sound playback, therefore a 6 or 8 output configuration is standard. Having those on Audio Interfaces will only happen on larger interfaces.
Audio Interfaces are both external and internal, this means you can buy an interface that sits on your desk and connects via USB, Firewire, Thunderbolt or Ethernet, while you can buy one that connects directly into your PCI slot in your case. Sound Cards on the other hand, are only PCI-based.
DSP is typically only included on interfaces; these Digital Signal Processors let you modify your signal while recording, or after recording, giving your dynamic processing as well as spectrum shaping. Sound Cards do not provide these options.
Headphones with ¼" jacks can only be connected to interfaces because this jack is not available on sound cards. Only 3.5mm connectors are available on standard sound cards.
The possibility of expansion with ADAT or daisy-chaining is only available with certain interfaces, meaning you can increase your channel count by using external preamps or other interfaces connected at the same time. Sound Cards do not permit this operation.
Sound Cards are optimized for surround playback because they already come with the necessary outputs and jacks for these speakers or amps. Interfaces only have independent outputs that would need special routing and configuration in order to use them for surround sound playback.
Interfaces provide Phantom Power at the XLR Input, needed for the Condenser Microphones, while the Built-in Sound Card or External Sound Card will not.
Why do you need an audio interface?

You will need an interface if you are a musician, singer, and songwriter trying to record demos, singles, or even whole albums.
[The connectivity options included on interfaces, will let you
record guitars, basses, vocals, keyboards, and even drums
for your project. So if you are a musician or studio owner, your best option would be getting an interface since it will have Instrument Input, Mic Input, Phantom Power for your
Condenser Microphones
, USB Ports, and XLR Input.]
At the same time, if you are trying to mix pre-recorded tracks for songs and singles, you will also need an interface because it will let you connect your monitors and headphones in order to listen to your work mix.
Why do you need a Sound Card?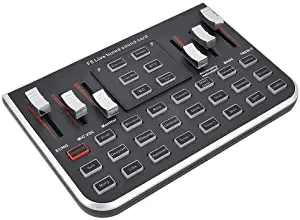 If you are a music enthusiast, music lover, and overall a person that enjoys watching live concerts from your comfortable couch at home, you need a sound card.
The sound card will let you connect your surround sound system to your computer in order to watch (and listen) your concerts on BluRay, as well as streaming your favorite Netflix and Hulu movies or series in surround sound.
Also, if you are looking to simply connect your whole home with a multi-speaker system for low-level sound playback, perhaps for ambient music, the sound card idea would be a great option! Just connect the card to the computer, run the cables to the speakers and enjoy the music.
What are the best audio interfaces and best sound cards available?
Best Audio Interfaces for PC
Best Audio Interfaces for Guitar
Best Audio Interfaces for Gaming
Best Audio Interfaces for Streaming
Best Audio Interfaces for Home Studio
Focusrite Clarett 8P
RME Fireface 802
Focusrite Scarlett 18i20
Best Soundcards for PC
Creative Sound Blaster Z-SE PCI-E
Creative Sound Blaster AE-7 PCI-E
EVGA NU Audio Card
Best Soundcards for Laptops
Creative Sound Blaster X G6
TCHelicon Go XLR Mini
Creative Sound Blaster X G1
Best Soundcards for Recording
AVID Pro Tools HD I/O
Apogee Ensemble
Antelope Audio Goliath HD Gen-2
Conclusion
And there you go! We made it!
So yes, very simple!
If you are a musician, audio engineer, or producer, let me tell you, you will be recording digital audio, mixing, and mastering your songs.
This can only be done with an Audio Interface because this is the only device that has the proper amount of analog inputs, connections, and real-time processing you need.
So, if you want to make music, go for the interface.
Now, if you want a device that will let you listen to your productions once they are released, watch live shows online, or pre-recorded concerts with a surround sound system at home using your computer, go get the Sound Card.
The Sound Card will be great if you just want to listen because it is easy to operate, the speakers are always connected and it is part of your computer. Simply press play, relax and enjoy the concert from your computer.