In a world where there is an increasing desire for audio quality, if you are truly a music lover, a DAC system is worth checking out.
A Digital-to Audio Converter (DAC) brings life into your music. From the moment you connect a DAC to your device, you would immediately notice significant differences.
Though almost all the gadgets we use now come with built-in DACs such as our smartphones, television, PCs, soundcard, and other gadgets.
They are responsible for turning digital sound signals into something that can be perceived by our ears.
Even though all these devices come with internal DACs, they don't give us the sound quality we so much desire, that is where the external DAC comes in.
So why essentially do we need an external DAC since we already have one in our devices? We need them for better sound quality and also for reducing noise considering the electricity running on the board of your system, there is a tendency that they create electrical noise and this can affect your audio quality.
The Audioquest Dragonfly Cobalt and the Schiit Modi 3+ are great DACs you can decide to get to amplify the audio signal from your audio source.
Build quality and portability
The Audioquest Dragonfly Cobalt is the latest DAC from the Audioquest after they introduced their other products, the "Black" and the "Red" models.
It measures just 57mm long and is a bit smaller than its siblings, making it very portable to carry around. It comes with a deep blue finish giving it a more appealing look than just you holding a USB dongle in your hand.
The DAC comes with a cover for the USB side, a led-light indicator that comes in different colors such as Standby Red, Green (44.1KHz), Blue (48KHz), Purple, Yellow (88.2KHz), and light blue (96kHz).
Schiit Modi 3+ is a powerful DAC and truly worth its price. The DAC is just a small size of 5×3.5×1.25 that looks like a flat box.
The DAC has a rubber shoe that makes it sit conveniently on any surface, while it also has this hard or stout look which suggests it will be durable.
The front of the DAC comes with a Led light that comes up once connected to power and a switch that makes you pick among the 3options you can switch between.
The top is for USB, the middle is for Optical and the last is for Coaxial. While the back of the DAC carries the main in and out.
Audio and performance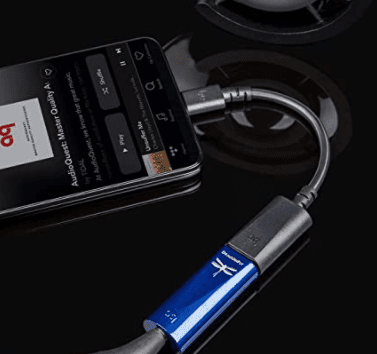 Audioquest Dragonfly Cobalt comes with the latest chip from the Audioquest, which gives a more detailed and natural sound.
Unlike the older Red and Black models, Audioquest has turned in the ultrasonic frequencies much lesser and also equipped it with a new USB microcontroller chip
Meanwhile, the Schiit Modi 3+ gives you a crisp and balanced sound even when you test it out on different quality headphones. The volume can be controlled analog if you are not using headphones by adding an SYS passive preamp or adding a Magni to adjust its volume via its preamp outputs if you are on headphones.
It delivers the true Schiit audio experience.
Device compatibility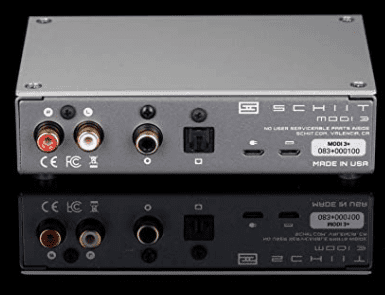 AQ Dragonfly Cobalt is compatible with any smartphone device or computer. The Cobalt comes with a three-dragon tail configuration. A female USB A to male USB A, female USB A to male micro USB and OTG, and female USB A to male USB C.
It comes with a 3.5mm output that is connected to your headphones, powered speaker, and any other supported output devices.
The Schiit Modi 3+ connects to your source device via a USB A to micro USB cable that comes with it, if you connect the Modi 3+ to any other audio source that does not support this cable, you have to buy it separately.
Power requirement
AQ Dragonfly cobalt's maximum power output is 2.1Vrms. But the maximum power outage can drop if load impedance decreases due to the output stage's finite current supply.
It is recommended not to use a headphone with an impedance no lower than 16.
Schiit Modi 3+ is a low-power drawing device. It takes power from your phone or computer through the USB port, but it won't eat too much into your battery.
Wrap-up
Both devices are great at delivering crisp and clean audio, bringing out the best of all your digital files. The Schiit Modi 3+ is more costly compared to the AQ Dragonfly Cobalt.
Both are connected to your audio source via the USB connection and then connected to your headphone with a headphone jack.
Both do not have an external volume knob but their volume can still be controlled. Both boost your audio volume giving you the best headphone output and other output devices.