DAC simply means a Digital-to-Analog Converter.
So what does this mean for audio and why are we comparing Audiolab M-DAC Nano vs Dragonfly Red?
For you to be able to listen to music from your devices like your smartphone and TV through your speakers or headphones, the DAC must convert the digital signal from the input source to the analog output.
There are built-in DACs in phones, laptops, and other devices, but we also have external DACs. External DACs are devices dedicated to doing digital to analog conversion. Some of them have amps built into them.
In this article, I examine two external DACs: Audiolab M-DAC Nano and Audioquest Dragonfly Red. I also answer burning questions like:
First, let's compare the build quality of these DACs.
Audiolab M-DAC Nano vs AudioQuest Drangonfly Red
Build quality and portability
The Audiolab M-DAC Nano is a powerful DAC device that helps to convert and amplify digital signals from your phone to your headphone. The M-DAC connects seamlessly to your phone via Bluetooth saving you the stress of connecting a headphone amp to your smartphone via cables.
It is lightweight and has a compact design that fits perfectly into your pocket, making it mobile-friendly.
The Nano is the smallest of the series, it is 44x44x14mm (WxHxD).
The Audioquest Dragonfly Red is a high-performance DAC that is compatible with Android and IOS devices. The DragonFly red is so portable that it feels as if you are holding a clip in your hand, it's small yet delivers the amazing sound you can ever imagine.
Audio performances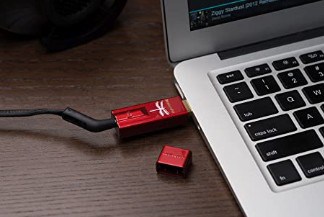 The AudioLab M-DAC is powered with digital upsampling tech, hi-res digital-to-analog conversion, and a powerful amplifier that help improve the sound quality from your signal source to your headphone.
The Nano M-DAC comes with a tiny 'f' button that when activated, automatically switches you to an enhanced mode that makes use of the 32-bit/384kHz DAC.
For added advantage, you can decide to get the Audiolab M-EAR 2D in-ear headphone, for better audio performance and listening experience.
The Audioquest Dragonfly doesn't come with any button, in fact, the only way you know it's connected is through its Dragonfly logo red light that stands for standby on.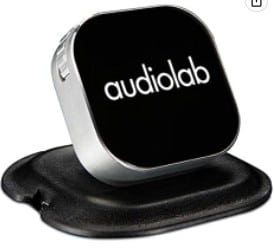 The volume is controlled by the volume control on your phone or whatever source it's connected to. The rated output of Dragonfly is 2.1volts, which means it's not great at driving high impedance and low sensitivity headphones.
Nevertheless, the Dragonfly Red comes with a higher performance 9016 chip compared to its sibling, the Dragonfly black ESS 9010 chip, which delivers a natural and well-detailed sound to your hearing.
Device Compatibility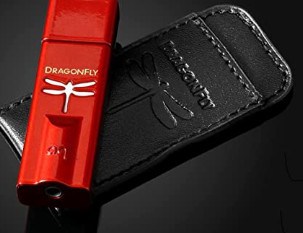 The Audiolab M-DAC Nano is compatible with all devices, connecting wirelessly via Bluetooth giving you convenient audio on the go.
Its Bluetooth reception that supports aptX, aptX low latency, and AAC means you don't need all the OTG converters, cables, and adaptors for your smartphones. Since you need a headphone jack to connect your cord to your headphone, the M-DAC Nano saves you the stress.
It only requires pairing via Bluetooth and you are good to go.
The Dragonfly Red comes with a single USB-A input and also a single 3.5mm headphone jack for its output. You have to connect the Dragonfly Red to your smartphone via a dongle because it requires a physical connection to the source and the wired headphone. You can use an OTG cable or a suitable iPhone adapter.
Power requirement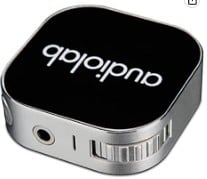 Audiolab M-DAC Nano uses a battery that boasts up to 8 hours of usage and drops to 6hours when you activate the enhanced mode feature on it. The Nano built-in rechargeable battery also supports Qi wireless charging.
The charging takes up to 2 hours for a full charge from 0 percent.
The Dragonfly Red does not require any power since it is USB-enabled. But that doesn't stop it from delivering an excellent result.
With its 2.1 volt output, it can successfully drive any preamplifier input circuits from the source.
Wrap up
The Audiolab M-DAC Mono and the Dragonfly Red are both great DACs in their own way, with their different unique features.
However, depending on preferences, you might decide to go for the M-DAC Nano that connects seamlessly with your phone and other gadgets through Bluetooth or go for the Dragonfly that you connect to your PC via the USB A.
The Dragonfly is a bit cheaper compared to the M-DAC Mono, but if you are going for higher-quality audio, the M-DAC Nano is a better option.