So, it is 2023 and you all know what that means, right?
Yes! Making music!
But not just making it, but also making music for free!
Is that even possible?
Hell yes, it is! You will just need a software app to produce beats and record audio.
Later, you can mix it, master, and release your music to the world!
So yeah, you will need a free DAW or audio recording software.
But, are there any free music studio apps for music-making?
Of course, there are, just read this blog and you will know which are the best 7 options for audio recording and music-making.
Top 7 music-making apps reviewed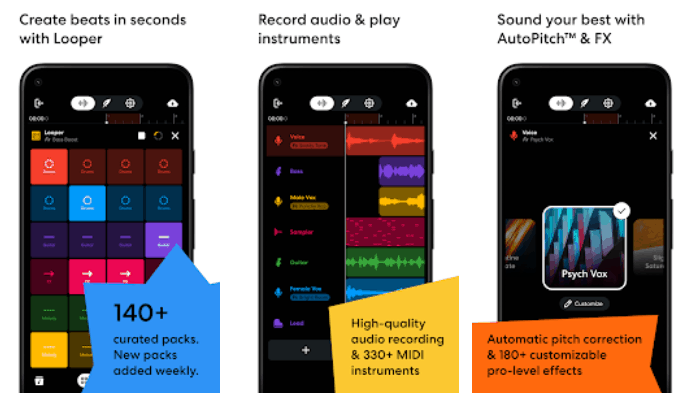 Bandlab is a great music-making and collaboration tool available on both Android and Apple devices.
The program is great for organic music lovers because you can actually record audio.
It also served well for electronic music producers and sequencers because it also lets you work with MIDI information and virtual instruments.
The included virtual instruments ranging from drums, guitars, keyboards, and basses, letting you have the whole band right at the tip of your fingertips! Easy and quick!
It also lets you collaborate with other musicians anywhere in the world just by using the internet.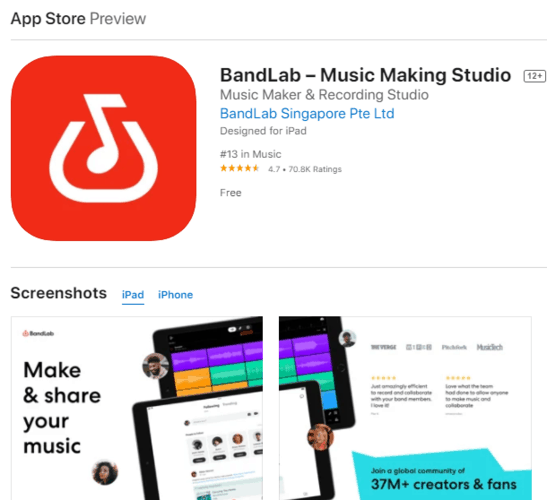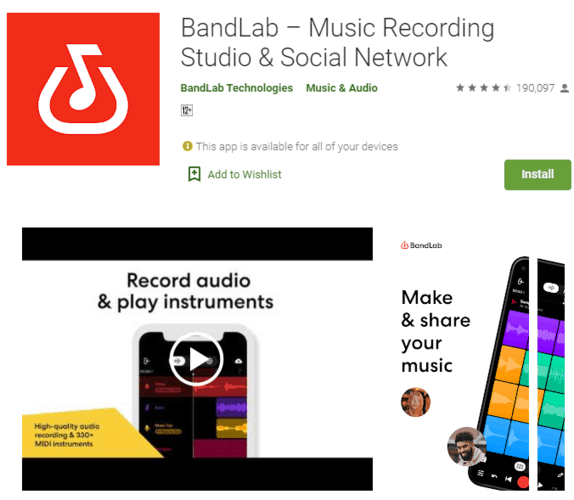 If you need a keyboard player because you don't have keyboard skills, no worries, your buddy in Hong Kong can record the part for you and put it in your Bandlab session!
Once it is all recorded, Bandlab lets you mix your own tunes with the included equalizers, processors, and effects in order to make it sound like a hit!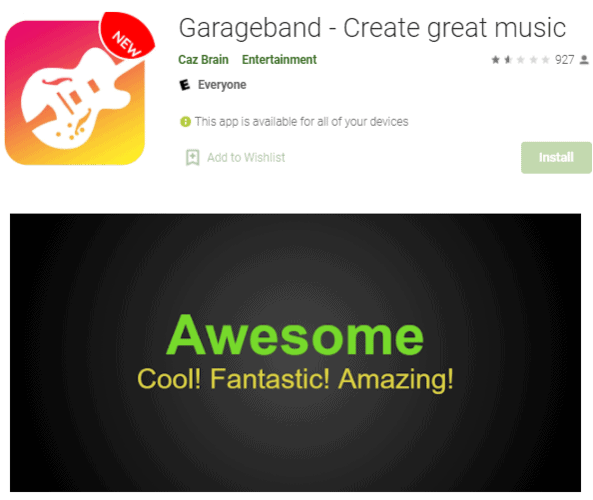 GarageBand is the free digital audio workstation and recording software included on MacOS systems.
Honestly, GarageBand can do it all.
The program will let you record your audio parts in seconds with the included track presets that already come with some processing applied, ideal for different instruments such as guitars, bass, piano, or drums.
The included effect presets for tracks, will let you shape the tone of your elements quickly, obtaining radio-ready results in seconds.
Also, you get a fair amount of embedded virtual instruments so you do not need to install any kind of third-party software in order to produce your music, background tracks, or beats.
Now, in case you need a drummer, GarageBand includes a virtual drummer with predefined patterns that you can simply drag and drop into your timeline and tweat with a couple of clicks when needed.
Instant natural beat for your songs!
Once finished, you can mix and master your songs and export them to any format, and even share them on iCloud with your peers!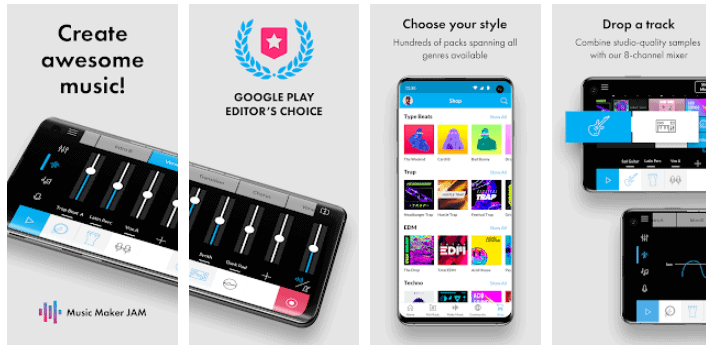 Music Maker Jam is a great entry-level app for people that want to get into music-making and do not necessarily have all the skills needed.
The app is only available on the Windows platform, so no Apple device will be able to run it.
Music Maker Jam features an 8 channel mixer that can be configured to match 3 main genres, which are dubstep, tech house, and jazz, automatically adding the required processors to each track.
The program will offer you a variety of virtual instruments that are useful in these genres, but you will not be able to use other third-party virtual instruments.
These VI's come with a library of loops and patterns that you can easily drag and drop into the timeline in order to create your first sequences.
Once loops have been added, you can change the tempo of the song or rearrange the patterns to create more interesting rhythms!
If you want to record organic elements such as a vocal line, you will be able to do it too!
Also, you can adjust the pitch, equalization, and apply real-time effects to this vocal line in order to adapt it to your song needs.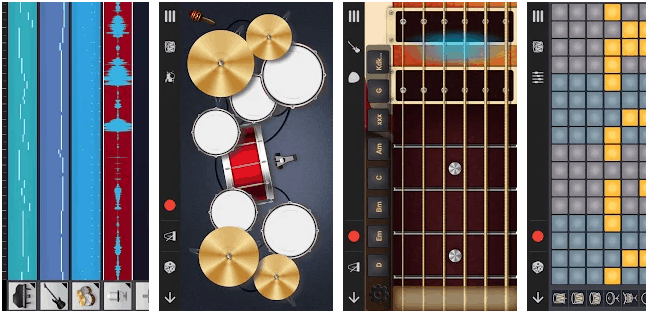 Walk Band is a free app available on Android devices that will in fact convert your small phone into a big orchestra with several instruments playing at the same time!
There are several virtual instruments included in this app that you can program such as piano, guitar, and even drums.
The piano roll can be actually played by simply touching the keys on your phone's screen.
It also gives you the possibility of using one or two rows of keys and even using multi-touch for chard playing!
If you do not want to program the parts using the touch-screen, you can connect an external MIDI controller using a USB adapter, making it so much easier when playing.
Each instrument comes with different articulations like for example nylon or steel strings on the acoustic guitar, giving you more "flavors" when composing.
And if you want to record real audio, you can! Simply create an audio track and record by singing into your phone's microphone.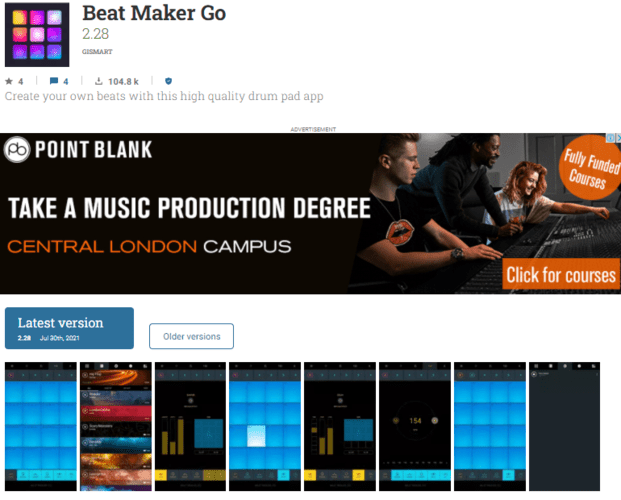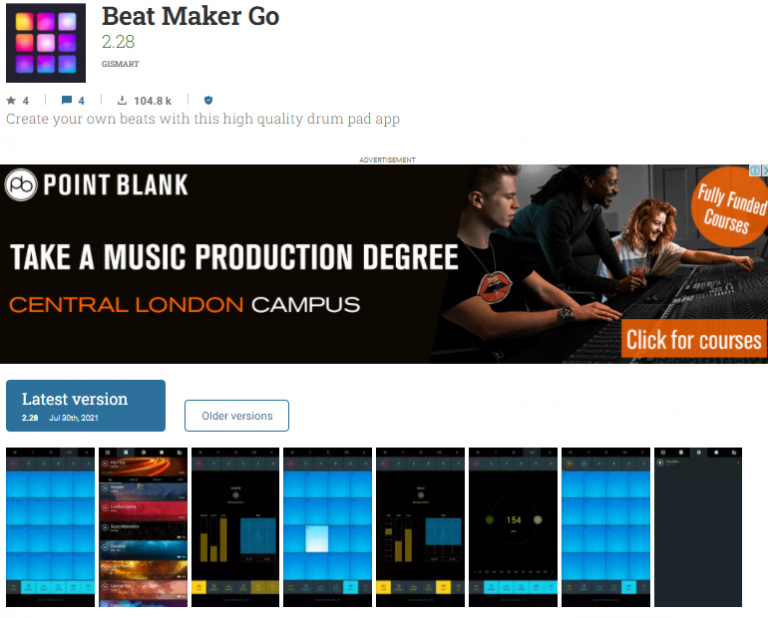 Beat Maker Go is an app that turns your Android phone into a drum pad that you can use to playback samples, loops, and one-shots to create music.
The app comes loaded with a variety of sound packs that are associated with different genres, this way you can select the desired genre and start playing the embedded sounds.
Some of the featured genres are hip-hop, dubstep, deep tech, and house.
All the samples and loops are locked to the tempo so that when you "shoot" a sample, you will be sure it will play back on time.
If you want to use your own samples, this is possible too!
Beat Maker Go lets you record your own loop or sound, add it to an available pad, and play it back when needed!
The pads can be configured to playback samples or to activate the included sound effects such as distortion, echo, tremolo, and phaser, letting you shape the tone of your music very easily.
Once you have finished your sequencing, you can easily save and render the result as an audio file you can later share with friends and peers!
n-Track Studio is a fully operational digital audio workstation software available for Android or Apple devices.
As all DAW's on the market it features a horizontal timeline where tracks and their associated waveforms are shown. This is particularly useful if you come from a studio recording world, you will feel at home!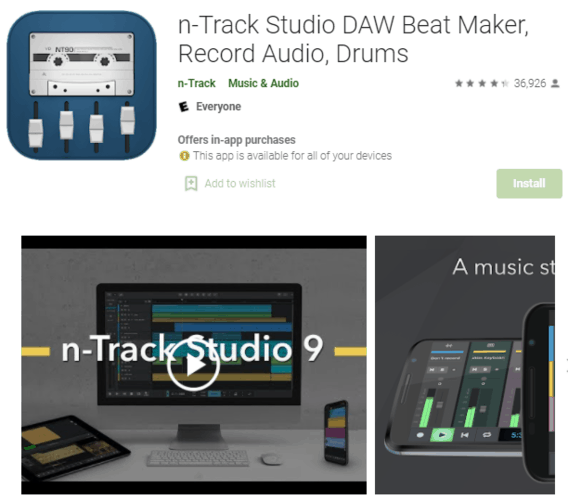 The program gives you the possibility to record audio and MIDI performances in order to build your song's arrangement.
If you are recording MIDI, the program comes with a variety of very nice-sounding virtual instruments that you can use to trigger from the MIDI data you recorded. Some of these instruments feature drums, bass, guitars, keyboards, and orchestral instruments.
There are plenty of loops you can add to your timeline by simply dragging and dropping them in order to create "vibes" very easily.
All kinds of audio effects such as compressors, equalizers, amp emulation, and reverbs are included so that you can mix your song into a hit, right on your phone!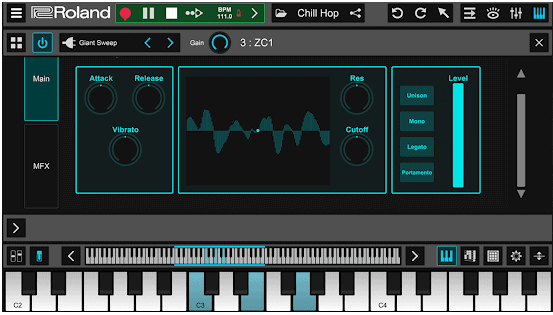 Zenbeats is a music creation app developed by Roland and available in Android and Apple phones and tablets.
As part of Roland software, it includes all the legendary libraries from vintage and current Roland analog synthesizers and gear, all right at your fingertips.
Zenbeats is a digital sequencer software that gives you all the tools needed in order to make beats from day 1.
The program features a very intuitive workflow with options such as beat sync and key-lock that will make your beat-making experience bliss.
It features a drum editor window designed specifically for drum-editing tasks such as quantization, groove, and humanization, giving you complete control over this instrument.
You also get a standard MIDI editor for all your keys and programmed melodic parts, featuring the well-known piano roll.
Once you have finished your beat, you can "mix" it into a radio-ready product using the amazing effects included such as equalizer, reverb, compressor, and flanger.
Recommended read: 6 Best Music Genre Finder Websites to Check Genres of any Song
Conclusion
Let's say you are looking for the most comprehensive digital audio workstation that can work on any platform, giving you complete possibilities of installation… The answer is Bandlab!
Now, if you are fine with being constrained to Apple devices, and you want a program that can do-it-all and is extremely easy to operate, don't look further and get GarageBand.
Last, but not least, if you want the best cross-platform free beat-making software, stop looking and download Zenbeats now!