Are you looking to buy the best DAC for your Android? Then stop here.
If you've listened to music with your headphones using various devices chances are you've noticed that the audio quality and volume vary greatly.
This is especially noticeable in smaller devices such as phones which sometimes have low volume. An analog to digital converter (DAC) can help solve this issue.
You may be asking what is a DAC?
A DAC's job is to convert the digital files on your device to an analog audio signal which you can listen to on your headphones. It can amplify the signal of the audio you play from your device.
In this article, we'll take a look at 5 of the best portable DACs for Android devices.
5 Best DAC for Android reviewed
Specifications:
Compact, Lightweight, and Stylish Aluminum Body
Easily Adjustable Volume Control Knob with Bump Protection
Battery: 1 Lithium Polymer battery
Supports up to a 96kHz/24-bit high resolution
Battery life: Up to 11-hours
Design
The ONKYO headphone amplifier is a portable DAC enclosed in a beautiful rugged aluminum body.
It weighs 460g and has a battery that lasts 11 hours on a single charge making it highly portable.


It has two USB 2.0 ports, a single A-Type, and a single B-Type Micro USB port for input. A dedicated switch enables you to select the input source.
The signal level can be controlled with the dedicated gain knob and a DC input allows you to connect the device to the main power supply.
It also has some rubber bands you can use to strap it to the back of your phone for easy carrying.
Device compatibility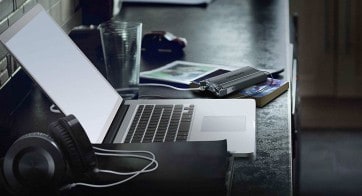 One of the inconveniences of the ONKYO DAC is that you need to buy an app unlocker in order to use it with Android devices.
However, once you install the app you're good to go and can enjoy high-quality audio playback.
It also supports Apple's Lighting iOS devices so you can use this on multiple devices if you have both Apple and Android products.
Sound quality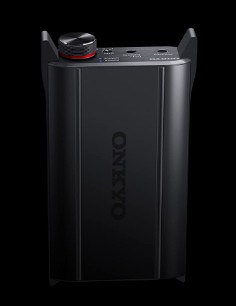 The ONKYO supports up to 96kHz/24-bit high resolution and provides clear and loud audio output.
It's relatively transparent up to the 75% gain mark meaning that your audio doesn't sound distorted.
Once you pass that threshold some distortion can kick in, but that's also partly dependent on your headphones. Overall the sound on this is loud and uncolored.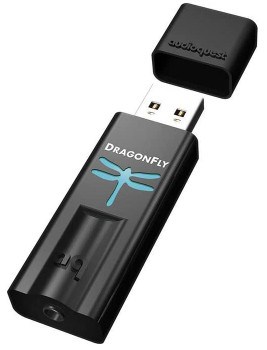 Specifications:
Analog Volume Control
Battery: No battery
Headphone input jack and an A-Type USB connector
Microchip PIC32MX reduces current draw and increases processing speed by 33%
Native resolution: Up to 24-bit / 96kHz
Design
The DragonFly Black is one of the best USB DAC under 100 that can be easily mistaken for a USB pen drive.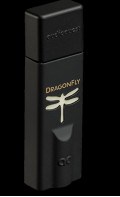 It's a tiny, no-frills device with a headphone input jack and an A-Type USB connector.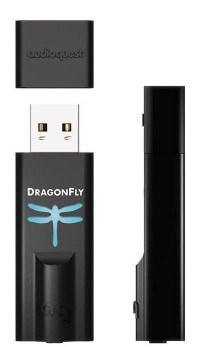 It has LEDs that light up depending on the file bitrate being played. It supports a 44.1kHz all the way up to 96kHz audio playback which is more than adequate for most users.
It comes with a leather pouch for easy storage.
Device compatibility
For Android compatibility, you have to purchase an On-the-Go cable which has a micro USB connector to allow you to connect it to your phone or tablet.
It's advisable to research whether your particular Android device supports audio output via USB as some devices don't allow this feature.
Sound quality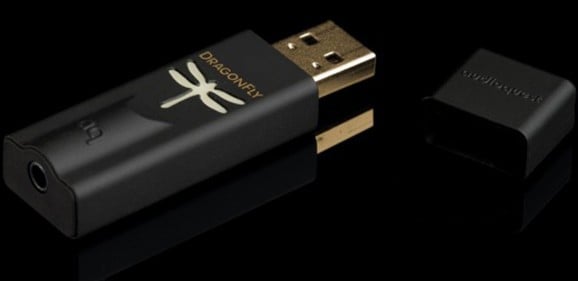 Audio playback on this device is clear, detailed, dynamic, and it does the job it was created for.
The mids are present and the highs are crisp and clear. There's no major boost in the bass department which makes it a pretty balanced device.
It has virtually no options for altering the sound such as boosting certain frequencies or any EQ options. But if all you want to do is amplify your sound it does the job pretty well.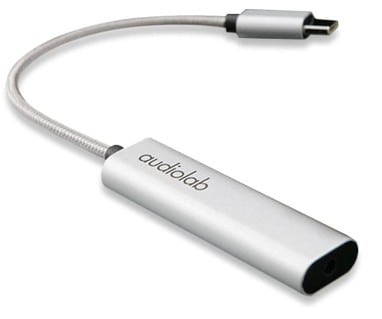 Specifications:
Compatibility: Android OS 5.0 above
Material: Aluminium
Battery: No battery
Connector: USB-C/AUX 3.5mm
Frequency response: 5hz to 50khz
Sampling rate: Up to 24bit/192khz
Dynamic range: 94db
Design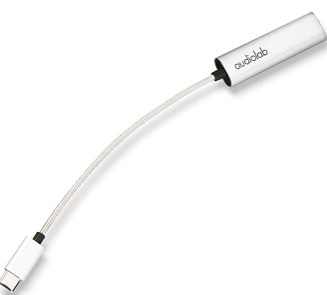 The Audiolab portable headphone amp is a cheap DAC with a minimalist design. It has only one input which is a USB Type-C connector and one 3.5mm aux jack output.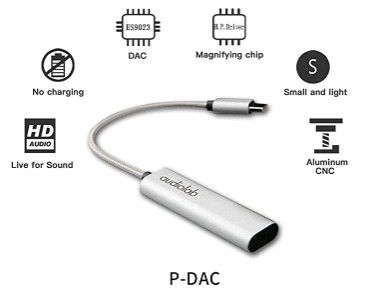 It weighs 17g and supports 24bit audio up to a sample rate of 192kHz. The main unit has an aluminum body for increased durability.
It has no built-in battery; hence it draws power from the device it's connected to.
Device compatibility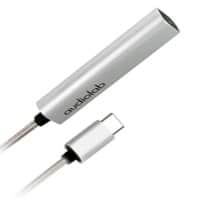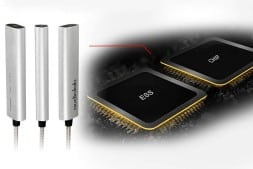 This headphone amp is designed to work with devices that support USB-C.
This means newer Android devices that have come out in the past 2 – 3 years and have a USB-C port should be able to work fine with it.
Note that it supports Android 5.0 and above so if you have an older handset this device may not meet your needs.
Sound quality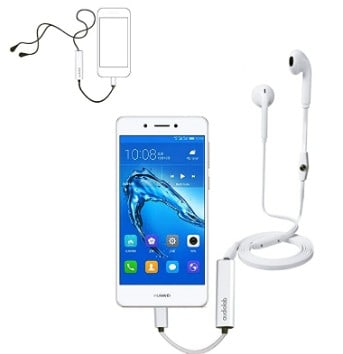 The sound quality on this is decent. Depending on the phone you have this might give a slightly better bass performance.
However, in terms of amplification, this unit's performance is better than many onboard handset DACs. It's a no-frills device that should amplify sound loud enough to meet most people's needs.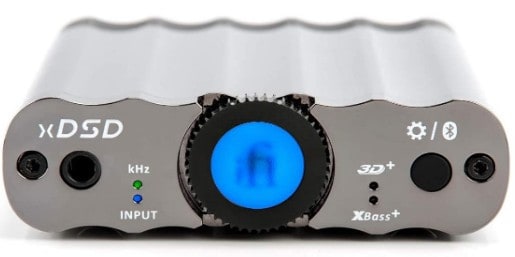 Specifications:
Battery: 3.8V/2200mAh
Battery life: 6-10 hours
Warranty period: 12months
compatible: Apple and Android devices
Dynamic Range: > 113dB (A)
Design
The iFi xDSD is probably the most beautiful DAC in this article. It's a portable device that's enclosed in a shiny magnesium-aluminum alloy and plastic casing and weighs in at 127g.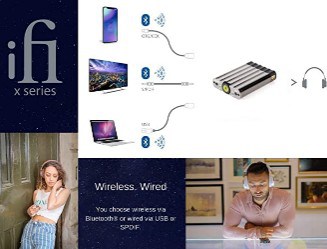 An unbalanced 3.5mm headphone/TRRS jack is the primary output port on the device. It has a coaxial/optical input, micro-USB, and Bluetooth input for audio playback.
The built-in battery lasts roughly 6 to 10 hours on a single charge. Alternatively, you can connect it to a power input source for uninterrupted playback while the battery charges.
An additional setting button allows you to cycle through 3D+, Xbass+, and 3D+/Xbass+ modes.
Device compatibility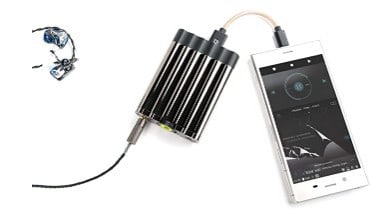 The xDSD is compatible with both Apple and Android devices.

However, a Lighting-to-USB adaptor is required for Apple while a USB OTG adaptor is required for use with Android devices. You have to buy these adaptors separately.
Sound quality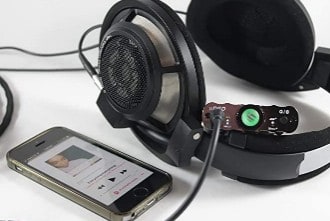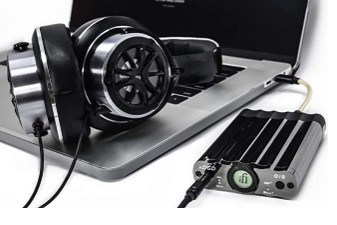 The xDSD is generally a good sounding device. It doesn't color any part of the frequency spectrum in a major way.
It generally provides better quality audio as opposed to plugging a headphone directly into an average phone.
However, it suffers slightly in dynamic range. Audio sounds slightly compressed when playing some songs, but this is not universal for all tracks.
It supports playback of files that are up to 192kHz. It's a good performer overall considering its size.
Specifications:
Battery: No battery
compatible: Apple and Android devices
Supports up to a 96kHz/24-bit high resolution
Robust aluminum casing
3.5mm Jack for headphones connection
Design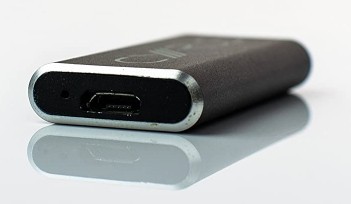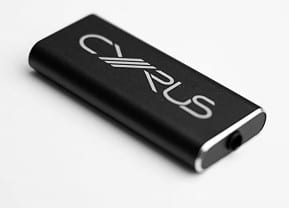 The Cyrus Soundkey is a tiny headphone amp that resembles a USB pen drive and weighs a meager 18g. It has a 3.5mm headphone jack for audio output and a micro USB-B input.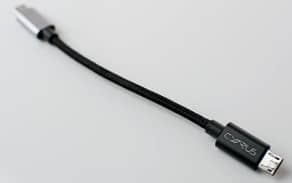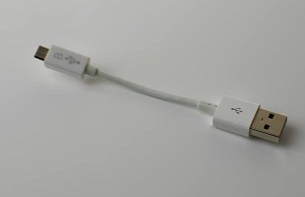 It comes with two cables; one for USB-A and another for micro-USB-B.
The Soundkey is powered by the device it's connected to, meaning it doesn't have a built-in battery. However, it doesn't consume much power so this isn't something to worry about.
Device compatibility
The device can be used with your Android device with the help of the included micro-USB-B cable.
However, not all Android devices support outboard DACs so you need to check your specific phone before using one.
Apple devices are also supported by the use of the USB-A cable in conjunction with the camera kit.
Sound quality
The device is designed for use on the go and provides better audio output than most onboard phone headphone outputs.
It can support headphones between 16 to 64 ohms. The audio difference is more noticeable on higher-quality headphones where you can hear a difference in the harmonics and texture of the audio output.
Considering its size and target market the Cyrus Soundkey is a great little headphone amp you can use on the go on your Android phone or tablet.
Conclusion
If your budget allows it the ONKYO DAC is a really good device. It has a lot of input options, a dedicated gain control, and good quality audio output.
If you wish for something more and affordable DAC the Cyrus Soundkey is a great option. It's tiny, sports a minimalist design and provides good amplification especially on phones and mobile devices.
If you want something stylish then the iFi xDSD has you covered. It's a beautiful device with a Bluetooth option for your audio playback.