Today in this post I am going to review the best wireless surround speakers.
Our Best Pick
SAMSUNG Harman Kardon 7.1.4 Dolby Atmos Soundbar HW-Q90R with Wireless Subwoofer and Rear Speaker Kit, Adaptive Sound, Game Mode, 4K Pass-Through with HDR, Bluetooth & Alexa Compatible (HW-Q90R/ZA)
Unmatched Stereo Experience
VIZIO Sound Bar for TV, 36" 5.1 Surround Sound System for TV with Wireless Subwoofer and Bluetooth, Channel Home Theater Home Audio Sound Bar – SB3651-F6
Our Best Pick
SAMSUNG Harman Kardon 7.1.4 Dolby Atmos Soundbar HW-Q90R with Wireless Subwoofer and Rear Speaker Kit, Adaptive Sound, Game Mode, 4K Pass-Through with HDR, Bluetooth & Alexa Compatible (HW-Q90R/ZA)
Last update on 2023-09-21 / Affiliate links / Images from Amazon Product Advertising API
Don't you wish to throw a hardcore party? Or don't you feel like watching a movie and experience the feel of movie theatres – at your home?
| | | | | |
| --- | --- | --- | --- | --- |
| | | | | |
| | | | | |
| | | | | |
| | | Wall Mount, Ceiling Mount | | |
| | | | | |
| | | | | |
There is only one common coefficient in these two scenarios – a good surround sound system.
Today we bring you this article discussing some of the most impressive wireless surround speakers. Their sound quality is assured to leave an amazing impression on you and anyone around you.
Without further ado, let us delve into the world of wireless surround speaker systems.
Top 5 wireless surround speakers reviewed
Specifications:
Speaker Type: Surround Sound
Speakers Maximum Output Power: 72 Watts
Mounting Type: Wall Mount
Item Weight: 18.7 Pounds
Number of Speakers: 17
Smart Sound Mode: Yes
Build and design
The Samsung Harman Kardon has a solid build quality. The entire unit is very cleverly designed. Right from the sturdy metal grilles to its luster carbon silver finishing – everything is spot on.
There is an array of buttons on top of the soundbar. Their functions range from turning the power on and off, adjusting the volume levels, and selecting inputs.
For better control, you get a highly responsive remote control with the Harman Kardon. Also, whenever you press in command on the remote, a LED display on the central top portion of the soundbar lights up.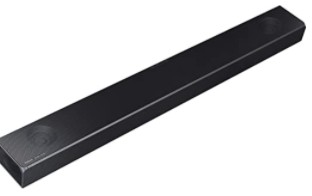 Other than featuring the rather conventional wireless connectivity options such as Bluetooth and WiFi, the Harman Kardon has various cable connections. Namely, an optical digital input, two HDMI inputs, and an output.
As far as positioning the Harman Kardon is concerned, you have two ways. One – you can either choose to place it on a table beneath the table. If not that, it can be wall-mounted at any time.
Sound quality and performance

The subwoofer of the Harman Kardon has been redesigned with additional features such as Game Pro Modes and Active Sound. Along with a side-firing 8-inch driver, there is also a bass port on the rear side.
The bass response in the Harman Kardon is improved. It is very effective in giving the music that fullness without disturbing the overall mix of the song.
In other words, the bass delivers a solid, wholesome sound without taking over the other elements, such as vocals.
When it comes to the midrange sounds, the soundbar comes into play. Be it guitar riffs or growling vocals, there is enough presence in the sound texture.
Lastly, the Harman Kardon justifies the high-end frequencies as well by giving it the much needed detailing and clarity.

As it also works with Amazon Alexa, the Harman Kardon earns a few more points on user-friendliness.
The surround sound is enhanced even more by its Dolby Atoms technology. There is even a surround mode that helps in creating a more ambient environment while playing the soundtracks.
Shifting our attention to further technicalities, the Harman Kardon has a frequency response ranging from 34Hz to 17kHz.
The Harman Kardon can be used either way – for a home-theater experience in watching movies or playing any kind of music for parties and get-togethers.
What do we like?
Wide soundstage with rich detailing in audio reproduction
Impressive surround mode that mixes the sound sources
Very handy remote control with easy functions
What we don't like?
Consumes a lot of space due to its bulky design
Absence of night mode
There is no room for correction available
Best for whom? If you have the necessary room space and big LED TV, the Samsung Harman Kardon will complete the living room puzzle for you. Other than that, for those who host frequent social gatherings, the Harman Kardon can be the constant musical backbone of such evenings.
Specifications:
Subwoofer: Wireless
Bluetooth Version: 4.0
Wi-Fi Bands: 2.4 / 5 GHz
Output: 1 x HDMI version 2.0 with ARC support
Configuration: 5.1.2-channel
Recommended Screen Size: 55" / 139.7 cm and up
Build and design
Build quality of LG SK10Y will certainly grab your attention. It is made with a combination of both metal and plastic. Overall, it has a premium feel to it. In addition to that, the body is as robust and sturdy as it gets.
You can find the controls on top of the bar. They are simple to use and quite touch-sensitive. The input source can be toggled by pressing the F button. Other than that, there are buttons for WiFi, Power, Pause/Play, Volume, and Skip.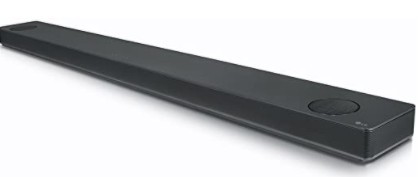 The small yet highly functional remote of the LG SK10Y controls most of the features that are found on the soundbar.
On top of those functions, you can also change sound effects and increase or reduce the volume of each individual speaker.
What you will absolutely love about the LG SK10Y are its numerous connectivity options. Starting from optical audio, full HDMI inputs, wireless playback namely Bluetooth, WiFi, Chromecast – it has it all.
If you plan on going a bit fancy with the placement, you can always mount the LG SK10Y on the wall. There are two holes on its underside.
The process becomes more convenient with the mounting adapters that you get inside the box.
Sound quality and performance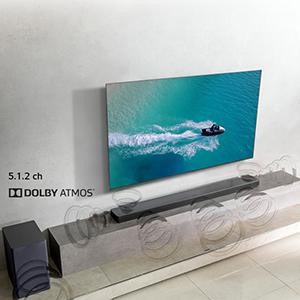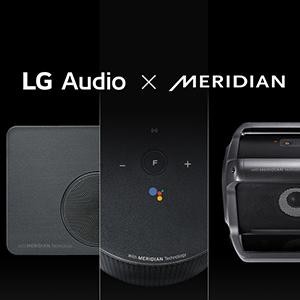 LG SK10Ys subwoofer has a mesh-like fabric on the front and sides. On the back, the surface is plain. There is also a level adjustment feature in the subwoofer.
The bass sounds may sound a little overemphasized. It is all good movies but when it comes to music, the overall sound is muddy.
As a result, there is a lack of detailing in the midrange and high-end frequencies. In short, the bass tends to grab all the attention.

LG SK10Y is compatible with Alexa, so you're just a command away from playing music in their monster of a sound system.
On grounds of technology, the LG SK10Y is fairly upgraded as it has Dolby Atmos, Dolby Digital, and Digital Plus.
The surround sound of LG SK10Y is not that extravagant, but okayish. The sound coming from the bar tends to reflect off of the walls in order to mimic a wider sense of auditory imagery.
The frequency response of LG SK10Y ranges from 34Hz to 10.7kHz. This is the reason why the bass sounds overshadow the mids and the trebles.
The LG SK10Y does not perform that well as a home theatre system due to its inaccurate surround sound attribute. However, if you connect it to your TV, PC, or gaming console – you would have a good audio experience.
What do we like?
Numerous connectivity options to choose from
Sleek and well-built design
Wide soundstage
What we don't like?
Muddy sound profile lacks clarity
Falls behind when it comes to dynamics
Not at all ideal for small-sized rooms
Best for whom? If you are an audiophile who is looking for top-class sound, the LG SK10Y would not be the correct option for you. However, if you are into video games and movies, this will take you on a rollercoaster ride of bass and power.
Specifications:
Frequency Response: 50 – 20000 Hz
Output Level (SPL): 101 dB
Audio Amplifier: integrated
Connectivity Technology: wired, wireless
Controls: input selector, power on/off, volume
Built-in Decoders: DTS TruVolume, DTS Virtual:X, Dolby Digital
Build and design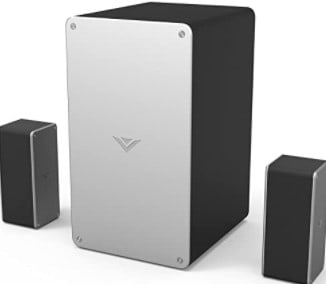 The overall build quality of the VIZIO SB3651-F6 is fairly decent. While fabric covers the top portions, the sides feature silver-colored plates. One reason why it doesn't feel too premium is that it is primarily made of plastic.
On the top side of the VIZIO SB3651-F6, you can find an array of physical buttons. They are responsible for controlling the basic functions of the sound system such as powering on and off, volume control, input selection, and Bluetooth pairing.

Coming to the remote of the VIZIO SB3651-F6, it looks very subtle. You can control the basic functions of the bar via the remote. The head of the remote has a small rectangular screen that indicates you about the inputs.
Next up. VIZIO SB3651-F6 has amazing connectivity options.
The physical inputs support a vast range of audio inputs and audio formats. While the subwoofer is wireless, the satellites can be connected through cables.

Bluetooth pairing is fast and simple. You can either do it by pressing the button on the bar or the remote. Apart from that, it is also capable of connecting via WiFi and Chromecast.
Mounting the bar of VIZIO SB3651-F6 on the wall won't be that easy mainly because of its design. You can choose to mount the satellites if you wish.
Sound quality and performance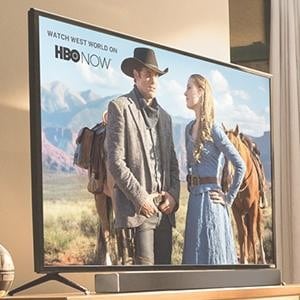 From the sound's perspective, the subwoofer of VIZIO SB3651-F6 is in charge of the booming bass department.
Even though the overall sound profile is quite neutral, there is a substantial amount of bass. That can especially be felt during rumble effects or thumping sounds.
When it comes to the midrange and treble sounds, there is a sufficient amount of clarity and transparency.
The surround sound in VIZIO SB3651-F6 is reproduced by the two rear speakers. This sound profile takes your home theatre experience to a whole other level. With advanced Dolby intelligent audio technology, it supports Dolby Atmos, Dolby Digital, and Digital Plus.

VIZIO SB3651-F6 has a frequency response ranging from 34.6Hz to 17.2kHz. The response is great throughout the entire range. The loudness level can be cranked up to a decent amount as well.
The VIZIO SB3651-F6 is one the best home theaters you will ever come across for an all-around audio experience.
What do we like?
More than sufficient bass sounds
Unmatched stereo experience
Many connectivity options to choose from
What we don't like?
Remote controls can be a tad complicated
No surround sound unless rear speakers are connected
Dialogues can be muddy while watching movies
Best for whom? Ideal for the people for whom looks do not matter as the VIZIO SB3651-F6 has a less premium look. Also, since it is primarily made for movies, music lovers may find the extra bass too much to take in.
Specifications:
Nominal Output Power: 200 Watt
Frequency Response: 40 – 23000 Hz
Connectivity Technology: ywired, wireless
Recommended Placing: bookshelf, on-wall-mounted, table-top
Built-in Decoders: DTS Digital Surround, Dolby Audio, Dolby Digital, Dolby Pro Logic II, SBC decoder
Build and design
The build quality of Yamaha YAS-207BL is quite excellent. The subwoofer is made out of medium-density fibreboard instead of plastic. Other than that, its design is rather plain-looking.
Understanding the controls in Yamaha YAS-207BL is as simple as it gets. There is a touch-sensitive surface. You can find functions such as the power button, volume change, muting, and input sources.

Full of useful controls, the remote of Yamaha YAS-207BL is small and sleek.
Other than the usual controls found on the bar, you can also toggle between stereo and surround sounds, enable sound effects such as bass extension and voice clear, etc.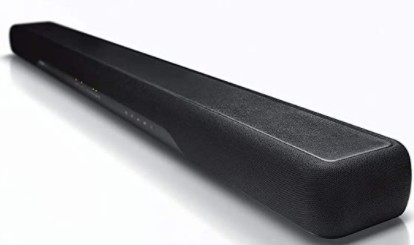 It is only via the remote that you can alter the volume levels of the subwoofer and the soundbar independently.
Bluetooth pairing in Yamaha YAS-207BL is available for both the soundbar and the subwoofer, in case you find difficulty in connecting them with wires. Other than that, you get WiFi and Chromecast as additional connectivity options.
In the back of the soundbar, there are two holes. They are for universal mounts if you want to decorate your wall.
Sound quality and performance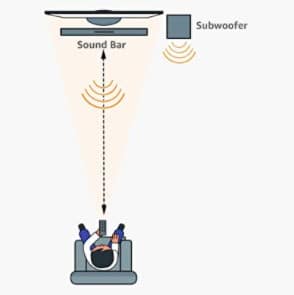 The subwoofer of the Yamaha YAS-207BL gets a low-profile design. In terms of sound reproduction, it lacks bass depth. Also, it is ideally suited for setups that will be operated in low volumes.
The bass doesn't sound deep enough. There is no power in the thumping sounds. On the contrary, the midrange and high frequencies sound reproduction is spot on. They work together to fairly compensate for the missing bass presence.
Quite interestingly, Yamaha YAS-207BL comes with a simulated surround sound technology.

Basically, there are two surround modes: the first one being the traditional 2D surround sound and the second one is the DTS Virtual:X. You can toggle between these two effects by pressing the same button.

The Yamaha YAS-207BL is capable of playing both DTS and Dolby soundtracks.
As its frequency response ranges from 42.4Hz to 19.9 kHz, it explains why the low end does not have the precision and accuracy in its sound reproduction. Other than hand, the highs and mids are pretty distinct.

The Yamaha YAS-207BL is designed to be a full-fledged home theater system. There is also a dedicated home theater compatible with iOS devices.
What do we like?
Audio reproduction very close to the original sound
Virtual surround sound technology improves your movies and TV watching experience
Worth the investment as opposed to the features provided
What we don't like?
The soundstage is not that wide
Skeptical build quality
Does not support all kinds of HDR video formats
Best for whom? If you are someone who does not crank the volume of the sound system all the way up, Yamaha YAS-207BL would be a perfect choice. It is ideal for music, movies, and TV. As it lacks the power in the low end, EDM and Hip Hop music lovers would not be impressed by the sound.
Specifications:
Audio System Nominal Output Power: (Total)440 Watt
Output Level (SPL): 103 dB
Audio Amplifier: integrated
Connectivity Technology: wired, wireless
Built-in Decoders: DTS decoder, DTS-HD decoder, Dolby Digital, Dolby Digital Plus
Build and design
The Klipsch BAR 48 is all about its retro looks. The rectangular shape is made out of wood and has a sturdy build quality. You can also find a black fabric grille wrapping the body of the soundbar.
The bar features very basic functions including the power button, volume change, and input sources.

For a broader control, the Klipsch BAR 48 is what you need. Apart from the general functionalities, you can select from some preset modes.
These modes play a significant role in optimizing your aural experience. Also, the subwoofer volume can be changed independently with the help of the remote.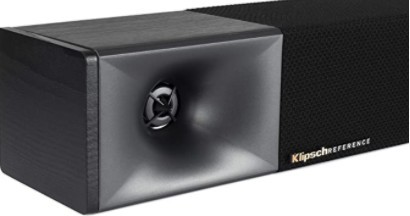 Coming to the connectivity options, the Klipsch BAR 48 has one HDMI-ARC port, a 3.5mm analog input, an optical digital audio input, a USB port for connecting additional wireless rear speakers, and an input for one IR extender.
Pairing options are pretty straight-forward. The built-in Bluetooth lets you connect with the Klipsch BAR 48 in no time.
Furthermore, there are two mounting options. You can either choose a stand mount or a wall mount. A pair of rear brackets make sure the bar stays stuck to the wall till the end of time.
Sound quality and performance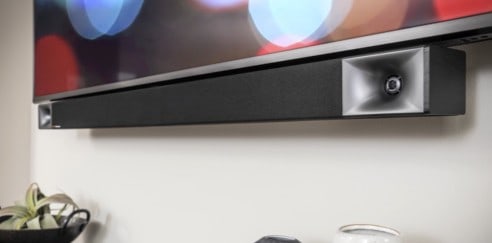 The wireless subwoofer of Klipsch BAR 48 is made from the same quality as wood as the rest of the unit.
It features a down-firing driver along with a bass port. The subwoofer ensures the listener experience more than a good amount of low-end extension.
Klipsch BAR 48 is known for delivering a thick, deep bass and low-end sound profile.
You can also find sufficient clarity and depth in the midrange frequencies. Similarly, in the case of higher frequency, the sensitivity is just superb without compromising any detailing.
Out of the three sound modes found in Klipsch BAR 48, the surround mode is the third one. It is a virtual-based technology that works towards creating the effect of audio coming from rear speakers.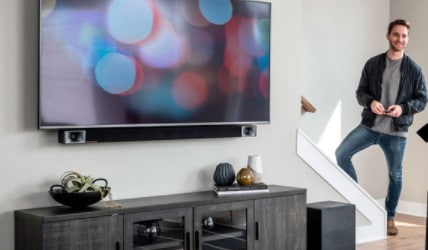 Aside from that, Dolby Digital and DTS are the other formats that are supported by the Klipsch BAR 48.
The frequency response of Klipsch BAR 48 starts from 59.1Hz and goes all the way up to 17.2kHz.
This particular surround system is fit to hang under a large LED TV where you can watch movies and play video games.
What do we like?
Setting up the process is quite user-friendly
Bass and low-end have good profile
Surround speakers as add-ons
What we don't like?
Not the best of designs
Scope for more features
Difficult to adapt to the horn tweeters
Best for whom? Klipsch BAR 48 has a distinctive sound profile that differentiates it from other surround sound systems. So it is recommended to go for it after proper research of requirements. Also, likewise, it may not suit the taste of everyone as it is quite mellow.
Also read: 5 Best Speakers for Projector With Great Sound Quality
Conclusion
Now that we have to the end of this article, it is time for us to make things a bit easier for you.
Even though all these five products are great in their own ways, we would segregate our preferences to three of them – Samsung Harman Kardon, LG SK10Y, and Yamaha YAS-207BL.
Firstly, for obvious reasons, these are leading brand names in the entire world. So along with that comes a reliability factor on whichever you choose to buy.
Secondly, all these surround speaker systems are loaded with features and have the latest audio technology. They may vary quite a lot in their looks though, so that is one decision you have to make for yourself.
But soundwise? All these three are absolute winners when it comes to wireless surround speakers.