If you're a musician who's looking for some of the best DAWs for Linux then you're in luck.
The Linux operating system is growing and the pro audio community around it is following suit.
That growth has resulted in a wide variety of audio editing software and DAWs for Linux. Some are available for free while others require a license fee.
In this article, we will take a look at 7 of the best DAWs for Linux that can enable you to make professional songs, record and edit podcasts, perform live on stage, and various audio-related functions.
Top 7 DAWs for Linux reviewed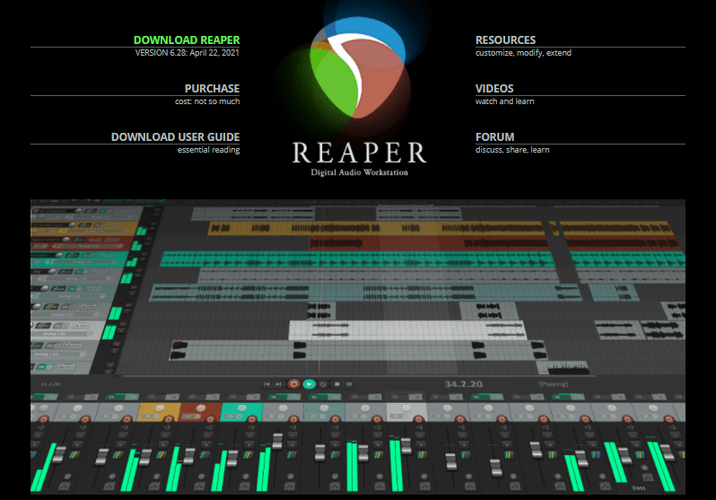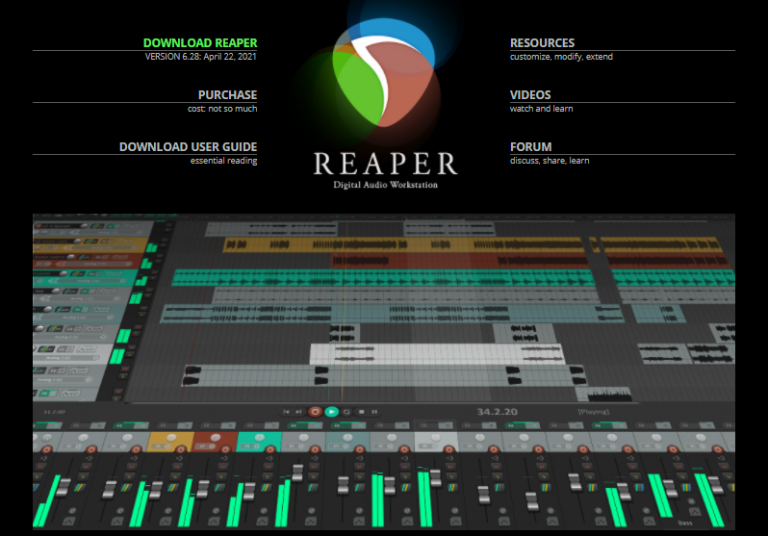 REAPER is a pro-level DAW that works on Linux. Its interface is similar to many conventional DAWs like Cubase and Pro Tools, so learning it is quite easy.
It's highly customizable so you can tweak it to work exactly the way you want. For instance, you can set up personalized shortcuts, macros, or even change the skin completely so that you can work faster and more comfortably.
It loads quickly, takes up little storage space, and utilizes the CPU sparingly. It's very stable and rarely crashes. In the event of a crash, it gives you the chance to save your work before you restart the program.
It's an awesome DAW for recording and mixing your tracks because it comes preloaded with many modern tools such as effects, editing tools, and it has a brilliant routing interface.
VST and DX formats are supported which allow you to expand your effect and instrument arsenal.
REAPER has an active community of users, and there are plenty of tutorials, skins, and various tools online that enable you to get the best out of it.
Bottomline: REAPER is one of the best Linux DAWs for its ease of use, speed, and customizable interface. It's great for professional musicians who need a single DAW to record, mix, and master audio.
Ardour – Free DAW for Linux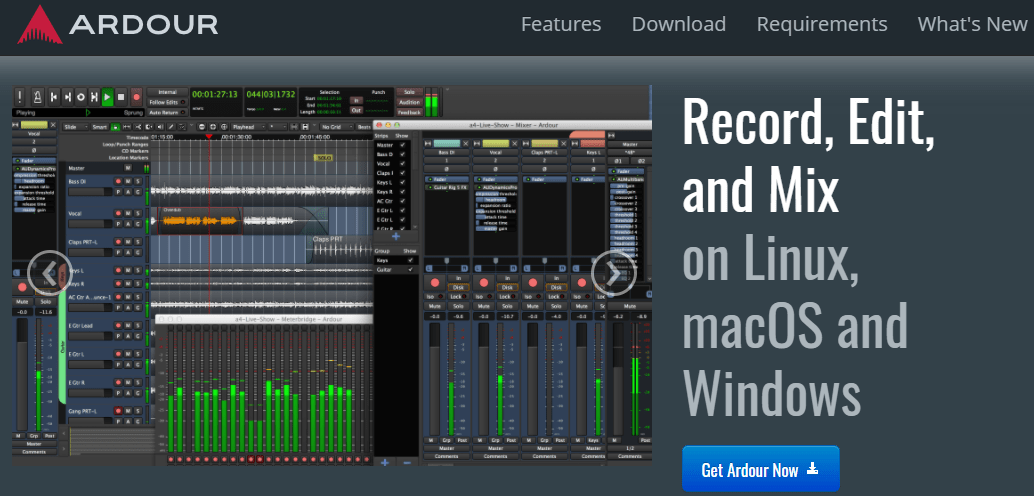 Ardour is another DAW that is very popular within the Linux music community. It also runs on Windows and Mac so you can collaborate with partners who use different operating systems.
The user interface is clean but not as polished as REAPER, Bitwig, or Tracktion. However, it's usable and responsive.
It comes with its own effects plugins that are quite decent, and it supports the VST, LV2, and LADSPA plugin standards for added functionality and access to some of your favorite third-party audio tools.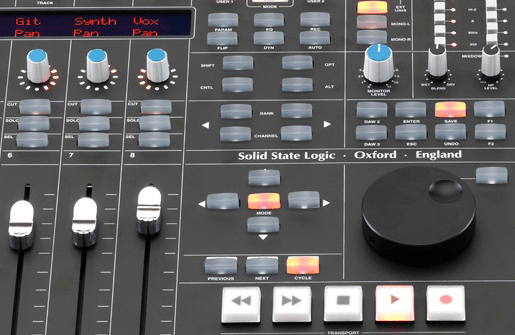 Its MIDI handling capabilities still need some polish, so it may not be the easiest DAW for just making beats. But the great thing is that development on it is very active and the DAW is improving with every release
It's an excellent tool for audio editing, mixing, and mastering. It also has great integration with JACK audio for low latency recording and playback.
That option alone gives you the capability to route your audio into other software and hardware, giving you a high level of possibilities.
Bottomline: Ardour is one of the most powerful DAWs you can find for Linux. It's suitable for use by both hobbyists and professionals. It excels at handling audio but its MIDI support is one of its key weaknesses.
Audacity – Free multi-track audio editor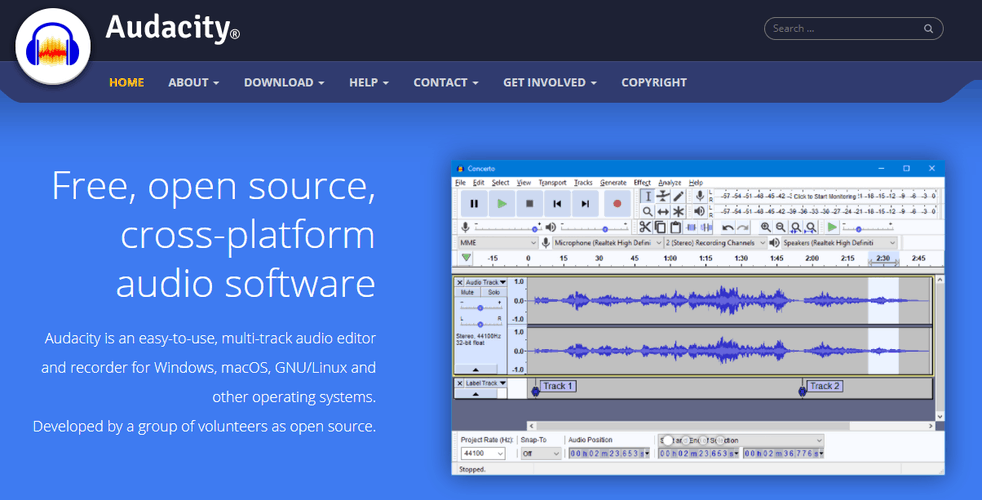 Audacity is a very popular multi-track audio editor. This free program is primarily great at tasks such as recording, chopping, splicing, and editing audio.
Why is it so popular you ask?
It's very user-friendly, has a lot of handy features, and best of all it's free. It comes packed with effects such as EQ and reverb. It also has some nifty tools such as click removal, noise reduction, and audio reversal.
It also supports third-party VST and LADSPA plugins for added functionality.
The program's downside is that it's not flexible enough for full music production when compared to its counterparts. For instance, you can't add a virtual drum machine to your project and create a drum loop within the program. Its primary use is for editing audio, which it excels at.
I often use it for chopping audio samples, which I then load into other DAWs for full production. It's also a brilliant tool for editing podcasts.
Bottom line: Audacity is great at its core function of editing audio. It works best for splicing, chopping, cleaning, and manipulating audio clips which you can load into another DAW. Its workflow is easy to adapt to and is great for editing spoken word content such as podcasts or narration.

Do you prefer to make beats using just your mouse and computer keyboard?
If the answer is yes, LMMS is one of the best free DAWs for Linux that allows you to do that.
Its interface is unorthodox and slightly similar to FL Studio so it's a great option if you're a fan of that workflow. LMMS isn't as polished as FL though so that's something to keep in mind.
The DAW supports MIDI input so you can connect various MIDI devices such as keyboards or touch interfaces which allow you to input notes easily.
It also supports VST(i) and LADSPA plugins. Nonetheless, the built-in tools are adequate to produce full, professional-sounding tracks, so you don't have to worry about getting extra instruments and effects if you don't want to. You can install the DAW and get to work right away.
The only real downfall is that it can't record audio natively. But you can always use REAPER, Ardour, or Tracktion for that and the problem is solved.
Bottomline: LMMS is a great DAW, particularly for making hip-hop and electronic beats. Drum programming is quite simple and it has some quirky plugins such as Freeboy, which is great for making retro video game music.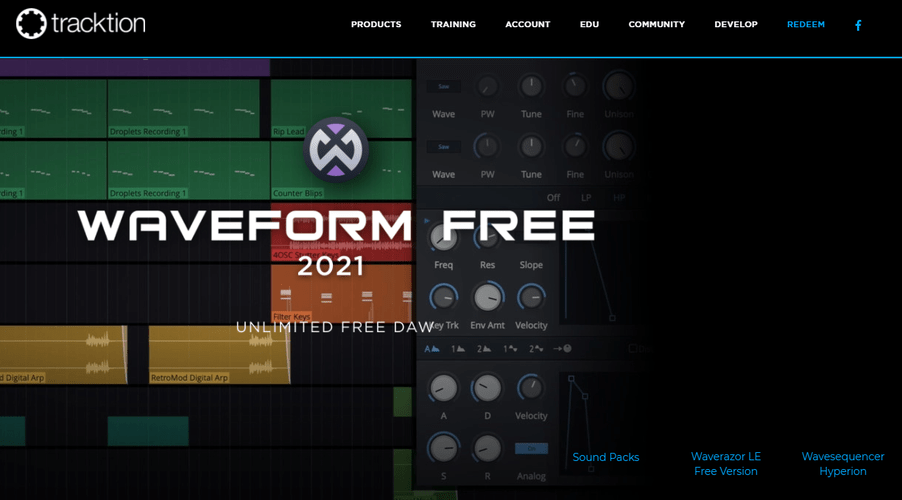 Tracktion is a gem that isn't talked about enough in music circles. The DAW used to be commercial software before it was made free to use. It works on Linux, Mac, and Windows which makes cross-platform collaboration easy.
It offers a multi-track recording interface that allows you to work with a large number of audio and MIDI tracks. The user interface isn't intuitive, but your workflow becomes seamless once you get the hang of it.
It supports VST, AU, and AAX plugin formats if you wish to use third-party tools such as guitar amps that are not available by default.
Tracktion is not the easiest DAW to use if you simply wish to use it for making beats. But if you intend to do a lot of audio recording, editing, and mixing work then Tracktion will do that job easily.
Its main drawback is that it crashes quite frequently and it doesn't work very well with JACK on Linux so your routing capabilities are limited in comparison to other DAWs.
Bottomline: Tracktion is a nifty DAW with a unique workflow. It's particularly good for work that entails recording, editing, mixing, and mastering. To top it off, it's a completely free DAW.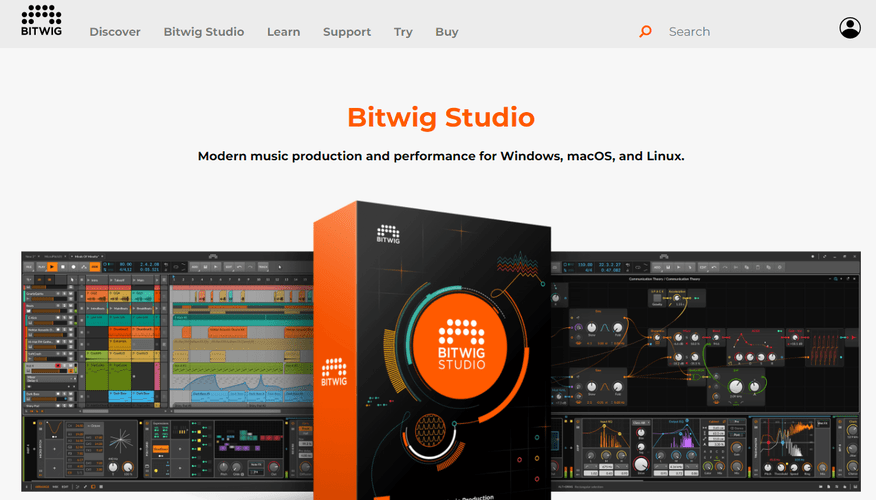 Read Also: 20+ Best Free Ableton Live Themes and Skins
If you're a fan of Ableton Live then Bitwig is pretty much the only viable alternative for you on Linux.
Bitwig runs on Mac, Windows, and Linux natively. One of its best features is its ability to handle multiple MIDI instruments on one track. It supports MIDI devices and has Ableton Link support. It also has touch screen support which is a plus if you have a touch screen computer.
The default instruments and effects that come with the software are of great quality, meaning you can get to work right after installing it on your machine.
Similar to Ableton Live, Bitwig can be used on stage for running live shows and DJ sets. It's stable and designed not to hiccup when working with audio, so you can take your studio productions to the stage with you without having to get dedicated DJ software.
Bottomline: Bitwig Studio is a very polished and completed DAW with a unique workflow. The user interface is intuitive and is a great alternative to Ableton Live. It's also well-suited for live use in gigs, houses of worship, and DJ sets.

Are you looking for a serious sequencer for Linux?
If so, Qtractor is one of the most mature sequencers for Linux in existence. Its interface is quite straightforward, clean, and easy to navigate meaning you don't waste time fumbling around to do simple tasks.
It supports third-party plugins in VST, LV2, DSSI, and LADSPA format, so the possibilities of expanding the program with instruments and effects are limitless.
It also handles audio files, but not as well as Ardour which does a better job in that area. But where Ardour falls short in MIDI sequencing, Qtractor excels.
It also has support for JACK audio which allows flexible audio routing within the Linux system. It's quite stable and seldom falls prey to software crashes, meaning you don't have to worry too much about losing your work.
One of Qtractor's downsides is its automation system which lacks flexibility. But the upside is that the software is being actively developed and improving at a steady pace.
Bottomline: Qtractor is a lightweight DAW whose best feature is its robust MIDI sequencer. It does a few things but does them very well. It's best suited for anyone who needs to process a lot of MIDI.
Conclusion
REAPER is the most complete DAW if you want to record, mix, and master audio. It's a pro-level DAW that is used in studios worldwide and it's stable.
LMMS is the easiest Linux DAW if you're looking for a complete beat-making platform that can work with just a mouse.
Bitwig Studio is a great all-around DAW for beat-making, mixing, and live stage performance.