Today in this post, I am going to review Micca Origen G2 USB DAC.
Would you like your headphones and speakers to sound even better than they do right now?
Then you should invest in a DAC. One of such USB DAC is the Micca Origen G2.
This device doesn't just convert digital to analog sound, it drives your headphones to give that larger-than-life feel.
This article takes you on an in-depth review of this DAC and preamp.
I trust you'll see why it's good for you (or not).
Micca Origen G2 specifications:
| | |
| --- | --- |
| Product | Micca Origen G2 |
| PCM Formats | PCM (44.1/48/88.2/96/176.4/192kHz, 16/24bit) |
| USB Interface | USB 2.0, Asynchronous Transfer Mode |
| Audio Controller | C-MEDIA CM6631A |
| Digital-to-Analog Converter | Wolfson WM8740 |
| Output Op-amp | JRC NJM4556 |
| Channel Imbalance | < 0.5dB |
| Optical S/PDIF Format | PCM Only |
| Power Source | 5V/500mA |
| Dimensions | 4.6 x 2.0 x 1.9 Inch (116mm x 51mm x 47mm) |
| Weight | 6 Oz (170g) |
Micca Origen G2 review
Design and build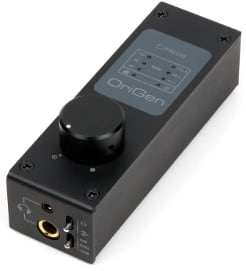 The Origen G2 is fully made of aluminum and steel – a combination of materials that ensure durability and a solid, sturdy feel.
There's a DC inlet on the DAC that should be the primary power source, however, the corresponding cable does not come with it. Thankfully, you can power the DAC via the USB port.
The micro-USB port allows you to stream media from your device and power the DAC at the same time.
Right beside the USB port, you have the switch that helps you pick which input you're using; either the USB or optical S/PDIF digital output.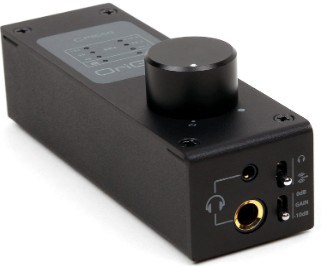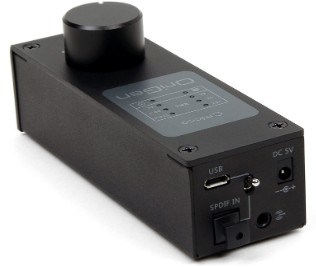 On the opposite side, you have the 3.5mm input and ¼-inch input ports. Even though it gives you the freedom to use any, it's better to use the ¼-inch port as it wears out less easily. Also, if your headphones use the 3.5mm audio jack, you can use an adapter to connect to the ¼-inch port.
The big knob on the top and center of Micca Origen G2 is the volume knob.
If you're using the DAC with compatible speakers or headphones, you shouldn't have to turn the knob beyond 75%.
The gain switch helps you to drop the overall volume by 10db. This will be useful when the audio is coming in too hot (loud) from the source.
The LED lights on the top serve as status indicators showing audio quality and giving some info about audio levels.
Device compatibility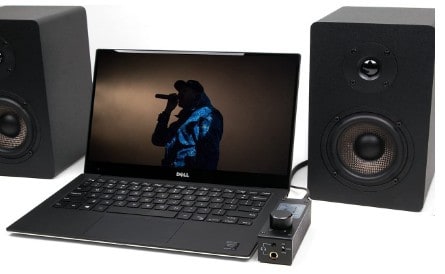 Speaking of compatible headphones, the Origen G2 DAC works effectively if your headphones have an impedance of 600 ohms or less.
If you use it with headphones with more impedance, it may not be very efficient. You can also use it to drive your speakers, provided they're not over 600 ohms in impedance.
Origen G2 works well with PCs and Macs. For smoother interaction with your PC, use the G2 with Windows 10.
The connection is super-smooth and needs no driver installation. If your phone or tablet is compatible with OTG devices, you can use the G2 with them too.
Setup and installation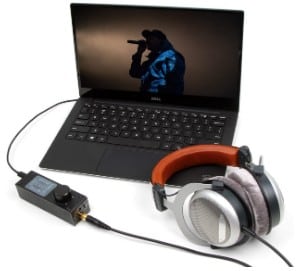 The setup of Micca Origen G2 is pretty straightforward. If you're using it with your computer, just connect it to your system via the USB port.
Once you do that, your computer should recognize the G2 as its automatic audio output device.
You can confirm this by playing music on your computer. To activate the DAC, simply switch it on by turning the volume knob to the right.
Also, turning off the volume knob disengages the DAC, and your computer should automatically switch to its built-in audio device.
You may have noticed that there's no audio jack input. Your source device must have a compatible USB port to play your media through the Origen G2.
Even if you power the DAC via the 5V DC input, you need to engage the USB for media.
Sound quality and performance
This DAC gives you the audio quality of at least 44.1kHz and a maximum of 192kHz. This means that you get at least CD-quality audio. All of this is available in 16 bit or 24 bit. This range is quite impressive for a DAC of this size.
Also, the frequency range is 20Hz to 20kHz. Although the Origen G2 has a wide frequency range, the frequency response and production depend on the audio source and listening channel.
So, the device you're playing the music from and the headphones or speakers you listen with would determine the final quality.
Origen G2 is quite transparent and renders pure sound from the source to your headphones. Just make sure to avoid distortion by keeping the volume knob at 75% or lower.
If you want an amp with its own sound signature, you may need to go for tube amps like DarkVoice 336SE .
Features
The USB audio input gives up to 480mbps speed. This is fast enough to facilitate the immediate conversion of audio at high quality. It also gives latency-free media playback from source to listening device.
The Origen G2 system provides seamless digital to analog conversion from USB to line-out ports, driving your headphones and speakers in the process. It's a 2-in-1 combination of seamless conversion and audio amplification.
The steel tub chassis ensures that you will be using the Origen G2 for a fairly long time. It will most likely outlast your plastic frame headphones.
Transparent amplification of audio for headphones with an impedance of 600 ohms and below. Additionally, the 10db pad switch helps to easily reduce the playback level.
Pros and cons:
Pros:
Compact frame makes handling easier and enhances portability,
The DAC has few switches and just one knob, making it easy to use even by first-time buyers.
The gain switch helps to drop output gain by 10db, especially for very low impedance and high sensitivity headphones.
Cons:
The only available input is USB. This limits the kind of devices you can play music from.
Though it has a DC input for power, the adapter is not included in the box. You'll have to purchase that separately.
Conclusion
The Origen G2 DAC is a handy driver for your headphones. Though it's physically small, it drives your headphones to give you a "big" sound.
One extra benefit of this DAC is using it as a passthrough.
If you have an amp that only has an analog input, you can use the Origen G2 as the digital input while its analog output goes into your amp's analog input.
This can be an effective "adapter" to connect your digital output to your analog amp.
FAQs on Micca Origen G2
How to tune Micca Origen G2?
There are no built-in tuning features on Origen G2. To tune it, you need a third-party tuning app on your computer, phone or other connected source device.
How to hook the Micca Origen G2 to studio monitors?
First, connect your computer to the Origen G2. Then, connect the Origen to the studio monitors via the ¼-inch output port. You'll need a splitter to divide the single output port into the left and right channels.
How to set up Micca Origen G2?
Connect the Origen G2 to your computer or phone via the USB port, which will serve as the input. Then, connect the output, which is the ⅛-inch or ¼-inch audio port to your headphones or speakers.
How Micca Origen G2 compares with Schiit Fulla 2?
Origen 2 and Schiit Fulla 2 are similar in many respects, but a major difference is that Schiit Fulla allows you to use analog input. You have the option of a TRS 3.5mm input to connect your phone or PC.
How Micca Origen G2 compares with Origen+?
Origen G2 gives better driver compatibility. Some devices may have hiccups with drivers while using Origen+. G2 connection is smoother across several devices.