In this post we are going to discuss the two popular Shure earphones the Shure SE846 and Shure SE535.
Last update on 2023-09-21 / Affiliate links / Images from Amazon Product Advertising API
Shure SE846 and SE535 earphones are essential audio components that offer a personalized listening experience to a wide array of audiences worldwide. However, different earphone models bear unique designs and deliver varying sound qualities.
Let's look at the specifications in the below table.
Shure SE846 PRO Gen 1 Wired Earbuds - Professional Sound Isolating Earphones, Four Hi-Def MicroDrivers and True Subwoofer, Secure In-Ear Fit, Detachable Cable, Durable Quality - Clear (SE846-CL)
Shure SE535-CL Professional Sound Isolating Earphones, High Definition Sound + Natural Bass, Three Drivers, In-Ear Fit, Detachable Cable, Durable Quality - Clear
Shure SE846 PRO Gen 1 Wired Earbuds - Professional Sound Isolating Earphones, Four Hi-Def MicroDrivers and True Subwoofer, Secure In-Ear Fit, Detachable Cable, Durable Quality - Clear (SE846-CL)
Shure SE535-CL Professional Sound Isolating Earphones, High Definition Sound + Natural Bass, Three Drivers, In-Ear Fit, Detachable Cable, Durable Quality - Clear
Last update on 2023-09-21 / Affiliate links / Images from Amazon Product Advertising API
Some individuals are drawn towards the distinct shape and color of certain earpieces, totally overlooking their technical specs. Before heading out to shop for a pair of earphones, it's important to establish exactly what you want.
Sound isolation is a critical feature that you ought to consider when purchasing earphones. Naturally, you want to get earbuds that effectively isolate sounds from your surroundings (ambient noise), delivering an exquisite sound clarity and offering an unparalleled listening experience even in noisy situations.
Bluetooth support is another critical factor to consider. Your preferred earphones should easily connect with an assortment of Bluetooth devices to offer you more freedom to move about.
If you prefer listening to music while working out, get a pair of sweat resistant earphones that are specially designed to repel sweat and moisture.
In this article, we'll discuss two distinct earphones: Shure SE846 and SE535. Both have numerous features that set them apart. For instance, they both sport a comfortable design and support Bluetooth connectivity.
Let's break it down even further.
Shure SE846 vs SE535: Let's End This Debate!
Build and design
The particular design of an earpiece could either attract customers or drive them away. Gladly, the Shure SE535 and SE846 models have a modern, elegant design that sets them apart.
They feature an over-the-ear configuration that holds the earphones securely in place, keeping the cables away. This offers a unique, long-wearing comfort that's difficult to find with other brands of earphones.
Both earphones are equipped with a detachable cable system to support multiple connectivity of devices. Essentially, there are four different connectivity options you can utilize: USB-C, Bluetooth, Lightning and Universal 3.5 mm.
The USB-C communication cable allows users to connect their Shure earphones directly to their Android-powered devices.
You can conveniently plug in your Bluetooth cable to deliver wireless capabilities to your Shure earphones. This allows you to control music playback, receive phone calls, change the volume and execute voice commands seamlessly.
If you have an Apple device, you can suitably use a lightning cable to connect your Shure earphones to that device.
This cable features an array of impressive features, including an inbuilt DAC or headphone amp that supports digital audio. You also get to enjoy the remarkable inline control and communication feature.
The weight and dimensions of Shure SE846 and SE535 earphones vary slightly. The SE846 weighs 2 lbs and measures 9.1 x 5.7 x 2.6 inches.
The SE535, on the other hand, weights 1 lb and measures 4.5 x 3.25 x 4.5 inches. Clearly, the Shure SE535 model is more compact and lightweight compared to its counterpart.
There's a variety of color options to choose from. The Shure SE535 comes in clear, bronze and red color options whereas the SE846 model comes in blue, black, bronze and clear options.
Features
Shure SE846 earphones come with a tunable frequency response feature that allows you to customize sound signatures according to your preference.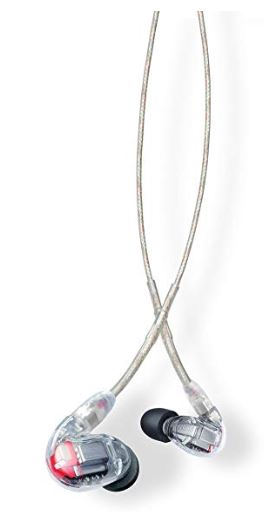 The Shure SE535 earphones review, on the other hand, have a distinctly tuned frequency filter that attenuates noise and enhances your listening experience. The impressive state of the art sound isolation feature of Shure SE846 is something to marvel at.
This earpiece is designed using a unique low-pass filter to offer unmatched high-end clarity for long, delivering the "true subwoofer performance".
The Shure SE535 is also designed to isolate sound quite effectively – it can easily block around 37 dB of external noise to offer a distinct immersive listening experience.
The Shure SE846 has a special over-the-ear design that allows users to securely fasten the earphone in place while ensuring that cables don't get in the way. This offers unparalleled comfort for longer periods. The SE535 also shares this comfortable over-the-ear wearing configuration.
Both earphones have an integrated remote mic feature that provides smooth control for voice commands, phone calls, and music playback. Users can conveniently receive calls by pressing a distinct button located on the SE846/SE535 earpiece.
In addition, these two Shure earphones can be used to select music or change the volume. The Shure SE846 and SE535 models are also fitted with a Bluetooth 4.1 communication cable and a Universal or standard audio cable.
This allows them to pair with any device that supports Bluetooth 4.1 connectivity. You get about 10 meters (or 30 feet) of wireless range when using the Bluetooth feature.
Both earphones come with a micro-USB charging cable that helps to charge their unique batteries. When fully charged, these earphones provide about 8 hours of battery life.
The Shure SE846 model comes with changeable nozzle inserts that include these options: warm, balanced and bright. The SE535 model doesn't sport this feature.
Sound quality
Shure is an American company that manufactures top-range audio products to a variety of clients worldwide. Since its inception in 1925, Shure has prided itself in delivering industry-standard electronics having superior quality and unmatched technology.
Their SE846 and SE535 earphone models are uniquely designed to offer superior sound isolation and maximum comfort. The SE535 features three high-definition drivers that offer rich bass and spacious sound, delivering cinematic audio that's packed in a convenient package.
This earpiece also has lovely sound isolation sleeves that are comfortable to wear. These sleeves help to attenuate external noise by blocking 37 dB of ambient sound.
The SE846 model, on the other hand, features four high-definition drivers that deliver impressive sound quality for extended periods. It also comes with a cutting-edge low-pass filter that effectively shifts between different frequencies, offering a phenomenal subwoofer performance.
The sound isolation of this particular earpiece is extremely efficient. It's fitted with cozy sound isolating sleeves that help to cut off about 37 dB of external noise.
This impressive feature allows users to enjoy their unique listening experience without having to worry about ecological interruptions. You can utilize the Shure SE846 earphones onstage or even when traveling.
To fully take advantage of this amazing sound isolating technology developed by Shure, you ought to have got a proper fit before purchasing the earphone. While the SE535 model delivers spacious sound with distinctly rich bass, the SE offers extended high-end sound clarity and superior low-end performance.
Pros and Cons
Shure SE846
Pros:
Unrivaled noise isolating features to suppress ambient noise, making it suitable for loud onstage environments.
Incredible clarity and impressive low-end performances, thanks to the integrated Hi-Definition Micro Drivers.
Conveniently adjust the tunable frequency response to choose between several sound signatures that include balanced, warm and bright.
Can easily convert into a wireless earpiece, thanks to its cool Bluetooth integration feature.
Cons:
A few claims that there are a slight buzz and distortion in higher volumes and lower frequencies.
Shure SE535
Pros:
Rich bass and quality sound, thanks to its triple Hi-Def drivers.
Offers a wholesome cinematic audio experience to users.
Superior noise insulating property.
Compatible with a wide range of devices, supports Bluetooth connectivity and provides 30 feet of wireless range.
Easy to maintain, thanks to its detachable cable system.
Inline mic and remote that permits users to control a variety of functions.
Cons:
Physical design is quite delicate and requires regular care.
Also read:
1. Shure SE215 vs Shure SE535 – Which one Sounds Crystal-clear?
2. Westone W60 vs Shure SE846 – Here's our Best Pick!
Bottomline:
After a thorough review of both earphones Shure SE846 vs SE535, the Shure SE846 takes the day. It has an impressive array of features that give it an edge over the SE535.
For instance, it has four high-definition drivers that provide continuous clarity even in extremely loud environments, while SE535 merely has three Hi-Def drivers.
Another feature that makes Shure SE846 a true winner is its revolutionary low filter that delivers subwoofer audio quality without jeopardizing the sound's detailed quality.
You'll certainly enjoy the extended bass quality and the rich sound produced by the Shure SE846 earphone. These are high-quality earphones recommended for avid music lovers worldwide.