Today in this post, I am going to review Sennheiser PC 373D vs Game One, the two best PC headsets you can use to enjoy your gaming.
Last update on 2023-09-21 / Affiliate links / Images from Amazon Product Advertising API
A lot of companies have started to cater to gamers' specific needs and audio giants are not left out.
Sennheiser came with the PC 373D and Game One to make the gaming experience better. There are a number of similarities in these two gaming headsets, but:
Are there any differences between the PC 373D and Game One? Which one should you pick and why? What genre of games are they good for?
I'll be answering all these questions and more in his article.
Features
Sennheiser PC 373D
Game One
Type
7.1 surround headset
Stereo headset
Weight
360 grams
626 grams
Detachable cable
Yes
Yes
Connectors
USB
2 x 3.5 mm / 1 x 3.5 mm
Mic type
Noise-canceling mic
Noise-canceling mic
Cable length
1.7 m + 1.2 m
1.2 m + 3 m
Compatible with platforms
PC
PC, Mac, Xbox One, PS4, Nintendo Switch,
and Smartphones
Impedance
50 ohms
50 ohms
Amazon product page

Check price

Check price
Sennheiser PC 373D vs Game One: Let's find the winner
Build and design
The PC 373D has quite an unassuming design, different from what you would expect from gaming headphones.
Apart from the visible microphone, the other details of the design look just like any other pair.
The headphones are made of matte black plastic and have velvet cushions on the earpads. Also, there are a few linings of red here and there.
Even though it does not look like other gaming headphones in terms of design, it certainly performs up to that standard.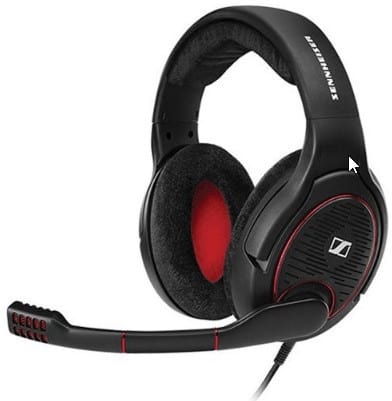 Like the 373Ds, Game One is made entirely of plastic. This is not to say it's fragile though it's the stronger kind of plastic that's used in manufacturing these days.
The ear padding material also feels similar to the 373d's. Even though the plastic is strong, you still need to be careful with those joints; that's where the damage usually begins.
PC 373D weighs about 360 grams while Game One is heavier: it weighs 626 grams. This difference may be negligible if you use the headphones for a short period.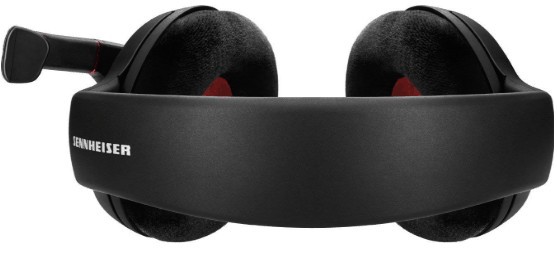 If you binge on games for several hours however, the weight difference begins to tell.
Now, you need to know this early on. Of these two pairs of gaming headphones, only the 373ds give you the 7.1 surround option. The Sennheiser Game One only gives you the stereo options.

Gamers always prefer to surround sound headphones for gaming as they provide the 3D feel.
The controls available with these headphones are minimal. There are not many buttons to press or knobs to turn.
For both headphones, the only visible knob is the volume control knob.
The only other control is accessed by flipping the mic up or down. This gesture mutes or unmutes the headphones' respective mics. This enables you to easily control your mic's operations while in the middle of an intense gaming session.
373d connects to your device via a detachable cable. It connects via the USB port. Having a detachable cord surely increases the headset's useful life.
You can easily replace a faulty cable. Since it only connects via USB port, it limits the devices you can connect. If you use an adapter, you won't have the 7.1 surround sound.
Game One also has a detachable cable but uses the 3.5mm cable, which makes it work with several devices.
Game One works well with the built-in soundcard that comes with your console or computer. PC373D requires a 7.1 surround compatible soundcard if you need the surround feature. If your computer does not have it built-in, there are a few external sound card options that you can explore.
Sennheiser PC373D is compatible with PC, PS4, and Xbox. However, you won't have full options when using it with the consoles. The 7.1 surround feature is only available when you're using it with a PC. Game One is compatible across all platforms and sounds the same regardless of the platform.
Verdict: If you're not a PC gamer, then it's best to go for Game One. For PC gamers, the 7.1 surround feature would be a good reason to go for the 373d.
Comfort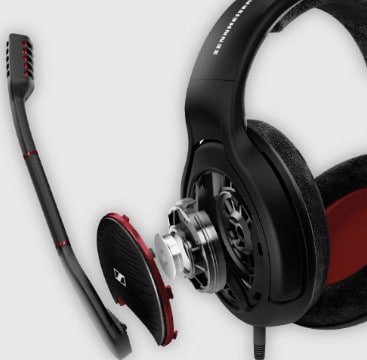 Even Sennheiser PC 373D and Game One have an all-plastic design that may create some durability concerns, they make the 373ds a lot more comfortable.
By adding the plush velvet cushion on both earpads and the headband, you will have a super comfortable pair that's suitable for long hours of use.
If you wished to play the whole Call of Duty story in one sweep, these cans have got your back from start to finish. You wouldn't even need to readjust them because they don't give so much heat to your ears.
The Game One headsets are well padded, fit well and are comfortable for long use only if the size of your head fits well inside the cans.
Bigger heads or certain hairstyles for hats may make the headphones feel tight.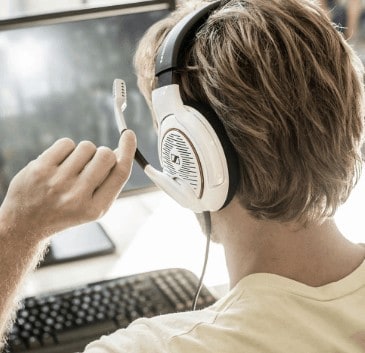 Also, you can't just move the headband to the back of your head to fix that problem. If you do, you won't have the best sound experience with the headphones.
Verdict: The Game One is super comfortable for several hours of use if it fits your head size well in the first place. For bigger sizes, 373d could be the answer.
Sound quality and performance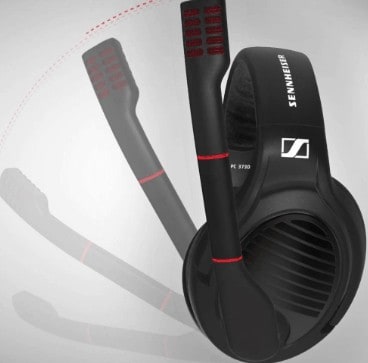 The 373ds give a fairly neutral sound characteristic when on the stereo mode. There's really no emphasis on any frequency range.
Bassheads, won't find this headset as one of their favorites bass headphones. However, with the 7.1 surround sound engaged a lot of changes.
A little context here before we talk about the 7.1 surround sound. The surround given by these headphones is a simulation of an actual 7.1 surround sound environment.

For actual 7.1 surround sound, you would need 7 speakers strategically placed in the room. The 373ds do pretty well with the surround sound.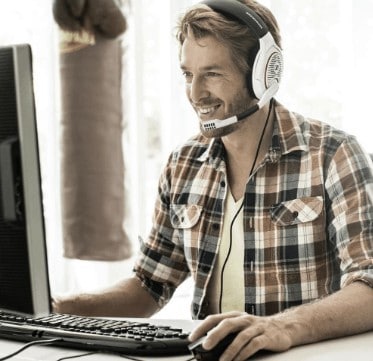 You can know immediately where your enemies are in the game world just by listening.
Stereo headphones may give you the general direction, but this 7.1 surround gives more precision.
In most shooting action games, sound precision can be the difference between life and death. It gives a super advantage.
At times, you don't even see who's shooting at you but you just need to return the shots in that direction. If you have precise sound, your aim could be more deadly without even seeing the other guy.
The Game Ones do not have the surround sound option. Like the 373ds, it doesn't have so much bass, but it also doesn't hide many details.
It gives accurate production in both loud and quiet areas of the game. In terms of direction, it gives the approximate direction in stereo mode.
The direction of its sound is relatively accurate for a stereo headset because it has a wide soundstage. This is common with open-back headphones.
As both Sennheiser PC 373D and Game One are open-back headsets, sound isolation is quite poor with both of these headsets. Sound leaks in and gets out easily, so you won't enjoy them in a noisy environment.
Verdict: The 7.1 surround option gives the 373d huge advantage here. Even in stereo mode, there's not much difference in sound quality between both headphone pairs.
Mic and noise cancellation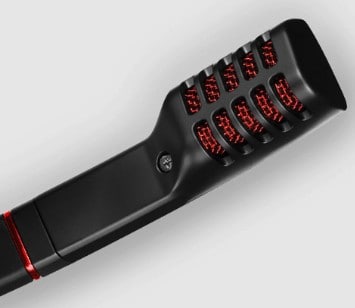 Both headphones excel in this department. All your chats will be heard crisp and clear by other gamers.
The noise cancellation in both mics is top-notch. Even when the environment is a bit noisy, you can be sure that your chit chat will be heard.
Verdict: It's hard to pick a winner here because the noise cancelation on both these cans is just amazing.
Read our other popular posts:
Sennheiser Game One vs Game Zero: No Brainer Choice
Conclusion
For PC gamers, the PC 373D is the best bet. The reason is simple 7,1 surround sound.
Other features are quite similar to both pairs of headphones. If you use the PS4 or Xbox, you can't enjoy surround sound on the 373d, so you might as well go for Game One since it comes with a 3.5mm cable.
For music, both the headphones are not for bass-heavy. However, you will enjoy jazz, classical and other love music forms. They're also good for podcasts and audiobooks because of the voice clarity they have.