In this post, today I am going to review Sennheiser HD280 Pro vs Audio Technica ATH-M50x and let you guys know which of these studio headphones is best for mixing, recording, and studio monitoring.
Last update on 2023-12-08 / Affiliate links / Images from Amazon Product Advertising API
Sennheiser HD280 is a legendary pair of headphones that you'll find in many recording studios. It has held its place for a while.
The ATH-M50x is also a favorite of many recording engineers, artists, and music lovers.
Both headphones have a closed-back design and a similar frequency range.
However,
Is there any difference between these two headphones? Which is better for audio recording in the studio? Which is better for mixing?
These are the questions I'll be addressing in this article.
Let's look at the specifications of Sennheiser HD280 Pro vs Audio Technica ATH-M50x.
| | | |
| --- | --- | --- |
| Features | | |
| Weight | 285 grams | 285 grams |
| Detachable cable | No | Yes |
| Cable length | 9 feet | 10 feet and 4 feet straight cable |
| Portable | No | Yes |
| Frequency range | 8Hz to 25000Hz | 15Hz to 28000Hz |
| Design | Over-ear (circumaural) | Over-ear (circumaural) |
| Audio connectivity | 1/8" / 3.5 mm TRS | 1/8" / 3.5 mm |
| Impedance | 64 Ohms | 38 Ohms |
| Driver size | Dynamic drivers | 1.8" / 45 mm |
| Amazon product page | | |
Sennheiser HD280 Pro vs Audio Technica ATH-M50x
Build and design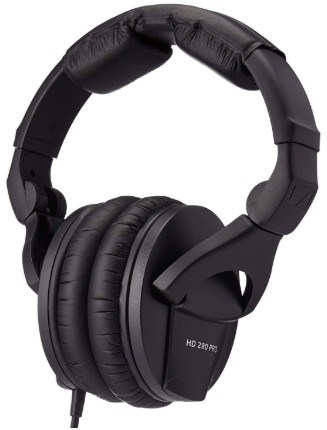 Sennheiser HD280 is made entirely of plastic. However, this does not indicate that the headset is fragile; actually, it looks and feels quite strong.
It would take a good number of hard-hitting to break these headphones. It's quite obvious that the HD280s are not made for wearing outdoors.
They look quite bulky and could be awkward wearing them outside. However, in the studio, they look quite at home.
In terms of build material, the M50xs are similar to the Sennheisers; plastic build with a strong, solid-looking frame. In terms of aesthetics, however, these Audio Technica cans look quite good when worn outdoors.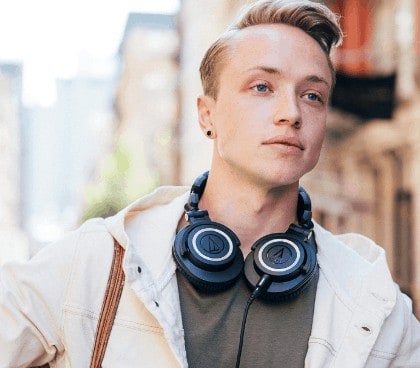 The headband is not too wide, so you can easily wear them around your neck sometimes. Thankfully, the earcups rotate in a way that they lay flat. The HD280 earcups also swivel, but not in a way that makes them flat.
Ignoring the added weight of cables both pairs of headphones are equally lightweight, weighing just 285 grams. There are no controls available on both headphones. Also, the cables are free of any in-line remotes.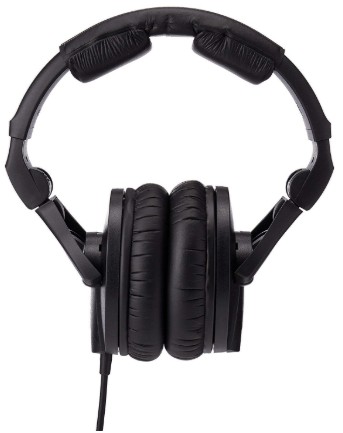 Speaking of cables, the HD 280 pros cable is not detachable. A detachable cable would contribute a lot in increasing the headset's lifespan.
On the plus side, the cable is well connected and it's unlikely to frail in a very long time. It's coiled, so, you can have up to 9 feet of length.
At the same time, the cable doesn't get in the way so much because it retracts back to 3 feet if the whole length isn't needed.
The M50x gives you different cable options; a 10 feet long straight cable, 4 feet straight cable and a 10-foot coiled cable. This is the advantage of having a detachable cable; you can easily remove and attach cables as needed.
Verdict: If you want headphones not only to use in the studio but also carry them outdoors with you, the M50x is better in that regard. The Sennheiser is a bit bulky for carrying about.
Comfort
The HD280 Pro earcups are well-padded and they are super soft, even though they fit snugly on your ears.
The inside of the earcups is covered with soft foam so that even if your ears touch them, you won't feel any discomfort.
The HD280s are good for long recording sessions, especially while recording vocals.

If you're recording an audiobook, the voice-over artist may have to take them off every 2 hours. The leatherette material covering the earpads may cause the ears to get a little warm

The M50x is similar in this regard, with soft plush earpads that make you comfortable for the first two hours.
In addition to the material covering the earpads, the closed-back design of the headset prevents airflow from getting in, which contributes to the warmth buildup after some time.
Verdict: Unless you're moving around, there's little or no difference between the two headsets in comfortability. They both have some heat buildup after long hours of use.
Sound quality and isolation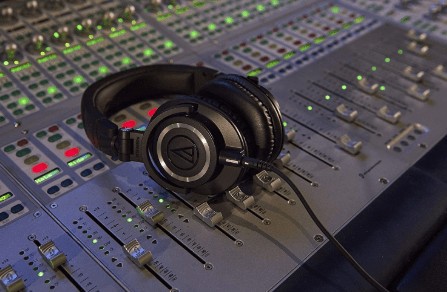 For most closed-back headphones, you don't get a very wide soundstage. It's not different for these headsets too.
The soundstage in the HD280 Pros is quite decent but not as wide as what you'll have in an open-back headset. The same can be said of the M50x.
However, there's a big advantage that comes with closed-back headphones; they prevent sound leakage. If you use either of these headphones to record vocals, the audio playing in the headphones will not leak into the mic.
Therefore it guarantees cleaner recordings. If audio leaks into the mic from headphones, it may sound like a small detail that won't spoil anything, but in the end, these small details that make or mar the final quality of your work.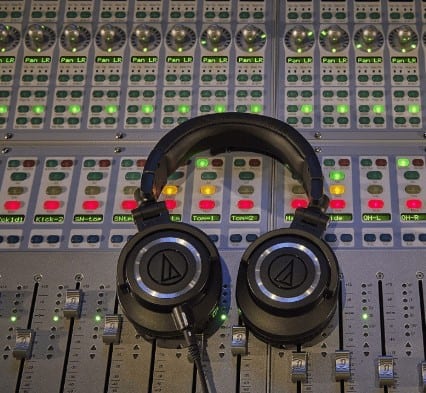 Both the Audio Technica and Sennheiser prevent sound leakage.
The flip side of sound leakage is sound isolation.
How much sound gets into the headphones from the environment?
Being closed-back headphones, and the design of the earcups and earpads, there is a good deal of sound isolation.
The HD280 does a bit better in this regard though, as it prevents some low-frequency ambient noise from getting in. M50x allows a lot of low-frequency ambient noise but prevents high-frequency ones from getting in.
While both pairs of headphones have wide frequency ranges, they produce the frequencies differently. The HD280's frequency range is 8Hz to 25000Hz, and the M50x has a range of 15Hz to 28000Hz.
Bass
The Sennheiser HD280 does not emphasize bass over other frequencies. The bass is solid, but also natural.
The bass production you'll hear depends on how bassy the original music is. The headphone does not add extra punch to the music.
M50x, on the other hand, adds a little lift that makes its bass sound a little deeper than the HD280. While this is good for music lovers who are bassheads, but it's not ideal for mixing low end.
Mids
M50x has a slightly reduced mid, which makes it understate pianos and guitars just a little bit.
It's good for most electronic music, but classical and jazz music needs more midrange openness. You'll find this with the HD280 Pro.
Highs
The high frequencies in both headphones are a little bright, though M50x has a slightly brighter tone.
Unless the source audio is harsh, you won't have any harshness from the headphones themselves. If you're mixing, be careful with the high end, because both headphones seem to emphasize treble a bit.
Verdict: For recording, both headphones are good. However, vocalists may prefer the M50x because it emphasizes low end and treble. For transparent sound, the HD280 is better.
Conclusion
For studio recording, both headphones will do a good job since they prevent leakage quite well.
However, for mixing, HD280 Pro is better because it has a more natural sound. It only emphasizes the high frequencies just a little bit.
If you're recording hip hop or EDM music, your artist will surely like ATH-M50x better because it gives more bass response.