Which wireless gaming headset is better; Steelseries Arctis 9x or Arctis 7x?
These two Steelseries headphones are similar in most ways, but there are significant differences that determine whether you can use them for gaming. Although there are other subtle differences, the biggest ones are related to compatibility.
So, in this article, I compare these two wireless gaming headphones and answer some burning questions like:
Which headset is better for PS4; Arctis 9x or Arctis 7x?
Which gaming headphones work best with Xbox Series X; Arctis 7x or Arctis 9x?
First, let's talk about the build and design of both gaming headphones.
Steelseries Arctis 9x vs 7x
Build and design
Steelseries Arctis 9x and 7x have similar designs. They are closed-back over-ear headphones with comfortable padding.
Heat buildup is not an issue in both gaming headsets because the earpads are made with a porous material. So, you can use them for hours without feeling too uncomfortable.
Both the Arctis 9x and 7x are bulky, but that's expected from gaming headphones. Most of the build and design features are similar. However, Arctis 9x feels more solid than 7x because of its metal headband; 7x is all plastic.
Lastly, you can easily put away the mics on both gaming headsets by pushing them in, since they're retractable.
Sound quality
Steelseries Arctis 9x and Arctis 7x have different sound qualities. While Arctis 9x has a more neutral sound, 7x is heavier on bass and treble, with a lower midrange. This means that with Arctis 7x, your gaming sound effects will be louder, especially explosions and a similar sound.
You will also feel the brightness of the sound coming through as you play. The 7x adds a little extra to the bass and treble in the game. On the other hand, Arctis 9x maintains its sound closer to the original game audio.
If any of the two headphones don't sound good enough, you can tweak the EQ to your taste.
Moving on to the soundstage; how big is the sound from these Steelseries gaming headsets? Both the Arctis 7x and 9x have a decent soundstage but are not as wide as open-back headphones.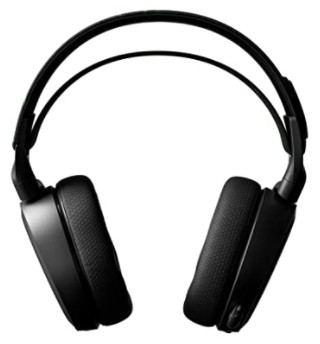 Also, if your game has 3D sound, Arctis 9x has windows sonic spatial audio to give you that immersive experience. Arctis 7x adds Dolby atmos to its own virtual surround features. 9x does not have Dolby atmos since it's made for Microsoft products (Xbox and PC).
Lastly, Arctis 7x has better wireless audio latency. However, most gamers may not notice the difference even in online shooter games like COD Warzone or Battlefield.
Steelseries Arctis 7x vs 9x – Which headset is better for Xbox, NintendoSwitch, Playstation, and PC?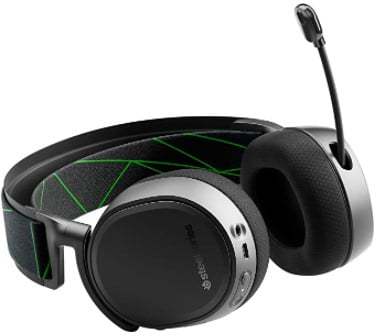 Steelseries Arctis 9x was designed specifically for Xbox. Hence, it works smoothly with Xbox, Xbox Series X, and Series X to connect with these consoles, the Arctis 9x uses Xbox wireless connection.
However, to connect the 9x to your PC, you need to use Bluetooth. Thankfully, Arctis 9x has both. The Xbox wireless and Bluetooth connections have low latency for high-speed gaming.
Because the 9x does not come with a dongle, it is not compatible with PS4, PS5, or NintendoSwitch. These consoles also don't have Xbox wireless. Playstation 4 does not connect directly to Bluetooth headsets as well.
On the other hand, Steelseries Arctis 7x comes with a USB C dongle that enables it to work smoothly with PS4, Nintendo Switch, Xbox, and PC.
The USB-C dongle has a switch to select Xbox or USB. The Xbox option is for Xbox, Xbox Series X, and Xbox Series S. For PS4, PS5, NintendoSwitch, and PC, use the USB option.
To use the Arctic 9x with PS4, you can simply connect via your controller's 3.5mm audio jack. You'll need a 3.5mm cable for that; it isn't included in the box. With this method, the mic does not work.
Steelseries Arctis 9x vs. 7x: Differences
Arctis 9x works smoothly with all Xbox consoles and PC only. Arctis 7x works with all consoles and PCs. All you need is a USB port.
Arctis 9x has a more neutral sound, but Arctis 7x has less midrange and more bass and treble.
Arctis 7x needs the USB-C dongle to connect to any console or PC. Arctis 9x connects directly without dongles.
Arctis 9x has a battery life of 28 hours while taking between 2 to 3 hours to charge. Arctis 7x battery lasts about 24 hours but charges to full between 3 to 4 hours.
Wrap up
In this article, I have compared Steelseries Arctis 9x and Arctis 7x. Both are great wireless gaming headphones. The most significant difference here is compatibility. If you have a Playstation, NintendoSwitch, or anything that's not an Xbox or PC, you should go for the Arctis 7x.
Steelseries Arctis 9x works best for all Xbox consoles and PCs.