Do you need an amplifier to power your passive subwoofers? If yes, then this article is for you. Basically, your passive subwoofer cannot work without an amp.
Editor's best pick
Acoustic Audio WS1005 Passive Subwoofer Amp 200 Watt Amplifier for Home Theater
Best for home theater
Dayton Audio SA230 230W Subwoofer Amplifier
Basshead's pick
OSD Audio 300W Mono-Channel Class A/B Subwoofer Amplifier, Auto Sensing, 4 -8 Ohm Stable
Last update on 2023-09-21 / Affiliate links / Images from Amazon Product Advertising API
So, if you want that bass pumping, you need to drive it with a very good passive subwoofer amplifier. There are a lot of subwoofer amplifiers you can choose from, but which ones are the best?
Which of the best passive subwoofer amplifiers is most suited to you?
In this article, I address these questions and give more information about the best passive subwoofer amplifiers.
| | | | | |
| --- | --- | --- | --- | --- |
| | | | | |
| | | | | |
| - Best home theater subwoofer amp | | | | |
| | | | | |
| | | | | |
| | | | | |
Why would you need a subwoofer amplifier?
There are two major types of a subwoofer: active subwoofers and passive subwoofers.
The active subwoofers get their power directly from power outlets. You simply need to plug them into the wall and they'll start booming.
Passive subwoofers are the opposite; they don't go into power outlets. The power comes from amplifiers. So, you would need a subwoofer amplifier if your subwoofer is the passive type.
However, you may want to use an amplifier even with an active subwoofer. This is because some amps add some heft to your sound. Also, the amps may have some controls that you need, like the crossover or bass boost knobs.
5 Best passive subwoofer amplifiers reviewed
Specifications:
Frequency Response of 50 – 200Hz at 4-8ohm.
Power Supply of AC 18V
System power of 200 watts
Design

This all-black subwoofer amp has a compact build. It's good for small spaces and when you wish to keep it out of sight. The overall build feels rugged. The control knobs are also well built.
They shouldn't fall off for a long time. The knobs have a silvery finish and are sizeable.
Locating them in the dark will be easy. The Acoustic Audio amp also has feet at the base that keep it grounded and stop its heat from reaching the surface.
Sound quality
The WS1005 has a frequency range of 50Hz to 200Hz. While 20Hz seems to be the standard low frequency boundary, the reality is that only very few people can hear that low.
50Hz is closer to most people's low-frequency hearing threshold. For the nerds that hear 40Hz sounds, you may want to lower your expectations a bit.
You can select your crossover frequency with one of the control knobs. The other knob controls the subwoofer volume. With this amp, a good subwoofer will produce up to ¾ of the maximum volume without giving distorted sound.
Features
Before you choose the WS1005 passive subwoofer amp, you should consider subwoofer's output ports
This amp has RCA inputs and raw cable outputs. This means that to connect it to your subwoofer, you must use a cable that's bare at one end –no jack, RCA, or XLR at the tip. The space to slot the wire is at the rear of the amp.
Pros
Compact design
Knobs are easy to locate in the dark.
Cons
Raw cable input may be tricky to fix.
Specifications:
Frequency – 80 to 180 Hz
Signal-to-Noise Ratio – 85 dB A-weighted
THD @ Rated Power – 0.01
Phase Adjustment – 0° to 180°
Bass Boost – 25 Hz to 50 Hz
Voltage Requirement – 120/230 VAC
Design
Most amps have metal frames. Plastic won't be able to handle what goes on inside.
Having said that, the Dayton audio subwoofer amplifier's metal body has extra strength. The heavy-duty chassis and aluminum faceplate ensure that you won't need anybody repair.
The control knobs on this amp are smaller than the ones on the Acoustic Audio WS1005.
You may do some groping before reaching them in the dark. There are no distractions at the front; you only have two knobs and the power switch. The other important stuff is at the rear – the input and output ports and others.
Sound quality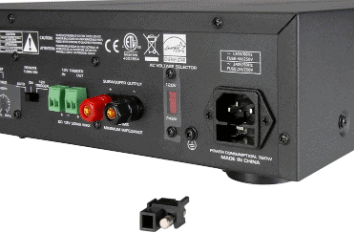 This subwoofer amplifier has a slightly deeper bass than the WS1005. It reaches down to 40Hz.
Audiophiles who can hear frequencies that deep are in for a treat. As for the rest of us, we'll enjoy the effect of the bass boost. Interestingly, you can choose which bass frequency you wish to boost.
For trap lovers that wish to boost their 808 boom, you can boost your 65Hz to 80Hz easily.
If you listen to pop music more, you may need to move your bass boost up a bit more. The phase knob is another sound altering control. With this knob, you can easily fix any phase issues your sound has.
Features
The Dayton Audio amplifier gives you more connection options. You can choose either the RCA input and output or the raw cable input or output.
If you haven't bought your subwoofer yet, make sure to get one that has an RCA input and cable. It makes the connection process easier. You shouldn't be fiddling around with naked wires if you're not familiar with it.
Pros
Multiple connection options
Bass boost frequency selection gives more freedom.
Specifications:
Frequency Response: 40Hz – 500Hz
Mounting Depth: 3.9"
Power Handling: 300W
Woofer: 8" 8 Ohm
Passive Radiator: 10"
Design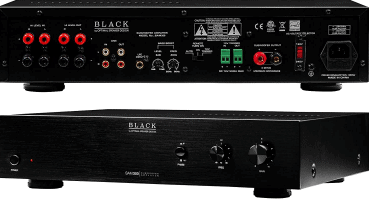 The OSD Audio amp is another all-black unit. Its build is similar to the Dayton Audio amp. It has a heavy-duty steel frame and an aluminum faceplate.
There's a red indicator beside the power button. It indicates when the amp is on. This amp is may look compact, but it certainly feels different. It weighs 15 pounds. It's really not something to carry around.
Sound quality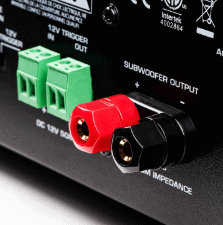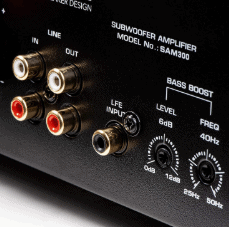 This amp gives super deep bass. If your subwoofer can produce such a sound, you will love all the rumbles and explosions in your movies.
There's more!
If you are not satisfied with the amount of bass you're getting, you can use the bass boost knob.
The bass boost gives you the option of choosing the frequency you wish to boost. However, this may prove tricky if you change the settings often. The bass boost knobs are at the rear of the amp.
Features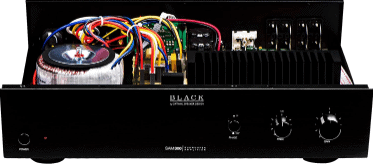 One meaningful feature in this amp is the standby mode. When you're not using the amp, it drops its energy consumption, even if it's still on. This saves you some electricity costs.
Additionally, this amp gives you multiple connectivity options, including raw cable and RCA. This makes it a versatile choice that will work with most subwoofers.
Pros
Adjustable bass boost
Multiple connectivity options
Cons
Bass boost knobs are not easily accessible
Specifications:
Frequency response : 18Hz – 22kHz
THD : 0.04%
Amplifier power : 2 x 70W at 4Ω (@THD 10% @24V)
Power supply : Jack DC 24V 5A
Design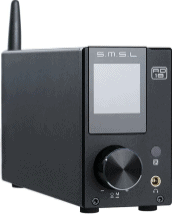 As expected, this amplifier is made of strong and metal. However, that's not all. Instead of the sharp edges we see in the other amps, the AD18 has rounded edges.
The roundness is not so obvious, but you can run your hand along the edges without the risk of getting a cut.
This finishing is present in the front and rear of the amp. For some reason, some other amps have the rear with less quality finish than the front. So, the AD18 HiFi stereo amp is a safe and durable choice.
Sound quality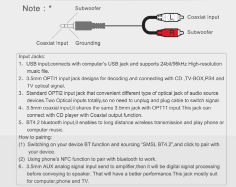 The amp does its best to not get in the way of the sound that passes through it. On one hand, this gives your audio playback some transparency.
On the other hand, there's no warmth or heft added by the amp. The stereo separation is also really nice.
It opens up the audio to a wide soundstage. Asides the width, the soundstage is also precise.
This means that you will hear all the elements of your music in their rightful places. It gets better with movies; all the sounds coming from the screen will play in their right positions.
Features
This amplifier unit is more modern than the ones we looked at earlier. Aside from the display screen in front of the amp, there is Bluetooth support for compatible devices.
It gets better. Pairing your device is so easy. The AD18 has the NFC feature that enables it to connect smoothly.
Of course, there are also wired options for you. The 3.5mm headphone jack is right at the front if you wish to hear your music directly from your headset.
Pros
A headphone jack is present.
Easier to handle because there are no sharp edges.
The display screen makes operation easier.
Cons
No crossover adjustment knob.
Specifications:
Frequency Response: 50 – 200 Hz,+/- 3dB
Power Amplifier Output: 200 Watts
Output Impedance: 4-8 ohm
Power Supply: AC 18V
Fuse: 3A / 250V
Design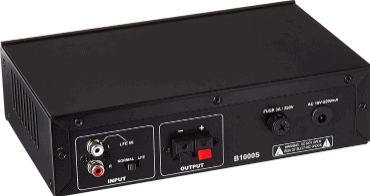 The Blue Octave home B1000S Subwoofer amp is a lot like the Acoustic Audio WS1005, both is appearance and function.
It is made of strong metal, so it's not likely to fall and break. Also, the knobs are large and in front of the amp, so it's easy to locate them.
The heat is regulated via the vents on either side off the amp. Even with the vents, the heat builds up pretty fast.
Sound quality
The resemblance with Acoustic Audio WS1005 continues to the sound quality. With a frequency response of 50Hz to 200Hz, there's enough room for a bass boost.
The crossover knob helps you to adjust the crossover frequency. You can bring it lower if you have impressive full-range speakers and tweeters.
It gets louder than the Acoustic Audio amp though. With its power of 200W, you'll need a powerful subwoofer to use the whole range.
Features
There are three controls in front of the amo; power switch, subvolume knob, and crossover knob.
You can only increase the volume of the subwoofer. You can't select bass boost frequency like the OSD Audio amp.
The input and output ports accept different cables. The inputs are RCA ports while the outputs are raw cable ports. This limits the range of subwoofers that you can use with the amp. Also, there's no headphone jack.
Pros
Simple design; easy to operate
Strong, durable chassis
Knobs are easy to locate, even in the dark
Cons
Limited ports for connection
Heats up quickly
Conclusion
All of these passive subwoofer amps are effective in their own way.
However, as I always do, I must pick my top 3 products. They are Dayton Audio, OSD Audio, and AD18 amplifiers.
I choose these three because they have extra features that make it easier to use.
Dayton Audio and OSD Audio amps have multiple connection types. This means that you can use more passive subwoofers with them, unlike the Acoustic Audio and Blue Octave amps.
AD18 is simply in a class of its own. It's more modern, so it gives more accessibility for current devices. It has a 3.5mm aux and a headphone jack. This convenience of use is what makes me like this amp best.
Related articles: