Laptops and computers are great sources of entertainment. We use them for our daily activities like gaming, listening to music, and browsing the internet. And to enjoy these activities, you need high-quality sound.
Low volume speakers and poor sound, in general, kills your entertainment.
If your speakers are not performing to your liking, not loud enough, and you're wondering how you can boost their performance, read on because in this article we will show you 6 ways to easily improve and make your computer laptop speakers louder.
These procedures are not rocket science. You can accomplish them by simply tweaking your computer or laptop sound settings. And without overspending your cash. These methods work for both Windows, Mac, or Linux.
Let's dive in.
How to easily make your computer Laptop speakers louder?
Loudness equalization
The first procedure you can try to make your computer speakers louder is by using the inbuilt enhancements that come with your computer.
Enhancements are a common feature in Windows laptops and computers and you can manipulate them in order to achieve maximum loudness from computer speakers.
Loudness equalization aims at boosting your speakers to maximum loudness.
Here's how you can access your computer's audio enhancements and achieve loudness equalization.
On the bottom right side of your computer screen, right-click the volume icon.
Click playback devices -> Click playback tab. Under the playback tab select speakers
Click properties: This will open the speaker properties window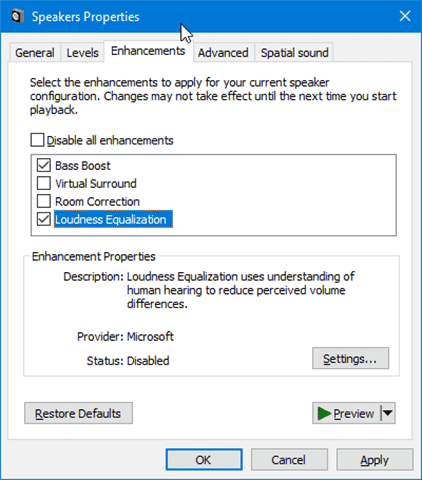 Go to enhancements, then Tick loudness optimization. Click ok and exit
Note: Make sure to compare the sound volume of your computer with the Loudness equalization on and off and try to notice any changes.
Basic volume adjustments
Sometimes the reason why you are experiencing low volume with your computer is simply that because your computer volume is low.
Well, if this is the case then you can solve your problem with just a few steps.
When you play media files on your laptop, there is a volume fader on the media player. You can adjust this slide to the highest settings in order to experience maximum volume.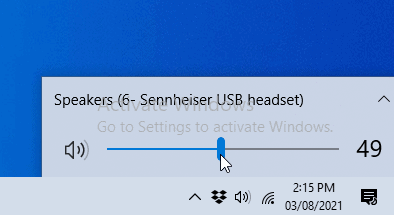 Or you can adjust the operating system volume fader as well. It's located on the right bottom corner of your computer screen. Adjust this fader again to the highest level to enjoy maximum loudness.
Using sound booster applications
What if you perform basic volume adjustments and your loudness equalization enhancements but you still experience low volume?
In that case, you need to take things up a notch. You need to get sound booster applications.
Sound booster applications are one of the best and simplest ways to make your computer laptops speakers louder.
Thanks to new technology, today there are numerous sound booster applications for computers to choose from. And the best part is that some of them are free.
But the free versions might come with limited features. Therefore if making your laptop speakers louder is your biggest desire then you should sacrifice and get a premium booster app not the free versions. They have more to offer.
Here are some apps you can try out.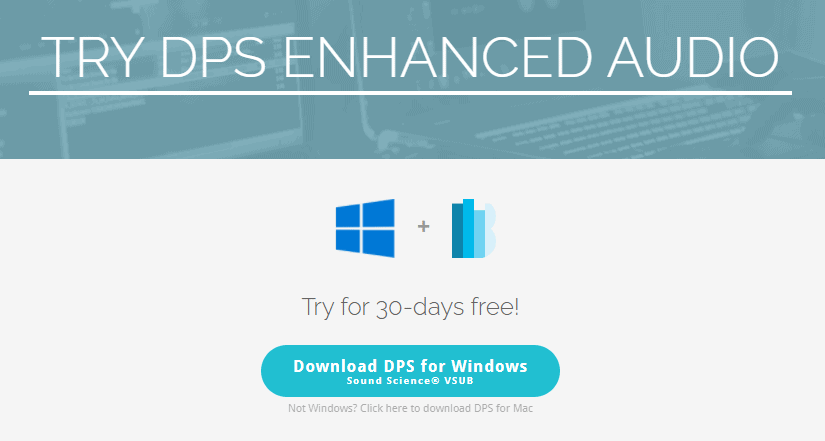 These apps are great to boost your computer speaker volume while playing media, videos, music, games, and streaming online from youtube.
Using VLC media player

Read Also: How to Fix Bluetooth Lag in Car? – 8 Super Quick Solutions
Another simple and great way to make your computer/laptop louder is by using a VLC media player. The best part is that the VLC Media player is available for free.
VLC is a universal media player and you can play all forms of media for free. Whether it's watching movies, videos, or playing music.
Unlike other media layers which offer a volume boost up to 100 maximum, VLC offers up to 125 percent boost. VLC is compatible with all operating systems like Windows and Linux.
It's easy to download, convenient, and is free of viruses.
Buying external speakers
If you apply the 4 methods discussed above and you're still unhappy with the volume of your speakers, you should invest in external speakers.
They are your last resort because you'll never go wrong by buying external speakers. Unlike the previous methods, external speakers will cost some money therefore you must be ready to invest in them.
Or you can get high-quality Bluetooth speakers if that's what you prefer. The best thing about investing in an external speaker is that you can use them in a noisy place but still get quality sound.
Depending on what speakers you buy, you can connect them via Bluetooth, a dedicated sound card, or an integrated audio input jack.
One point to consider before buying a laptop external speaker is portability. If you're buying a speaker that you will need to carry with you to work, you need something portable, lightweight, and small.
A speaker you take on the go should be compact and sleek and with a rechargeable battery that lasts longer.

Here are our top speaker picks to use with your computer or laptop:
Also read:
Best USB Powered Speakers That are Surprisingly Loud
Best 5.1 Speakers Reviewed
Best JBL Speakers With Excellent Bass
Best Wireless Surround Speakers for Immersive Experience
Best Portable Party Speakers With Booming Bass
Best Harman Kardon Speakers For Audiophiles
Speaker damage
Speaker damage is a common problem that affects the loudness and quality of laptop speakers. But most people often overlook checking the condition of their speakers. So they never notice if there is an issue with the speakers.
Sometimes you might be experiencing low volumes on your laptop because your speakers are damaged.
Speaker damage might present itself in the form of a crackling sound or complete silence.
To make sure that your speakers are running smoothly, you can troubleshoot the speakers by right-clicking the speaker icon on the right screen bottom of your laptop. Then, click troubleshoot sound problems to diagnose and detect if your speakers are working properly.
Conclusion
Hope you found this article helpful. Don't get rid of your computer just because it produces low volume.
With the methods discussed above, you can easily make your computer's laptop speakers louder. Try them one at a time. I guarantee that you'll find a computer solution.
Regarding the sound booster applications, try their free versions before buying the premium version. Some free apps are amazing.
If the enhancements, adjustments, and applications don't work for you, we recommend you buy an external speaker. We also recommend you download a VLC media player for free to enhance your computer laptop speaker loudness.