Best Waterproof Portable Bluetooth Speaker
JBL Xtreme Portable Wireless Bluetooth Speaker (Blue)
Best Bluetooth Speaker Under 100
JBL Flip 4 Waterproof Portable Bluetooth Speaker - Blue
Small Bluetooth Speaker
JBL Clip 3, Black - Waterproof, Durable & Portable Bluetooth Speaker - Up to 10 Hours of Play - Includes Noise-Cancelling Speakerphone & Wireless Streaming
Last update on 2023-12-08 / Affiliate links / Images from Amazon Product Advertising API
Are you looking to buy the best JBL speakers available in the market today?
Design, quality, and production – if there is any speaker that ticks all the boxes, it is JBL!
For any speaker, performance is a top priority. JBL has become the reputed name that it is today for delivering top-quality output.
In layman's terms, the definition of a good speaker is the one that booms. And of course, other additional attributes.
For that very reason, today we are going to check out the 7 best JBL speakers with excellent bass. Here goes:
Best waterproof portable Bluetooth speaker

play/pause
volume control
Bluetooth connect

Loudest Bluetooth speaker

Power
volume
Media control
Bluetooth pairing
Connect

Best Bluetooth speaker under 100

Bluetooth pairing Play/pause
Volume control

Power

Bluetooth pairing Play/pause

Best budget Bluetooth speaker

Power

Bluetooth pairing Play/pause

Power

Bluetooth pairing Play/pause

Best Bluetooth audio system

Volume control Play/pause
Bass enhancement
Bluetooth pairing
Power
Light pattern

Best JBL wireless Bluetooth speakers (all under $200)
JBL Xtreme – Best waterproof portable Bluetooth speaker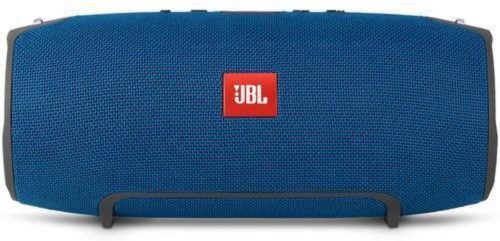 Specifications:
USB charge out: 1 x 2A
Tweeter: 2 x 35mm
Woofer 2 x 63mm
15 hours of playtime
Weight : 4.7 Pounds
Dimensions : 12.5 x 7.8 x 7.8 inches
Sound quality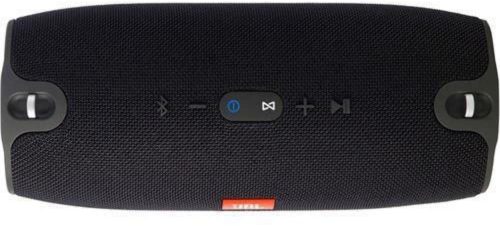 With a 360 degree soundstage, JBL Xtreme becomes an exceptional stereo Bluetooth speaker.
It is equipped with two external passive radiators. You can call them the main powerhouse in JBL Xtreme. They are responsible for the strong sound.
Performance-wise, JBL Xtreme has an overall detailed and balanced sound profile. Special emphasis has been put on its bass that sounds heavy. However, for better performance, JBL Xtreme 2 leads the game.
When we shift our attention to its mids, it has a fairly warm and bright sound. As for the highs, no matter how much you increase the volume, they do not distort.
Features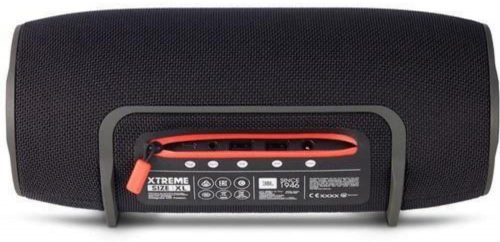 JBL Xtreme comes with Bluetooth 4.1 that has a strong Bluetooth tethering, whereas its successor Xtreme 2 has Bluetooth 4.2 It works smoothly over a decent distance – say for instance from one end of a flat to another.
It can easily pair up with any smartphone, tablet, and computer. One interesting characteristic of JBL Connect is its ability to be paired with another JBL Xtreme!
The controls of JBL Xtreme stick to the basic layout – play/pause button, volume control, and Bluetooth connect.
JBL Xtreme is splashproof and that is what distinguishes it from its predecessors.
The sleek body of JBL Xtreme can fit easily in the hand. You can carry it around anywhere.
JBL Xtreme is capable of operating as a speakerphone. Taking calls with it becomes convenient with a clear voice playback.
With strong construction and splashproof abilities, JBL Xtreme becomes a perfect entertainment option for outdoors.
Battery life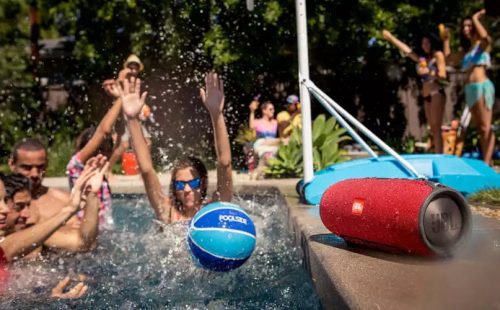 JBL Xtreme's long-lasting 10000mAH rechargeable battery can be played for 15 long hours before charging it again. In fact, at lower volumes, it can also last for 17 hours.
It takes about 3.5 to 4 hours to be recharged to 100 percent. An LED light indicates when the speaker is charging and when it's done.
JBL Charge 4 – Loudest Bluetooth speaker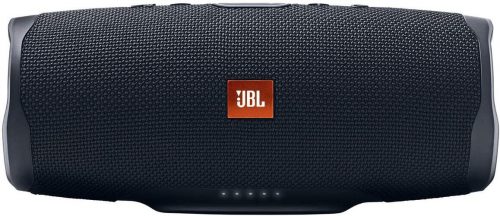 Specifications:
Weight : 2.9 Pounds
Battery type Lithium ion Polymer 27Wh
Battery : 7500mAh
Charge time 4 hrs
playtime up to 20 hrs
Sound quality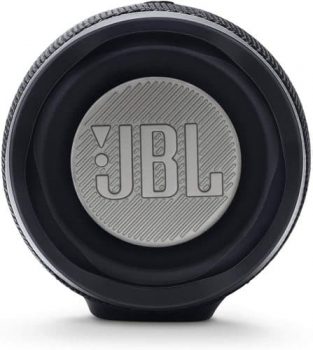 The sound comes out from the sides of the JBL Charge 4. It is refined, balanced, and powerful.
The dual bass radiators of JBL Charge 4 generate a resonating audio quality that is loud and clear at the same time. The bass radiators are responsible for intensifying the low-frequency sounds.
JBL Charge 4 is not all about its bass. It has an impressive tonal distribution that works together to highlight its bass sounds.
The mids, especially in terms of vocals, sound prominent. They don't get muddled up in the mix. Also, the treble is not a compromising factor even for louder volumes. As far as clarity is concerned, JBL Charge 4 takes over JBL Charge 3.
Features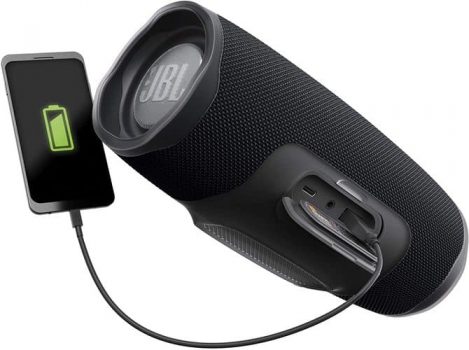 JBL Charge 4 comes with a Bluetooth 4.2 version in comparison to JBL Charge 3's Bluetooth 4.1. Want to amplify your music listening experience? Take full advantage of the JBL Connect+ feature and pair two or even more JBL speakers.
JBL Charge 3 lacks a USB connection unlike its successor JBL Charge 4. Furthermore, JBL Charge 3 features a micro-USB to USB connection whereas Charge 4 has USB-C to USB connection, which is a sturdier option.
Coming to the controls of JBL Charge 4, it has buttons for power, volume, media control, Bluetooth pairing, and Connect+.
JBL Charge 4 is reputed as one of the best waterproof Bluetooth speakers. Along with that, the IP7X rating makes it dustproof.
Being just a little smaller than an American football, JBL Charge 4 can be comfortably taken anywhere. Its durable build with rugged fabric materials makes it a dependable choice for outdoor activities.
Battery life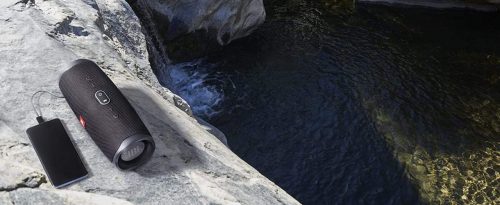 JBL Charge 4 is powered by a 7500mAh Lithium-ion rechargeable battery that has a phenomenal battery life of 20 hours on a single charge! It is a better upgrade than JBL Charge 3's 6000mAh battery.
To reach its full capacity. The JBL Charge 4's battery has to be charged for 5.5 hours.
JBL Flip 4 – Best Bluetooth speaker under 100

Specifications:
Built-in 3000mAh battery
Up to 12 hours of playtime
Ipx7 waterproof
JBL Connect+
Dimensions : 2.76 x 6.89 x 2.68 inches
Sound quality

JBL Flip 4 is a trending choice of portable Bluetooth speakers. Their excellence in delivering enjoyable sound irrespective of the medium is what makes them a favorable selection. Like Flip 4, we can find stereo speakers in Flip 3 but they lack in Flip 5.
The bass radiators produce the sound from either side of JBL Flip 4. They do not let the sound get distorted while maintaining the punch, even when the volume is increased.
As a result, the bass sounds relatively heavy and well-balanced. It has no clipping or unnecessary booming at high volume levels. It is much more than that of Flip 3 and Flip 5.
The mid-range sound tends to get muddled, especially vocals and guitars in pop songs. They try to overpower each other and battle to come out on top. Highs can be subtle and balanced things out well.
Features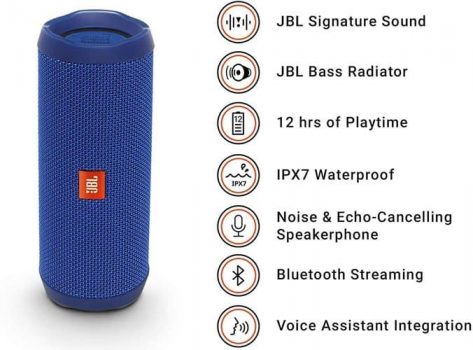 JBL Flip 4 features Bluetooth 4.2 that maintains a strong connection over 50 to 60 feet without any obstacles on the path. Suppose there is a wall in between the speaker and the device, it can still perfectly till a distance of 30 feet.
Even when the JBL Flip 4 is connected to a smartphone or computer through a USB cable, the sound quality remains intact.
The main on-device controls of JBL Flip 4 are the play/pause button, Bluetooth pairing button, and volume control.
There is one more button on the rear, just beside the power control and battery indicator. It is used for syncing more than two speakers.
JBL Flip 4 is IPX7 approved. So whether you play songs inside your house, near your bathtub or by the poolside, or even a muddy terrain, JBL Flip 4 can endure it all. It also provides protection against sand and dirt.
The ultra-portable design of JBL Flip 4 does not let you worry about taking it to places.
As JBL Flip 4 has the ability to act as a speakerphone, you can easily answer your calls. Just make sure you are close enough to it.
Battery life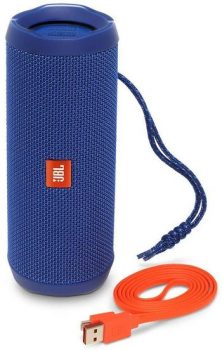 The 3000mAh battery of JBL Flip 4 keeps it going at full force for 12 long hours. That's long enough to complete a road trip. This is where the Flip 4 falls behind than Flip 5's 4800mAh battery.
It takes almost 2 hours to recharge the battery to its full capacity.
JBL Flip 4 has diffused LED lights on it. They are not overly bright in dark regions. A red light flashes when the battery is running at its lowest.
Cheap and best JBL speakers under $50 (Highly portable)
JBL Clip 3 – Small Bluetooth speaker (Pocket friendly)
Specifications:
10 Hours of Playtime
Weight : 7.84 Ounces
Dimensions : 2.40 x 5.70 x 7.80 inches
Bluetooth version 4.1
Battery capacity 1,000mah
3.5 mm audio cable Input
Sound quality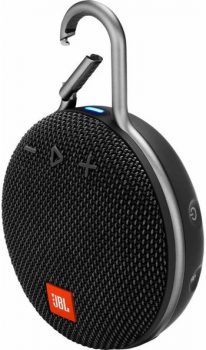 Don't go by the size of the JBL Clip 3 as it can surprise you with its powerful sound. For such a small portable Bluetooth speaker, it has sounds surprisingly loud.
However, if you are someone who loves the bass, JBL Clip 3 would not impress you much. The low end does not have the intended impact and the thumps have no power.
Nonetheless, JBL Clip 3 compensates with an improved mid-range sound. Vocals and guitars come out loud and clear. The highs, on the other hand, miss out on its details. They sound less clear and pretty basic. Yet, it is an improvement over JBL Clip 2's sound.
Features

JBL Clip 3 has Bluetooth version 4.1. So it can play without any glitches and signal interference over a distance of 30 feet.
Its incompatibility with JBL Connect + app drags it a little behind JBL Clip 2, which can link to other speakers to amplify its sound.
Other than Bluetooth, you can connect your media device with the JBL Clip 3 with a 3.5mm cable.
The button layout in JBL Clip 3 is pretty straightforward – power, Bluetooth pairing, play/pause, and volume control.
Thanks to the waterproof fabric and IP7X build, you can even play your JBL Clip 3 underwater!
The compact design of JBL Clip 3 makes it extremely portable. You can just slide in inside your pocket and take it wherever you go.
The built-in microphone of JBL Clip 3 enables you to take a break from music and answer important phone calls.
Battery life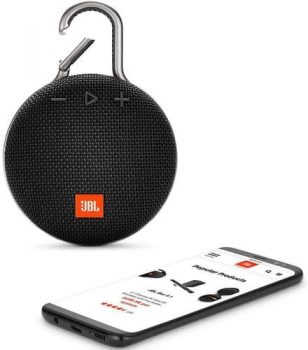 JBL Clip 3 offers hours of playback with its 1000mAh battery, which is two more hours than JBL Clip 2. Of course, it depends on the level of volume in which you are playing the music.
In order to be fully charged, the battery takes the utmost 3 hours.
There is an indicator light that flashes red and white before it is turned off.
JBL GO2 – Best budget Bluetooth speaker
Specifications:
Music playing time 5hrs
Dimensions : 7.12 x 8.6 x 3.16cm
Bluetooth version 4.1
Battery capacity 730mah
Charging time 2.5hrs
Sound quality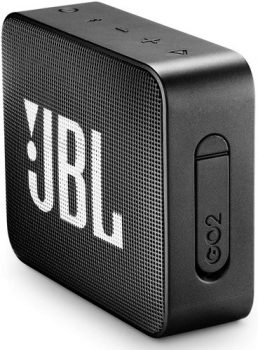 Quite contrary to its size, JBL GO2 manages to impress with its sound. The front-side grill of this Bluetooth speaker is from where the audio is projected outwards.
There is a large passive radiator on the back of the speaker. But that is quite acceptable given the size of JBL GO2 and improvement up against JBL GO's bass port.
The absence of bass radiators has a direct effect on how the bass sounds in JBL GO2, which is next to nothing.
Being a mono speaker, the mid-range produces a narrow sound. As a result, the mid-range is crispy and tight. Even the highs are clean and smooth. Both of them try hard to make up for the missing bass.
Features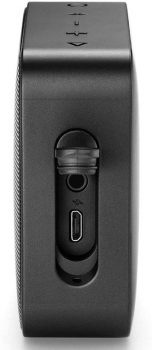 JBL GO2 comes with the Bluetooth 4.1 version. It works comfortably over a range of 40-50 feet without any glitches.
The controls are located on the top of JBL GO2. There are basically five buttons to work with – play/pause, power, volume, and Bluetooth pairing.
JBL GO2 is fully IP7X rated, which means it can even work when submerged inside water, up to 3 feet. This is something you would not get with JBL GO.
The handy and lightweight design of JBL GO2 makes it very portable and can be easily slid into the backpack or pocket and taken anywhere.
As JBL GO2 has a built-in microphone, it can also function as a speakerphone, allowing you to answer phone calls.
Battery life
The 730mAh battery of JBL GO2 gives a playback of 5 straight hours at full volume before the need to charge it. When the volume is kept at 80 percent, it can squeeze in some more time.
It takes nearly about 2.5 hours to 3 hours for the battery to be fully charged.
There is a single LED light as an indicator. It becomes white when the speaker is turned on and turns red when the battery runs low.
JBL Boombox – Excellent battery life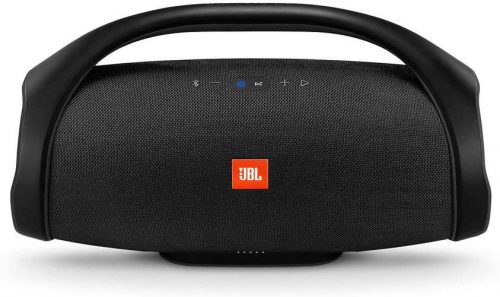 Specifications:
Weight : 2.4 Pounds
20, 000mAh battery
Battery Charging time 6.5hrs
24 hrs playback time
Dimensions : 39.37 x 39.37 x 39.37 inches
Sound quality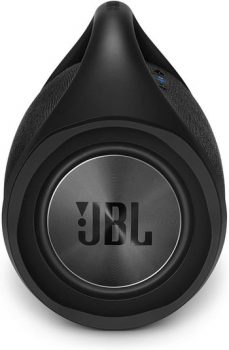 As far as portable bluetooth speakers are concerned, you are definitely going to be impressed by the balanced sound of the JBL BoomBox.
It has got two passive bass radiators on its sides that add on from a visual point of view along with its monochromatic tone. Just beneath the grille, you can find the symmetric arrangement of two 4inch woofers and two 20mm tweeters.
Compared to indoors, the JBL BoomBox pumps out more bass when played outdoors. The low-end does not distort when the volume is cranked up.
The mids and highs are well-balanced and they contribute to the great sound of the JBL BoomBox.
Features
JBL BoomBox is equipped with Bluetooth version 4.2. It has a fairly strong signal strength up to a distance of 30 feet.
There are two ways how you enjoy listening to the JBL BoomBox – Bluetooth pairing or an AUX-in cable.
The button layout is quite simple in JBL BoomBox – power button, bluetooth pairing, play/pause, and volume control.
Contributing to its easy-maintenance attributes, the JBL BoomBox is water-resistance and splash-proof. Take it with you to the shower or to the poolside – you got nothing to worry about.
Weighing just about 11.5 pounds, you should have no difficulty in maneuvering around the JBL BoomBox.
JBL BoomBox also comes with an inbuilt microphone, that transforms it into a speakerphone and lets you answer your phone calls.
Battery
JBL BoomBox's 20000mAh battery can last for 24 long hours.
It takes about 6.5 hours to be charged to its full capacity.
The JBL BoomBox has 5 lights on its bases that light up when it is charging when the battery is low.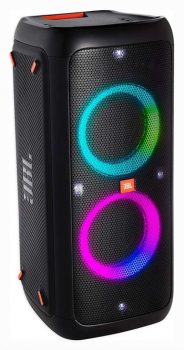 Specifications:
Maximum output power : 120 watts
Weight : 34.9 Pounds
playback of 18 hours
10400mAh lithium-ion battery
Wooofers : Dual 6.5"
Tweeters : Three, 2.25"
Dimensions : 32.4 x 15.48 x 15.59 inches
Sound quality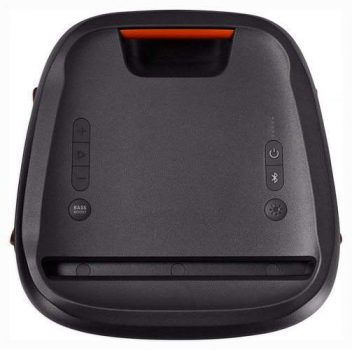 JBL PartyBox 300 excels in catering to a loud gathering by providing sufficient sound. The heavy build of this sound system speaks for itself.
JBL PartyBox 300 comes with a bass boost. So quite naturally, the lower frequencies hit the chest just at the right amount.
The midrange and highs complement the bass adequately. As long as the music has great balance, the JBL PartyBox 300 will continue to justify it.
Features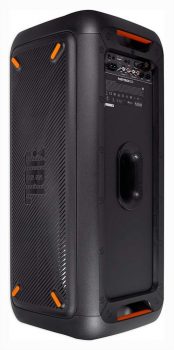 With Bluetooth version 4.2, the JBL PartyBox 300 has a connectivity range of a good 10 feet that is sufficient for any large party gathering. A 3.5mm audio cable input works as another media connectivity option.
The main controls of JBL PartyBox 300 are in the form of touch buttons. They take care of the basic functions such as volume control, play/pause, bass enhancement, a button for changing light pattern, Bluetooth pairing and power button.
JBL PartyBox 300 lacks waterproofing and it can prove to be a helpful development to prevent damage from water and drink spills.
Portability is another concern with the JBL PartyBox 300 mainly due to its size. You have to put it down in one place and get the party started. Of course, you can move it around but it can be hectic.
There are jacks for plugging in a microphone but it can't help you in answering your calls.
Battery life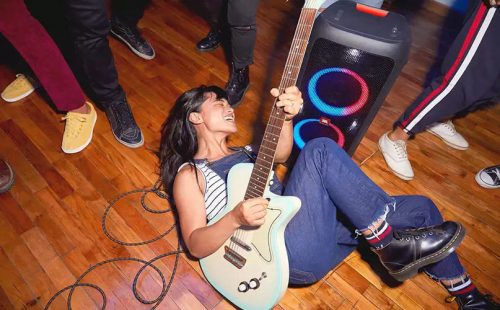 The main selling point of JBL PartyBox 300 is its 10400mAh lithium-ion battery. It promises a whopping playback of 18 hours non-stop.
You get a 12V adapter with it to charge it. It takes about 5 hours to be completely charged to full capacity.
The colorful strobe lights of JBL PartyBox 300 catches the eye with its light show. It also has LED status indicators for charging, connection, and playback.
Also read:
Conclusion
What makes the best Bluetooth speaker? The answer to this question can be subjective. But there are some useful pointers that can deduce a solution.
Portability, battery backup, and reliability – these factors are very well-highlighted in JBL Xtreme, JBL Flip 4, and JBL Clip 3. The only differentiating aspect between them is the price tag.
However, if looked past the monetary element, these three portable Bluetooth speakers prove to be the best in the business when it comes to performance.