Surround speakers! Are you looking for them?
Are you trying to find out which are the best 5.1 computer speakers?
Editor's Best Choice
Logitech Z906 5.1 Surround Sound Speaker System - THX, Dolby Digital and DTS Digital Certified - Black
Best For Bass Lovers
Klipsch Black Reference Theater Pack 5.1 Surround Sound System
Best Value
Monoprice 5.1 Channel Home Theater Satellite Speakers And Subwoofer - Black
Last update on 2023-12-08 / Affiliate links / Images from Amazon Product Advertising API
Or maybe you just want to set your own wireless surround sound system?
Oh wait a minute, you have a cinema room at home and you are looking to buy the best home theater speakers or maybe just the best home stereo system?
Your coworker mentioned there are wireless surround sound speakers for your TV you can buy but you don't know where to start…
I know how that feels.
But don't worry, on this article we will study the best 5.1 surround speakers so you cant make a decision of which one to buy later!
| | | | | |
| --- | --- | --- | --- | --- |
| | | | | |
| | | | | |
| #2. Klipsch 5.1 Reference Theater | | | | |
| | | Power on/off, subwoofer phase, subwoofer volume control | | |
| | | | | |
| | | | Dolby TrueHD and DTS-HD Master Audio | |
| #6. Acoustic Audio AA5170 | | Bass, Treble and Main Volume Controls. | | |
| #7. Harman Kardon HKTS 16BQ | | Bass boost and phase switch controls | | |
Top 5 5.1 Speakers reviewed
Key features:
Total watts (RMS): 500 W
Subwoofer: 165 W
Satellites: 4 x 67 W, wall mountable
Digital optical input: 2
Digital coaxial input: 1
Six-channel direct input: 1
3.5mm input: 1
Sound quality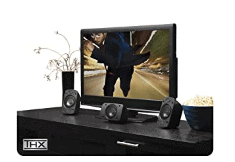 The Logitech Z906 is capable of giving the user theater-quality audio and a realistic experience right at home.
The system is THX certified for pro-quality sound and it is capable of decoding DTS soundtracks as well as Dolby Digital for the latest audio formats of the market.
The 67-watts satellites are designed to reproduce clear highs and solid mid frequencies on different levels with low distortion.
The 165-watts subwoofer can easily push thunderous bass frequencies all across the room to give you the low-end power feel that is important for watching movies and concerts.
The system is designed to be used only indoors, actually, all the satellites are wall-mountable so that you use them as a fixed install on your home theater room.
They do not offer Bluetooth pairing, so all the connections must be done physically using cables,
Features
1000 peak watts and 500 RMS watts deliver flat frequency response all across the spectrum with low total harmonic distortion THX-certified under a Dolby Digital and DTS environment.
The 5.1 setup consists of 5 satellites and 1 subwoofer all connected to a control console where the user can select between six sources, ideal for users connecting a TV, CD players, and blu ray players.
The sources can be connected via RCA, 3.5 mm auxiliary input, six-channel direct, digital coaxial, and even optical.
No Bluetooth or wireless options are available.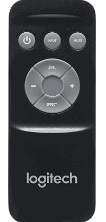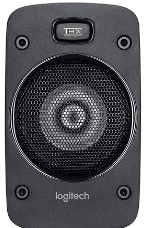 There is also a remote control included that lets you set the volume of each speaker independently, ideal for users trying to calibrate the system to their room specifications.
What do we like?
Great sound quality and loud volume, ideal for the most demanding users.
Plenty of wired connections possibilities, great for users that have several different players.
What we don't like?
No wireless connection options
Cannot be used outdoors
Key features:
WEIGHT Satellite: 3 Ibs (1.4kg)
Center: 5 Ibs (2.3kg)
MOUNTING Satellite: Keyhole and 1
/4" x 20 threaded insert
Center: Dual Keyhole with dual 1
/4" x 20 threaded insert
SPEAKER WIRE 14–18 gauge compatible
Sound quality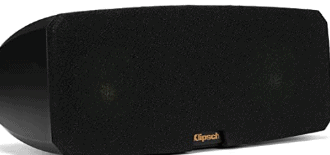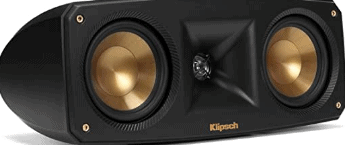 The Klipsch Black Reference 5.1 system is capable of delivering an incredibly extended frequency response from 38 Hz to 23 KHz.
This cinematic performance is possible because of the Injection Model Graphite (IMG) included on all of the speakers, delivering low distortion at high volumes.
The satellite speakers can deliver up to 75 watts RMS from 110 Hz to 23 KHz with less than 3 dB of variance, very solid and flat.
The subwoofer handles 50 watts RMS from 38 Hz to 110 Hz and is capable of producing up to 110 dB SPL, making it extremely loud.
The system is designed to be used indoors. The satellites can be mounted on walls using threaded inserts.
This system does not include a receiver or amplifier, you must own it. The pack only comes with the 5 speakers and the subwoofer.
Features

Linear Travel Suspension (LTS) tweeter technology makes it possible for these tweeters to deliver very minimal distortion of high frequencies on very lightweight enclosures.
The horns feature the Tractrix Horn Technology that delivers greater extension of mids and highs, larger imaging, and more pronounced dynamics with increased power.
The subwoofer is down-fired oriented, delivering plenty of low frequencies without the need to have a huge space, ideal for smaller rooms.
The satellites are connected using physical cables (14-18 gauge), while the subwoofer connects to the receiver via 2.4 GHz Bluetooth.
The speakers are passive and driven with an external receiver or amplifier, while the LFE is active with its own dedicated amp inside.
What do we like?
Wireless-connected subwoofer lets you place it anywhere within the room.
The frequency response is very flat and extended, delivering richer sounds.
What we don't like?
This is just a set of speakers, a receiver or amp is still needed.
No wireless audio transfer method is available
Key features:
Amplification Type: active subwoofer, passive satellites

Frequency Response: 30 – 20000 Hz
Recommended Amplifier Power: 20 Watt
Crossover Frequency: 3500Hz, 40 – 150Hz
Connectivity Technology: Wired
Controls: power on/off, subwoofer phase, subwoofer volume control
Sound quality
Monoprice delivers hi-fidelity with this 5.1 speaker system that features four satellites, one center speaker, and a subwoofer.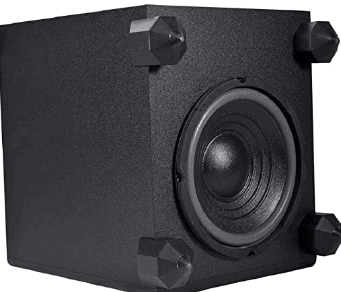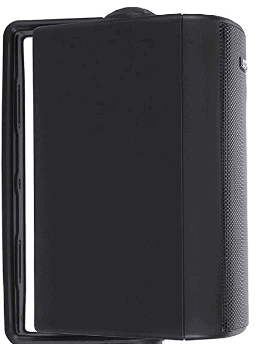 The center speaker has two 3" drivers that are capable of delivering strong mid frequencies, while the satellites feature a 3" speaker and a ½" tweeter in order to recreate the high mids and highs.
The combination of center and satellite speakers deliver the spectrum between 150 Hz and 20 KHz at 125 watts.
The 8" subwoofer has its own 60-watt amp and it shoots sound downward. This subwoofer can go anywhere from 50 Hz to 250 Hz using its dedicated crossover knob.
The system is designed to be used indoors, perhaps in your living room or cinema room. The speakers have their own mounting system and the actual cones do not resist water, you cannot use them outdoors.
The highs are clear, the mids are loud and punchy, and the bass is defined.
Features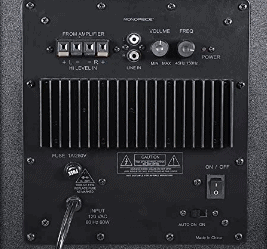 The connections between satellites and center speakers to the amp are based on Monoprice's signature spring-loaded signal connectors.
On the other hand, the Subwoofer can be connected via RCA line inputs, activating the internal subwoofer amplifier that lets you control its volume and cutoff frequency.
Another option for the subwoofer is to connect it to the amp using regular speaker cables, bypassing the amplifier, and working in passive mode. If you have your own amp, you might want to use this option.
The only speaker that needs power is the subwoofer in case you use it in active mode. The rest is all passive, no electricity needed.
Unfortunately, there is no Bluetooth or any kind of wireless option available for this system. This makes them a complete indoor fixed surround system.
What do we like?
The subwoofer can be used in active or passive mode, depending on your receiver.
Subwoofer lets you control the crossover frequency, letting you tune the lows to your room.
What we don't like?
No wireless connection options are available.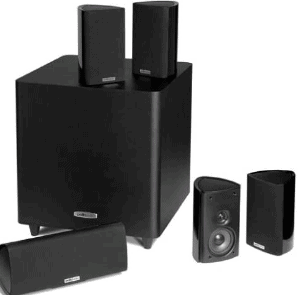 Key features:
System Components1 x Center channel speaker, 1 x Subwoofer, 4 x Satellite speakers
Amplification Type: passive, active subwoofer, passive satellites
Frequency Response: 40 – 22000 Hz
-3dB Frequency Response: 45 Hz
Connectivity Technology: wired
Sound quality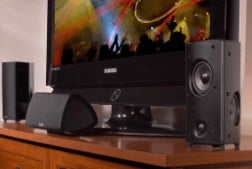 Polk Audio is capable of delivering a 5.1 speaker system that yields up to 89 dB SPL from 40 Hz to 22 KHz at 8 ohms under a physical design that blends easily within your space.
Polk's exclusive Dynamic Balance technology has scientifically tuned these driver materials to produce an excellent flat frequency response, with plenty of detail, transparent imaging and the ability to play loud with no distortion.
The satellites and center speaker come in a black high-gloss finish that looks very polite to your eyes, delivering stunning frequency response thanks to the Reuleaux Triangular Polygon design.
This eliminates the boominess and muddiness from these speakers so that part of the spectrum can be associated to the subwoofer only.
The subwoofer presents an 8" down-firing speaker that is capable of creating loud bass frequencies without being too noticeable in your room.
The system is definitely designed to be used indoors due to its lack of water resistance.
Compared to other systems on the market, the frequency response of these speakers is considered to be flat. The mids and highs are not overwhelming and the bass is controlled.
Features
The Anti-Diffraction Baffle design makes it possible for these speakers to yield a dispersion pattern with almost no diffraction or distortion.
This design yields a wide soundstage without sacrificing big sound.
The speakers feature Composite Driver Technology materials that make them resonate more, giving you louder volumes.
The triangular enclosure shape lets you place the speakers on corners of the room for space-saving solutions.
The flexible brackets let you hand these speakers from walls, desks, or even the ceiling if needed.
There are no wireless connection or Bluetooth pairing options. Everything must be attached using physical cables.
The only element that needs power is the subwoofer since it is active, it can take 110V or 220V.
The rest of the system is passive, no power needed.
What do we like?
Triangular-shaped speakers make them look very elegant and polite in the room
The flat frequency response all across the spectrum makes them ideal for watching concerts and live shows.
What we don't like?
No Bluetooth options
No knob controls on the subwoofer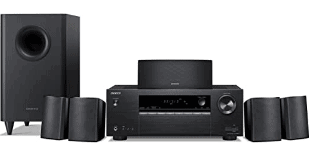 Key features:
Surround System Class: 5.1 channel
Sound Output Mode: Surround Sound
Built-in Decoders: DTS-HD Master Audio, Dolby TrueHD
Digital Sound Processor (DSP): Yes
Additional Features: Audio Return Channel (ARC), Deep Color, x.v.Color
Sound quality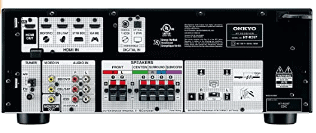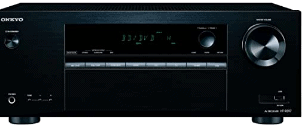 The Onkyo HT-S3900 is a very powerful and modern home theater system capable of reproducing Dolby TrueHD and DTS-HD Master Audio formats, contained in Blue Ray discs.
The system comes with a set of speakers and a receiver that performs the amplification process.
The satellite speakers are full-range acoustic suspension 3" drivers capable of delivering full-range sound from 80 Hz to 20 KHz.
The subwoofer features a 6.5" reflex woofer cone that goes from 28 Hz to 5 KHz
The system is designed to be used as a home theater, optimized for concerts, live shows, and movies where audio quality is a must-have requirement.
The frequency response of the system goes from 20 Hz to 20 KHz with less than 0.06% of total harmonic distortion with the noise included.
This means the response is extremely clear, with a flat shape that has less than 3 dB of variance.
The lows are deep and defined, the mids are controlled and the highs are clear and opened.
The system lets you pair your player devices using Bluetooth or HDMI cables.
Features

The electronics design has discrete analog amps that deliver very dynamic audio reproduction and fast transient response, ideal for action movies, sports, and fast pace audio content.
You can connect your phone or tablet to transmit audio to the system using Qualcomm APTX Bluetooth audio transfer protocols, yielding lossless transmission with low latency.
Alternatively, nine other sources can be connected using a combination of HDMI, RCA, and optical cables.
If your audio is compressed at the source, the Advanced Music Optimizer algorithm will enhance it for more satisfying music experience.
The receiver must be connected to the electricity in order to energize it. All the speakers are passive so they will be operated by the receiver.
The receiver also features AM/FM radio, a headphone jack, and even a sleep timer that you can program.
A USB port is also included to connect a flash drive with music to playback.
What do we like?
This system has every possible connection you can imagine, you will be able to connect all your devices
The sound quality is great.
What we don't like?
The receiver can be a bit bulky in small living rooms.
Key features:
Amplification Type: Powered
Features: Magnetically shielded
High-Frequency Response (kHz): 20
Impedance (ohms): 8
Indoor/Outdoor: Indoor
Number of Speakers: 5 + Subwoofer
Number of Speakers: 5 + Subwoofer
Sound quality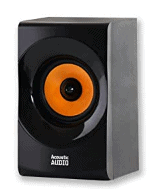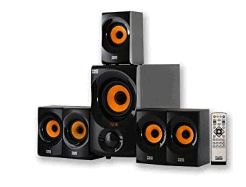 The Acoustic Audio AA5170 has 6 discrete and independent channel outputs for true surround sound experience.
The magnetically shielded speakers with computerized enclosure design deliver a standard frequency response from 20 Hz to 20 KHz.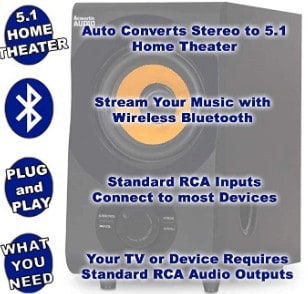 The satellite speakers have 3" drivers that output full-range sound on all 5 channels.
Conversely, the subwoofer has a 5" ported front-fire woofer that delivers low frequencies with a fixed cutoff point.
The system is designed for entry-level indoor home theater applications in which high volumes are not a priority.
The systems can be paired to your playback device using Bluetooth or standard RCA cable pairs.
Features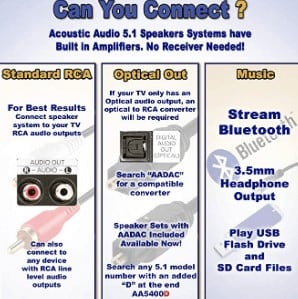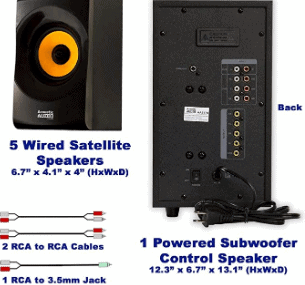 The system features a plug-and-play scheme in which as soon as you connect a source, you can audition it.
The speakers are all connected to the subwoofer using RCA mono cables that are included.
Your devices can be connected using Bluetooth or standard RCA cables. Up to 5 sources can be connected using RCA.
The front of the subwoofer also features a USB input as well as an SD card input for digital content to be reproduced.
There are physical controls on the front of the unit related to overall volume, bass, and treble with an illuminated display.
The remote control lets you apply all these operations from your couch!
All the satellites are connected to the subwoofer, which has the amplifier inside so all the speakers are passive and driven by this amp.
Once you connect power to the sub, you are ready to start rocking your system!
What do we like?
Plenty of input connection options, great for users with more than one playback system
The remote control makes the operation smoother
What we don't like?
Frequency response is not great, it is an entry-level system
Quality of the materials don't seem to be very sturdy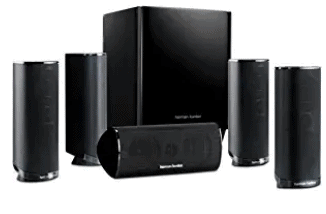 Key features:
Subwoofer Maximum Recommended Amplifier Power200 watts RMS
Satellite Sensitivity86dB @ 1 watt/1 meter
Frequency Response45Hz – 20kHz (-6dB)
Speaker Maximum Recommended Amplifier Power10 ~ 120 watts
Satellite Nominal Impedance8 ohms nominal
Sound quality
The HKTS 16 by Harman Kardon delivers exceptional sound quality from 45 Hz to 20 KHz with a considerably small variance of 6 dB at 200 watts RMS.
Center speaker has dual 3" video-sealed drivers while satellites have a ¾" Harman signature dome design. These can go up to 120 watts.
The woofer has a powerful down-firing 8" cone that runs at 200 watts, delivering thunderous bass.
The system can handle high-level content and it is designed to be used indoors for watching movies and cinematic content in general.
The bass can be very loud and involving, the mids are centered and focused while the highs are extremely bright and present.
This package only comes with the speakers, no receiver, therefore there are no pairing options available.
Features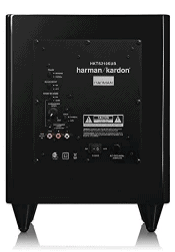 All the speakers are voice-matched to deliver realistic and rich sonic performance at all frequencies.
The components are magnetically shielded so that your TV creates no interference with the audio signals!
The satellites can be connected to a receiver using standard speaker cable pairs.
The subwoofer has its own controls for bass boost and phase switches, letting you tune the bass frequencies to your room and system.
There is an LFE connector that lets you bypass the subwoofer internal crossover so you can use a third-party crossover or processor if needed.
The satellite speakers are passive, no power needed. But the subwoofer is active, you will need to energize it.
What do we like?
Harman Kardon delivers great sound quality and overall loud volume
Very nice black finish
What we don't like?
No receiver or amplifier included
No Bluetooth options
Conclusion
If your priority is having a set of speakers that can sound loud, the Harman Kardon HKTS 16 is your best bet.
The Harman-certified 200 watts will impress you on loud and clear sound reproduction, perfect for your latest action film at home.
Let's say you have lots and lots of input devices and you want to have them all connected to a single surround system. The answer to this situation is the Onkyo HT-S3900. This system has so many possible inputs, that you won't be able to use them all!
Last, if you are looking for a system to reproduce the highest quality audio on DTS and Dolby Digital format, which source selector and remote control, the Logitech Z906 5.1 Surround Sound Speaker System is your solution.
Related articles: