Logitech G Pro and G Pro X are two of the most popular gaming headphones today. They are so similar that a lot of people think they're the same product.
Well, they aren't.
| Features | Logitech G Pro | Logitech G Pro X |
| --- | --- | --- |
| Image | | |
| Driver | Neodymium, Hybrid mesh PRO-G 50 mm | Neodymium, Hybrid mesh PRO-G 50 mm |
| DAC Included | Yes | Yes |
| Surround Sound | Windows Sonic, Dolby Atmos for Headphones | DTS Headphone:X v2.0 |
| Software | G HUB Gaming Software | G HUB Gaming Software |
| Connectivity options | 3.5 mm, USB | 3.5 mm, USB |
| Mic | Detachable, unidirectional 6 mm | Detachable, unidirectional 6 mm with Blue VOICE |
| Weight | 0.7 lbs. | 0.7 lbs. |
| Frequency response | 20 Hz – 20 kHz | 20 Hz – 20 kHz |
| Buy now | Buy G Pro | Buy G Pro X |
And for discerning gamers, the differences are enough to choose one over the other. That's exactly what this article is about to help you achieve.
Which headphones are better: the G Pro or the G Pro X?
Is the upgrade worth it?
Find out as you continue reading…
Logitech G Pro vs G Pro X: Features compared
Build and design
The G Pro and G Pro X are similar in build and design. They look and feel solid when handled or worn.
With the way they look, we can conclude that they are made for indoor use.
The headphones are bulky and the mics protrude from the earcup, although they are detachable, so you can momentarily remove them.
Despite the glaring similarities, there are some differences, especially in the accessories that come in the box.
The G Pro X comes with an extra cable for mobile listening. If you want to listen to music on your phone, this extra cable gives you a better sound than the cable for laptop gaming.
The G Pro only comes with one cable. Also, the cable is detachable in both headphones. So, if you walk away from your computer without taking them off, you can be sure you won't pull down your laptop.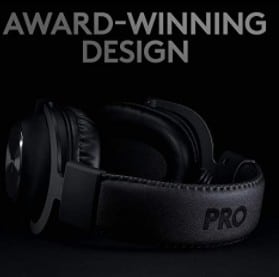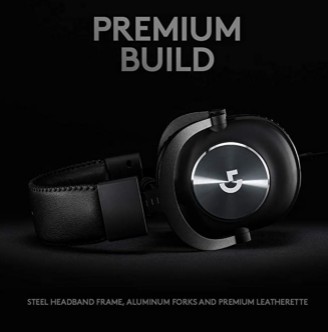 That's not all. Another extra item for the G Pro X is the carrying pouch made of fabric. It doesn't protect against drops, but it keeps the headphones clean.
Bottomline: Both these headphones have very similar designs, but the extra cable and earpads give the G Pro X an edge here.
Fit and comfort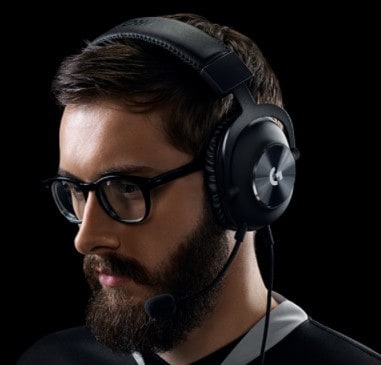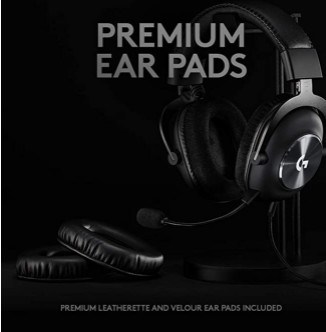 Both pairs of headphones have their earcups padded with memory foam and covered with leatherette. Their headbands are also padded. This makes them super comfortable for several hours of an overnight gaming session.
To add to the comfort, these headsets are quite light despite their bulky size. In summary, they feel the same.
However, there's a slight twist to the G Pro X. It comes with an extra pair of earcups, covered with soft fabric. These extra earpads don't get as warm as the leatherette ones. They will come in handy when you're gaming on a hot day.
Bottomline: The extra pair of earcups sure adds to the comfort, especially on hot days. G pro X has the edge here too.
Mic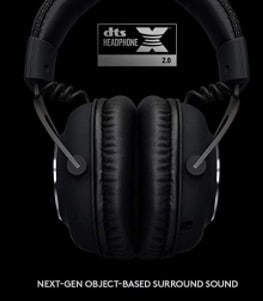 In both headphones, the mic is visible as it extends right in front of your face and mouth. You can easily detach the mic from the headphones if you have no use for them.
The difference is in the sound quality. In the G Pro, the mic sound is optimized for speech, so there's less bass and more high mids. Clarity is not a problem, so your teammates will hear you over the game music and sound effects.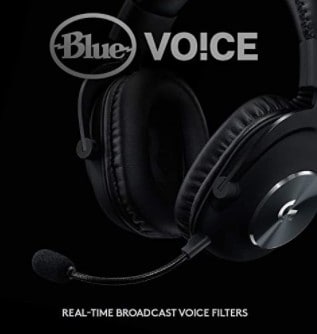 The G Pro X has an added feature for its mic. It's called the Blue Voice. When you enable Blue Voice.

It adds some compression and other processing to your voice to give it the "studio" feel, making it sound more like you're on the radio. It's easy on the ears and makes it almost sound like your voice is part of the game sound.
However, you can only enjoy Blue Voice when you're using the headphones on your PC. You must connect the headphones to your computer via the USB dongle to enable the feature.
Bottomline: Well, there's no way to compete with Blue Voice quality, but this doesn't make a difference if you're not a PC gamer.
Sound quality and performance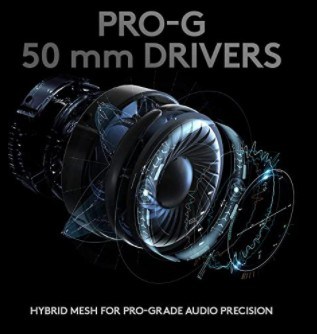 These are gaming headphones, so to enjoy the best sound that they can offer, you need to use them with your PC. also, you must connect them through the added USB sound cards.
Both headphones have enhanced bass, making your game explosions and gunshots louder and packing more energy. The mids and highs are more balanced but can be a bit recessed when there's a lot of bass going on.
The difference in sound quality between these two gaming headsets is in the surround sound performance.
The Logitech G Pro X has Windows Sonic and Dolby Atmos surround sound systems. These systems give an accurate spatial representation of sound. So, if you're playing Call of Duty, you can hear whether footsteps are coming from upstairs or downstairs.
The G Pro X also has surround sound, but in its case, it comes with the DTS X feature.
How is the DTS X different from Dolby Atmos?
Without getting all technical, DTS X is the more recent version of Dolby's surround sound system.
Both technologies attempt to give the same experience as the surround sound system that works by placing speakers above and around the listener. The goal is to give you a realistic feel of spatial sound.
Of course, it's a lot to compress aloof these inside headphones. From listening experience, Dolby Atmos gives a better sound image than DTS X, when listening with headphones.
However, the DTS X has more bass, so if that's your thing, you should keep that in mind.
Bottomline: They're close in terms of surround sound quality, but the G pro X has extra bass. For me, that's a plus, though it may not be so for everyone.
Other features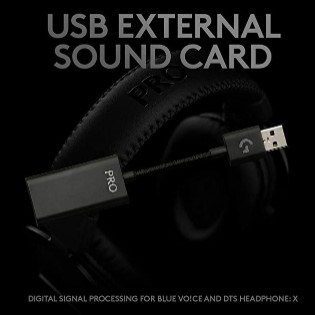 Let's talk about the G HUB app. It's where all the juice is for both gaming headphones. For the G Pro, the G HUB app allows you to adjust the mic volume, headset volume and enable/disable Windows Sonic and Dolby Atmos.
For the G Pro X, you get more functionalities. The DTS X feature enables you to adjust the volumes of each individual speaker.
Remember that DTS X makes your headphones sound like you have to surround speakers above and around you? With the G HUB, you can adjust each speaker's volume to your preference.
Also, the app has added functions for the mic. You can do some EQ adjustments to tweak the mic sound to your taste. If you don't know what you're doing, I suggest you leave the EQ as it is so you don't ruin the sound.
Unfortunately, you cannot enjoy all this cool stuff with the G HUB app if you're not gaming on your computer. If you're a console or mobile gamer, I'm sorry. No surround sound for you.

That's a real bummer because I'm just getting into COD mobile and I would love to test the surround feature on it.
If you have a different port for headphones and mic, there's a splitter that you can use. It's included in the box, so no need for extra purchase.
Bottomline: G Pro X has an advantage here because it has more controls on the G HUB software. However, this makes no difference if you're not using the headphones with your PC.
Similarities
Both headphones have a similar build and structure – steel padded headband with leatherette padded earcups.
The G Pro and G Pro X both give you surround sound when connected to the sound card and computer.
In both headphones, you can only have surround sound if you're gaming with a computer. It is not available on mobile and consoles.
The mics are detachable in both headphones, making them suitable for other uses like watching movies.
In terms of sound production, both headphones favor bass over other frequencies.
Both headphones need the G HUB software for full functionality.
Differences
While both headphones have padded earcups, only the G Pro X comes with an extra pair of earpads.
The G Pro has the Dolby Atmos and Windows Sonic surround features, whereas G Pro X has the DTS X surround sound. The latter gives you more hands-on freedom to tweak your sound.
The G Pro X mic has the Blue Voice function, which makes the sound quality better than G Pro's mic.
The G Pro X has more bass than the G Pro, especially when surround sound is on.
Pros and cons
Pros
It is super comfortable – suitable for long gaming sessions.
The detachable mic makes it useful in multiple cases.
The surround sound gives an immersive gaming experience
Cons
The earpads may get warm after some hours, especially on hot days.
You can't enjoy the best sound quality without a computer.
Pros
It comes with an extra set of earpads that stay cool on hot days.
The Blue Voice feature gives you premium mic quality.
The DTS X virtual surround gives you in-depth control over your sound.
Cons
The best features are only accessible to PC gamers.
The bass can sometimes overshadow the more subtle sounds
Conclusion
At first glance, it seems that there are only a few differences between these two headphones.
However, those subtle differences can mean a lot. The Blue Voice feature, extra earpads, and better G HUB app functionality are the major differences.
For online gamers, these differences are worth the extra expense. However, if you only use a console or mobile, the G Pro is good enough.