Brand images matter when you're buying any product. Speakers are no exception in that sense.
In that very context, Klipsch has become a reputed name amongst audiophiles. There is no doubt they make some of the best speakers in the business.
Our Best Pick
Klipsch RP-600M Reference Premiere Bookshelf Speakers - Pair (Ebony)
Best Value for Money
Klipsch R-41PM Powered Bookshelf Speaker,Black
Best Surround Sound
Klipsch Surround 3 Speaker Pair, Black, Model:1067530
Last update on 2023-12-08 / Affiliate links / Images from Amazon Product Advertising API
For those who already know about Klipsch speakers and for those who don't – this article is beneficial for both.
Today we are going to take a look at 7 of the best Klipsch speakers that have come under the scope in 2020.
So, let's begin, shall we?
Best Klipsch bookshelf speakers
Planning to set up your very own home theatre system? You cannot miss these Klipsch bookshelf speakers. Their very purpose is to take the level of your home theatre system up a notch.
Specifications:
1" titanium lts vented Tweeter with hybrid tractrix horn
6.5" Spun copper cerametallic woofers
Bass-reflex via rear-firing tractrix port
Dual binding posts for bi-wire/bi-amp
Strong, flexible removable magnetic grille
Build and design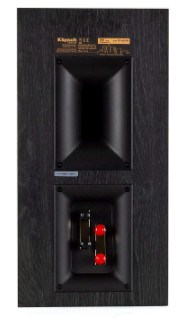 Klipsch RP-600M has an aesthetic design that is pleasing to the eyes. It is made of cerametallic materials with a varnished wooden finish.
The layout is pretty simple. The 6 and a half inch woofer on the bottom and the one-inch twitter on the top.
You get two color choices for the Klipsch RP-600M – ebony and walnut. There is a third option – piano black, which is very beautifully made.
These speakers come with magnetic grills. At this price range, this is a worthy addition.
The connection layout is on the rear panel of the speaker. You can connect them with your woofer via bi-wire cable connections.
Sound quality and performance
The Klipsch RP-600M produces a sufficient amount of deep bass. It works for recreating a live music ambiance in your living room.
They lack a little in the midrange as there is not enough warmth to those sounds. Rather, it falls on the sharper side. It is not always a bad thing, as long as you can tweak the equalizer according to your need.
In Klipsch RP-600M, you have more control over how you want the higher frequencies to sound. Thanks to its horn technology, you can change the dispersion patterns of the higher frequencies.
The frequency response in this speaker is relatively smooth and flat. It ranges from 45Hz to 25kHz.
Klipsch RP-600M bookshelf speakers are designed to be used either with or without a subwoofer. Its tonal quality is dependent on the size of the room you place them in. Preferably in one that has not too many reflective surfaces.
These speakers are ideally made to be used as home theatre systems.
Best for whom?: As mentioned above, Klipsch RP-600M is made to deliver a home theatre experience. It is recommended to separate them at a distance to get the intended stereo effect.

They should be placed on stands such that bass woofers are in the position of the ears. Just keep in mind that the output will depend on the shape and size of the room they are placed in.
Specifications:
Powered monitor
Bluetooth wireless technology
Phono/line analog (with switch and ground screw terminal)
3.5mm analog Mini jack
USB digital
Speakers Maximum Output Power 70 Watts
Mounting Type Bookshelf
Build and design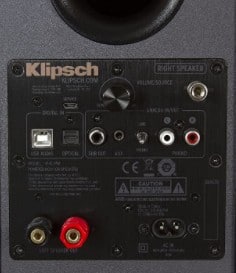 Klipsch R-41PM employs the generic layout, incorporating a one-inch horn tweeter on top and a four-inch copper spun woofer on the bottom.
The wood veneer finish of the speaker works both ways. They look rather classy and have a gist of robustness to them. Those who wish to customize their looks, even more, can always put on the magnetic mesh grids.
Klipsch R-41PM is guaranteed to impress you with the connectivity options it has to provide. USB-B connection, Apt-x Bluetooth, analog RCA, an optical input, a line input, 3.5mm stereo AUX, and a mono pre-out for a subwoofer – the Klipsch R-41PM has got it all.
You also get a remote along with it to further simplify the controls. The remote features rubber-made buttons for handling volume, power, subwoofer volume, play/pause, mute and bluetooth pairing.
You can also toggle between the audio sources via the remote, namely AUX. USB, Optical, and Phono.
Bluetooth pairing can be a tiresome process. Klipsch R-41PM is not capable of pairing with your smartphone or tablet automatically. Every time you turn the bluetooth on, you have to manually pair it.
Sound quality and performance
The bass depth delivered by Klipsch R-41PM is very rich. You don't necessarily need a subwoofer to achieve the basic bass effect. Although, connecting a subwoofer would give you that sub-bass rumble.
And it's not just the bass that stays in the limelight. The midrange and higher frequencies have a clear pronunciation that much needed crispy and bright sound texture. It is well-balanced with the bass end, thereby augmenting the entire sound profile.
The frequency range in Klipsch R-41PM starts from 76Hz and goes all the way up to 21kHz. This makes it quite evident why the speaker lacks sub-bass rumble and has a well-defined upper-frequency response.
These speakers tag along with your TV in the best possible way. So if you have a home theatre setup in mind, these speakers should do the trick.
Best for whom? Those who can afford to get a subwoofer to pair with the Klipsch R-41PM can enjoy a wholesome home theatre experience. Right from the rumbling low end to the well-detailed high end, these speakers cover almost everything.
Best Klipsch speakers for music
If you are a music lover or audiophile, these Klipsch speakers will rejuvenate your listening experience. Taking the output of music to a whole other level, Klipsch has successfully managed to grab the attention of critical listeners.
Specifications:
Power Source Type: Corded Electric
Included Components: Connection Dongle
Wireless Communication Technology: 5.8Gh
Sound clarity 20 KHz
Speaker Type Surround Sound
Mounting Type Wall Mount
Build and design
The Klipsch Surround 3 speakers are made from high-quality wooden materials. The entire body is covered by metallic mesh, giving it a somber and subtle look.
These speakers enjoy the virtue of being completely wireless. They are meant to be connected with the Klipsch Bar 48.
You can either choose to place them on tabletops or mount them on the wall. How do you connect it to the Bar? The process is made very easy with the USB transmitted slots. They sync the Klipsch Surround 3 speakers with the Bar 48 efficiently.
Sound quality and performance
Klipsch Surround 3 features the legendary Klipsch tech in terms of audio output. This technology makes sure the vocals sound as clear as real. They also do complete justice to dynamic soundtracks.
These speakers are an instant solution for a home theatre setup. When you connect the speakers to the bar, they are capable of decoding DTS 5.1 audio and Dolby Digital audio. What does that mean? Pure surround sound!
When it comes to the bass, mids, and highs, the main sound is generated by the four drivers of Bar 48. The Surround 3 speakers take things up a notch by adding in the surround sound aspect.
Best for whom? When paired with the Bar 48, the Klipsch Surround 3 Speakers become the adequate arsenal for a true surround sound home theatre experience. Doesn't matter if you are listening to music, watching a movie, or playing video games – these babies will deliver every time!
Best Klipsch surround speakers
Klipsch surround speakers beautifully justify the sound imagery by recreating the surround effect. With technological inclusions such as Dolby Digital and Dolby Atmos, these speakers will redefine your perspective about surround music.
Specifications:
1" Titanium LTS Vented Tweeters with Hybrid Tractrix Horns
5.25" Spun Copper Cerametallic Woofers
Switchable Crossover Setting for Dolby Atmos or Surround Sound
Keyhole Mounting for On-Wall Elevation/Surround Sound
Build and design
From furniture grade wood to its satin-black surface, Klipsch RP-500SA is soothing to the eyes. This elegant speaker comes in three shades – walnut, ebony, and piano black.
The structure houses a 5.5-inch copper-colored cerametallic cone woofer and a one-inch titanium LTS vented tweeter.
You also have the option to cover the woofer with an acoustically-transparent magnetic grille for added protection.
On the rear side of the Klipsch RP-500SA, you will find the connections. The process is as single as it gets.
Sound quality and performance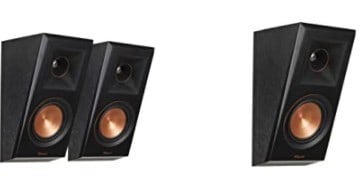 To be really honest, the Klipsch RP-500SA will inevitably need a subwoofer if you are mostly interested in getting that thumping bass feel. This is one area where even the woofers of this speaker fail to deliver the intended effect.
The midrange shows an interesting characteristic in Klipsch RP-500SA. When you toggle to the Dolby Atmos mode, the midrange becomes expressively clearer.

This can be noticed very well in vocals. Likewise, the midrange becomes even more transparent when you switch to the Surround Mode.
Similarly, even the frequency response changes with these sound modes. In Dolby Atmos, they perform as per the specifications. Whereas in a Surround mode, it becomes much broader and flatter.
In order to get the surround sound experience in full force, mount the Klipsch RP-500SA on the walls.
The quality of audio reproduction in Dolby Atmos soundtracks is just phenomenal. To enhance the surround imagery, even more, you can always attach some satellites to widen the sound field.
Klipsch RP-500SA are ideal speakers to form a top-quality home theatre system. An added advantage of these speakers is the surround sound effect that they provide.
Best for whom? The Klipsch RP-500SA will surely quench the thirst of those users who prefer realistic sounds while watching an action movie. Make sure you have enough space to mount these beauties on the wall to extract their full potential.
Specifications:
Dual 1" titanium lts vented Tweeter with hybrid tractrix horns
Dual 5.25" Spun copper cerametallic woofers
Wide dispersion surround technology
Strong, Flexible Removable Magnetic Grille
Dimensions: 13.85" x 11.88" x 7.49"
Build and design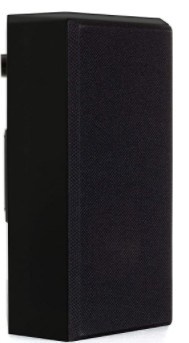 The materials used in making the Klipsch RP-502S are extremely light yet they hold the structure firmly. The rather unorthodox shape of the speaker is what catches attention.
Its woofer is made out of a cerametallic cone while the tweeter is primarily composed of titanium, which has higher delivery than aluminum.
You will also find a good amount of rubber in Klipsch RP-502S that is meant to be a reinforcing agent to improve durability.
The Klipsch RP-502S comes in two variants – walnut and ebony finishes. The design is scratch resistant. There are magnetic grills for added protection that are flexible and strong at the same time.
Sound quality and performance
Klipsch RP-502S features Tractrix, which is horn-loaded technology. It is responsible for maintaining high-frequency energy.
How is that horn-technology useful? Well, the sound produced by this speaker is directly aimed toward the listener.

Another useful trait of this technology is that it cuts down unwanted reverberations that are caused by sound bouncing off from walls. Thus, the resultant output is a detailed, clear, and original sound.
Klipsch RP-502S delivers a sound profile with smooth and flat frequency response. In turn, the speaker becomes immune to getting damaged soon.
This speaker is purely made for surround sound systems. Its Wide Dispersion Sound Technology will give you a lifelike cinematic audio experience irrespective of any room it is placed in.
Best for whom? The Klipsch RP-502S is part of the bigger console Klipsch 5.1. Although these speakers sound amazing individually, its actual effect will come out if it is joined with the entire gang.
Klipsch floorstanding (tower speakers)
Floorstanding or tower speakers are normally preferred by those who want their music to be loud and powerful.
These speakers become the spotlight in house parties and small gatherings. Even for setting up a top-end home theatre system, tower speakers act as the cherry on top of the cake.
Specifications:
1" titanium lts vented Tweeter with hybrid tractrix horn
Dual 8" Spun copper cerametallic woofers
Bass-reflex via rear-firing tractrix port
Dual binding posts for bi-wire/bi-amp
Strong, flexible removable magnetic grille
Build and design
The material used to make the outer layer of Klipsch RP-8000F is scratch resistant. Even the feet of this speaker is made from aluminum. The manufacturing is done in such a way that the resonance is least.
Apart from that, the body is primarily made of wood with a vinyl finish, which makes it look up to date and classy.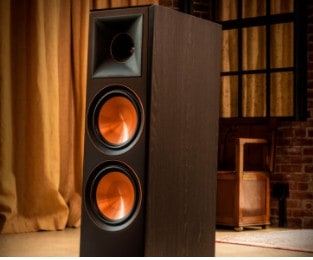 Klipsch RP-8000F is very basic and easy-going in terms of connectivity via cables. You would not find any difficulty in connecting these speakers to TV, computer, or other smart devices.
Sound quality and performance
When you play something in the Klipsch RP-8000F, the first thing that will catch your attention is its bass sound. It is deep enough and has a sufficient thump that eliminates the need for a subwoofer.
The small drivers of Klipsch RP-8000F enhance the midrange frequencies. It makes them sound even clearer with that low-mid punch.
Horn technology is responsible for making the higher frequencies sound detailed and not painful to the ears. They are directional and aimed right at the listener.
Klipsch RP-8000F has a phenomenal frequency response ranging from 35Hz to 25kHz.
This is truly an all-around floor-standing speaker. Its cinematic audio output will engross you into the musical world while its technologically packed features will redefine your entire home theatre experience.
Best for whom? Klipsch RP-8000F is a perfect match for music and movie lovers. This powered speaker acts both ways. Want more power? Hook up these tower speakers with a subwoofer and you can blow up your roof!
Specifications:
1" Linear Travel Suspension Titanium Tweeter
Dual 8" Spun Copper Cerametallic Cone Woofers
90×90 Hybrid Tractrix Horn
All New Tractrix Port
MDF Cabinet with Brushed Polymer Veneer Baffle Finish
Strong, Flexible Removable Grille
Dimensions: 43.06" x 10.55" x 18.32"
Build and design
Medium-density fibreboard is the main build material in Klipsch RP-280F Reference Premiere Floorstanding Speaker with a polyester veneer finish. You get three color options – black, cherry, and ebony.
A transparent black grille protects the front panel of the speaker. It is magnetically attached to the speaker and can be removed easily.
Once you remove the grille, you can see the two 8-inch cerametallic woofers and 1-inch titanium tweeter.
On the rear panel, you can find the connections section. There are three types – single wire connection, bi-wire connection, and bi-amp connection.
Sound quality and performance
Klipsch RP-280F are stalwarts in reproducing a rich and deep bass. It sounds very powerful and fills the entire room with the rumble and thump.
Coming to the midrange, it sounds very detailed and dynamic. This gives way to crystal clear vocal sounds.
As for the higher frequencies, they are bright and smooth and not fatiguing to the ears at the same time.
Klipsch RP-280F has an amazingly flat frequency response of 25Hz to 32kHz. It is very wide and can deliver all kinds of sounds with precision.
Be it home theatres or living rooms, these floorstanding speakers can fit in anywhere and deliver to their fullest capacities.
Best for whom? Klipsch RP-280F will definitely fulfill the needs of tower speaker lovers. They are meant for both music and movies. The sound profile is complete and wholesome. The bass, mids, and highs – everything is right there.
Also read:
6 Best Budget Subwoofer for Cars in 2023 (Bass-Heavy)
Conclusion
This wide range of Klipsch speakers has everything to offer to you in their own way. Depending on your need, you can undoubtedly get one of these speakers without having any inhibitions.
In order to help you out, we have handpicked three of these speakers. They are – Klipsch RP-600M bookshelf speakers, Klipsch RP-500SA Dolby Atmos Surround Sound Speakers, and Klipsch RP-280F Reference Premiere Floorstanding Speaker.
Why are they so special?
Well, the Klipsch RP-600M can work with or without subwoofers. So you can set up a home theatre with them right away.
If you are a surround sound enthusiast, Klipsch RP-500SA will definitely suit your taste with its Dolby Atmos technology.
And last but not the least, Klipsch RP-280F is undoubtedly a great choice if you are interested in getting a pair of floorstanding speakers and transforming your living room area into a sound paradise.
With that being said, all these 7 speakers are the best ones Klipsch has produced – great audio guaranteed!