If you record any form of audio, whether it's music or a podcast, you know the importance of achieving good recording quality.
For your audience to engage with your content, it needs to sound professional.
An accessory like the Kaotica Eyeball (Portable Mic Isolation Booth) can help record crisp, clear, radio-ready vocals.
Although many label Kaotica as one of the best portable mic isolation in the industry, it has drawbacks.
The Kaotica Eyeball is not perfect.
Not to worry.
This article will give you three Kaotica Eyeball alternatives you should consider
Why do you need kaotica Eyeball alternatives?
If you want to record in a room with bad acoustics, a product that can reduce the echo of your audio is a significant benefit.
Blocking out as much background noise as possible is also crucial.
Kaotica Eyeball doesn't flourish in these areas.
What's more?
You are likely to experience vision obstruction while reading the lyrics or script.
Another factor that makes me look down on the Kaotica Eyeball is that it doesn't work well with end-addressed microphones.
And it has a mediocre mic reflection filter.
Good news.
Some great alternatives have turned this Kaotica weakness into a strength and give you more bang for your buck.
Only 3 best Kaotica Eyeball alternatives
Alctron PF8 Pro – Excellent alternative to the Kaotica Eyeball
The first alternative we recommend is the Alctron PF8. The Alctron PF8 Pro is an excellent alternative to the Kaotica Eyeball. It does not provide a space for reflection but instead uses a filter to absorb the reflections and other unwanted frequencies.
The Alctron PF8 Pro is a versatile filter, and you can mount it on most standard mic stands.
The PF8 Pro has a flexible gooseneck that fits various mic stands.
You can use it with large-diaphragm condenser microphones, dynamic mics, and ribbon mics; you name it.
Unlike the Kaotica Eyeball, the Alctron PF8 Pro offers dual-layered acoustic foam to cut down on plosives and sibilance, making your vocals sound clear and professional.
The foam filters have a diameter of 8 inches to provide a broader protection area than the Kaotica Eyeball.
Although the PF8 Pro only includes one soft foam filter (pop filter), you can buy additional ones if you wish to swap them out after they get too old or dirty.
The second alternative we recommend is the sE Electronics Reflexion Filter PRO.
The sE Electronics Reflexion Filter PRO is a sturdy, well-built recording vocal booth with what it takes to create professional-quality recordings on a budget.
Unlike the Kaotica Eyeball, which has a ball-like design, the sE Electronics Reflexion Filter PRO comes in a triangular prism shape with a bass trap in front of the microphone.
The RF Pro has a metal body, whereas the Eyeball is made from felt. Their designs affect their sounds in this manner:
Kaotica Eyeball: The felt cover lowers the high frequencies and adds a smooth, dark tone to your voice.
RF Pro: The metal grille gives your voice more presence and strength, but can add a slight harshness in the high frequencies.
This RF Pro isolation booth is a plug-and-play design that makes it incredibly easy to set up and get recording quickly.
One of the familiar sources of unwanted noise in the studio is the computer or the AC/ heating system. The sE Electronics Reflexion Filter PRO will help you eliminate them and filter them out.
[If you're looking for an alternative to the Kaotica Eyeball that works exceptionally well, the sE Electronics Reflexion Filter PRO should be at the top of your list.]
The RF Pro is available in two configurations: single-band and dual-band.
The regular model comes with a shock mount, boom arm and microphone stand.
There's also an "X" model with extra acoustic foam padding for even better sound isolation.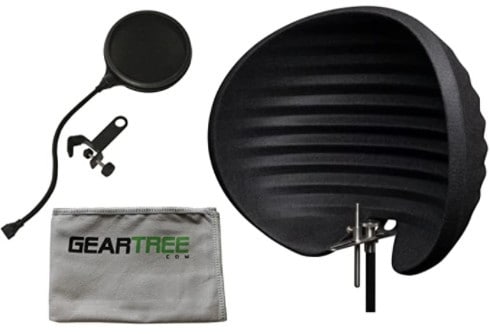 The Aston Halo is a premium alternative to the Kaotica Eyeball. The Aston Halo is a high-quality portable vocal booth for recording vocals.
With this booth, you've hit the jackpot because you'll experience brilliant sound quality and isolation at a lower price point.
Aston Halo is explicitly designed for vocalists, and its function is to isolate your mic from room sound to facilitate better recordings.
The Aston Halo is easy to set up and use since it has an internal integrated pop filter, shock mount, and mount. It doesn't require any additional suspension or stand mounting. And it fits any standard mic. Place your mic inside, plug in your cables, and start recording.
The Halo has a clean design with a wooden frame and metal grille with a classic aesthetic.
The Aston Halo is superior to the Kaotica Eyeball in aesthetic design, and it comes in three different colors: Black, White, and Grey.
Despite being a fraction of the size, it has all the attributes of its bigger and more expensive rivals.
The Aston Halo is very compact — you can fit the whole thing in most laptop bags, meaning you can take it with you anywhere you go.
If you're looking for an upgrade from the Kaotica Eyeball and don't want to spend too much money, the Aston Halo is a great choice.
The Aston Halo features a curved design that effectively eliminates unwanted sound reflections. This feature also makes it excellent for recording loud singers.
Recommended read:
Wrap up
Now you know the 3 best alternatives to the Kaotica Eyeball.
You don't have to pay the hefty price only to experience many drawbacks like echo, ambient noise and unwanted noise on your recording.
Thanks to these 3 alternatives, you don't have to settle for an overpriced and potentially flawed product.
These Kaotica Eyeball alternatives will give you high-quality audio and the best results at an almost similar price to the Kaotica Eyeball.
Alctron PF8 Pro is lighter and has dual-layered acoustic treatments foam to absorb all reflections.
Aston Halo is great for both studio-quality vocals and instruments, and it's large, thus absorbing all reflections.
sE Electronics Reflection Filter PRO: sturdy, well-built, and adds presence to your vocals.
Which of these alternatives is your favorite? Let us know in the comment sections below.
Find more about the Kaotica isolation booth on our find out on our Kaotica Eyeball review.