In as much as you can record without a mic reflection filter or an isolation booth, you need one to take your bedroom studio vocal and voice podcast production to the next level.
You need something that can transform recordings from your bedroom room to sound like vocals from a treated studio. This is because when you record in an untreated room, there is echo, air and noise that interfere with your recording.
If you have enough money, I recommend you go all in and completely treat your studio. But if you don't have the money to treat your room, there's an affordable choice.
I recommend you get a recording filter/Isolation booth like Kaotica Eyeball. It will solve all your sound quality needs.
Let's get started with Kaotica Eyeball review and decide whether it is right for you or not?
What is a kaotica Eyeball?
Kaotica Eyeball is a vocal booth alternative designed for individuals with bedroom studios (Small set-up studios). It also works as a microphone shield, or mic and vocal reflection filter, and a microphone isolation ball.
Just like other vocal booths, Kaotica Eyeball comes in different sizes. Kaotica is used to protect your microphone from a harsh environment while you record.
Thus it acts as a microphone isolation filter. Normally, artists would spend huge chunks of money just to record in a well-treated studio to have quality sound.
But with microphone isolation both like Kaotica Eyeball they can produce professional results from the comfort of your bedroom.
How to set up a kaotica Eyeball?
Kaotica Eyeball is easy to use and to set up. The round small Eyeball is meant to sit on top of your microphone. This chunk of foam has a horizontal hole of about 4.5 inches in diameter. This is where you sing into the mic.
It also has another hole in the base where you insert the mic. Using the Kaotica Eyeball is easier when you have a shock mount.
All you have to do is insert your kaotica Eyeball into the microphone. Once you mount it on the mic, it remains tight and attached to the microphone.
The Eyeball is light and offers an outstanding mic balance. However, if you have a large microphone, the kaotica Eyeball might not stretch far enough.
The Kaotica also comes with a blue nylon mesh that you insert on the round cavity where you sing.
Kaotica Eyeball: how does it work?
The science beyond the Kaotica Eyeball is simple and is like any other vocal booth. The Kaotica Eyeball isolates your vocals and microphone from the outside environment.
For example, external noise, air wind, plosives and screams. This way, capturing the complete vocal spectrum thus, giving you a clear voice and vocals.
Apart from keeping noise and reflection off, the Kaotica Eyeball channels vocal energy into the microphone.
Another way the Kaotica Eyeball works is that it increases your microphone sensitivity and improves your recordings. The kaotica reduces reflections and waves, thus giving you a pure vocal.
The best thing about the Kaotica Eyeball is that it works with instruments as well. You can use it to record a guitar, a Kalimba and drum samples.
It gets rid of the build-up of 165Hz, and you can use it anywhere in the room, even at the corner with the most bass build-up and reflections.
Kaotica Eyeballs – Best for whom?
The Kaotica Eyeball is best for music producers, content creators and recording artists who cannot afford to soundproof and treat their home studios.
Also, for individuals who want to record high-quality vocals at the comfort of their home without spending money on expensive treatment.
The Eyeball will help you isolate, reflect and absorb external noises, air and wind and give you clean recordings and consistency.
Kaotica Eyeball alternatives
The downside of Kaotica Eyeballs is that it doesn't take care of all reflections and it doesn't accommodate big microphones.
If you love the Kaotica brand and want to stick to the brand, adding polyester duvets to your home booth will help you get rid of these reflections.
Before I got my Kaotica Eyeballs, I put polyester duvet and bed sheets around my homemade booth, and it got the job done. You can use this as well if you cannot afford a reflection filter.
However, if you want to try new alternatives, try these brands
Alctron PF8
The Kaotica FatBoy is an excellent alternative for the Kaotica Eyeball because they specifically built it to accommodate larger microphones, unlike the Kaotica Eyeball, which is for small mics.
The FatBoy accommodates up to 63-95 mm in diameter.
The Aston Halo works for both vocals and instruments. It controls both ceiling and floor reflections. Although it's pretty expensive, it's worth the price.
Since it's larger than the Kaotica Eyeball, it absorbs reflection from all angles. Plus. It's flexible and light.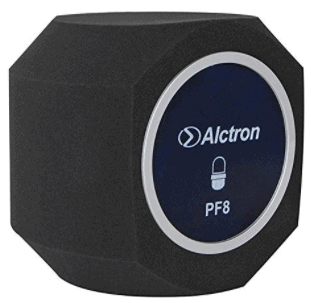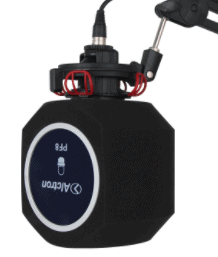 Another great alternative is Alctron PF8. If you want to kill the noise around your recording environment, get the Alctron PF8.
It's lighter than Kaotica Eyeball.
Here's the best part:
It accommodates large microphones. Last, it's advisable to use the Alctron PF8 with condenser microphones.
Kaotica Eyeball: Pros and cons
Pros
It's easy to install and mount on a mic
It's stand mountable
It's foldable and portable
Cons
It cannot accommodate big microphones
It doesn't give full isolation
Recommended read:
Conclusion
An untreated room shouldn't be an excuse for poor quality vocals or voice production. Invest in a room vocal reflection filter and all your worries will be a thing of the past.
Despite its cons, we still recommend the Kaotica Eyeball.
If you have two notes to rub together, get it. It's a great way to improve your vocals in your music and podcasts if you cannot afford proper room treatment. If you have a big microphone, you can get one alternative discussed above.